Without a doubt, you have probably heard of Shad. If not from his ability to kick some ass on a bike, maybe from all of his appearances in different Props videos, or most likely because of his shop Goods BMX in Portland. I finally got the chance to shoot him some questions and this is what came from it. Check it out, and leave some comments!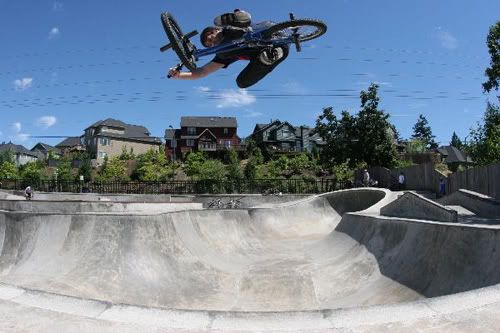 Photo: Aaron Foley
Name:
Shad Johnson

Location:
Portland Oregon
Sponsors:
Solid bikes and Goods BMX… Well I dont know if owning it counts as being sponsored but whatever.
Years riding:
22
What was it that first got you into BMX?
Well when I was real little I remeber helping one of my cousins with his paper route and he had a sick sidehack that I would ride in and throw the papers for him. I always thought it was so cool when we would hit some curb jumps or just pop wheelies. So then my parent purchased me a schwinn predator and I think that was about 83′. So I would just do the normal kid stuff just hit some wheelies and skid all the time. It wasn't till I saw Rad that I knew that is what I wanted to be doing. So around 87′ my dad got me a used Sterling freestyle bike! I was so happy! So about a mile up the street all the cool freestyle kids had a 7 foot tall, 8 foot wide half pipe with PVC coping cut in half and just nailed on! It was sick. So me and my buddy Raymond would wake up each morning before sunrise go sneak onto the ramp ride till we saw the lights in their house turn on from them waking up and then we would split. We finally were caught but after that they were cool with us and we would just go after school.
How are things going over at Goods these days? Any big shop news or team news at all?
Things are good at the shop. Im really excited for this year. We have got the video, we'll be working on all year and it should be out around Christmas or a lil earlier. Im hoping to get a team page all dialed in for the shop soon. I know on that end its always been so vague, but yeah, just working on this video, change the website up a lil, and the most important part is just to keep getting the shop better.
The new Goods video is in the works. Who all has parts, whose filming and edting, where all have you guys been, any good stories from it, and finally, when will it be available?
Well like a said earlier I am hoping the end of this year. As for sections shit who ever pulls thru. A few of the guys will have to be filming for other video projects this year so we may have to be creative with them. Expect to see stuff from Eddie C, Bruce Crisman, Ben Hucke, Justin Inman, Dakota Roche, Roman Tencza, Vince Kroff, All of Team Shralp, BFC, BFP, Chet Blacksmith, Ryan Sher, Caleb Quanbeck, Jesse Leske, John Bristol, Sheesh man I dont know just our crew of guys. You'll see.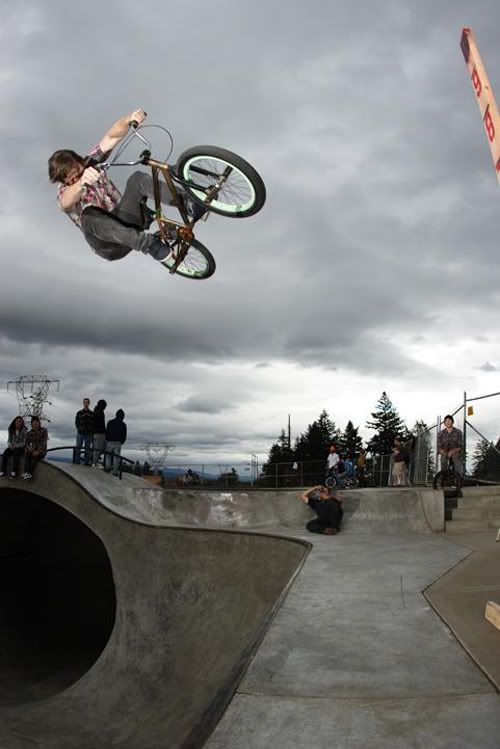 Photo: Mark Rhaina
With so much going on, keeping the shop and team covered, and working on this new video, do you find much time to ride?
Man I dont get to ride as much. Im here 6 days a week but when the weather is nice Ill be riding. In the winter im lucky to ride once a week. In the summer though that all changes. It stays daylight longer so I can go cruise the streets or hit a park after work. We did have the Goods mini all last winter so I rode that but we just took that out a few months ago to make the back room work better for us.
Where is your usual spots to hit up when you get a chance to ride these days?
Mainly the skateparks around here. Id love to say street all day but I would be lying. We have so many parks nowadays that allow bikes, it just gives you so many options. Its real good though because as I find myself getting older its great to just go to the park and go fast and hit airs. My favorites around here are the new Vancouver park, Tigard, Burnside, and the Hood River bowl when I get a chance. I really like riding stuff that is like eight feet or taller.
The scene around your area must be getting pretty big. Is there any up and comers people should be looking out for?
Ya the scene has grown a lot since I was younger here. It used to be about ten of us in the whole city that rode and we had only one skatepark to hit and that was Burnside. Now there is hundreds of riders and around twenty or so parks in the area. There is a new crop of guys coming up though, Caleb Quanbeck, Jesse Leske, Roman Tencza, BFC, BFP, and Steven Boldt. All those guys are so good and are super rad to ride with.
Do you still do much with Props? You used to appear on like every trip.
The last trip I did with them was euro meagatour. If they need me to help film they know I'm down.
Speaking of that, out of all the trips you have gone on. What are your top 3 favorite and why?
UGP Roots contest 2000 or 2001 I cant remember what year it was, RF 15 because all the NW guys were on it and Megatour with Failure.
If you could go on an all expences paid trip with only 5 people. Who would you bring, where would you go, and why?
John Bristol, Andy Merrall, Aaron Huff, Chester Blacksmith, and Vince Kroff. Any of the big cities of the world. Just cruising new cities and mobbing traffic is the best thing ever.
If you could relive any moment, session, or day. What one would you pick and why?
I would have talked Chester out of trying that gap to wallride that he broke his leg on.
When your first started getting a little more serious with BMX, did you ever imagine you would have had the chance to do all the things you have done from traveling to owning your own shop and everything?
Nah man. I grew up staring at magazines that seemed worlds away. Im so happy with where riding has taken me. Ive been a long way from Prineville Or.
How do you feel about the way BMX has been going these days? Anything you would change at all?
I would like to see some of the guys who helped push the sport still get some coverage. I think I would just like to see the people who are in charge of the media focus on the past as much as the future.I dont know maybe thats me being old but I feel like it helps give bmx more texture and helps people see the lifestyle. I mean everyone starts riding for the speed, or the air.You know the simple aspects of riding your bike. Then as you start to get better you push your self harder and harder. I think we all end up where we started just trying to find the simple pleasures of riding BMX. Man really I just like hearing stories and thats what makes magazines fun to read. From the young to the old if you have a good story and are shredding in your own right I would like to see it in print.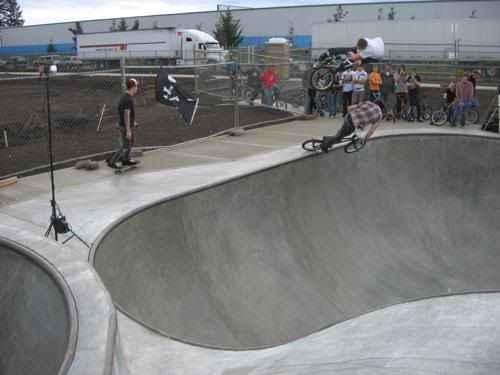 Photo: Ben Kellgren
What do you think you would be doing if you never got into BMX?
I would be a redneck or a cowboy working in a mill,logging, or working at Les Schwabs.
When your not at work, or riding, what can you usually be found doing?
Chilling with the babe.
You have had your moments of manly ass kicking power. About how many fights have you been in? Have you been arrested for anything at all?
haha! Man im not even like that. I really hate fighting. Honestly I've never even punched someone in my life. If I do get in an altercation I just choke them or choke slam them. I dont know why but thats what happens. Ive been arrested for a warrant for running a red light. Spent a night in jail. I dont know man jail is lame. My brother was in for a long time and its not a cool place so im just trying to never got there.
Kill one, fuck one, marry one. Barbara Walters, Sarah Palen, Katie Couric.
Ick to all three of them! No on all those levels.
You are offered a job to do porn. Do you take it? The only catch is you don't know if it's straight, gay, bi, or something nasty like german scheisse porn.
NO
Did you ever go to college at all? How do you feel about that whole thing?
I went for almost two years. College is great I just didnt really know what I wanted to focus on. Learning is always cool though.
If you could see any band live right now, who would you pick and why?
Dinosaur Jr.
You are given 24 hours to live… What do you do?
Go hiking with people I love. I dunno. weird question.
I heard from Vince Kroff there is a real good strip club in Portland. Do you have any idea what he's talking about and why it's so good?
He is talking about the Acropolis. It has been voted for having the best steaks in Portland a few times. So you get some good food and watch the girls. It also has a drive thru just for the food.
What is the craziest thing you have ever experienced in your life? (guns, drugs, hookers, midgets, explosives, cops.. just a few keywords to spark your mind)
Nah I really dont want to air myself or my friends out…You know the usuall stuff though.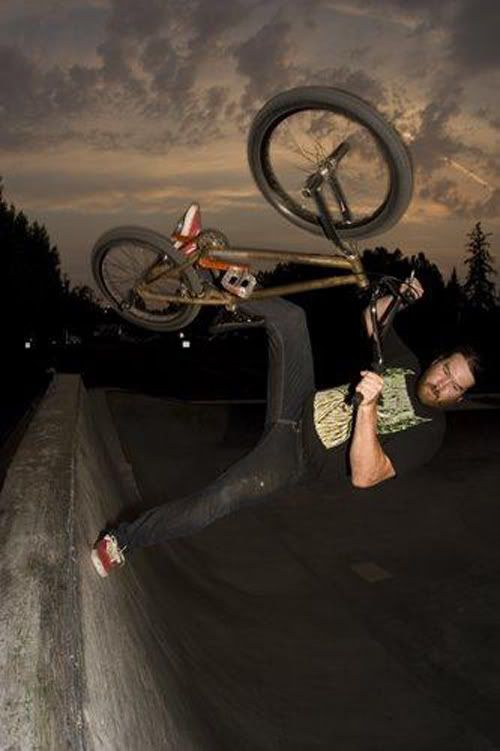 Photo: Allan Parker
I would imagine the shop can get a little slow at times. Any favorite websites?
Oh i dont know bmxmuseum.com, vivaradio.com, os-bmx.com, ebay, I usually just go down the list of all the bmx sites each night.
What are some things you would like to accomplish in the next few years?
Just grow the shop and the scene up here in the NW. Buy a house and be happy with my girl. That would be enough for me.
If you could commit any crime and get away with it. What would you do and why?
I have no idea…Get money?
How do you feel about Obama being president?
If he fixes things I'm stoked!
If you could change anything about the world, what would you change and why?
Tolerance. It would be nice to see a lil more.
What is the best advice you can give a person who is just getting into BMX or wants to start their own shop?
Have fun,Dont get over your head with terms.
Do you have any shout outs or thanks?
My family, Mandy, God, The Goods Bmx crew, PDXBMX crew, Team Shralp crew, NW crew, anyone who helps support the shop. I appreciate it so much.
Anything else you would like to say?
Anything else you wanna ask?
Trailer from the first Goods video.

New Ben Hucke trailer for the new Goods video.