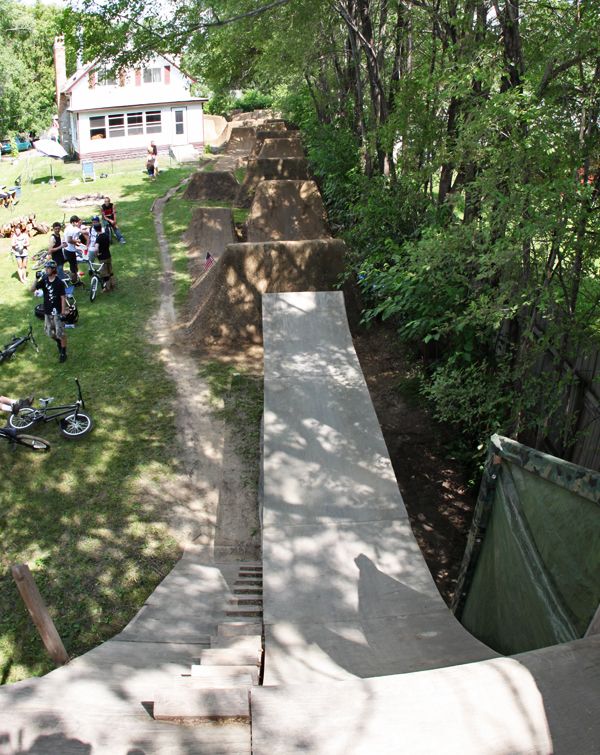 It's not everyday that you can walk into the backyard in the middle of a suburb of Minneapolis to a 15 foot roll-in into a 10 pack of jumps with 7′ tall lips and landings. Unless you happen to walk into Benny Polaschek's yard of awesome…



After the landing off the kicker roll-in, you have two options. 25 foot speed double or a booter…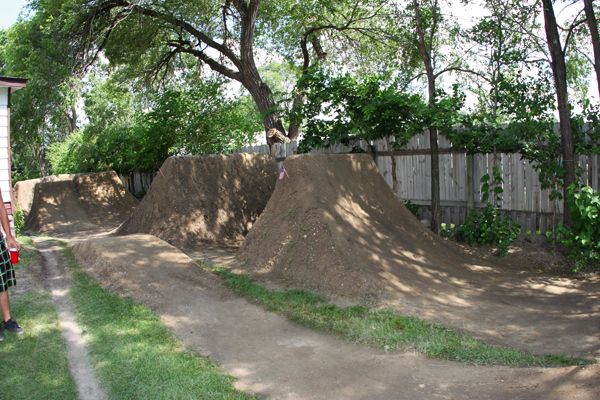 Couple rollers or another beast.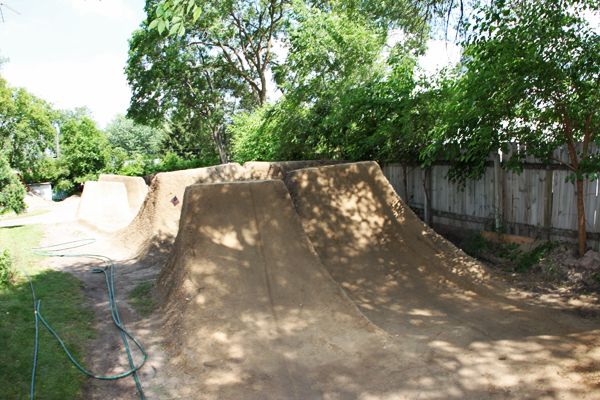 I don't think these photos do justice to how big these jumps get towards the end… That lip is about 7 feet tall…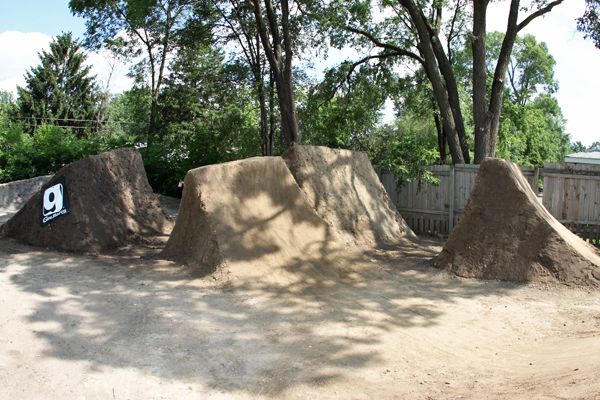 Over the last year or so, I had been talking with Benny about the project he had been constructing in his yard. I figured from the progress photos that I had seen on Facebook that it was a fairly compact setup that was just a few jumps and a roll-in.
It just so happened to be that the trails had been finished up (at least from the looks of it… Maybe he has some plans) and decided to throw a jam and party for everyone to come out and session and hang out with some grilling and kegs. I made the drive up with my buddy Wyatt to see what was going on.
If you haven't had the chance to meet Benny, he's a beast that has been riding for Standard since as long as I can remember and knows how to throw down on some trails and a box jump. I can't think of a time I didn't have fun when he was around, so a party at his place was as you would expect- rad.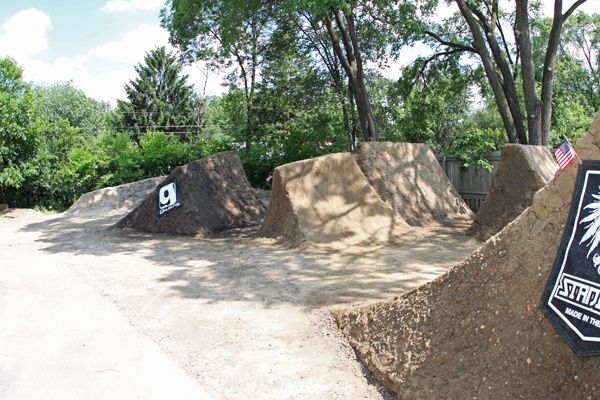 Upon arrival at 2 when the party was kicking off, my jaw about dropped when I got the first look at the jumps. They were massive and super intimidating. Luckily, I didn't bring my bike and can't really ride too heavily with the knee situation I'm dealing with, so I didn't have to admit to being a pussy for why I didn't plan on riding.
Over the course of the next 4 or so hours a bunch of guys from the Twin Cities scene had been popping in to give the trails a run, or just to mess around on the rail setup that was constructed for the street dogs. That, or just to enjoy the beer and burgers…. That was really key to success.
I had asked Ben about how many loads of dirt he had hauled in for this and he said something like 55 loads. You would expect something like that to also come with a pretty heavy price tag. He really broke the bank with a $20 bill. Yeah, TWENTY dollars. I guess a lot of people on Craig's List are looking to get rid of their dirt and he only had to pay for the first load of dirt. Incredible.
I had to make the drive back south to home, so I was out around 6 and from what it sounds like the heavy session came in shortly after. I did a lot of chilling while I was there and happened to get a few photos for you to check out. Enjoy, and thanks to Ben and Carrie for putting together one of the most rad places I've been to in the midwest, and having everyone out!
I should probably mention that I don't know what his plans are for getting a session in. I'm going to assume it's going to be locked up to friends and that's about it. But I may be wrong. I just don't want to make it sound like he's down for people climbing the fence to get in. That, and I'm not too worried since you would be amazed that this exists in the neighborhood Ben lives in… I still am.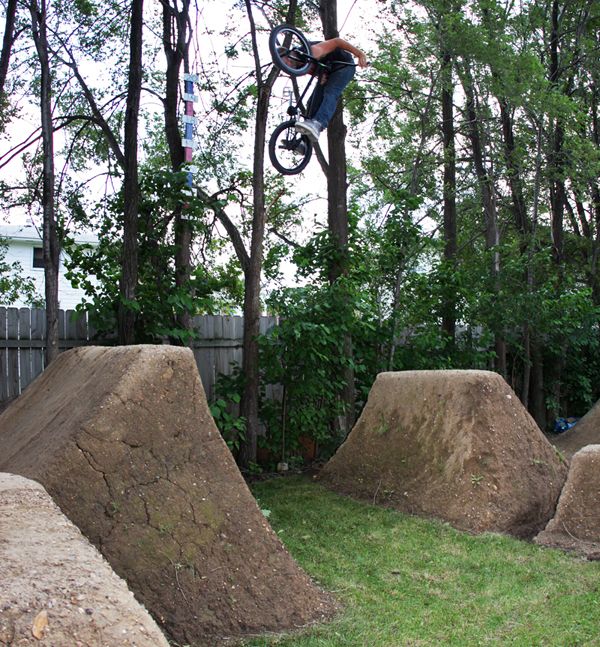 Jared is really good. I don't think you understand…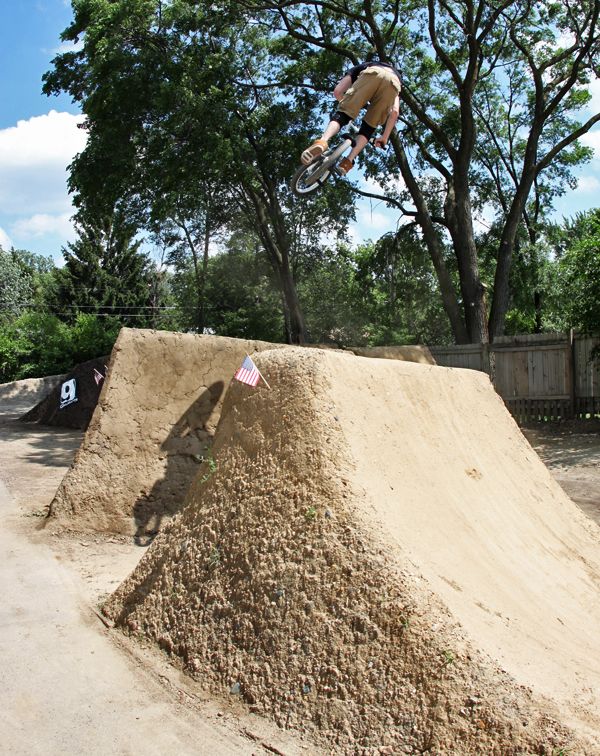 If you work at a shop and happen to have a question about BMX stuff and you go through Quality, there's a good chance you have talked to Glenn. He's the guy in charge of the BMX program there these days… and when he's not, he's riding his bike like a champ.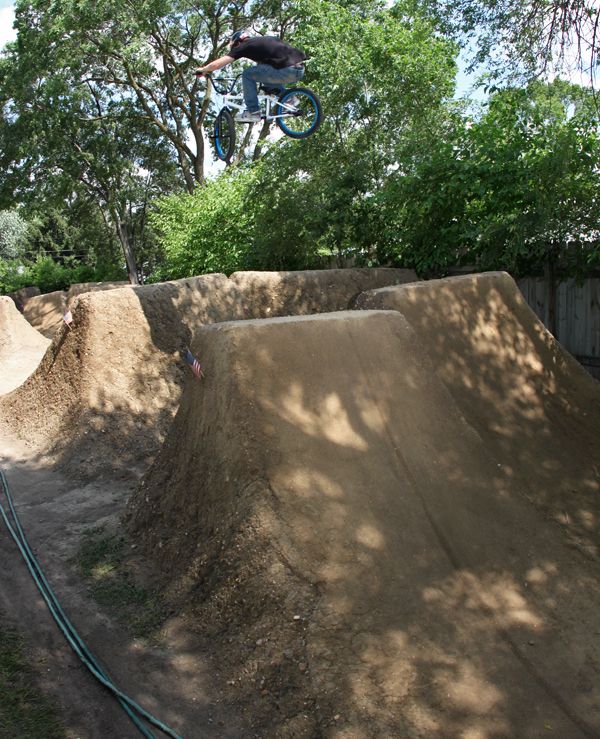 Lee made his way through eventually…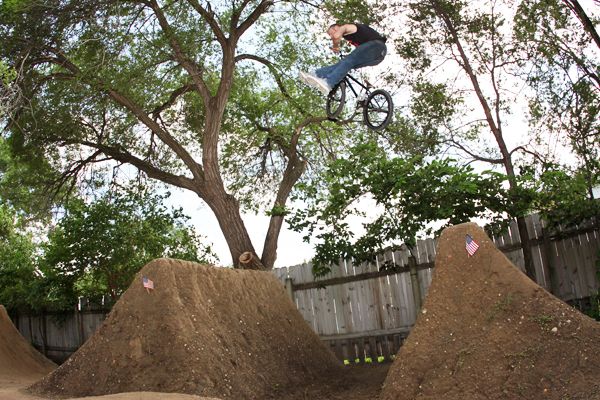 Jared stretching his legs.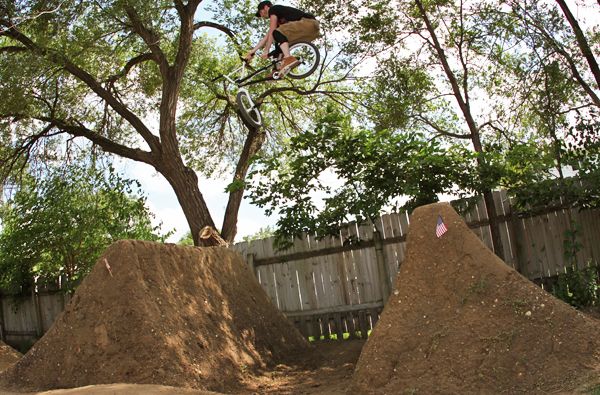 Glenn with a t-bog mid set.

Richie flowing.

Jesse took it a few times trying to get used to the jumps, but once he did… FLATTY.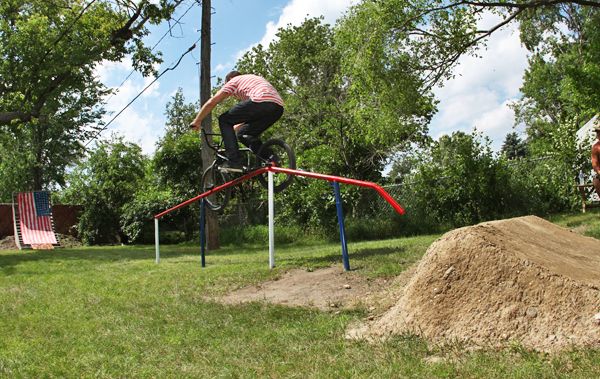 Nick Anderson had some fun on this rail.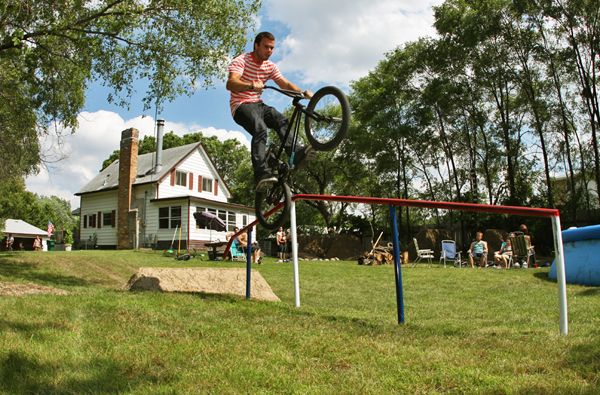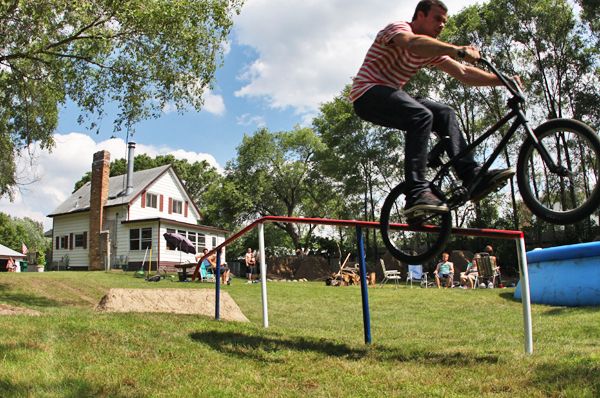 Ice bonk/grind up to ice down.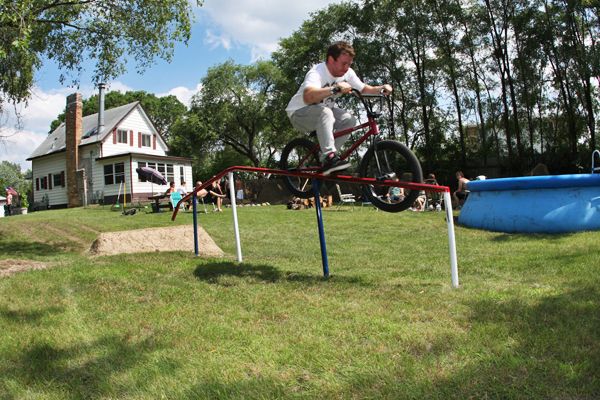 Mini Mark got in on the rail session…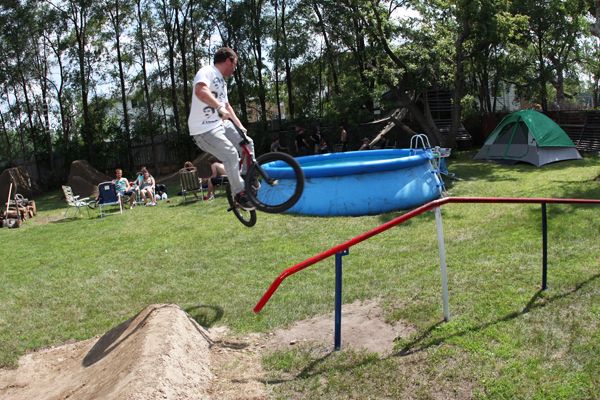 Then opted to huck a 540 off the kicker…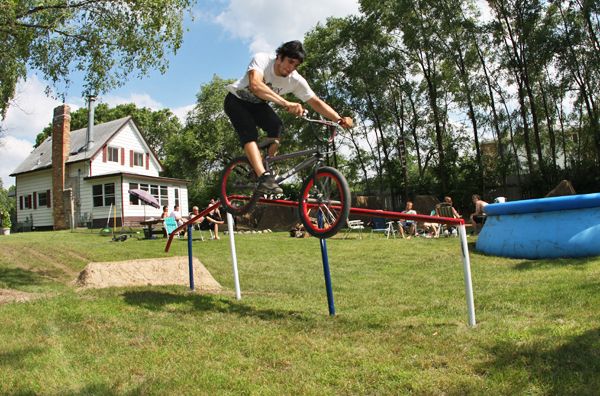 Jesse felt left out…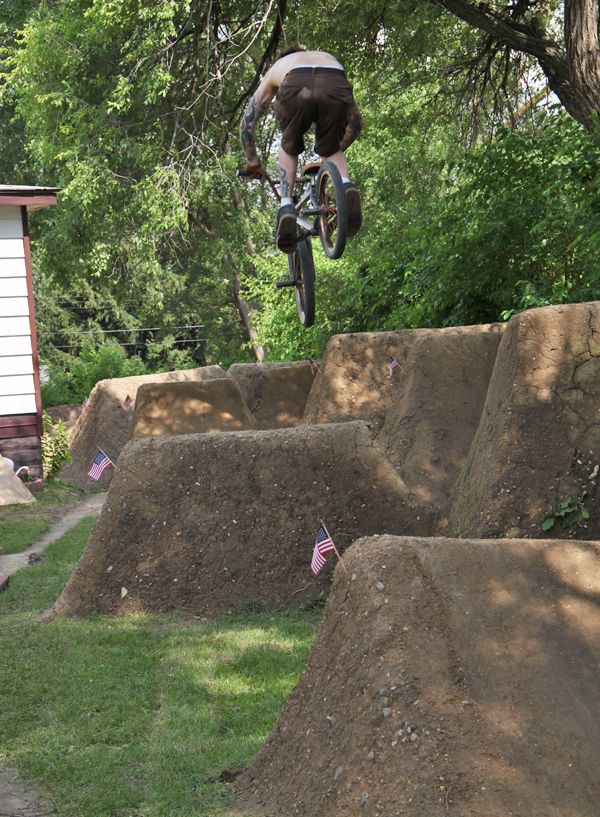 Nick was kicking the trails ass. Cruising the big speed double.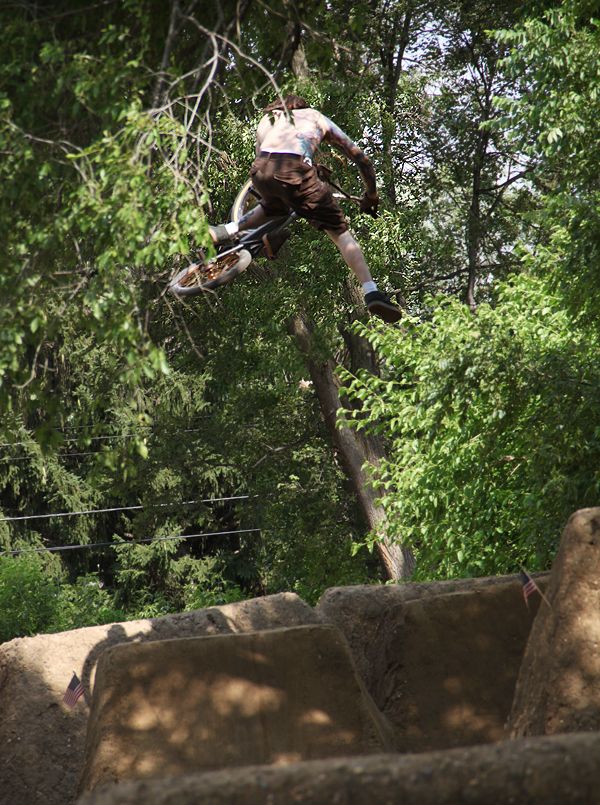 One foot flatty follows.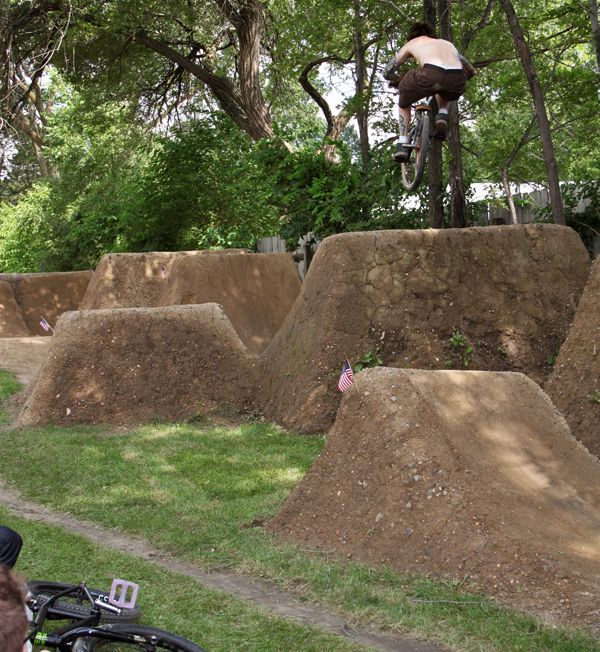 Breaking in that speed double lip to big landing. Definitely watched him go to flat the first few goes.

I crawled up on Ben's garage and shot a few pictures. Glenn with a 360.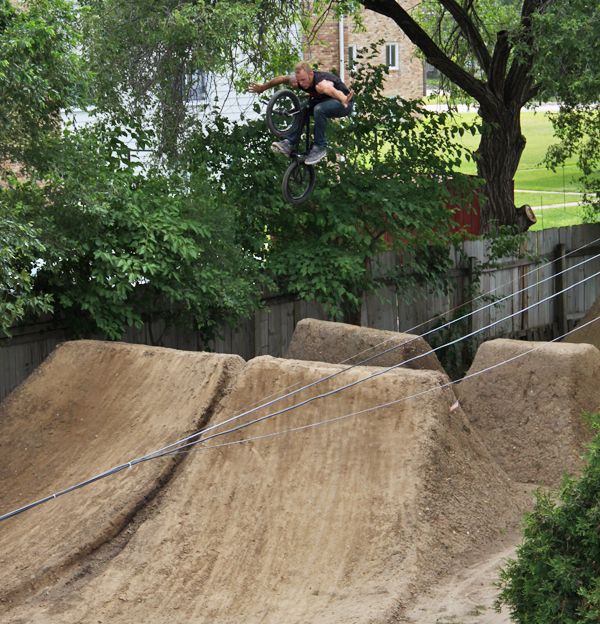 Jared tucking it.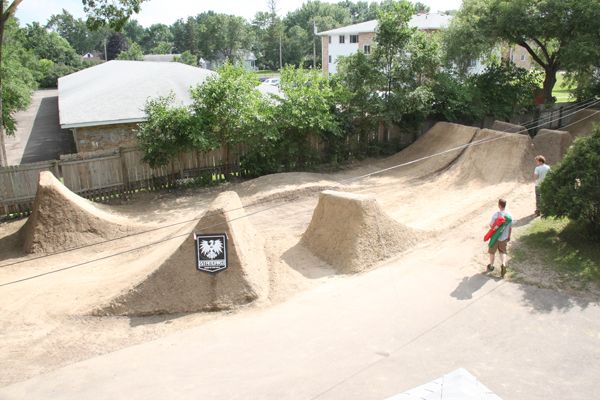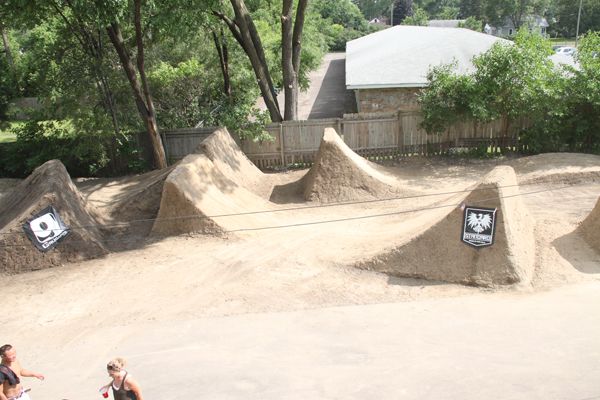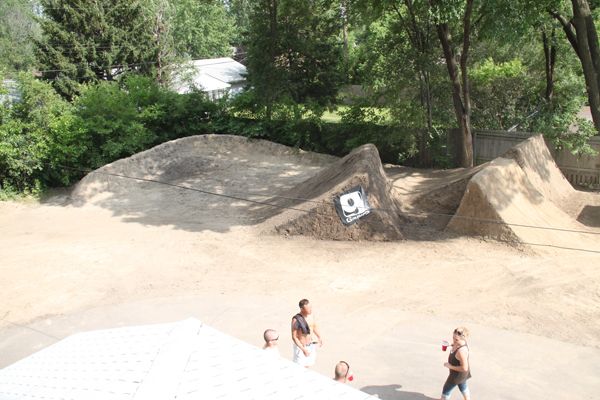 Compare those people to those jumps…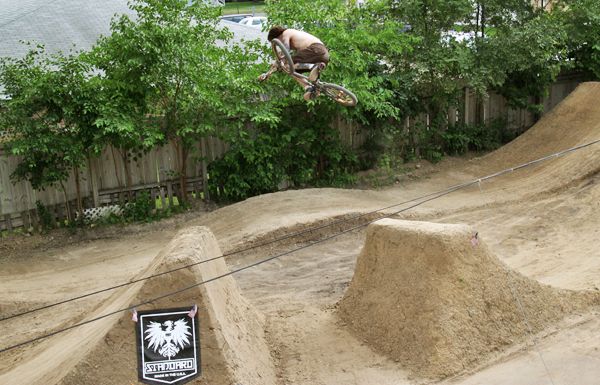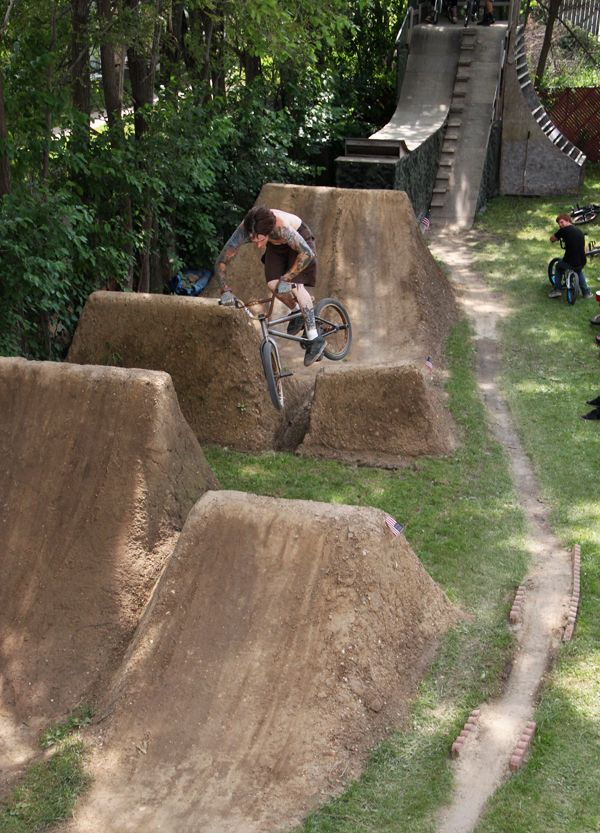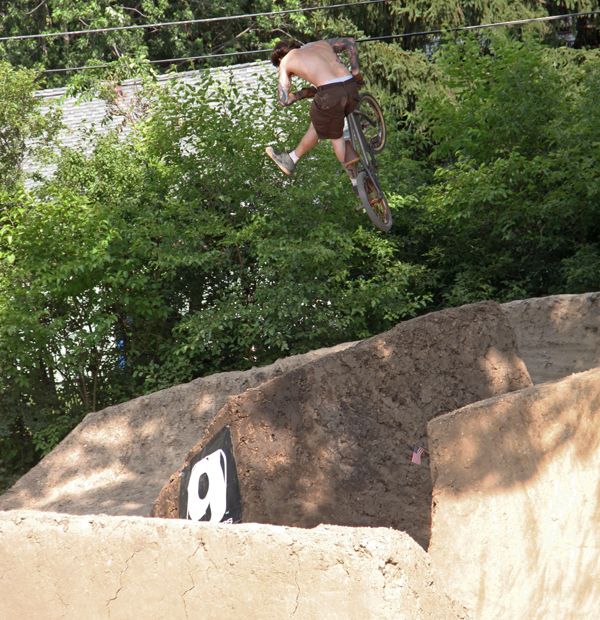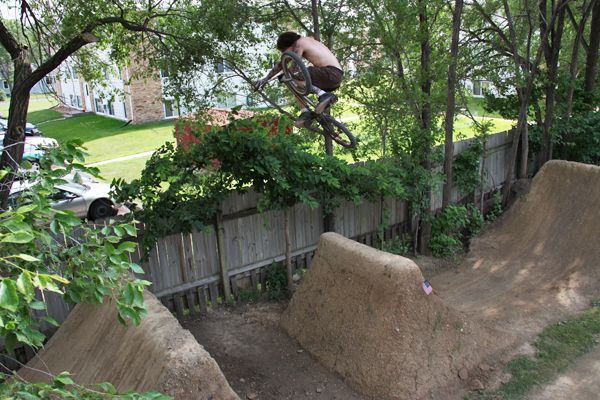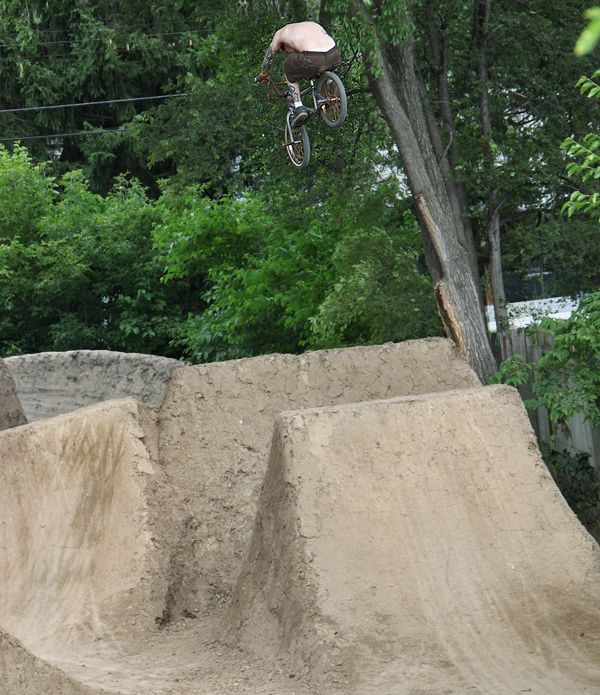 Nick just happened to be kicking a lot of ass…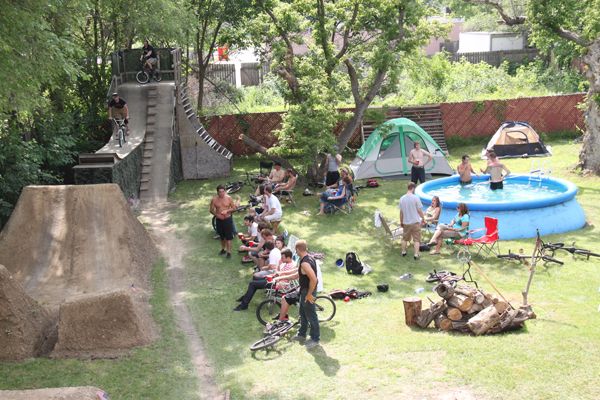 Shortly after I took this picture, I took my shirt off… tied it around my head… and proceeded to yell "AMERICA!", which got a pretty good reaction.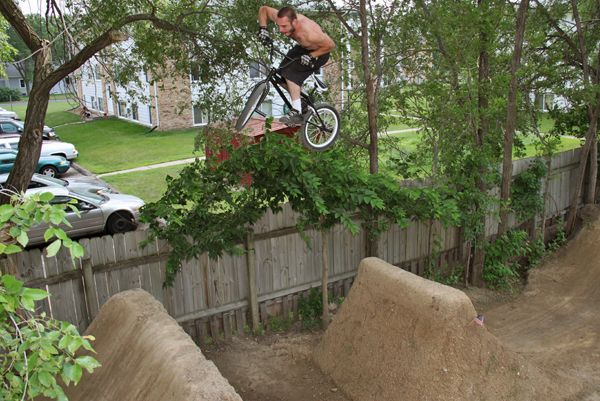 I didn't catch this guys name, but I really wish I would have got some better shots of this guy. He tricked every jump in a few runs and I blew it…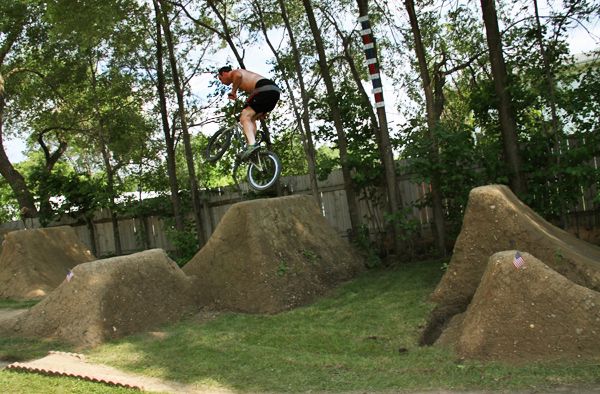 In the 4 hours or so I spent there, I saw Ben go through twice. Otherwise, he was pumping the keg, grilling the food, or swimming in the pool. Such a rad host.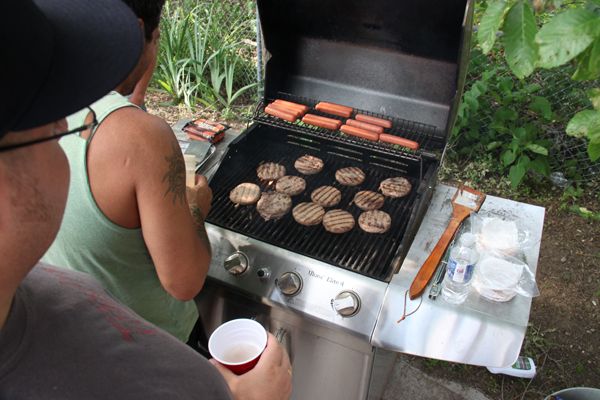 Yup! BOOOM!
So that's about it. Just a little look into what you could do to your yard if you really wanted to make it happen.