Name:
Dr. Stephen M. Crandalsmith the 3rd.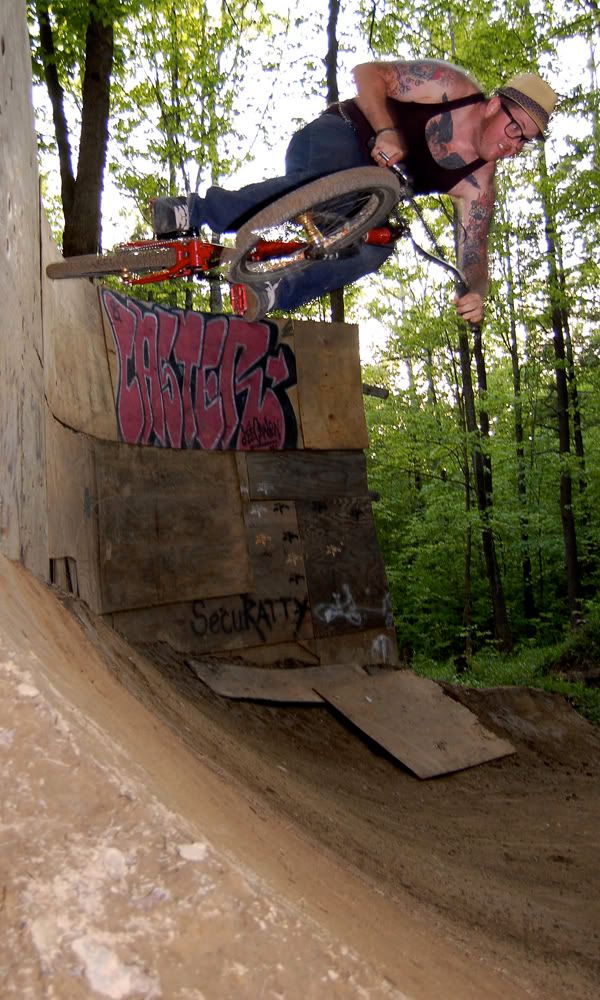 Location:
42 degrees 27 feet north-76 degrees 29 feet west (latitude and longitude)
Obviously your one of the dudes at FBM, and now Nice, what gave you the idea to start Nice?
We are starting to work on a line of completes, so we wanted a line of products on the bikes we could brand ourselves, as well as develop a proprietary line of components and accessories that we aren't going to or don't do with FBM. Many reasons, there are alot of people involved with FBM, so there is a lot of room for idea development.
When do you expect to have some of the Nice line available?
We showed samples in Vegas at Interbike, so It'll still be a minute before release.
There has been a few new frames from FBM for 08′ seen at Interbike, are they replacing the current line?
Yeah the howler is a new frame, and the autopilot and deployer are finishing up. The Stairmaster is Now the Aaron Ross Pro Model, and its new version is the "master Blaster". We are still doing the Joint. All the new bikes are heattreated with Butted tubing, so we can now offer a strong as shit, lightweight handbuilt frame that will make you smile.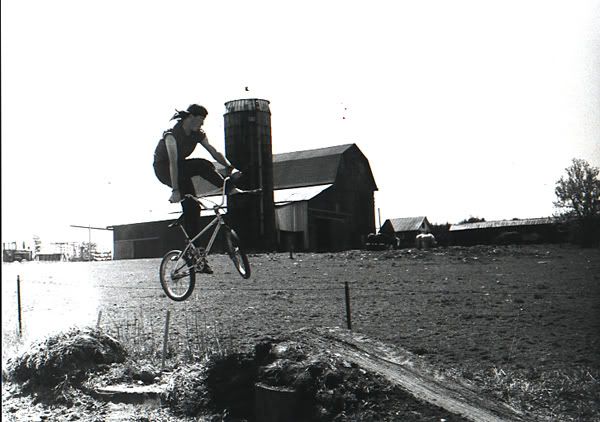 Are there any new products that didn't make it to interbike?
Did you see the Milk crate that they carried the Alien in, in the movie E.T.? we are working on a lightweight Brakeless version of that, as well as mock turtlenecks, to cover up unsightly neck tattoos. Has any one invented the wheel yet?
The team has had some wild changes lately, is there anything you can say about Hamlin and Wood leaving the team? and who has recently been added to the team?
New Team dudes, include Mickey Marshal of Baton rouge Louisiana, Joey J of Fla. Garret Gilliums of St. louis, and Joel Barnett from the Binghamton Area. These dudes are stoked, cool as heck, and totally into working with FBM on getting awesome!
Are there any other big changes at FBM?
We are in the process of manufacturing an FBM fixed gear bike, vegetable oil tanks for diesel conversions, and updating the blog on the FBM site amongst other things.
With trails season in full effect, how are bakers acres now days?
I have had some of the most fun days of the year riding with my best friends at my favorite spot. I am happy about that.

Do you have any more contests planned like the one you had a little while ago, Brawlin at Belmar?
we are at least doing the comp at the belmar again, and possibly 1 or 2 more if we find a suitable location.
What is your funniest story you have about Aaron Ross?
any time with aaron is comedy, i like watching him dance and get excited about stuff, especially when he thinks no one is looking. when he first got on FBM he asked if it would be weird since he didn't eat light bulbs, drink or party all crazy, I just asked if he liked having fun, and the rest is history…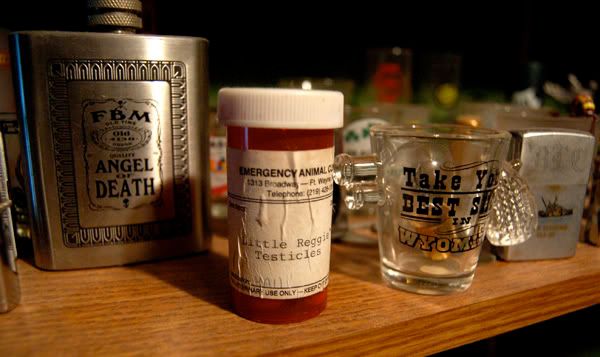 (see the middle bottles name, Lil Reggies testicals.. it will make sense after the last question.)
Does FBM have any big road trips or DVD things planned?
we are working on a budget to fund a trip, provided by google video and Youtube, but havent hammered out the details yet.
How about you, with winter coming to NY soon enough, do you plan on getting out for a while?
I hope I get to visit my parents soon….
What are some bands your really into right now?
today- the black lips, toots and the maytals, chuck ragan, rymodee, IPOd on shuffle, tomorrow could be any of a million bands I like.
When your not working or doing BMX related stuff what do you like to do?
I like drinking coffee, making soup, riding motorcycles, scribbling, playing dumb, etc…
What's your best move for picking up the ladies?
I Pretend I am Burt reynolds in Cannonball Run, but act like Captain Chaos.
Who are some of the biggest influences on your life?
My Parents, my friends, my bike, music, and travel.
If you could only ride one place for the rest of your life where would it be and why?
I like riding with my friends at Bakers Acres. If I had my friends with me, i would be happy anywhere though…
Who are some upcoming guys you have met that you think people should look out for?Kelly baker, Jeremy reiss, Mike Tag, Ryan Corrigan, and Ralph Sinisi.
Any shout outs or thanks?
thanks to everyone! seriously. I am stoked.
Anything else I might have missed you would like to add in?
I used to live with a guy named reggie styles who has eaten Acid like 1000 times. He's a great guy, but totally kooked, I love him though, one time he and Wilbur, and other Legendary roomate of the time, were on acid, and listening to Skinny puppy in reggies room, which was outfitted with black lights and weird posters. At one point Wilbur says-" I feel like i'm in a spaceship" to which Reggie Replies-"Can't Move…"
any rate, at the same time we had a black cat named Honkey, who had babies, one of which we kept. It was walking around all squirrelly one day, and walked into a wall, and someone said "check him out, he's walking all Reggie Style" hence the name Reggie Styles, and the cat was named Little Reggie. The Vet Neutered Lil Reggie, and I still Have His Nuts. I have Never to this date hallucinated on Acid though.