Taj is a kickass dude in so many ways. I am stoked to start my 2009 interviews off with him. I had wanted to interview him for the longest time and didn't really know how to approach it. In reality, I probably should have hit up Sandy but didn't think of that until writing this. I dropped Taj a comment on his Blog over on Ride BMX and he got back to me. I was way excited about this and I ended up asking about a million questions. Please enjoy and leave him some love in the comments!
Borrowed this photo from Taj's blog
Name:
Taj Lucas Mihelich

Location:
Austin, Texas
Sponsors:
Giant, Odyssey, Bicycle Union, Fender Musical Instruments
Years riding:
Riding? 32!
I'm sure this has been asked hundreds of times… but what was it that made you pick up a bike and keep going?
Escapism maybe? It was a good way to get out on my own and explore. Hanging out with friend and jumping stuff helped a lot too.
You have had a pretty productive year with Giant. What does 09′ have in stock? Any big trips, filming projects, or cool stuff like that in the works? How long till people will be able to pick up your frame or was that a small run just for you?
I think 09 should be really fun. Basically if a company pays you to ride for them your job is to promote that company and help them sell their product. That can be directly with big logos on you while on TV, or as indirectly as doing something cool using your sponsors equipment. Clearly I'm not going to be an X-games gold medalist for them, so I'm trying to think creatively about ways that a sponsorship can work. With Giant in 09 I am going to try some new ideas on how to maintain my end of the sponsorship bargain and they are giving me free reign to try it out. I want to do a lot of fun little projects that are things I've always wanted to do, and will also (sometimes in a roundabout way) promote Giant as well.
As for my frame, I am just riding a ever so slightly modified Method Team frame (just a .5 degree slower steering) and I don't think it would be worth doing a run of frames for such a small difference. I think if I had a unique idea and something really different to do, they would do it for me, but I actually really like the frame as is. I did design some new graphics for a bike that I will get to ride.
Anything cool going on with the rest of your sponsors? I know you have had a few changes to the list recently. Also, do you have any new sponsors that you can tell us about?
Basically the Etnies things ended this year, and Giant is trying to step it up to better support me. Odyssey is staying constant and no new sponsors.
Even though you are no longer the owner of Terrible One, I would imagine you have a little insight on this whole 3rd party testing the industry has to do now. Can you share what your thoughts on it are?
Well, I've heard enough to know kind of whats going on, but to be entirely honest with leaving T-1 I am trying really hard to stay as uninvolved with the business side of BMX as possible. It all sounds like a mess, I imagine that eventually everyone will find some kind of loop hole around it, or maybe not. Either way, bikes are bikes and we're all going to keep riding them. If prices go up for all bikes it might actually help cheaper BMX type bikes (even if they aren't as cheap as they used to be).
You make it pretty obvious that you don't like to stay in one place for too long. Where are some of your favorite places you have been able to visit and travel to?
You'd be surprised… I think you might have me mixed up with Joe. He's the one who can't sit still too long and is more into traveling. I'm pretty content at home most of the time, and not traveling anywhere near as much as I used to. I also haven't been to any of the crazy and exotic places that Joe has been to. Anyway, last year I got to go to Whistler Mountain north of Vancouver and that was really beautiful and amazing. If I could live there I would in a heart beat. I've been feeling a little anxious about leaving Austin lately, but I've been living here for most of the last 15 years and a change might be due.
Yeah, I think the blog about you wanting to maybe move gave me that idea…
So… If you did move from Texas for a little while. Where would you go if you couldn't live where you live now?
I can't figure that out. Here's what I want… seasons with snow some part of the year, trees and not too big of a city, music scene, and an indoor skatepark or at least an empty warehouse for me to build ramps. I can't find anywhere like that on the map. I have been thinking a lot about moving to some small town and finding a cheap warehouse and trying to start something like that.
Where are some places you have yet to ride your bike, but would like to?
I'd like to do a big cross continental tour with a road bike and camping. I think that would be amazing, but the time and commitment involved always seems to make it impossible for me. On BMX I mostly would like to travel around to ride a lot of wood parks and dirt jumps (as those are my favorite).
Your video part in Electronical was one of the most unique video parts ever, do you have any ideas of how you will be able to out do that one next time?
My part in Electronical was cool in that we got to go and work in that crazy abandoned school. I kind of wish I had a couple months and a lot more wood in there though and it could have been even crazier. Imagine covering every inch of that place in some wild race track/ street course that took you through all its levels and rooms! For filming video parts its fun to try and come up with a concept that can make it more interesting then just whatever the hip tricks of the month are.
Living in one of the biggest scenes in the country, I would imagine you see your share of really talented riders. Are there any up and comers you think people will be seeing a lot of soon?
Austin has always been strange in that there has always been amazing riders here that a lot of people have never heard of. Its a good thing because its the attitude here… just ride and enjoy it, you don't have to make a lot of noise about it. With that said there is a lot of amazing talent here that I think could be as good as anyone you've ever seen, but if they will take the steps out of Austin and do it waits to be seen.
You have seen everything from wearing leathers, to tripple wall rims, to tighter than tight skinny jeans and big bars. What are some trends you wish would have stuck around?
With all the recent injuries I kind of wish full face MX helmets had stuck around, but it's so hard to go back to them for me now. There was a time when I was as comfortable wearing one of those as I am now in a skate helmet, and lets face it, skate helmets don't really do very much at all. As far as fashion goes, it all comes and goes, I'm not too worried about any of it.
I think I have personally seen one other person besides you do a handle bar grind, do you wish more people would do that trick or is it something unique to yourself?
Its just a Luc-e grind and it just happens that on fast coping ramps like T-1's ramp they work awesome if you drop your front wheel all the way down till your handlebars hit. When I had gyro tabs on my bike I used to be able to hook the coping on the gryo tab and that felt super cool. Its a really fun trick, I highly recommend it to everyone. And, hell, its named for Luc-e, one of the great creative riders. Everytime you do one its like sending off a salute to in honor of John Luc-e Englebert.
How do you feel about BMX becoming as big as it is? Do you find it weird that it is all over TV and everything?
Its seemed natural to me as I've seen it happen relatively slowly, and its still not anywhere near as big as I think it should or could be. I hope it keeps growing. Um, but usually anything BMX related I see on TV makes me cringe and turn the channel.
About how many times have you been stopped, arrested, or fined because you were on a BMX?
I've never been arrested because of BMX, but I've been stopped a lot of times and fined only a handful of times. It always pisses me off so much… I can't stand getting hassled for riding my bike.
Your blog over on Ride BMX has been amazing, do you plan out what you are going to write about or just wing it usually?
Thanks! I just wing it. I had a blog over at Etnies and it was much harder for me to come up with content for because any post I made became the news of the day. And if I felt like writing about some things, like my new dog or something, then it just didn't seem appropriate to post. With my Ride blog I feel really comfortable writing anything I want because you actually have to click on me to get to it. I'm not cramming anything down anyones throat, they have to reach out to get to it. So anyway, its fun… I'm starting to see it as a whole new form of media. More then just an online journal, kind of like a zine that is a hell of a lot easier to make. I do really want to get my act together and make a actual paper zine soon, but I'd probably post that on there too.
Did you imagine your blog would become as popular as it has been?
I have no idea how popular it might be. Its just fun for me to do and makes me laugh. I like hearing that people read it, and its a place where my friends and even mom can keep tabs on what I'm up to.
You had hit your head quite a few times I would imagine. I heard you have some crazy memory issues sometimes. Care to talk about that at all?
Yeah, I've had a number of concussions. More when I rode vert, but of course it does happen sometimes. I have had some memory issues as well. One seemingly minor bump at the Download Festival in England a few years ago really erased a lot of stuff. Its crazy when people tell you things that happened and you can't remember them. Sometimes what they are telling me sounds so crazy, but somehow I can tell they are not lying. No matter how hard I try I can't actually refresh the memories they are talking about.
If you couldn't be a pro, own a bike company, or play music for a living. What do you think you would want to do?
God, I don't know. I've been thinking about that a lot because those days aren't too far away. I'm just kind of hoping something jumps out at me. I like building stuff out of wood, working on houses, working on bikes, hanging out with dogs and eating. Maybe a dog food critic who also builds the dog a house?
Did you ever go to college at all? How do you feel about the pressure people are put under to go these days?
I went for one year to Eastern Michigan University for fine arts. I just really had a basic studies that was the same as highschool. I don't know, I like to learn so school seems cool to me. It seems like the people who get the most out of school are the ones who already have a direction for things they want to learn and are there because they want to be, not the ones who are pressured to be there.
When will people be able to see some of your new art? Have you ever considered making a clothing company with your designs on them? I personally feel like they would sell.
Thanks! The problem is I don't really do much art. I scribble little doodles for the blog occasionally, but I could go months without drawing anything sometimes. I'm just often not that motivated to draw or do art and I've never felt like I was doing anything important enough to worry about being slack. I have thought about doing some shirts lately though… maybe just some one offs for fun.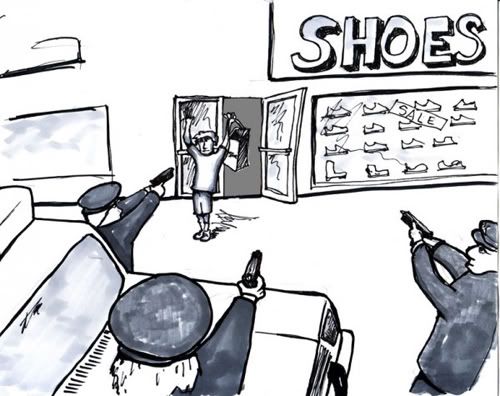 Borrowed these photo's off of Taj's blog!
What are some bands you would suggest people to check out that people really haven't heard of?
I don't have any idea what people have heard of but here's some I'm into for various reasons: 31Knots, Bonnie "Prince" Billy, The Kinks, Jape, Redneck Manifesto, Modern Lovers, Beirut.
What are some things you would like to accomplish in the next few years?
I hope to find a new direction I can apply myself to the way I have with BMX… but not just now… still riding BMX!
How old is Roscoe now days?
He's 9 and doing good. I just got a new dog over christmas and Roscoe is showing him the ropes and exhausting himself trying to keep up with all that puppy energy.

Borrowed this photo off of Taj's blog
How do you feel about Obama being president?
Indifferent? I like that people of my generation feel united by him, but it worries me that he might have the effect of polarizing the country into hating him or loving him. I don't have a lot of faith in the idea of saving the US system of government, but I hold a little candle that maybe he could make some progress and I really do believe things need to change radically.
Do you spend much time on the computer? Any favorite websites?
Yeah, a fair bit. I think I just cruise through the usual BMX sites (RideBMX, FatBMX, VitalBMX, DigBMX, sprfls.blogspot.com", Odyssey). Then I check Sandycarson.com and Slashdot.org. Thats about it really unless those sites lead me somewhere else.
You recently got a new car, hows that going for you? And if you could own any car at all what would you want?
I love it. I got a Mazda 3 hatchback. It doesn't feel like it is the best built car, but its a little quick manual transmission and it is fun to drive. A dream car is hard because then I start stressing about fuel economy and stuff even if this hypothetical question invovles someone giving me the car. I think that would rule out super cars and stuff. That Nissan GTR looks pretty cool though, I don't know… gotta be a hatch back for bikes and have a back seat for dogs.
Who or what are some of the biggest influences on your life?
I always say Mat Hoffman but he was for sure. From him being the focus of the first BMX video I ever saw in Head First and opening my eyes to the unlimted possibilites of bikes, to actually meeting him and working with him and riding with him. He's been through an seen a lot and helped me to learn a lot.
If you could change anything about the world what would you change and why?
Cars would vanish overnight in exchange for sweet public transportation going everywhere and bikes lanes down every road. Guns would disappear too and all desire to use them.
In some previous interviews you had mentioned a big reason for going over to Giant was because you are able to travel more and live a little better. I've seen some people say the words "Sell Out" from going from your own core company to a big corporate company. Care to explain yourself on that?
Hmmm… well it certainly is a vast departure from where I was before so I understand people thinking that. I can say that it was not really enough money to be selling out for, but I suppose that's not really the point. Getting older and riding more kinds of bikes it kept striking me that I liked all this different riding. For years and years I only rode BMX and all of a sudden I was buying a road bike, buying a mountain bike, buying a track bike, ect. There was a time back in 96 or so while I was on Hoffman that i heard a rumor that they were going to make mountain bikes. I remember being so upset and I was going to quit the team if it was true! I'm ashamed of that close mindedness now and I see moving over to Giant as a natural progression of opening up my mind about bikes (and maybe even life).
On the other hand, and this I agree is a very big hand, Giant is not a core BMX brand and do not have a big history in core BMX or whatever. I felt like it was time in my riding career that I could make a decision based on following what I enjoyed doing and not as a political stand. What do you do when you are an older BMX pro is a question I kept asking myself? I'm not going to train in the foam pit to try and win Dew Tours. I could beat myself up trying to keep up with the lastest fads in riding style, but that never seemed like fun. I could just walk away entirely but I didn't want to do that because I still love riding so much. So how do you handle it? The best way I could come up with to stay true to myself was to follow what I was loving doing, and that was riding bikes. I focused on that and that's sort of how I see Giant. To me they don't really have any image or attitude. They just make bikes. Very simple… just bikes for bike riders. No BS.
When Giant offered to support me to ride anything, it seemed ideal. In all honesty, I hope that through riding for Giant I will help to break down the segregated isolationism that BMX has from the cycling world. Like it or not, BMX is cycling. Its sold through bicycle shops and takes place on bikes! When you see all the kids doing BMX tricks on mountain bikes why do we see it as some alien thing? Its exactly the same. A smile earned cruising down the street on a beach cruiser is the same as a smile from jumping a double on a BMX. Anyway, I really hope to break some of that down. Get some BMXers to open their minds, and also get some bicycle shops to realize that BMX is just cycling too, and that they can carry the products. Too many shops won't even carry BMX because they don't understand the lifestyle side of it, but a bike is just a bike in the end. I'm not saying I want to get BMXers to start riding mountain bikes instead… god no! Don't stop the BMX. BMX is the purest and most amazing thing to me. However, through BMX we have all developed amazing bike skills that make every other form of cycling easier. Trust me, a pro road cyclist can't show up and jump a 30 foot double, but a pro BMXer can show up and ride a gnarly MTB downhill. There's so many fun things to do on bikes! I think its back to the idea that bikes are just a tool. Having different tools for different terrain makes it so you can ride BMX literally anywhere… does that make sense? Holy shit… I've gotten way off subject.
Back to Giant… I feel like BMX is a long way away from the dire state it was in in the early 90's and supporting rider owned companies was so important to me because they were the only companies making decent bikes. Now days most BMX bikes are more or less the same, and Giant probably makes half of them anyway. Also, having been in the "industry" for a while I'm sort of disillusioned by the idea of rider owned companies. BMXers can suck just as much as anyone else. I think there was a moment when I was intimidated by what people would think of me if I rode for Giant even though I wanted to, and that made me that much more determined to do it. You have to stay true to yourself even if doing so sometimes means you progress in a direction you never thought you would. In fact, I think thats even harder, and that challenge was enticing to me.
Could I just have said, I like bikes, Giant makes lots of cool bikes?

Photo/Ad Credit: Sandy Carson!
I know Giant doesn't expect you to compete or to change much of what your doing. Do you have any plan to hit up a few contests in 2009?
Its really just up to me. If something looks fun I'll go check it out. I always love the Empire of Dirt and the BMX Masters over in Germany. But who knows…
When you and Joe originally started Terrible One, what were some of the biggest problems you guys ran into? Do you feel like in 2009 companies have the same issues?
Joe's and my biggest problem with T-1 was just that we wanted to ride bikes more then we wanted to make sales calls or do accounting. Also, we ran the company the way we rode bikes. Half the time we just closed our eyes and went for it and hoped it worked! We had a lot of determination and passion about it all so it did work out in some amazing ways, just not exactly as a healthy functioning business. Joe is trying to get more of handle on that now I think, and hopefully it will be easier for him without "two cooks in the kitchen".
I think any new company would have a lot of the same problems that we had, especially if it was started by riders. Manufacturing overseas might be easier now, but I don't know if thats really easier then we had dealing with US manufacturers.
How do you feel about people who say "all frames are basically the same now days, just maybe a steeper head tube or a lower top tube"? Do you feel the same way or is it more than just that to you?
I agree that most bikes are the same these days. I'm all for it too. It would be really cool to me if everyone just agreed that this is a BMX frame and never changed another thing. I think that a BMX bike is just a tool for riding. Its cool that everyone had the same tool but finds different ways to use it. I also like how simple and basic it is. With less gadgets and and technology going it keeps the bikes more affordable and more about riding (compared to a $5000 road or mountain bike frame).
Of course, I love the tech side of bikes and seeing what is possible, but I don't think there is as much of a place for that in BMX. Keeping BMX bikes cheap and affordable to the kids who will ride them is essential.
If for some weird completely messed up reason things with Giant fell through. Would you go back to working with Joe on Terrible One or is there other ideas going through your head?
I wouldn't work at T-1 again. I've closed that door and don't want to second guess that. If things with Giant fall through I'd probably just start school and be a dishwasher somewhere. I do have some ideas floating around, but I think I need to learn a few basics in school (or somewhere) before I dive into them.
After all this lead testing situation settles in, and companies are paying the price. Do you feel like quality of products might start to slip or improve with companies?
I don't really think in the end it will make any difference. There may be a scramble of some people looking for cheaper manufacturing sources which could be an issue, but a lot of BMX companies have a certain amount of quality I believe they will do their best to maintain.
You are recording some new music these days. Are you working with your band The Snake Trap? Solo? or what? When and where will people be able to pick some of your music up?
We just finished in the studio and that was cool. I think we will have the records in february. This recording is going on an actual LP record so you'd need a record player to enjoy it. I'm trying to talk the band into releasing the tracks online for free. In any case, I guess just keep an eye on our myspace. myspace.com/thesnaketrap
Will you be touring at all performing your music at all?
We play around Austin and I think we will play at least a small tour sometime over this summer. Its kind of funny, I'm the stick in the mud for touring… done so much of it with BMX its hard to want to do it with the band… plus, there's no Povah to pay for the food and hotel rooms!
If you could play for any band to ever exist. What would you pick to play for and why?
Wow! As I get a bit more controlled on bass I keep finding that a lot of the riffs that I make up are really close to Fugazi bass lines. I think that listening to them so much as a kid subconciously engrained the bass playing style in my head. I guess if I could play with anyone though it'd be pretty cool to play in The Who just because Entwistle was such a smooth and cool bass player, and such a character. It would be amazing to see what being in a stadium band was like. To be honest though, I am completely content keeping music in the hobby category. I've had a good run of tunring something I love into a career without souring it, and have no interest in pressing my luck again.
What kind of advice do you have for people just getting into BMX, or looking to start their own company?
Just starting BMX I always say to just have fun. Don't worry about comparing yourself to anyone else. If its fun, then enjoy it. Fun's fun right? Just starting a company? Plan out what happens in any scenario you can forsee. What happens if everything fails or you get 1000 bikes that are all built upside down. On the flip side, what happens if you get an order from Dan's Comp for 20,000 units… be ready for as much as you can and start from the beginning on planning how you can hire someone else to do the work you don't want to do in a way that you will be happy with. You don't want to loose your vision of your company in the daily grind of work.
Do you have any shout outs or thanks?
Thanks to BMX everywhere and everyone!