I had the chance to meet Talem at the YMCA park in Las Vegas during Interbike. The guy absolutely kills it on a BMX and has an awesome personality to back it up. He has had some big changes when it comes to sponsors recently and I imagine the good things will keep going for him too. Don't forget to leave some comments for him.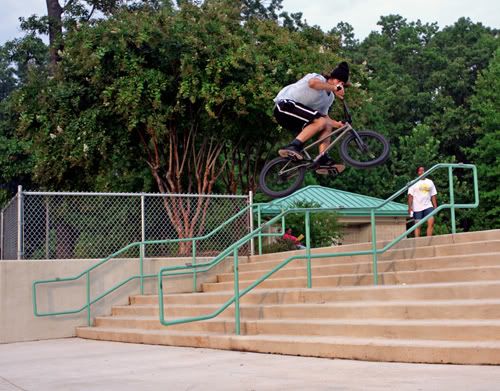 Name:
Talem Cowart

Location:
Atlanta Georgia
Sponsors:
Sputnic, Profile, Lifetime Bike Shop
Years riding:
8
When you first started riding did you ever think it would bring you to where you are today?
Oh my gosh no. Its still pretty crazy to me. I feel like i havent really been too many places, but the places ive been and the friends that i have met through just a bike is so amazing. Its cool to think about that you can call up anyone in any state that rides bikes and their just like "yeah its cool, you can stay with me!" Thats the coolest part to me.
I had the chance to meet you in Las Vegas, so I know you travel a bit. Where are some of your favorite places you have had the chance to travel to?
I would definitely have to say California! Im from the East Coast and the street out there is so much different and awesome! Plus you cant really beat the weather out there, its what everyone wishes you could have during the winter out in Atlanta. Oh yeah and the beach…cant forget that! ha.
Where are some places you would really like to go to someday?
That list good go on. I just wanna go wherever! Im down for anywhere! Overseas would be cool!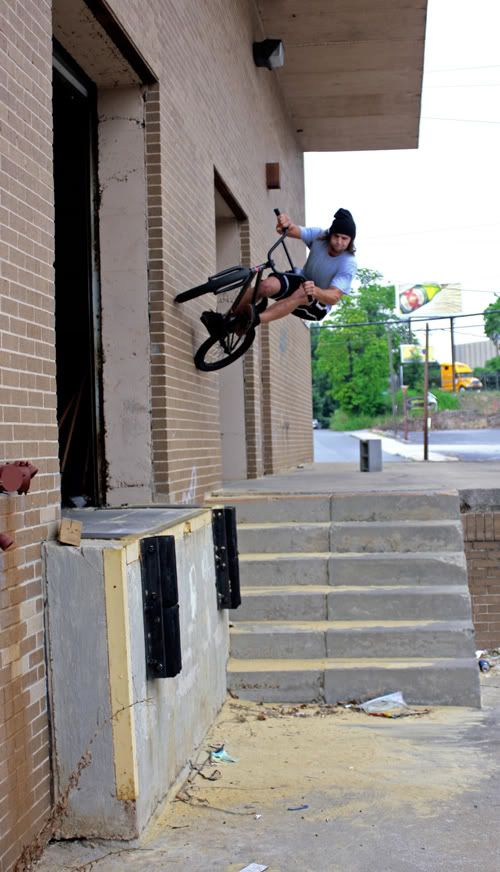 How are things going with Kink and all your sponsors these days? Any big news like signature parts or big trips planned at all?
Dude, everything at kink is going really good right now, they are putting out cool stuff! I actually though ride for Sputnic Bikes now. Pretty new, only been on the team i guess you could say for like a week now. But its awesome! Johnny is the coolest and nicest person ever. And He always puts me in a positive mood too, so you cant really beat that! Plus Johnny just lives a state away so thats nice!
Safety First will be out soon. Will you still have a part or any clips in that even though you just left for Sputnic? Also, do you have any other filming going on like web videos or other video parts?
haha, since im not on Kink anymore, Darryl just gave me all my clips back! Thanks so much for that too Darryl. If you ever get the chance to meet darryl, he is the nicest and realest dude ever! I think what were doing with all the clips is putting together a Sputnic/ Vital edit. I guess the video is kinda gonna be the announcement of me on the team.
For as big as Atlanta is, I feel like there isn't a whole lot of talk about the scene down there. What is it like, and who is your typical riding crew?
Thats so true, I dont even know why it isnt talked about much. There is alot of riders down here but i think the difference with kids down here is they dont get out of the state much and ride. Thats not a bad thing cause all the locals down here just chill and ride and aren't to into the typical bmx scene. Its cool, everyone down here is so layed back and nobody takes riding really that serious. So its good. I usually ride with the locals in ATL like Niles, Matty, Chris, and the Nashville boys come down all the time, and we go up there, so we ride with nathan and shane! Bout it for me! haha. I have gotten to ride with Corey Martinez once! hahah
You are a brakeless rider, how do you feel about it as whole, do you feel like the trend will fade or continue to grow?
I dunno if i would even say its a trend. Alot of people think that, but i just think everyone that does it really loves it and enjoying the feeling of just chillin with no brakes! Its so fun. I think kids just wanna do something new, and everyones doing it so that helps! haha. I love the no brakes!
If you could go on a road trip with any 5 people, who would you bring, where would you go, and why?
thats a good question……….Nathan and Shane for sure. And Probably E Man and Boy, and Rual! Those kids are seriously the craziest funnyest people i have ever met! Seriously are too funny and are always happy. I wish i could hang out with more people like that.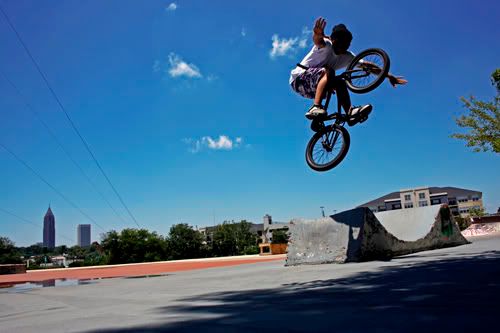 You are pretty much the king of Vader jams, what are some other tricks you really like to do?
Haha. Not at all! I could name so many people that do them more consistent! I dont pull them too consistently
What is one trick you cannot do for the life of you?
Tables or turndowns!
How do you feel about contests like the X-Games and Dew Tour? Would you ever ride in one if you were given the chance?
I think they're awesome! I wish i was good enough to ride in one of those things! Be so crazy doing all those tricks. I dont think i would ever ride one if i was given the chance cause i would just go out there and make a fool of myself!!
If you could relive any session or time on your bike, when would you pick and why?
wow, ummmm………Corey, Nathan, Brad, Seth, Alfredo, and me rode the Santa Ana banks in California and it was just super chill and so much fun. One of the best for me for sure cause i had never ridden there….just saw Brain Castillo ride em in Nowhere Fast and they looked like so much fun!
The session he wishes he could relive just happened to be on youtube.
If you could change anything about BMX, what would you change and why?
For everyone to have more fun and less hate like the Give D dudes!!!!
What do you think you would be up to if you never got involved with BMX?
I honestly dont even know. Its weird to even think about that.
Outside of riding what are you usually up to?
Hanging out with the ol girlfriend, and going out and having fun with all my friends.
Do you work or go to school at all? If so, what do you do or what are you going for?
Funny, I actually just got a job at Planet Smoothie yesterday. Its really good smoothies! Come see me sometime, ill hook you up!
What kinds of music are you into? Are you one to ride with head phones or not so much?
Naw I dont really listen to the headphones much cause they always fall out of my ears. If im just cruisin through the city though, then the headphones are loud and ON! Probably banggin some T.I., Wayne, Bone Thugs, Jeezy, Biggy, Old school Nelly is the best though! For bands I like switchfoot, mewithoutyou, Bright eyes and all that stuff! Random mix for sure.
What kind of girls are you into? What is your best trick to picking up girls?
hahaha, yeah right! I dont get girls! haha. I got one girl though and shes was pretty hard to get, so maybe there is a little trick… Just be yourself and honest? haha
If you could live like somebody famous for a week, who would you pick and why?
wow. A rapper! They seem like they live a wild lifestyle! haha. I could carry a gun and get loose! haha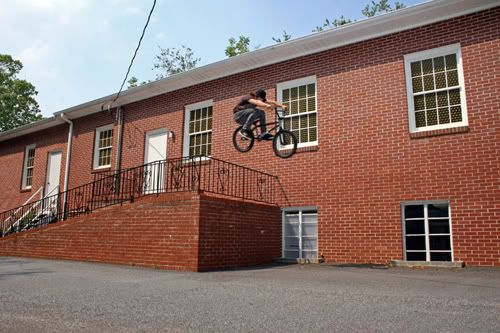 If you won the lottery, what would be the first 5 things you would do with it?
Depends on how much…..help out my friends with whatever they needed, probably just be super generous with it and share the wealth!
Do you have any plans on voting? Feel like sharing how you feel about it?
I think i actually am. Im still kinda undecided, I like alot of things about both parties!
What are some things you would like to accomplish in the next few years?
Wow. Live a more free life, not be tied down with anything. Just always wanted to treat people the way i would wanna be treated. Keep riding and having as much fun as possible. Only live once right!
If you could be sponsored by any company that has nothing to do with BMX, who would you pick and why?
haha, never thought about that……Apple Computers!!! hahah Duhh
What is something crazy that has happened to you that nobody really believes?
I thought i was going to lose my life by a east L.A. police officer at a school with Boy and Eman! Thanks for that Mr. Officer!
Have you ever been in a fight or arrested? Did you win, or what for?
uhhhhhhh………. hahaha
You got yourself an IPhone, do you have any favorite applications you think people should check out?
haha I just got it cause its the cool thing to do and everyone was doing it! Naw, it really is the best phone ever! So nice! Apple changed my life! haha
If you could have 3 wishes, what would you wish for and why?
That i would never lose sight of my purpose, that ide treat people good, and try not to judge people. Thats so hard to do!
Personally, what do you feel some of your biggest accomplishments in your life have been?
umm….not to sure. Im thankful for everyone thats helped me out through riding. Jay at kink, Johnny and Sputnic, Matt at Profile, and Chris Maheffey! And my bestfriends! I think anything your happy with is an accomplishment!
What is the best advice you can give somebody?
Figure out what makes you tick and go and do that. Dont let anything stop you from doing your thing. No matter what that is, just do it, and dont listen to nobody. People will always hate, thats the way it is. Just be you!
Do you have any shout outs or thanks?
ummm… yes! Johnny, Jay, Darryl, Nathan, Corey, Shane, Seth, Matty, Greg, Brandon, Johnny, Lauren, Parents, Ron at Sparkys! Everyone!
Anything else you would like to say?
Man im tired! haha Have fun and go do some no handers!