What can I say about Justin Kosman that isn't already well known? He's always ballin' out, spending money like it don't matter. Making money like its nothin… Justin Kosman aka "The Koz Man" is all business when it comes to phone calls and photo sessions but a complete party animal with no regrets when it comes to having a good time and remodeling his condo. Read up and take notes. Yeah its a lengthy interview, so if you're not into reading, you can suck it.
Your Full Name: Justin Michelle Kosman
Age: 27
Born and raised: Geneseo, Illinois
Currently residing in: Carlsbad, CA
Years on a bike: 17
Years behind the camera: 15
How did you get into bmx? What's your earliest memory of shredding?
Pushing around a Standard prototype when I was 9 at Rampage. I barely remember that, but I had been skating at that time so my frame of reference for BMX was Kurt Schmidt's raw bike. I didn't know wtf was going on. The next summer my best friend got a GT so of course I got one and started riding these trails in our town called "The Moose" with some 17- year old high school drop-outs on Skyway Teardrop frames with choppered forks and Bullseye 2-pc cranks. Spike pits, water jumps, and fly-out no-footed x-ups. Everyday was a circus. Mag in the front, spokes in the back. Vaseline on my pitbull brakes.
You have a history of racing under your thoroughly notched belt, what happened to those days?
In hindsight, those were awesome days, and before clip shoes came around so it was kind of hairy in the turns. The biggest jumps were at the track so I raced and dirt jumped a lot in the mid nineties. We'd have open class races and I'd bust out a 360 at full speed and over rotated (of course) and my yellow soft bead Mitsubishi Tioga knock-offs would come off the rim and I'd carcass into the dirt with everyone behind me into a full regrets crash pile. We were racing for free 6-inch Subway sandwiches so it was a big deal. That's before Jared. Before Subway was the grossest shit on earth. So to make a long story longer, Standard Bykes hooked my up for racing for a couple years and I did the nationals and state series races until I gradated high school. I remember entering a DK Dirt Circuit when I was 17 in Nashville and Crandall was announcing. He said I was from Alaska. I turned pro when I was in college and made some money racing local pro classes in Illinois, Wisconsin and Indiana. I got my ass waxed at the big races. It wasn't glorious, but it was fun. Fuck it was better than hanging around campus on the weekends.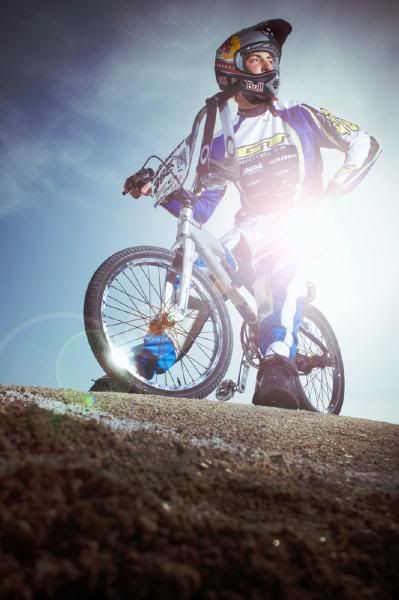 Shredding in chest protectors, what's the deal with that anyways?
I don't' remember telling you that. How do you know? My friend Billy had a motocross track at his house and he built some really fun BMX trails behind his dad's machine shop. It was like the game Frogger dodging the hundred illegitimate cats and walnuts nuggets all over ground. We'd burn cardboard boxes in between jumps and get embers stuck in our hair while riding. The place was like Thunderdome, as much as we could replicate it with all the sheet metal and fire. I thought I needed protection so I started wearing Billy's chest protector and used it for a couple years. I remember watching a video from Rampage contest of me in my racing jersey, with the chest protector and no helmet doing tailtap half barspins. In 1995 I got sick at the Christmas Classic and puked all over the Standard Factory BMX pit area; all over Moliterno's bike- so I painted "Puker" on the back of my plastic exo-skeleton that year.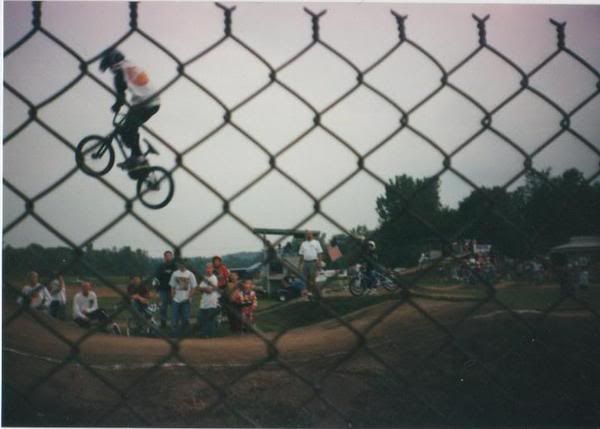 Unlike a lot of the bmx industry, you received a proper education… Where did you attend school and what degree do you currently have?
Proper is a subjective term. I attended North Central College back near Chicago and graduated with a degree in English and an honors distinction. A couple really inspiring professors and a photo mentor really lit a fire under my ass to try some things I probably wasn't ready for at the time. Bottom line is that they taught me to go get whatever I wanted. Cut to the front of the line, jump in the deep end. Being first in your class doesn't mean you're smart, it means you are in the wrong class- the shit is obviously too easy for you. Not to accept mediocre work, always trying to do the best job with what tools you have. I'll never forget the simulacra and simulation lecture that Guzman gave on Baudrillard and Barthes; that semester changed the way I looked at the everything around me- made me a little nuts, a little too introspective and over analytical- but I use a lot of those concepts in most every project I am a part of. So glad I did it. I wish I would have taken another religion class and finished my minor, but I had fucked up on classes and took 20 extra eng credits that they wouldn't count. I hadn't taken any gym classes or art so my senior year I had all these gnarly grad level eng composition classes and then I'd have to go sit through a 4-hour jewelry making class to get art credits and then go to jogging class three times a week. I made silver skull knuckle rings for my final project. I'm going back to that school in a couple weeks to speak at their 2008 honor convocation- trying to think of a good BMX story to tell in front of two thousand students.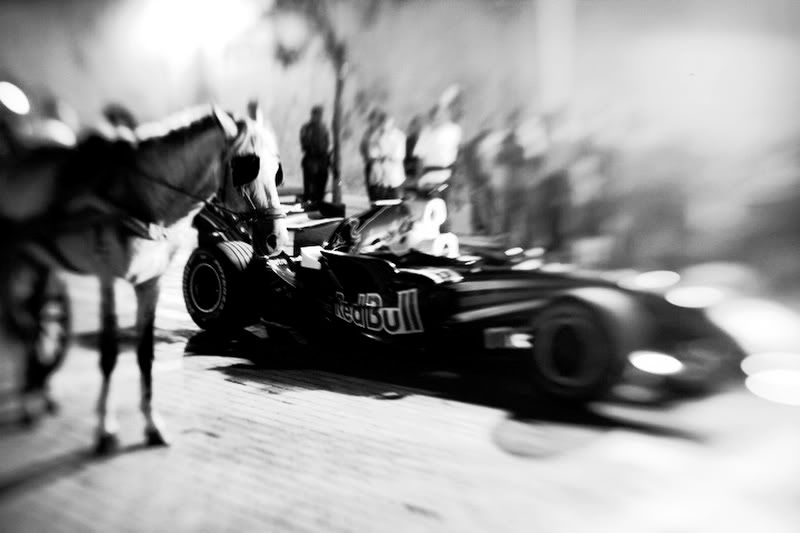 More importantly, how often did you 420 bong rip in your dorms as oppose to studying? An approximate number of beers shotgun'd and girls 69'd during your schooling days?
420 bong rips- hahahha, nah I don't do the rips man. I pretty much studied and rode my bike a lot. I was more into stuff like climbing up the side of six story buildings and sleeping on air conditioning units for my weekend fun and switching parking tickets onto campus police cars. I spent my 21st birthday scanning photos for the school newspaper. My junior year we had these trio of displaced freshman soccer players move into our upperclassmen dorm and it was obvious that they were really shy so I made it my job to make them feel uncomfortable by throwing beer bottles from the recycling bin out the window real late at night and fastball chucking my old broken cell phone down the hallway accompanied by a loud "You F*king Bitch! I Hate You Colleen!," like I was having a mental breakdown with an imaginary girlfriend. Good times.
You recently made the move to sunny San Diego, after living in regretful Huntington Beach for quite some time, how are you feeling about your current living situation?
The North County scene is awesome. All of my neighbors (minus Gary Young) are over 40 and all the San Marcos guys shred hard. Less rotting than Orange County. I do like it here. It feels like a vacation home when I come back from a trip. I like that feeling.
I've been slowly remodeling your new house little by little, would you say it's going to be a poon palace upon completion?
Man, since the wood floors have been finished this week, I just walk around with a full boner for no reason. Seriously though, the place was a high-priced dumpster three months ago and now it's on the verge of being a hi-dollar penthouse condo. Not really, but the roof does still leak. You fixed the leak from the fridge so that was good. We did buy a toilet the other night didn't we? 3 liter Kholer was it? More liter's than Gary Young's BMW, that's all I know.
I have a fond memory of meeting you at Steve Kennedy's old Fullerton house a couple years back on Halloween… Your costume consisted of temporary tattoos, all black clothing, a lip ring and a bandana… What particular bmx icon were you that year? How many girls did you flip to fakie that night? And by flip to fakie, I mean 69…
I was Rick Thorne and the next day I had full tattoo status still in effect when I went to go ride the Santa Monica skatepark. Rick Thorne showed up and it was top 5 awkward moments of my life. Damn funny now though. People did think the neck tats were real. I could have kept the spider web and been happy.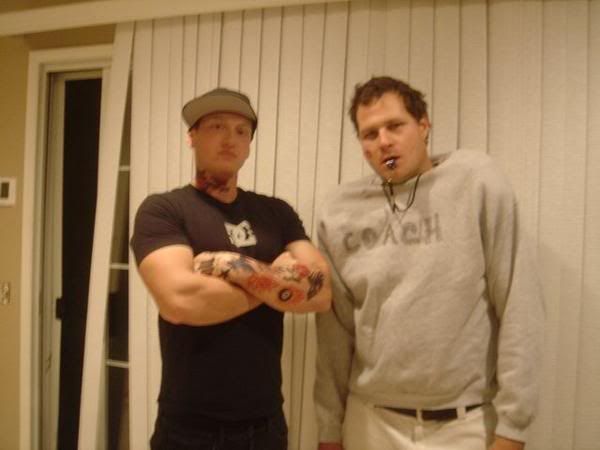 You've been into shredding bicycles for a while now, but what made you start picking up a camera more often instead of your bike? Do you remember your first camera? How many n00dz would you say were taken on that camera?
My first camera was a Canon that I bought with 40,000 Marlboro Miles, my first real camera was a Pentax K-1000. The transition from spaz rider to spaz photog happened when I was on the racing circuit back home. I was at a pro national in Michigan and I never made the mains at those big races. I was way more psyched to shoot photos of the pro main- of all the guys who wiped my ass earlier that day. It was kind of a weird realization. For me that was a transition from riding hard to learning about magazines and photography. Some of those photos I shot that day were published in the Sanction mag and that made me feel more accomplished than a podium finish. Actually I wouldn't know b/c I never got top three at a national so I am full of shit. I sucked at racing, as a job- there you go. I never had crazy pressure from my parents or sponnos to race so it wasn't a big deal to switch it up.
You're known to make business calls that range up into the thousands of dollars, travel to numerous countries within a single month and party with superstars, is this how you envisioned life in Southern California as a multi-platinum photographer?
It is a little surreal, but sometimes you gotta jump in the deep end and do a 180 burnout 69. I just got back from Italy with Bucky Lasek, that was pretty dope. I have a shoot with Tanner Hall this afternoon, I'm trying to finish this interview before I leave to go do that. So, yeah it's better than I could have expected.
Can you briefly describe the term "cat butt" and your feelings towards it?
My feelings on that subject are negative. Cat Butt is when a cat licks it's own butt and then sits there with it's tongue hanging out because it's realized what it's done. I can't incriminate myself any further. Cat butt = Full regrets.
You excel in bmx photography but you shoot photos for a lot of different companies some of which aren't even bmx related… Can you name-drop some of the current companies you work for? What said companies do you particularly enjoy shooting for?
A little Vans skate this year was awesome. A lot of motocross for Source Interlink (Dirt Rider/Mini Rider). Red Bull is launching their Cola brand this year so they have had me doing a lot of athlete lifestyle photos. Levis has been good with a trip to Hawaii this year. As far as companies I like shooting for, they all kick ass and have been with me for a couple years now. The last two years I did a lot of work with GT mountain and road which was all art directed by McGoo and those shoots were all so much fun. I with I could take him on every shoot- that man knows how to delegate. Lately I've really had fun with the Dirt Rider shoots. Denison will bring out some hot-shot amateur moto racer to blast through a berm for a cover shot and I will just yell at him the whole time, be outrageous, make him sweat it out. Then I tell everyone gross BMX stories at dinner and completely traumatize them.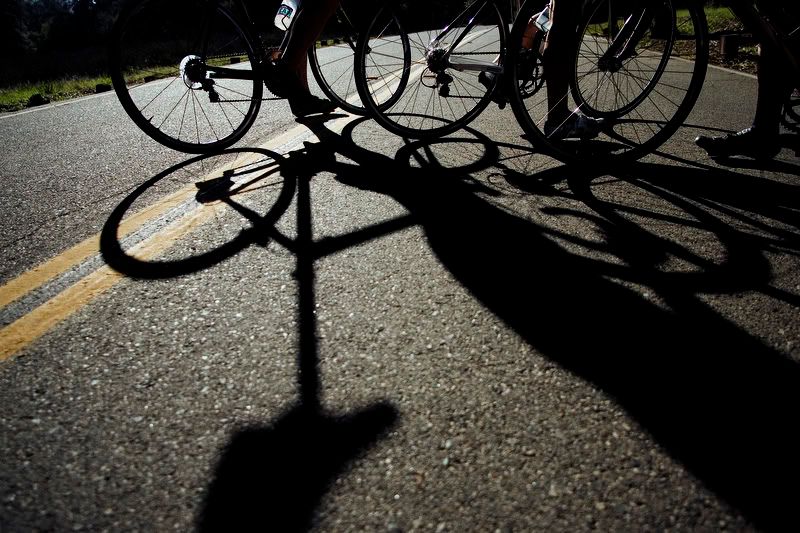 Who are some of your favorite bmx stunt masters to work with?
Guettler and Mackay for sure. They are really tech photographers too and it kicks ass when it is a group effort to make a cool photo happen with those guys. There are so many good riders that I really like shooting with everyone. They do that hard shit. But Guettler and Mackay for sure.
When you're not behind the camera, what are some of your favorite obstacles and or terrains to shred?
Pools, any mini ramp and any big ass cement wedge. The new mini ramp at Clairmont in S.D. is unreal.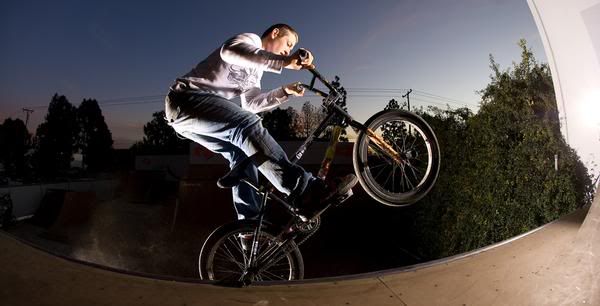 A lot of people know you for your kickass photography abilities, but what should people really know about "The Koz Man"?
All I can tell you is this quick haiku…
Small fish in big ponds
Swim upstream for tasty waves
Pull breathe kick glide. Glide.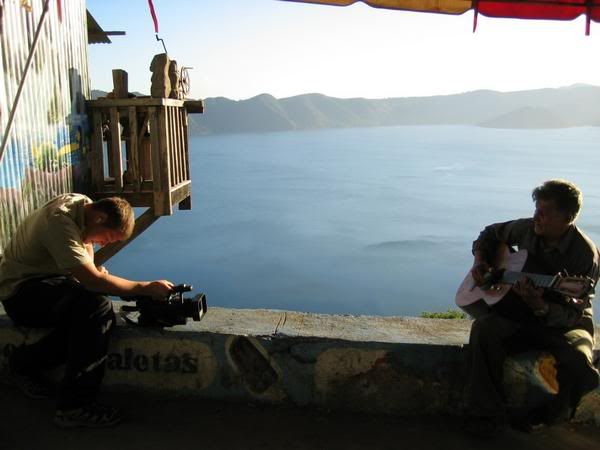 A day in the life of Justin Kosman:
Wake up at 5am
Check the phone for any urgent emails from East Coast or Europe that may have came up over night.
Go make some coffee and pour a bowl of "Oh's" cereal. Non-fat milk. Do the e-mail game. Insert minimal myspace lurk.
5:30: Ride the road bike on the trainer for a playlist while sending ridiculous text messages to Miles Roigish. Take a shower, high-five Chris Collins as his dreadlocks float out the door. Email, laundry, phone calls to east coast. Special day breakfast at El Caribe.
8am: Bank. Then pick-up Alex Give D! to slave at the condo. Sometimes I'm at an airport by this time or picking up a rental car.
10am On the way to the photolab or a photoshoot somewhere. If not run up to Orange County and hang out at Bike magazine or go see the guys at Ride mag. Drop film/pick up film in Irvine. Get my cameras cleaned at Canon. Stop by Vans and Red Bull, see Kelly Bolton if I get up into L.A.
11am: If I am home I watch the hot realtor try and sell the next-door unit to Italian mobsters.
11:30am. Look on AutoTrader.com for any vintage Lotus cars that may have gone up for sale over night. Send invoices. Edit photos or video for a couple hours.
2pm: See if anyone is going to ride today. If not, go to Home Depot and buy tile flooring.
4-8: Edit photos while watching a movie from iTunes. Today it was "The Departed."
8pm Go take Alex Give D! home and go eat a chicken torta.
9pm come home and go to Barnes and Noble and nerd on books and magazines until 11.
11:30 Take a shower. Fold laundry. Look at late model Lotus Exiges. Crunch numbers, and decided insurance is too much. Need a vintage one to get the antique insurance discount. Make a note to check out Lotus Esprits the next day.
1pm go to bed if I am lucky. Minimal sleeping. No regrets.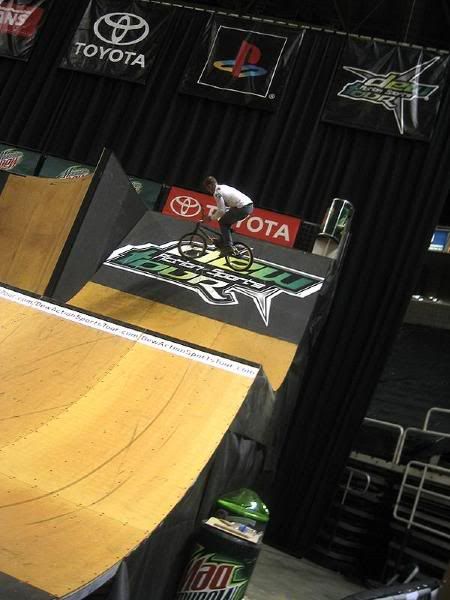 Anybody you would like to give a hollar out to or thank?
Mom and Dad, Jeff (RIP), Steve Woltmann, Moliterno, Paul &Rhonda Depauw, Ryan Brock, Tim Boone, Ryan Marshall, Brad Burris, Jon Willy, Jennifer Jackson, Richard Guzman. Badders, Dwayne, EricDC, RM59, Kathryn, Ilana, Marcus Gerber, Sandy V, Losey, Give D!, RickM, Moeller, McGoo, Josh Champion, Wildman, Pondella, GarthM, KevinMcAvoy, DebESPN, Swope, JeanaMAxxis, JackieRoy and Bhunt, Fuzy, Randalle.