Click here for full size
If you couldn't tell by now, it just so happens that I like to let each week's column happen as organically as possible. I honestly don't like trying to have too much of a plan when it comes to the newest TTL's. I like the fact that every week I have the ability to let the column take different directions and end up where it ends up so to speak. This past Monday I spent Labor Day chillin' in Long Beach and shooting with Hoffman Bikes Caleb Quanbeck. We spent the day getting stuck at one school and I ended up shooting a bunch of photos while we were there. Since it seemed like Caleb had a newfound motivation to get shit done I wanted to give him the opportunity to have a feature on the site and let everyone know what he has been up to. Check it out.
Name: Caleb Thomas Quanbeck
Age: 20
Hometown: I was born in Bozeman, Montana but I have lived in Portland for the past 15 years.
How did you first get into riding?
My friend in kindergarten got me into racing when I was 5 and I did that until I moved to Oregon and discovered freestyle BMX at the local indoor skatepark. I immediately fell in love with it.
What was it like growing up as a young shredder in the North West amongst bad-asses like Eddie Cleveland, Justin Inman and Darrin Read?
Justin Inman, Darrin Read, Paul Kitner, GJ, Shad, Eddie Cleveland, Vince Kroff, Bruce Crisman. I can't thank those guys enough for bringing me up the way they did. Without those dudes I have no clue what I'd be doing now.

Click here to see it in full size
What has been going on lately?
Well, I just quit my job at Harley Davidson, sold my drift car, paid my bills and hit the road, haha.
What brought you down to California recently?
I've been really motivated lately to ride, film and shoot photos and there's not a better place to do that then Cali.
In the Internet world if you don't have videos coming out all of the time people seem to forget about you. Some people might think you have been laying low lately so fill us in on that.
I was a little out of it for a while. I was unmotivated and stuck in a rut. I'm back on it now and excited to see what 2013 has to bring.
What are your plans until the end of the year and leading into 2013?
I want to ride as much as possible, stay healthy, film, shoot photos, try to step out of my comfort zone and step it up a little, haha.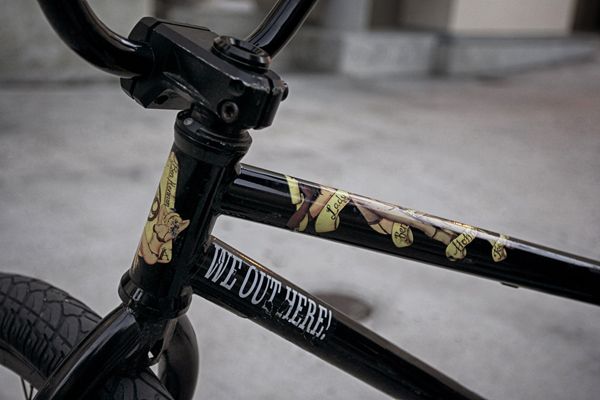 Click here to see it full size
Who are your current sponsors and who keeps you rolling at the moment?
Hoffman Bikes, The Shadow Conspiracy, Lotek Shoes, and Goods BMX.
I know you have a lot going on so how is it trying to balance work, riding, having a girl and living in general?
I don't care what anyone says its hard as f**k to juggle work, BMX, having a girl and everything else but it is the way it is. If I didn't have to work and I could just ride I'd be in heaven.
What is it about BMX that draws you in? What motivates you to ride?
The people I'm around definitely play a big part in my motivation levels. I also get stoked on being productive and learning new things. All that helps to get me psyched.
Two pegs, three pegs, four pegs or no pegs?
I like them all it just depends what YOU want to do.
While we were riding you mentioned getting pumped on music so why don't you fill us in on some bands you are into lately.
Well, I used to strictly listen to hardcore bands like "Trapped Under Ice, Terror, and Blood for Blood" but since about a year ago all I've really listened to is pop punk and bands like "The Wonder Years, Title Fight, Set Your Goals.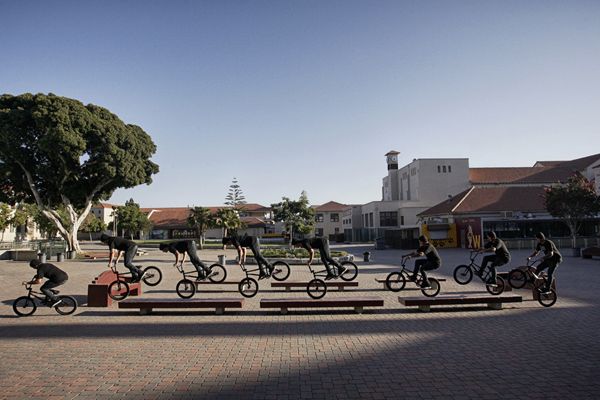 Click here to check it out big!
If people know you they know that you have a reputation for being pretty damn good at nose manuals. How did that come about? I am sure there are a million kids out there dying to know the secret. Shed some light on them.
Well, a lot of people don't know this but I use to basically live with Dakota Roche in Olympia, Washington back in like 2005. He had already been doing nose manuals for a while already so I just started messing with them and never stopped. I guess I should be thanking Dak for the tips on how to do them, haha. And for all the kids out there it's just a manual be patient and try them consistently and you will get them.
Some people might not realize this but you don't drink alcohol or do drugs but you do smoke cigs. What's the deal?
Yeah, I don't drink alcohol and I don't smoke weed or do any drugs. I use to drink a lot when I was younger I got my first fake I.D. when I was 15 and used to rage! I was never a pothead though I hate that stuff! But two years ago when my mom quit drinking so did I and I've never felt better. I smoke cigarettes because I enjoy them. I don't enjoy drinking or doing drugs and once I don't enjoy cigarettes anymore I am sure I'll stop smoking.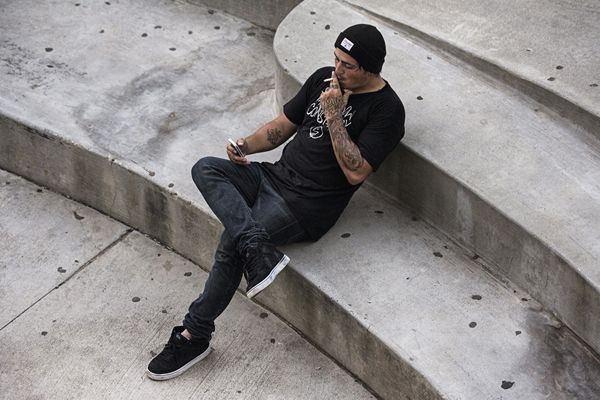 Click here to check out this photo in full size!
You have been around doing your thing for a while now, what are your thoughts on the current state of BMX?
I think it's amazing I love watching street and park and riding in general progress the way it is.
If you could change one thing about BMX, what would it be?
I would like to see more DVDs, more apparel based company's and more street based contests here in the U.S.
Being someone that has had a good amount of online coverage over the years what kind of role do you think the Internet plays in getting some riders shine-time and putting them into the spotlight?
The Internet got me to where I am today and I'm sure in just a few years time it will be the only thing to put you in the spot light, haha.
What is it like riding for the gnarliest dude in all of BMX?
Every single time I talk to Mat (Hoffman) I go into shock. It's the craziest thing ever and I can't thank him enough for giving me the opportunity to represent Hoffman Bikes.

Click here to check out the photo in full size
OK, I think that about wraps it up. Any last words?
Thank you for asking me to do this interview and if you want follow me on Instagram and Twitter @calebquanbeck.
Give some shout-outs and thanks.
Thanks to Mat, Mark and Jeremie at Hoffman Bikes, Ron and Chadwick at The Shadow Conspiracy, Rich at Lotek for all the help over the years, Shad at Goods BMX, my fiancé Lindsay for always supporting what I do, my mom and of course all my friends back home and around the world.
Don't forget that we have a Through The Lens photo contest going on right now that is sponsored by Quintin. And be sure to check back next Wednesday for the thirtieth edition of Through the Lens and as always feel free to leave any questions in the comments section or email me at info@jeremypavia.com and I will hit you back as soon as I can. Feel free to follow me on Twitter and Instagram @jeremypavia.