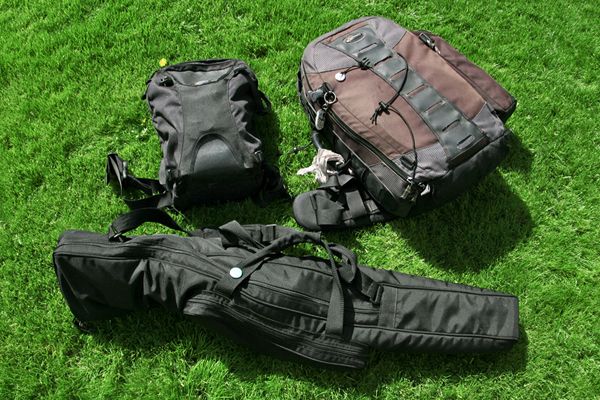 For this weeks edition of Through the Lens I really wanted to give everyone out there a full breakdown of my gear and what I use to shoot with on a regular basis. Anyone from the average photo enthusiast to a pro shooter knows that photo gear isn't cheap by any means. Luckily there are plenty of options out there when the budget just doesn't seem to match up with the wish list. Trust me that happens to me on a regular basis. It takes some creativity and a little bit of an eye for a deal but you can really benefit from spending the time to do some research and find out what's mandatory and what you can live without. For me, I have spent countless years stacking up my gear and honestly, whenever I have some extra money, one of the first things I want to buy is camera related which is a never ending cycle for the serious photographer. So, I suppose the point of all of this is to not get too frustrated if you feel like your gear is not up to par. Remember that photography isn't all about expensive shit, it's about the image you create. Whether or not an image was taken with a pinhole camera or $25,000 digital medium format camera if it's a memorable image, the cost of the gear becomes irrelevant. Let's move forward.

Starting out, these are my three main bags that I try to take with me every time I leave my place to go out and shoot. It doesn't matter if I am meeting up with riders for the day or heading out on a week-long trip I try my best to be prepared for any shooting situation. I know it doesn't look like much from the outside but a lot of stuff is hidden within those zippers. I have learned over the years that although it's a huge pain in the ass to carry around a ton of gear it's better than sitting at a spot wishing you had brought a certain lens, flash or tripod. This is especially frustrating when you are on a trip and have no option but to be pissed that you "should-have" brought something you didn't. Speaking from personal experience I have been there more times than I would like to remember and have since learned my lesson. Of course there are situations when much less gear than this is necessary but work with me here. A huge lesson when it comes to photography is that you never know what you need until you actually start shooting. You may need a certain size lens or one more flash power to make the perfect photo and if you didn't bring it along because it was a pain in the ass, you won't be able to let yourself live it down. The more options you have, the more creative you can get, the more you can adapt to any shooting/lighting situation, the better your images will be.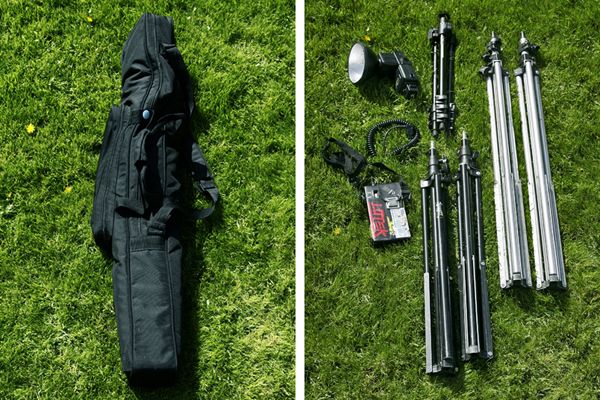 First up is my tripod bag. For years I used a crappy army style duffel bag to carry around my light stands and tripods and sure it worked, but it was always awkward to ride with and never really protected my stuff. I finally smartened up and bought one of the most useful items I have ever owned and that is a bag made specifically to carry light stands and tripods. The one you see here is from Calumet and has been a lifesaver. It is padded, surprisingly roomy and also has a side pocket for extra crap like batteries, memory cards, lens cleaning stuff and whatever else you can fit in there. Sure, you can carry your light stands and tripods however you want but having a purpose-built bag to do it helps out a lot. I just throw in the flash because it fits right at the top and is protected seeing as how the bag has padding and the battery pack goes in the side pocket. Again, it gives me a certain piece of mind knowing that I have everything with me so I put up with the potential future back problems and run it. It also makes it easy when I go on a trip because I just take the Sunpak flash out and then throw the entire bag into my DK Golf bag along with my bike and it hits just under the 50 lb. mark with a few extras making it fly under the radar. This also means that I can get away with letting them know it's "camera equipment" and not mentioning the bike which has saved me from paying the bicycle fee countless times.
Contents:
*Manfrotto – 390 Series Tripod
*Bogen 8ft. light stand (2)
*Impact 5ft. light stand (2)
*Sunpak 120J Flash
*Sunpak TR-Pak II Power Pack
The next bag is my flash bag and it carries my two main flashes along with their battery packs. These flashes put out a decent amount of light and are fairly easy to carry around and travel with. Battery packs are kind of a pain to take everywhere in general but having them in their own bag helps because someone can just throw the backpack on and cruise or if I carry it on my own I can put it on backwards and wear it in front of me while I have my bigger bag on my back. Either way these flashes have done me some good and although I am ready to change up my lighting system I am in no immediate hurry to do so. The best advice I can give is to work within your means especially as a freelance photographer. A great way to work it out is that every time you get paid from a job, put some of that money aside for new gear. It's like an investment program and eventually if you are on the right track, you will be able to keep buying new gear as the years go on. The more money you make, the more gear you can invest in, the more photos you can sell, the more money you can make and so on. Make sense?
Contents:
*Lumedyne #067 400 w/s power pack with high-speed module
*Lumedyne #065X 200/400 w/s power pack
*Lumedyne Flash Head (2)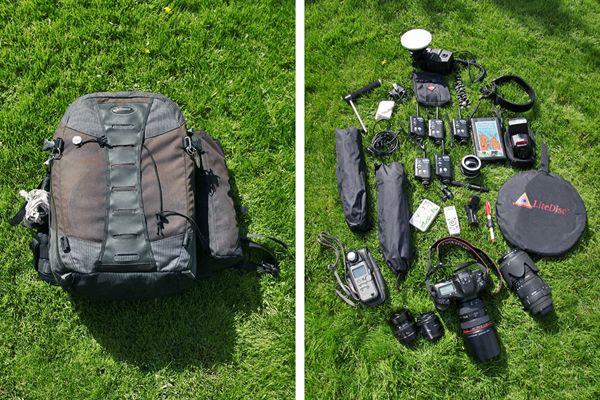 Last up is my actual camera bag. This thing has been there right with me whether it was across the country or across the globe for well over five years now and is still in great shape. It is actually right at the limit size-wise of what I would like my camera bag to be. It fits in the overhead compartments on most planes and sometimes even under the seat depending on the size of the plane. Any bigger and I would have been screwed many times over. I actually have fought with countless flight attendants about checking my bag as soon as they see me trying with all of my might to squeeze it in the overhead bin. Sometimes it takes a while, and sometimes it's frustrating as hell knowing that I am shoving thousands of dollars worth of gear as hard as I can into a space not necessarily big enough for it but at the end of the day, I can't be checking my camera bag so I do what I have to do. I love the Mark II N body and it's been great for me but this one has seen some wear and tear for sure. I'm on the third shutter but the thing keeps on ticking so as long as it's ready to go, I am gonna' run it until I upgrade and then it will make for a great back-up body compared to the old 20D I have now. I am pretty happy with my current lens selection but I definitely have some that I use more than others. I would say I shoot mainly with either my Canon 50mm 1.8, 28-70mm 2.8 or the 15mm 2.8 fisheye. All three of those are great lenses that are totally worth the investment. I also use my Sigma 70-200mm 2.8 quite a bit but I have been wanting to switch that out for the Canon version for years now but the image quality has been pretty solid which makes it hard to justify spending another $1,500 at the moment. I have been putting my 50mm lens to work and that little plastic lens is sharp and fun to use. Lens Baby sent me some lenses a while back to try out and the one that has remained in my bag and gotten the most use has been the "Composer." It's just a fun little mess around lens to have in the bag and comes in handy once in a while. The Quantum Q-Flash rounds out my main flash gear and although it has been in the shop multiple times over the years from riders smashing into it, it has been a solid piece to my photo puzzle for a while now. I love having the two soft boxes with me at all times as well. Although they are fairly small in size they come in handy when it's time to shoot some on location portraits no matter where I may be. I guess you could say all of the things in my bag are essential but a few things that I can't live without would be my 50mm lens, transceivers, lens cleaning cloth, sensor cleaning kit, my light meter and my 28-70mm lens. It is funny how you can get used to certain things about your gear and although I have an ongoing upgrade list I love all of my stuff and each piece has a specific purpose and it's cool to see everything get used in it's own way. The lesson in all of this is to appreciate what you have, work within your gear budget and remember that being a photographer is all about investing in yourself and what you can provide to a potential client. Make sure to set up that "wish list" and don't be too discouraged if it takes a while to get an essential piece of camera gear just use what you have to it's full potential and if you have what it takes, you will eventually acquire more camera crap than you know what to do with.
Contents:
*Canon 1D Mark II N
*Canon 28-70mm 2.8L lens
*Canon 15mm 2.8 fisheye lens
*Canon 50mm 1.8 lens
*Sigma 70-200mm 2.8 lens
*Sigma 10-17mm 2.8 fisheye lens (used to shoot the photo)
*Lens Baby Composer lens
*Canon 430 EX Flash
*Quantum T2 Flash
*Quantum Turbo battery pack
*SP Studio Collapsible 19" Soft boxes (2)
*Pocket Wizard Transceivers (5)
*Sync Cords (4)
*Sekonic L-358 light meter
*Quantum QF70E flash bracket
*Memory cards (4)
*Gorilla Pod mini tripod
*Card Reader
*Photoflex Lite Disc 32" reflector
*Lens pen
*Lens cleaning pad
*Sensor cleaning kit
*Flashlight
*Mini ball head
*Red pen wrapped with some gaffers tape
*Voice recorder
Be sure to check back next Wednesday for the third edition of Through the Lens and as always feel free to leave any questions in the comments section or email me at info@jeremypavia.com and I will hit you back as soon as I can. I have a list of ideas ready to go but I am not sure which one I want to work on yet for next week so be sure to check back. Also feel free to leave future feature ideas in the comments as well and keep an eye out for details on the first monthly "Reader Contest" starting with March.
Don't forget to check out more of Jeremy's work at JeremyPavia.com!