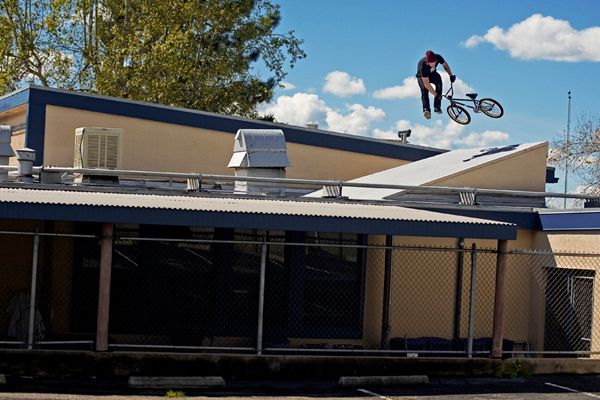 Photographing your subject using only available light is actually one of my favorite ways to shoot and can make for some amazing images. Sure the situation has to be just right for everything to work out and it may not always provide you with stellar results but that's just how it is. A big part of being a professional photographer is knowing when to shoot with or without flash and also being able to determine when the natural light is at it's best. Another reason why shooting with available light is rad is simply because you don't need anything but your camera and lens to do it. No expensive lighting set-ups, no weird shadows from your flashes, no light stands to work around and avoid getting in your shot, no extra gear to lug around, and to put it bluntly; no bullshit. Let's move on.

Shooting with available light is all about timing, plain and simple. It takes a good eye to notice when the sun is shining just right, or the cloud coverage is creating nice even lighting across your scene. Another thing that makes a huge difference is shutter speed. Now, if you know anything about shooting with flash you should know that you have a limited amount of shutter speeds to choose from. With most digital SLR and 35mm film cameras you are stuck shooting at 1/250th of a second or slower. Sure, there are times when you can push it a bit maybe to 1/320th or so in bright sunlight but for the most part, for the obsessed photographer like myself it's never fast enough. The point to all of that is when shooting with available light typically it's going to be during the day allowing you to shoot with a fast shutter speed which will help freeze the action without having to worry about any sort of motion blur. It's actually hard to not stop the action with shutter speeds ranging from 1/1500th-1/4000th of a second or so.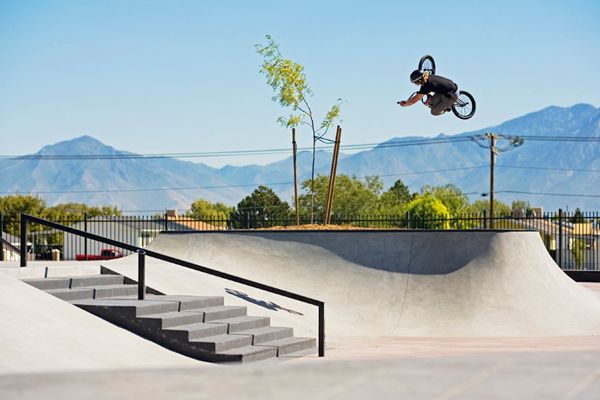 When I was watching Bryant ride at this park I saw him do a few of these perfectly clicked inverts and couldn't resist asking him to shoot one. The decision to take this shot with available light was all too easy and the scene was just calling my name with the mountain line in the background and the nice blue sky. As always I could have set up a few flashes but in order to shoot it the way I wanted to (pulled back giving a bit of perspective) I decided to go with the available light. It was late afternoon when we shot this on a perfectly sunny day in Salt Lake City, which provided just the right amount of light. To me, inverts are timeless and will always kick-ass in my book so I wanted to really create a photo that matched the way I feel about the trick. I wanted it to be the type of photo where you don't have to be a BMX'er to appreciate it so I focused on creating a unique composition as well as making sure the trick got the justice it deserved.
Another great thing about shooting available light is the ability to move around and change up your shot with ease. Typically when working with flash you are restricted to one angle and one spot to shoot from without going through and moving your flashes around and then re-metering the scene. This not only makes shooting with available light more convenient to shoot but it also opens the door for achieving the best composition you can for that shot. Trust me, I have been in many situations where I literally walk around for 15 minutes or so looking for the "right" angle and switching between fisheye, long lens and every lens in between. Every trick is different and every spot is unique so when it's your job to make a solid image and the rider is putting their trust in you, you want to double check all options as far as angles are concerned and when shooting with available light, this process becomes much faster and can also make you think outside of the box and get a little more creative so don't be afraid to explore your options and move around as much as possible before shooting or if the situation presents itself, shoot from a few different angles until you get that feeling that you have found the perfect shot.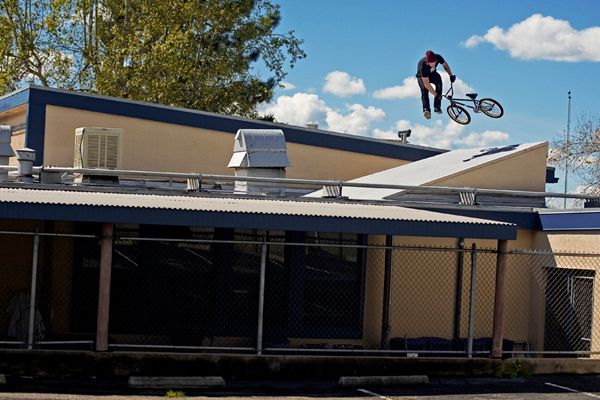 This photo of Kelly Bolton downside whipping a seemingly "made to ride" wedge on top of a school is a perfect example of needing to make the decision of whether to shoot with or without flashes. I wanted to shoot this photo long from fairly far away because I wanted to show the scale of the roof and create a feeling to the scene. Typically I like to shoot with flash to give my images more depth but when you are in a situation like this you need to get in, get the photo and get out. Sure, I could have set up a few flashes but the sky was looking sick and the way the sun was shining it actually lit Kelly up more than I expected it too which made the decision pretty easy. Plus, the school is right on a main street in a quiet neighborhood so once you are up on the roof, you obviously create quite the scene for nosey neighbors. Anyways, I found the spot that worked for me composition-wise and Kelly went to work getting the downside whip. A few tries later and I was happy with the shot and that was that.
Still need more reasons why shooting with available light is awesome? How about being able to shoot silhouettes along with regular and seamless sequences with ease? How about shooting under the radar. Everyone takes notice when you have a million flashes set up but if you are just shooting long lens and stay out of the way, the pressure is off and you can shoot from a distance. This means that you can focus on getting those "photojournalistic" style images that are not contrived whatsoever and are completely natural. Obviously this also comes into play if you ever plan on shooting an event or contest like say the X Games. You may be in a situation where you have absolutely no control over where you can shoot from let alone if you can use flashes or not so being comfortable shooting long lens with available light will come in handy for sure.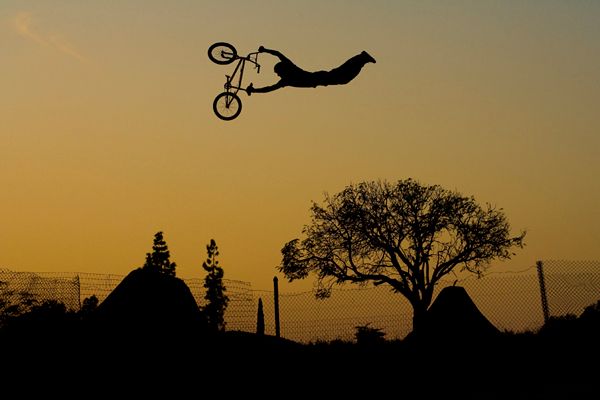 This is one of those cases of being in the right place at the right time and will always remain to be one of my favorite BMX images. This silhouette of Luke Parslow's textbook superman seat grab happened because I saw an opportunity and went with it. I shot some flash stuff on this same exact jump that right before this but one run through I saw Luke stretch one of these and I caught a glance of what it would look like as a silhouette against the golden sky and had to make it happen. So, I told Luke I had a sick shot if he was down and of course, being the rad dude he was, he said hell yeah. I bumped my shutter speed up to darken the background and really make him pop, I focused on the middle of the landing and patiently waited for the right moment. By the time we got the shot it was so dark I had no idea how he was still riding but at the end of the day I was pumped and Luke was stoked as well. We both walked away happy with a useable image and to me, that's a great day.
Basically the lesson of today is to explore your options. Make sure to approach every shooting situation with a clean slate and don't shoot a certain way because you are used to it or know that it's going to work out. Take some risks, make some mistakes but as long as you learn from what you did and turn it into a better photo the next time around then you are on the right track. Keep in mind that knowing when shooting with available light will benefit you most is a skill that comes in handy whether you are shooting action or simply shooting some portraits. It's easy to get caught up in the whole "set-up" style of shooting where there are no less than three flashes going at once but remember to always be paying attention to what the outside light is looking like and be in-tune with your surroundings before you shoot. Also keep in mind that the first angle you choose may not always be the best. Question yourself and really make an effort to focus on a unique composition. That, combined with a perfect exposure will make all of the difference between a good photo and a great photo.
Be sure to check back next Wednesday for the fourth edition of Through the Lens and as always feel free to leave any questions in the comments section or email me at info@jeremypavia.com and I will hit you back as soon as I can. Also feel free to leave future feature ideas in the comments as well and keep an eye out for more details on the first monthly "Reader Contest" sponsored by Fit Bike Co. to pop up in the next day or so. You don't want to miss out on this one, they are hooking the winners up for sure and even if your photo doesn't make the cut, you can take pride in sharing your photo skills with the world. Stay tuned for full details.