Tom is one of those guys who makes BMX sound real good. He's been doing his own thing for years, and one of the lead guys for Vinyl. It was time to catch up with him to really get to know the guy. Check out the interview, his part from the first Vinyl DVD, and some real good photos. Leave him some love in the comments too!
Photo by: Brian Yeagle, David Leep, Andrew Brady.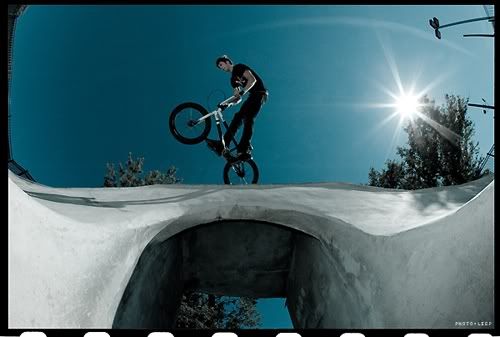 Name:
Tom Arkus

Location:
Pittsburgh, PA
Sponsors:
Fly bikes, Vinyl
Years riding:
8
What was it that first got you into BMX? Any real early memories come to mind?
My mother took me to a Schwinn bmx stunt show a week after I got a bmx bike. Watching those dudes ride got me so psyched then it was on from there.
You have been a key driving force behind Vinyl, what exactly is that crew all about anyways? Along with the DVD, what else are you guys up to these days?
Well it's funny, I had a website about 6 years ago, I started making web edits of our trips. I was really inspired by midwestbmx.net. I after a while I started getting out of my scene more, thats were Vinyl was born. I met many new people, made friends, got inspired by my friends to make fun, creative videos. The crew is a large variety of personalities, everyone brings something to the table for vinyl. It really doesn't matter if we produce something for vinyl everyday, as long as everyone is psyched on what's going on with Vinyl, creativity is key. Everyone that is apart of Vinyl is an amazing rider. Some are big time pro's some are very underground. They are all friends with one and other, that's why the crew is so unique. We started an Apparel Company it's been on the DL at the moment, just trying to come up with a good strategy in what direction we want to go in.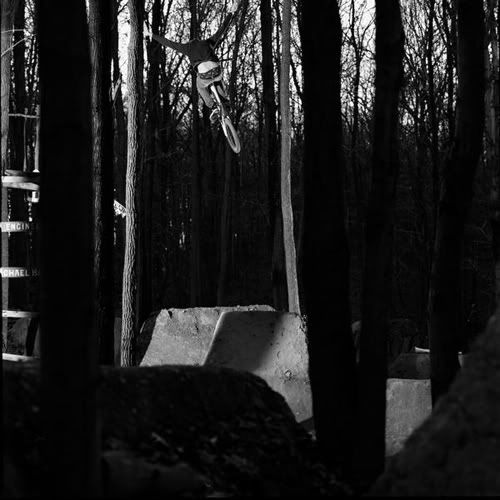 How are things going with Fly? Any big news with you and them that you can tell us about?
At this point I'm a Flow rider for Fly. I do some video projects for them. Hope fully in the near future we can work on some bigger projects. Just learning about fly and it's history is a treat at itself. From how everything is made to riding prototypes. Everything is pretty new with Fly, I've been riding for them for about 9 months now… They treat me very well.
When you first got into BMX did you ever imagine it would turn into the opportunities that you have been given? What do you feel your biggest accomplishment has been?
Bmx is a small world, everyone wants a piece of it. You can only give out some many opportunities to kids. Everyone has certain goals they want to achieve in the bmx world. It just depends how you want to go about it. I was fortunate enough to know the right people, Kevin Porter had a huge impact in bringing me into the bmx world. If you do your own thing with out worrying what people think then you will be just fine. My biggest accomplishment riding wise has been riding the trails out east to it's full potential. I never thought i would be shredding trails with some of the biggest trail legends…
You have been able to travel a fair amount in your days, where are some of your favorite places you have had the chance to go to and ride? Where are some places you would really like to go to?
I love the east coast, thats why I chose to live out this way. ATX is a good time, I got really burnt out on living there, had to make a change in life. Phoenix is really great for riding. Chicago is amazing in the summer time. I'm just laying low at the moment, for a little while saving money to make my way to Europe. I have to work a few kinks out before I go over seas.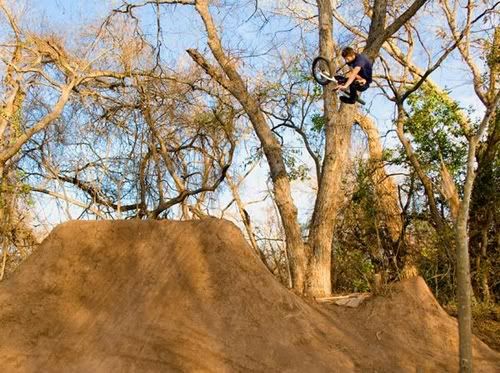 The Vinyl crew is really spread out all over, so who is your typical riding crew these days? Any up and coming guys you can tell us about?
I ride with Brian Yeagle pretty much every single day, I moved pretty close to where he lives (2 miles away). When I first moved to Pittsburgh, I rode with Brandan Pundai everyday, but things have changed since then. Doyle is awesome to ride with whenever he's home. During the summer we have a dope crew. Mulville is here through the whole summer, Glen Johnson, Josh, and Protoz are really great to ride with. Hope fully this summer we can build a nice scene with the new Trail Spot.
Where can you usaully be found riding on a more regular basis? Any all time favorite spots you can tell us about?
I pretty much never leave the woods during the summer, we have a couple of trail spots here in Pit. I ride concrete in the morning when everyone is in school. I would have to say Posh, Catty and Terrible One are my favorite things on earth riding wise. The people that ride at those spots are so fun to spend time with, shoot the shit and do some shredding at the same time.
Besides your part in the Vinyl DVD, are you filming for any web videos or other video parts?
Once spring rolls around I would like to make a web edit for fly. But right now I'm concentrating on filming for DIG, and our full length. Vinyl Web videos on occasion too…
Do you think that you would have ever got into filming and editing if you didn't get into BMX?
I doubt it. The reason I even picked up a camera was cause of my friend Tim Timpe. On one of our trips he was filming, but kept fucking up the clips, so I was like let me film. I became an addict after that. I started perfecting more cause of filming. You kinda have to be a perfectionist to be a good filmer.
Do you ever find yourself getting burned out on bikes? What do you do to keep things fresh?
At certain points I hate my bike, sometimes I hate the way my bike looks color wise. Majority of the times when I don't want to ride I transfer all the energy into my shovel to build something new to get psyched on riding again. Sometimes I go a month with out riding and sometimes I don't put my bike to down for a year straight.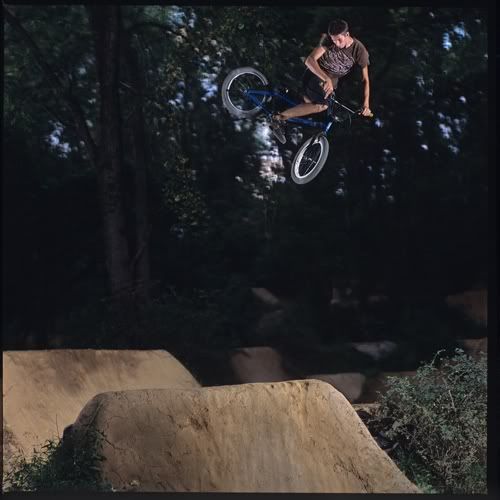 In your own opinion, what is the true meaning on BMX?
Ha, bmx is nothing serious in my mind. If you making a living riding bmx bikes think of it as a bonus for shredding everyday. I get really bummed out when kids talk shit on the come up. I never really understood why you can't critique some one for the better, instead you have to butcher them on the internet. Do your own thing don't follow trends fuck that shit. 10 years ago no one gave a shit what was hot on a bmx bike, everyone did their own shit how they wanted to. Now day's it's rare to see a unique rider that stands out from cookie cutters.
What is your injury list looking like these days? It seems like everyone and their mother has had knee surgery these days.
Man, where to start. I've hit my head way to many times my short term memory is fucked up. I broke my elbow last summer, I've knocked all my teeth out, broke my nose a couple of times, blown out blood vessels in my ankle…
If you could go on a road trip with only 5 people. Who would you pick, where would you go, and why?
Brian Yeagle, Joe Rich, Lil Jon, Chase Zink, Matt Trievel (Treebell). You have your biggest tranny roasting apes, all those dudes can ride trails like no ones business, and endless amounts of comedy on the trip with lil jon and Treebell.
In a perfect world, where would you like to take BMX as time goes on? Would you want to work in the industry?
I would like to be apart of the industry at some point, maybe work for a company of some sort. But at this point I want to do my own thing. Do things the way they should be done in my eyes.
What do you think you would be doing if you never got into BMX?
I Probably would of been a burn out, sitting on my mom's couch bitching about life.
What are you usually up to if you aren't filming and riding?
Spending time with my wife, working, I travel a lot for work.
Do you have any crazy stories involving cops, security, drunk people, midgets, hookers, and or homeless people?
Shit, I can write a book with all the shit I've seen. The other day Yeagle and I roll up to our trails. Where we park, some dude was getting head from a hooker. Brian and I park right by them get our bikes out to head to the trails and we walk right past the car as they were panic mode. It was just funny to see that because the road where we park is pretty busy… Tony Cardona and I were in Baton Rough for a jam about 4 years ago, Tony ended up Finger banging a midget with his sausage fingers. His finger was just enough for the poor girl. The best part was he did it on the deck of the ramp. I remember getting liquored up and riding while this was going on.
What makes for a good night of partying for you?
A good crew, some of the best times of my life were in Austin, some of the best house parties in atx. The Hunk house in B-town was a good time probably one of the rattiest place's i've ever stayed at but the partying and riding made up for it. Ride trails all day then get loose at night till the sun came up. Wake up with a hang over go jump of some bridge's swim the hang over off. Go to the trail and do it all over again.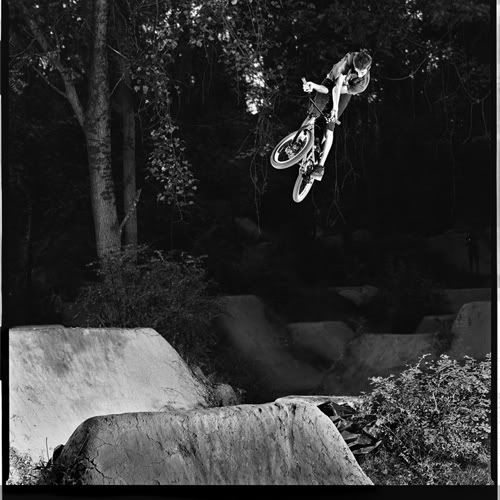 Who or what are the biggest influences in your life?
My Mother is amazing, I can talk to her about anything. My wife has my back 24/7. My friends mean a lot to me… I need all those things in my life to be happy.
What is the first song to come to mind? Any reason why?
Three 6 Mafia "Bin Laden" Thats what just came on shuffle while I'm filling this out. Wishing I had some Chronic right now…
Where do you see yourself in 5 years?
Riding dubs, enjoying life to the fullest.
Did you go to college at all for film? How do you feel about college?
I went to school for a year. I hated it with a passion, I feel that sometimes college isn't for everyone. I never went to school for filming. I just hate it when your in high school you get a list of jobs to pick from then you have to go to college and at the end you still can't get a job. If you are good at something stick with it. Do what ever you have to, to get by till everything falls into place. Just do everything with reason and passion.
Do you work at all? What is the worst job you have ever had?
I do work, I'm a race car mechanic. I work on Formula Mazda's I fly 2 times a month to races. One time I worked at a furniture store, it was horrible. I applied for Dairy Queen one time got the job, but I never showed up for work. I think I went and rode some trails out of town.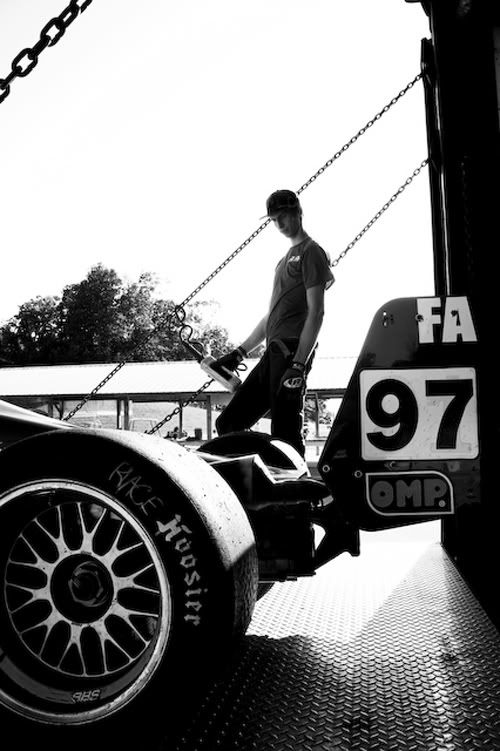 If you could live like somebody else for one day, who would you pick and why?
It would be sweet to live like Travis Pastrana, wake up in the morning do some base jumping, around lunch go do some whips on the dirt bike, in the evening go drive the rally car in the woods try not to flip it. Come home and party with the crew.
If you could go back in your life and re-live any day. When would you go to and would you change anything?
To many things have happened in my life. I honestly wouldn't want to go back and re-live anything I want to keep going and make new memories.
Do you have any favorite websites you like to check out?
Vimeo, Flybikes, twitter, Build the woods, Dig, Fatbmx.
If somebody gave you $1000, would you go a round in the ring with a UFC fighter?
Nope, never the medical bills would be way more then a G.
What is the best advice you have ever been given, or been able to give?
Don't every take anything in life for granted. Things can happen with a flip of a switch. From my experience enjoy what you have, look forward to better greater things don't let the small stuff bring you down. I know it's hard to do but take a deep breath and keep going. Life is a precious gift you only get one life might as well make it count have fun on this planet.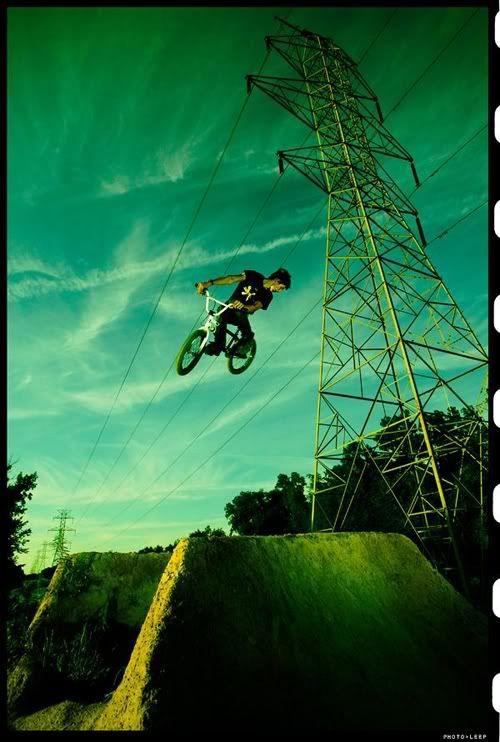 Do you have any shout outs or thanks?
My wife Kristine, Mom, Vinyl Crew, David Leep, Ryan Melia, Andy Brady, David @ Fly, KP, Joe Rich, Pittsburgh crew, B-town Crew, ATX homies, Punjab, Real Region, everyone I've cross paths with thank you for the inspirations in life.
Anything else you want to say?
Grip it and Rip it.