With the number of videos I come across everyday that I post over on Dig's site, it's gotta be something unique or really good that stands out for me to remember the name usually. My memory isn't the best in the world, like most people with a few concussions. However, Tom stands out with his real good edits, and even better sliders. The other day he had an edit drop, and I was thinking that I should get his email to do an interview. The next day he emailed me about the edit, and it was on. I shot him some questions, and here they are. Check out what Tom has to say, and then leave him some love in the comments…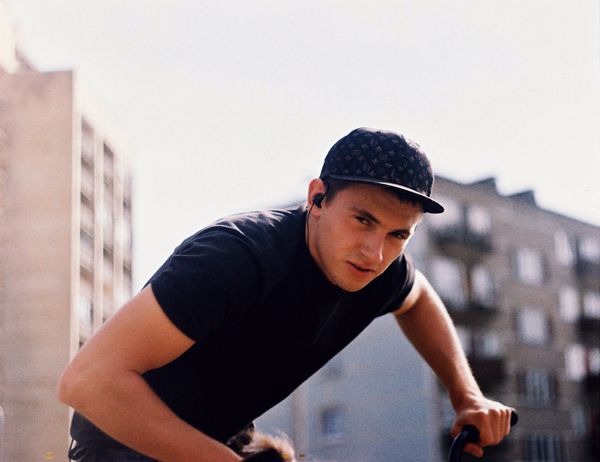 Interesting fact – the profile picture is taken with an old Zenith photocamera. Rarely do you find someone using a non-digital camera nowadays, even more one from the 70's, haha. Both photos are taken by my good friend Gatis Trikulis.
Name:
Toms Silins

Location:
Riga, Latvia
Sponsors:
Black Rain Clothing, ParBMX
Years riding:
It could be somewhere around 5 years. Time goes by so fast I can't even remember haha.
What was it that got you into riding in the first place? Any early memories come to mind?
I particularly remember this one summer a few years back. I rode all alone the whole time. There were times when I got back home early in the morning from a party and my parents were still a sleep, so I just took my bike and went out riding while the city streets were still relatively empty. I guess that's when I first realized I was in it for good. I've never actually enjoyed anything else as much as I enjoy riding my bike – may it be doing my usual freecoaster stuff or just cruising down the streets of Riga.
It seems like the country of Latvia has been popping up quite a bit lately between you and Eduards Zunda. How's the scene around there these days? Are there any up and coming riders besides you two that you think people need to look out for?
I may get nostalgic on this one, but I actually feel like the bmx scene in Latvia was stronger a few years back. It definitely has a lot to do with some of my good riding buddies quitting bmx this year though, so it's a biased opinion I guess.
There are plenty of good latvian park riders so people should definitely be on the lookout for those.
How are things going with your sponsors these days? Anything new with Par BMX or Lotek you can tell us about?
I just got hooked up by Black Rain and I have some other things in the works I'm not sure I can talk about yet. It's been like a dream come true.
There are no other brands I'd ever want to support more than those who have given me the opportunity to do so now. Sounds cheesy, but they really do represent everything that BMX is to me.
Of course my friends at PARBMX have been real supportive and always helped me out wether it's hooking me up with some Lotek shoes or a few bike parts if I'm really in need for them. I guess it's all a bike rider would ever need, so I'm more than happy with the way things are going right now.
Your recent web video dropped not too long ago. Have you been doing much filming lately? Do you have any more web videos or video parts in the works?
I actually already have some fresh ideas for my next video. I always try to find new and unique spots to ride and film, so that's what I'll probably be doing this winter. For me it's about the overall vibe and message of the video. I like my riding videos to portray my personality and the emotion I get while being out there on my bike. All street, of course. Street is what I started out riding and that's definitely where my heart is.
I'm not going to lie, you have some of the best sliders in BMX. What's the trick to getting them so good?
I don't know how I got them that way, haha. I guess it's just comes naturally. I could never force my tricks or style on the bike, so I just do things the way I like and that's all that matters to me riding wise. Going backwards as fast as you can actually might help though, haha.
You mentioned in an email the other day that you are dealing with plenty of snow where you are from. Where do you ride to beat the cold this time of the year?
I've been lucky enough to have good weather for a few days now. The temperature is a little above 40 degrees Fahrenheit, so it's mostly just raining all the time. I can handle rain – that's what riders in England have to embrace all the time, haha.
We have an indoor skatepark in Tukums (a city in Latvia). There used to be one more indoor park, but I guess the economical recession took care of that one, so now there's just Tukums indoor. I don't really like riding skateparks though, so I just ride street all year and maybe try finding some dry riding spots if it's raining or snowing.
Do you have any trips planned for the winter or next year at all? Where are some places you would like to go at some point?
I've never been on a riding trip outside of Latvia, so that's one thing I'd like to change next summer if I save up enough money. Hopefully I get lucky. I'd like to try and visit Estonia, Lithuania, Poland. Sounds cliché, but It's a dream for me to ride some of the famous LA and New York street spots one day.
If you had the chance to move anywhere in the world, would you, and if so where would you want to go and why?
At some point of my life I'd definitely would like to change things up and live somewhere in the United States or Western Europe for some time. No matter what Latvia is always going to have a special place in my heart, though. Especially Riga – that city just inspires me so much.
Who or what are some of your biggest influences when it comes to riding?
Everyone who's doing their own thing. One of my all time biggest influences has to be Bruce Crisman though – I think it speaks for itself when you see a person put their soul throughout their riding. Ever stopped a video half-through and seen the look of dedication in his eyes while being on his bike? That's the eye of the tiger right there, hahaha.
Other than that it's Steven Hamilton, Ruben, Joe Tiseo, Ralph Sinisi, Taj and many more. There are so many inspiring riders out there. I can't name them all, sorry.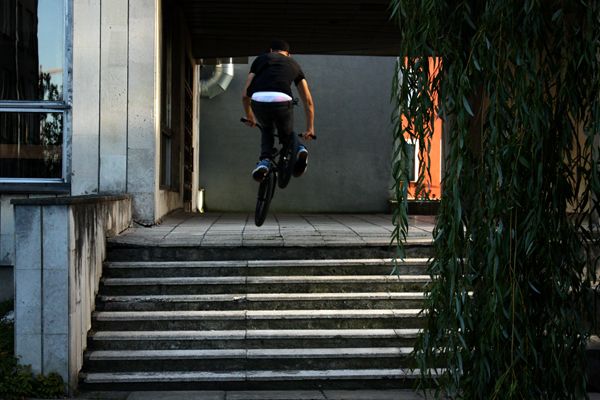 360 down some stairs
You have been doing the brakeless thing for quite a while. Have you considered putting brakes back on your bike?
Once I took them off I instantly knew they're not going back ever again. Whenever I get the chance, I like to play around on my friends bikes that have brakes or pegs on them. Every different set-up out there has its advantages and disadvantages. It's simply that I enjoy brakeless, pegless freecoasting the most.
Do you ever find yourself getting burned out on riding? What do you do to keep things fresh?
Riding is one of those things that keeps me motivated on life. It's one of the reasons I wake up with a smile on my face every morning. I haven't felt burned out on riding for a few years now and I don't see it coming anytime soon either.
Not being able to ride whenever I want because of bad weather, studies at the university and other stuff kinda helps too. It makes me appreciate riding whenever I have time for it.
What do you think you would be up to if you never got into riding?
I'd probably have much more time and interest for studying and getting better grades. Or maybe it would go the other way around and I'd end up drinking cheap beers every night with bad company, haha.
What are you usually up to when you aren't riding?
I'll always find time for my friends and family. Again, this one also sounds cliché, but it's mostly just hangin' out and chilling.
What do you do for work or school?
I'm a first year sociology student at university. It's a full time study program so I try to earn some extra cash whenever I have the time and chance.
I noticed you do a lot of the filming for ParBMX. What got you into filming and everything?
Actually I mainly just focus on the video montage part. I'm down to throw an edit together whenever a friend asks me to. It's not just for Parbmx. The thing is a lot of my riding buddies are somewhat connected with Parbmx, so I guess I have them covered.
What kind of camera, lenses, and other equipment are you working with? What's your dream setup?
I myself own a JVC GZ-HD7. Nothing special about the camera, but it does the job fine. I guess it's about using whatever you have to its full potential.
My dream setup would probably contain some quality lenses. I feel the need to invest my money in those sooner or later.
What about the ladies? Pretty hot or what? Approximately how many girls have you got your freak on with?
I never have and probably never will reject a hot girl looking for some fun, haha. That's what's up!
What kind of music are you into? Anything you think people need to check out?
I appreciate all kinds of music. It has to be quality though, so you won't catch me listening to some shitty "all-robot-sounding" auto tune song anytime soon. I mostly listen to hip-hop. Some quality rock, jazz and soul here and there too, though. I'm tuned into Pink Floyds "Dark side of the moon" as I'm writing this.
Have you seen any good movies lately?
There's nothing that comes to my mind. I guess a good movie is hard to find these days.
What makes for a good night of partying for you?
Friends, ladies, good music and a place to crash afterwards, haha.
Have you ever been arrested or in a fight or anything like that?
Once I got in trouble with the cops for riding near some jewish genocide victims monument. I actually felt bad for doing so, but there was this sweet street gap there and I didn't actually damage the monument or show disrespect in any other way.
This other time I spent the night at a police station with a girl I've met just a few hours ago. Can't say it was a bad experience, if you know what I mean.
Do you spend much time on the computer? Any favorite websites?
I like to have my time on the computer whenever there's bad weather outside. Some of my favorite websites are bmx-related. For instance Defgrip and BMXUnion. I'd be lying if I said I don't post on TCU board.
Do you know what the hardest part about roller blading is?
Telling your parents you're gay, haha? I don't have anything against roller blading, but I have to admit I'd never be willing to do it myself haha.
Where would you like to see yourself in a few years?
Still riding my bike as much as I can and loving every second of it. Also graduating university and getting to travel a bit would be awesome.
Do you have any shout outs or thanks?
I'll start by thanking you Kurt for coming forward with this interview. Thanks, man.
Other than that I'd like to thank God, my family, friends, anyone I've ever had the pleasure to ride with, Bruce Crisman and Jason Black for being awesome and really supportive – thanks guys! Also my good friends over at Parbmx for helping me out throughout some of the last years and everyone else who has ever been there for me in any kinda way – you know who you are. Cheers!
Anything else you want to say?
I'd like to quote some recent Matt Hoffman's words on this one: "If you dream hard enough, then it becomes reality. Sometimes if you're a compulsive dreamer then reality doesn't even have a choice."