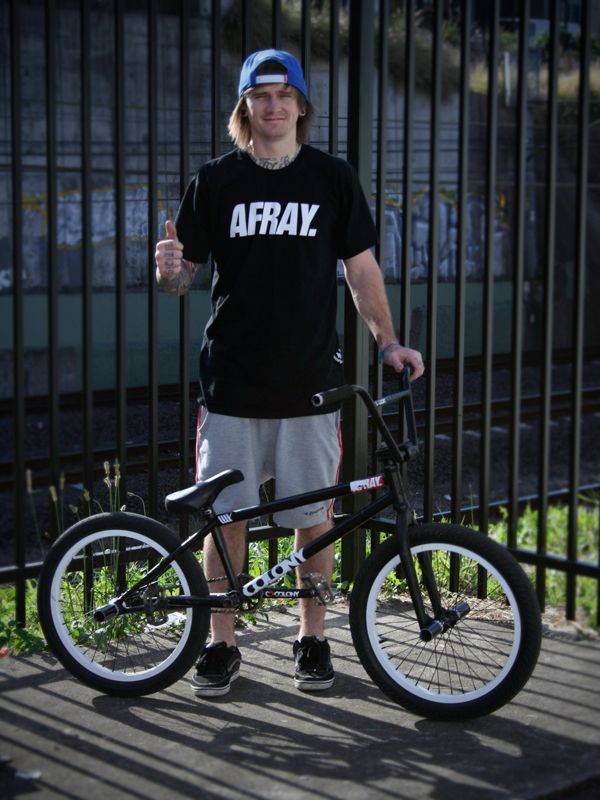 Tom Stretton has been killing it lately. If you have been able to see the new Colony video, you are more than aware of why everyone who has seen the video is psyched on his part. Tom was recently bumped up to the pro team for Colony as weel, so I figured he had a fresh new bike to work with. Let's take a look at what he's riding these days along with a few photos and videos.
Name: Tom Stretton

Location: Brisbane, Queensland, Australia
Sponsors: Colony, Afray and Ride on Bmx Store.
Years riding: About 6ish lol
Frame: Colony Teddy Frame
Forks: Division Forks, Everyone needs to check their shit out!
Bars: Federal 4 piece
Stem: Colony Official Stem
Grips: Colony Muchroom Grips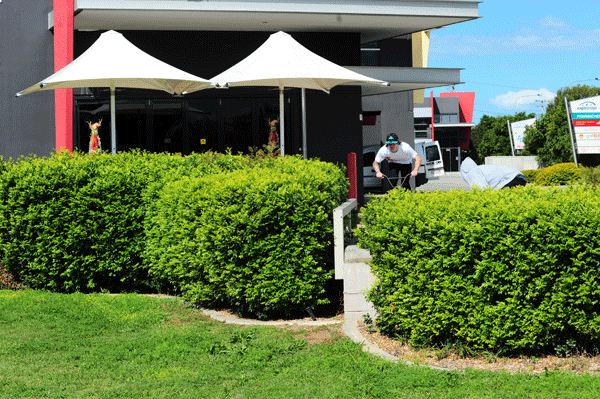 Headset: Colony
Cranks: Colony
Sprocket: Colony Guettler Sprocket
Chain: KMC lite
Pedals: Colony Plastic
Seat / Post / Clamp: Colony seat post, built in seat clamp and a Colony x Focalpoint seat.
Front Wheel / Tire: Colony with Fly Ruben tire
Rear Wheel / Tire: Colony wheel and Agenda tire
Pegs: Colony Oneways
Hub Guards: Colony Rear hub guard, should put a font one on haha
Brakes? noooope
How are things going with Colony these days? Any trips or anything you are psyched for?
Things are awesome. Got put on the pro team about a month ago and have been loving it. Going to Slay the Rails in Melbourne next week just after a trip with Afray to Canberra. Soooooo Excited!!
How do you feel your clips in the Colony video turned out? What did you think of the video?
I've seen the video and as a whole I love it. I guess we are all our own biggest critics so I feel I could have done things a bit different, but im definitely happy with it. I was hoping it would be one of those videos people would put on before riding to pump them up for a ride and thats exactly what it does for me, so hopefully someone out there gets the same feeling off it!
How are things going with Ride On these days? Anything cool in the works with them?
Things with Ride On are good. Keeping things pretty chill for the moment. Steve just had a baby girl, Violet, with his wife so a big congrats to them. Hopefully another roadtrip with the guys oneday soon, the last one was so much fun!
Do you have any other fresh sponsor news you can tell us about?
Ive been on Afray for a while now but im getting real excited because the relaunch is dropping real soon. Afray is a streetwear brand from Brisbane run by Mike Cz (my roomate, haha). All the new stuff looks so good and we are putting together a mix tape right now which is coming out with the relaunch. Shit looks dope! Can't fucking wait! Yeah Frank!
Outside of the Colony video, do you have any other video parts or edits you are working on? I know you have had a few clips in some edits lately.
Colony is working on these ten clip things which are pretty tight. I just finished one a few weeks ago and am so keen to get filming another one. Other than that I have a little bit of footage with Stu Munro that we are putting together for maybe a part or a little bit on the mix of his DVD Coppin it Sweet. Right now im just real focused on the Afray mixtape. Riding with the best crew and cant wait for this trip.
What has your travel schedule looked like lately? Have you had the chance to go anywhere cool lately? Where are some places you would like to get to some time soon?
It's been pretty relaxed since the premiere. As I said im getting to Canberra and Melbourne in a few weeks which will be good! Other than that not much on the horizon. Just roll with things as they come up.
Where have you been riding the most lately? Any spots you have been psyched on?
Been riding anywhere my mates are lately. They took me to this spot down the road from ours near the water with these ledges and banks and everything. Think I'll be riding there for a long time to come!
Have you been caught up in any crazy situations lately?
Every weekend living here is crazy haha. Mikey set himself on fire when he was sleeping the other week. Must have been a bit of a roach smouldering in the bed somewhere and he woke up with his feet on fire and his whole mattress aflame hahaha. Fucking hilarious. We'll probably die in this apartment!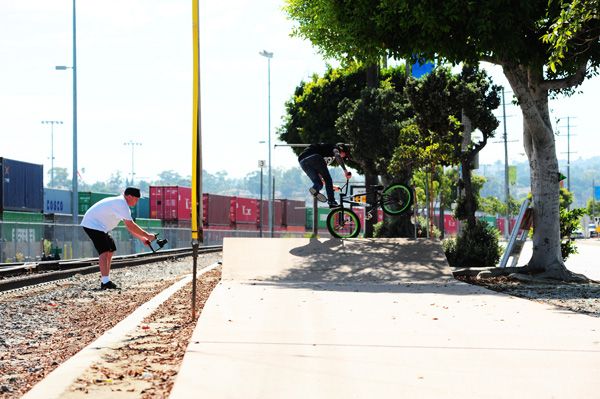 Outside of riding, what have you been up to lately? Have you been working or anything?
Not much really. Just hanging with mates and having a good time. Going to wait till after these trips and then get back into it.
What's the last song you heard, movie you watched and website you visited?
Last song was Kentucky Avenue by Tom Waits. Last movie is Carlito's Way right now haha and the last website would have been Crispy Stream, the number 1 site on the internet PERIOD. All other bmx or generally any website fails in comparison to this up to date media saturated mecca. Diversitybmx is ok, I guess.
Anything else you want to say?
Big thanks to all of my mates for riding with me and having a good time! Thanks to Colony, Ride On and Afray for the amazing amount of support they give me, and thanks to you Kurt for this interview and being patient with me while I got back to you, haha. Sure.