I met Tony pretty breifly a year or two ago pre-baco being banned from Wisconsin. Hes a really legit dude. With recently being removed from the Sputnic team myself and Brett Rohlfing got some questions together for him and this is how it went.
Name:
Anthony Malouf

Location:
Prospect Heights Illinois
Sponsors:
UGP, Primo
Years riding:
7
To start off with what everyone wants to know. What happened with you and Sputnic? Did you leave, get dropped or what? I heard rumors you pee'd on somebody on the team?
I was dropped. I don't really know the real reason. Personal differences I guess. The Piss rumors are true. I pissed on Ricky Bates in the middle of the night. I was blacked out drunk and don't even remember doing it. In the morning I didn't beleive Ricky when he told me, but he convinced me. He wasn't too upset though. I had to wash some blankets and Johnny's Matress. I don't think that had anything to do with me getting the boot.
Do you have any new sponsors in the works or what are you looking to do now?
Nothing at the moment. Im hoping something will pop up, but I'm not gonna let it get me down if nothing ever comes up.
It seems like you have been putting out a new web video out every week, what do you have planned filming wise? More edits or do you have a video part in the works?
I don't really know. When ever I film a bunch of stuff all in a day or two. I try to get it out quick so it doesn't get old.
You have been traveling a lot lately, where have you been the last few months and what do you have planned trip wise?
I been in Cali, Ohio, Georgia, Iowa, Wisconsin. The next move is Tulsa, OK.
You have a lot of style with your riding, did you grow up racing and riding trails or how did you learn to throw down the way you do?
No, I never raced. I started riding park but I never rode pegs untill a year ago or so. I just liked jumping, so thats all I did.
It seems like you got a lot of tricks on lock, what are some that have been giving you the most trouble lately?
Barspins are trouble. I can do them in 180's and 3's like nothing but straight ones are scary.
Living close to Chicago and Millwaukee you have some really solid crews of guys to ride with, do you feel like that has impacted your riding at all? I know a lot of guys from that area like Jeff K got sponsor deals around the same time as you.
Yeah definately. Taking little trips up north to Milwaukee is what got me real siked on traveling and riding. Jeff K was like the first dude I met who made videos so it was fun to film and stuff. Jeff K is king of blacking out and making anything his toilet. Sorry Jeff.
What are your plans for the summer, just being a chiller or do you plan on hitting up some contests?
I really want to travel a bunch more and film for a little video Miles Rogoish and I are working on. Money is an issue right now. Other wise we would be somewhere right now filming with dudes.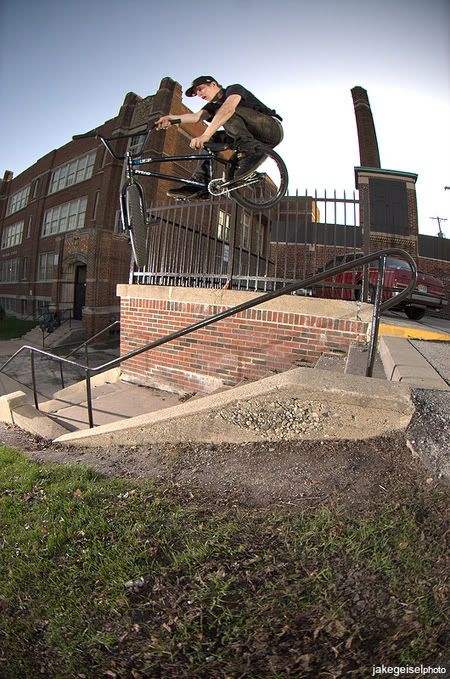 Where are some places you haven't had the chance to ride that you would really like to ride someday?
I haven't been out of the Country yet. Other than Canada. So that would be fun. I want to make it to PA this summer to ride some trails.
Who are some pros you have looked up to over the years?
Kevin Porter, Oliver Leonerd, Shawn Arata, Chris Doyle.
Have you ever had a weird situation where you show up hundreds of miles away from home and have somebody recognize you?
Yeah…
What do you think you would be up to if you never got into BMX?
I would probably be in College playing a sport of some sort.
If you could change anything about BMX, what would you change and why?
Nothing really. It's all good to me.
Outside of riding bikes, what are some things you are into?
Filming, digging, skateboarding, partying, poofin
Did you ever go to college or do you ever plan to?
No, no.
You are a big fan of biggy and tupac it would seem, is that all you listen to or what kinds of music are you into?
Pretty much into anything. I love classic rock and blues. Only thing I'm not really down with is country and techno.
What are some movies you are a fan of?
Too many to list. I love movies.
Who or what are some of your biggest influences on your life?
My old man, www.midwestbmx.net , Hunter S Thomson, Dook Wallace, Walter Peringer.
What are some things you would like to accomplish in the next few years?
Find a good filming job. Finish this video with Miles. Probably start on another one.
If you could spend the day with anybody, alive or dead, who would it be and why?
Christopher Walken, he is the ultimate G.
Do you have any good stories about run ins with the cops, security, midgets, stripper combos, or anything else you can tell us about?
I got plenty of good ones. Last good one was in Iowa after the ExtravaJamza at the Davenport park. We got really drunk, we got in a fight, the cops came. Really fun night.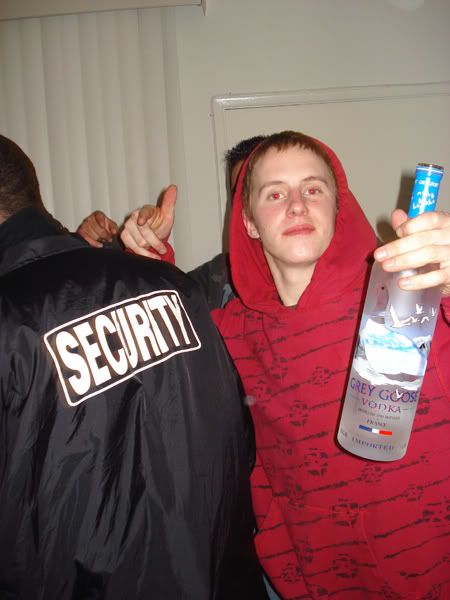 What would you do with the cash if you won the lottery?
I would buy and entire block and invite all my buddies from all over to come live in a house for a year. It would be a non-stop block party. Ramps going from yard to yard. crazy shit. That could be a reality show.
If you could change anything about the world what would it be and why?
I don't know.
What kind of advice do you have for people just getting into BMX?
Ride tranny. Learn to controll your bike before you start trying tricks.
Do you have any shout outs or thanks?
Thanks to My family, all my friends , UGP, Chad Degroot, Primo, Nate Moroshan, Grange Waldo, Dook Wallace, B-rad, Pascal, Juice, Shmall Gary, Miles Wasssup?
Anything else you would like to say?
Look for more PLUSH Productions on the web. Peace.

Tony Malouf from John O'Connor on Vimeo.