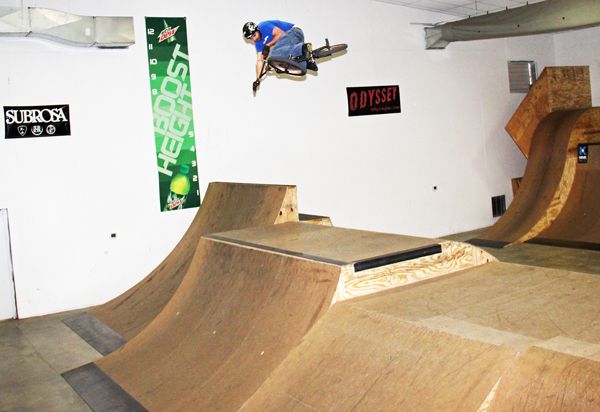 Photo: Kurt Hohberger
I'm sure as time goes on, there's more and more names that the new kids just don't remember or know about. One guy, who's a legend in the Minnesota scene and in the BACO days, Tony Mortenson, may be one of those guys. A few years back we did an interview to catch up with him and he was living a completely different life from today. Last year, Tony took a real bad crash that landed him in the hospital holding on for his life. Luckily, things worked out and he's still with us here today, riding and enjoying life. I figured it would be cool to catch up with him and find out how the accident changed his life and what he's up to these days. Let's take a look.. This one turned out real interesting.
Name: Anthony Kay Mortenson

Location: Saint Paul, Minnesota
Sponsors / Hookups: Baco
Years riding: 15ish
So a lot has changed since we did an interview a few years back. This is mostly due to your injury about a year ago now. Can you take us through what happened for those of you who don't know?\
Long story! I'll try to keep it short.
I was on vacation in Minnesota (while living in Jerz.) to see my longtime close friend Mike Carlson get hitched to his fabulous bride, Jena.
We went to ride at Benny P's backyard trails just a couple days after returning home, I had just built my bike up, and was itching to ride his setup. I was so overzealous that I didn't take the time to actually watch someone go through the jumps before I decided to take my first run. We'll call that "mistake #1". Mistake #2, and by far the most relevant and costly mistake, was not packing, or wearing a helmet. After dropping in and hitting the first little kicker, I clipped my back wheel on the landing and ended up going OTB and slamming my head into the bottom of the second lip.
The end results were:
1) My skull smashed into my brain
2) Extensive surgery to put my head back together
3) A shattered eye socket
4) A fracture from my forehead to my spine
5) A very long hospital stay
6) 168k in medical bills
7) Lost job
8 ) An extra week in Minnesota!
One great thing that came out of the ordeal was the support from fellow riders on my behalf. The way the Minnesota scene gathered around and supported me is something I will never forget. There were people I barely knew that came to see me in hospital. Todd Johnson, Josh Nendza and some others threw a benefit at the Overpass Skatepark. The money raised is what kept me afloat and gave me a place to live during a time of uncertainty. I can't thank everyone enough for their huge hearts and contributions! I still well up when I think about it.
So after that you decided to move back to Minnesota from New Jersey, right? What are some of the things you came back for? Anything in particular you miss out in Jersey?
Yeah, after the whole head thing life as I knew it kind of fell apart. I really missed everyone back in Minnesota and couldn't see myself where my life was heading in Jersey. I was always planning on coming back to Minnesota, but the more I stayed in Jersey the more there was a good possibility that I wouldn't leave.
There is a ton of stuff that I miss out there. I really miss the street and the Brooklyn Banks. I spent nearly as much time in NYC as I did in Jersey. All the restaurants and things to do like shows and events something you can't get anywhere else. It's like, in Minnesota, if you want to go out for Italian you go to Olive Garden. It's just not the same. The flipside of that is, that's all I really did out there: work, eat, and socialize.
I also miss some great friends that I couldn't have done without while I was there. I'm fortunate to have met the people that I did when I moved to Jersey. It wouldn't have been the same without everyone.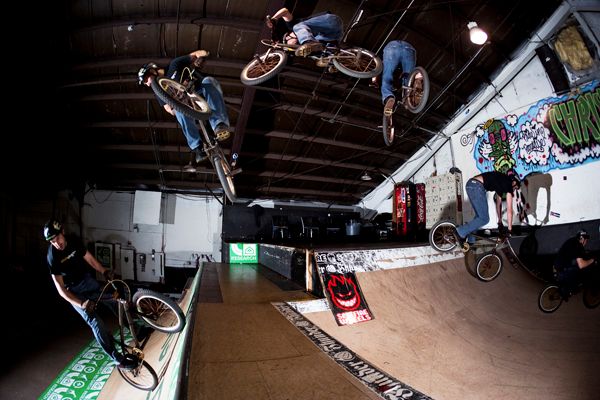 Photo: Ben Austin
Now that you have been settled back in Minnesota for a bit, could you see yourself venturing off to another state anytime soon?
For sure, I'm trying to figure out a way to spend my winter in Miami or someplace cool in South Florida. Winters in Minnesota are pretty harsh and I get cabin fever quickly.
You have been back on the bike for a while now and based on the photos it looks like you haven't lost your touch. Have you been having trouble doing any of the tricks you used to be able to do without thinking about it?
Nah, not really, the first few weeks were a little rough. It's just something I needed to push through. There was a lot of talk of hanging it up entirely after what happened. I wouldn't have been able to do that. There are things that I went down on years ago that I still think about going back to finish. I'll prolly be that guy who will be 40 still trying to shred like when he was 22.
Have you been able to do anything that you couldn't do for the life of you before? I know you started hucking barspins again after a long hiatus with those, right?
I remember barspins being a lot easier when my seat post was maxed out! The last time I did a straight barspin over a jump was like 5 years ago in a game of BIKE against Eric Holley (he didn't get a letter, go figure). But to answer your question, nah nothing is easier. I wish it worked like that, I hit my head and then all of sudden tailwhips are second nature, that'd be nice!
I'd imagine you have been running a helmet more frequently, right? What were your thoughts before the accident? What about now? Do you ever catch yourself not wearing it when you ride?
Before the accident I rarely wore a helmet, unless it was mandatory. I would just always make it a point not to hit my head. Now I wear it every time I ride. There are times that I forget, but only for a second. If I drop in without my lid it feels totally weird now. I shot a photo when I was in Florida last winter after forgetting to put it on, and I caught some flak for it. I owe a thanks to the people that gave me shit for not wearing it. A lot of people could just care less and not be bothered to say anything you know.
It is really good to see a lot people rocking helmets at all times. The last few years have been a serious wakeup call for the sport. I hope people realize that head injuries often happen when you don't see them coming, like a snapped chain or clipping your wheel on something. Not just when you're trying something serious. But then again, I'm no preacher, and I probably wouldn't listen to me if I was reading this.
Have you gone back and rode Benny's trails since the accident? Did you or do you feel like you have to go back and conquer what took you down to overcome any fears?
I haven't been back to ride yet. As soon as I get some health insurance I can't wait to shred his place. I think the health care in our country could be improved dramatically. It's sad that people are in financial ruin over medical bills. Or that there are people out there that can't get the help they need for their medical problems because of insurance or money. Imagine how far the human race could go if we didn't have money, politics, or religion standing in our way. The possibilities are endless.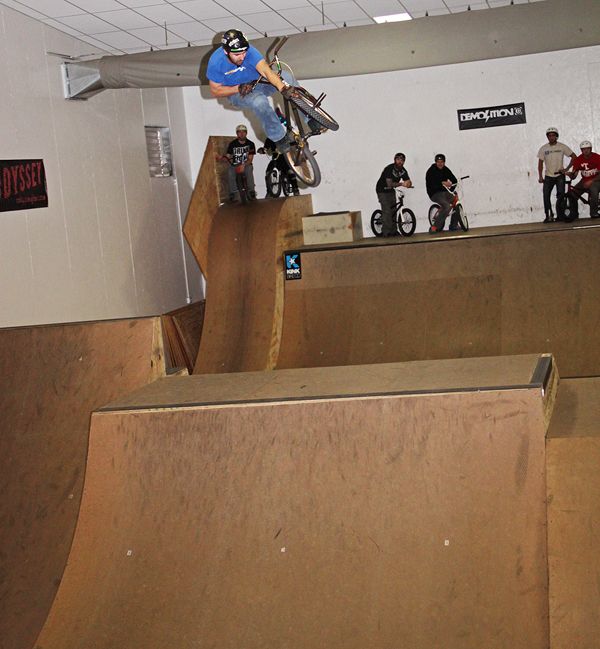 Photo: Kurt Hohberger
Actually, do you feel like you hold back a little bit more these days just because you know what the consequences could be when things go wrong?
I might second guess the decision to go riding or to go to a certain spot, but once I'm riding I don't hold back at all. I feel that most logic goes out the window when BMXers get on their bikes, and that's what is so great about it. The feeling of freedom and no rules once you get on your bike is the best.
It sounds like your motivation level has been pretty high these days. What has been getting you psyched to ride lately?
Just being alive and knowing that it can all be taken away at any time. Sometimes I think about the fact I could have been in the same situation crossing the street or riding in a car. That said, I'm happy that I had that I had that experience doing something that I love. The more time I get to spend on my bike, or just doing things that I genuinely enjoy the more I realize how lucky I am. To me, the injury I sustained just reinforces the fact that I shouldn't take things for granted and to live each and every day.
Where have you been riding the most lately? Any hot spots you have been psyched on?
I've just been riding where ever. It's not so much what I'm riding; it's more the fact that I'm enjoying myself. I might show up at a spot one day and not be feeling it at all, and then I might show up a few days later and have the best session ever. But when I'm in good company, having a good time, I could care less what we are riding or not riding for that matter. As long as we are enjoying ourselves, that's what is important to me.
Who is in your usual riding crew these days? I know there are plenty of guys you grew up riding with up in the cities who still ride like Josh Nendza.
I'll ride with whoever wants to ride, as long as your attitude is positive I'm down to chill. But since you mentioned it, Josh is the fucking man.
What do you think of the scene around Minneapolis and St. Paul now compared to let's say the days of G-Shock and The Oval?
You know, that's a really good question. I can honestly say that our scene here is still pretty tightly knit. It's definitely not the same as 8 years ago where every rider knew every rider. There are definitely a lot of faces I don't recognize around town. I think our scene has grown a lot, but there is still a lot of love. I also think that our scene transcends BMX to just "a fellow rider". We are, after all, the number one bicycle community in America. Yep even the fixy fashion bikers are cool too. Yeah, I said it…
Do you have any plans on making any trips happen anytime soon? Where are some places you would like to go?
I have been working on a bucket list of sorts since my injury; there are a lot of places I want to see. Not only to ride or golf, but just to experience in general. I know that I will never leave home without my bike. But, it's not like I can smith grind Angel Falls in Venezuela. I have a feeling the next trip for me will just be getting in the car and going with a wad of cash in my pocket and not coming home till it's gone.
There have been rumors about a new Baco video for a few years now. Have you heard anything from Chad or Dave about what the hell is going on? When is this video going to happen? It needs to.
I know right! All my footage is going to be too old to use by the time that thing drops! Those old farts are family men now. No time for Baco antics. Old Dave and Chad would have never let this happen!

Photo: Ben Austin
Have you been filming for anything else? Any plans on dropping a web edit anytime soon?
Nothing else in the works at the moment. I have been thinking about getting some motivation for a web edit. I have this idea that I have been thinking about. We'll see if it comes to fruition…
What have you been up to when you aren't riding and working these days?
Golf, hanging with some awesome people, and just enjoying life. Whatever sounds like fun at any given moment is what I'm up for. I love spontaneity.
Have you found a job at a golf course since you moved back? How did you get into all of that stuff? Any dream job locations that you want to get to at some point?
Basically, when I was about 25 I wanted to find a career that I would love and enjoy. I decided that taking care of golf courses was right up my alley. It had all the things I was looking for; being outside, working with my hands, science, and a great atmosphere. Shortly after making that decision, I was enrolled in school. Since I have moved back to Minnesota I really haven't found a course that I would be a perfect fit at. After the last 2 courses I was at, I really feel finding the right place is very important. I might go back to it in time. As for right now I have started doing my own thing in the same field and it's been going great and I'm really enjoying myself, and what we are creating.
Are you actually any good at golf? That shit is hard.
Been at it steady for 15 years and I still need a lot of improvement. If you haven't taken it up, I recommend it. It's a lifelong game, and teaches you a lot about yourself.
I know you know how to have a good time. Can you still party like the Baco days? What's the signature drink of Tony Mortenson?
Shit, the Baco days never left, just evolved! I still love a good time. Just please don't drink and drive. Signature drink? I usually order a Crown rocks. But if you're in Saint Paul, stop into Senior Wong and get a Donkey Punch, it's a great place with great people.
Who or what are some of the biggest influences on your life these days? Is there anybody in particular that has made getting back on your feet a lot easier to handle?
KT Hovde, I wouldn't be where I'm at if it wasn't for her, and I can't thank her enough. As far as influences on my life as a whole, I don't think there is any one person in particular. I look around and see what people are doing and take inspiration from that. Jim Reinstra for instance is riding his road bike from Minnesota to Alaska for cancer research. Stuff like that motivates me, and even everyday things motivate me. When I see people paying it forward it makes me want to do the same.
Let's say we do this again in a few years. Where do you see yourself?
I'll be enjoying life, the people, and things around me. A bit older, but no more the wise.
What's the last song you heard, movie you watched and website you visited?
Song: American Pie, Don Mclean (still playing as I type this)
Movie: The Adjustment Bureau
Site: Google+…. As Joe Barton said, it's going to make Facebook the new Myspace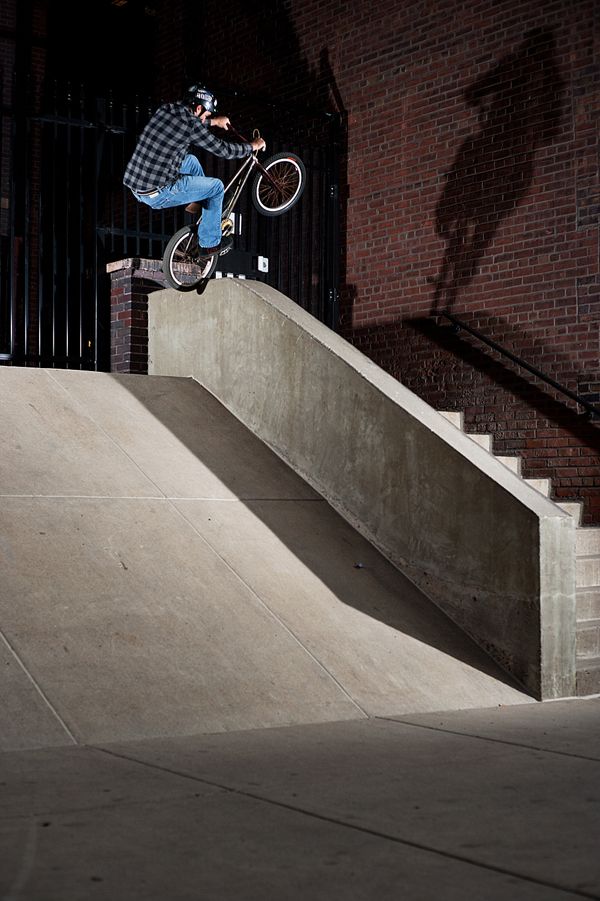 Photo: Ben Austin
Here's a few questions from Tony's friends…
Tim Rysgaard-
Why don't you eat anything from a garden?
That is a myth, just tonight you served me wonton poppers that have green onions in them. I just don't eat salad, and things like carrots and spinach. It's a texture thing.
Josh Nendza-
What are the best/worse things that stick out in Minnesota after moving back from the East Coast?
Best: The people, the pace, the cost of living.
Worst: Driving practices, Weather, Lack of pizza by the slice, public tansport
What made you turn to the dark side and buy a BMW after owning strictly VW's for your whole life?
I got sick of working on my car more than I drove it! Actually I miss my Corrado more than anything. But it only took me a 10 minute test drive in a Cooper S and I was hooked. Besides, BMW is still German so I would hardly call it the dark side. If you wanna get all nitpicky though Mini is British and owned by BMW…
Shalee Dunaki (my roommate)-
What is the BEST thing you cook?
Steeeeeaaaakkkkkkkkk!!!!
Does your relationship with your cat, Mrs. Mia Wallace help or hinder your dating life?
What dating life?
Whats the most interesting thing about living in Saint Paul, MN?
One really interesting thing about living here is listening to the wolves howl at the zoo at night. I will never get sick of it. Outside of that, I think the people are most interesting. Where else can you have a lawn chair party on the driveway with your Lutheran Pastor neighbors when its 35 degrees out and 3 feet of snow on the ground on a Monday afternoon in March?
Who is the best roomie you have ever had?
Mrs. Mia Wallace, she doesn't leave dishes in the sink.
Do you have any shout outs or thanks?
Miron, Povah, Freimuth, Degroot, Austin, Johnson, Mulligan, and Ricky Adam for taking care of me throughout the years.
KT Hovde, The fam, Jimmer, Nendza, Benny P, Nick Lucas, BJ Johnston, Bergs and Al, Big rail, Will Flanagan, Cass, Timmy, Todd Johnson, Strazz, Jimmy, Nikki D, Kieth and Julie, all my friends in Jerz, Gene and Sarah, Rocco Sacco, Shay, Boen, Chad and Carley, Big Byrd, Matt Baldy, Gina Parzino, Phlippy, Brad and Shy, Joe Barton, Devo, Froggy, the crew, Eric Holly, Palmquist, Nina B, Nancy Cheng, Mikey, Matt Kelly, Dustin and Danielle Eilertson, Leah Peroni, Landon and Cody, Jordan Filas, Jason K, Dr. Wang, Bung, Chris P and the Philly dudes, Dan Cruz, Phil Holland, Brent Crow, Moch, Dustin G, Emily Gasparro, Esther P, Gwenny, Mrs. Mia Wallace, Gorgie and Ginger…… Each one of you and many more have shaped my life in some way or another and I thank you. I know that I forgot some people, but hey, cmon, I hit my head!
I wanna say thank you to everyone that reached out when I went down last summer. That was the scariest time of my life and there were so many people there to lean on when I needed it most.
Anything else you want to say?
Go out of your way for someone today.