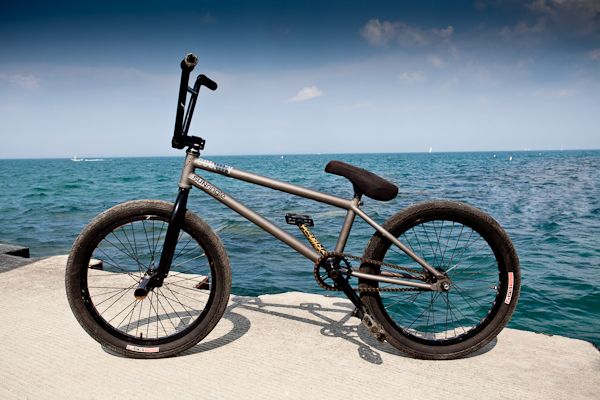 Trent McDaniel has been a busy guy this summer from working on his siganture frame with Country Bikes to cross country road trips to the east and west. I figured it would be a good time to check out his newest setup along with an update on what else he has been up to lately. Along with this comes a bunch of damn good photos by DAVID LEEP so after you check out this, make sure you check out some of his work!
Name: Trent McDaniel

Location: Chicago, IL
Sponsors: Country Bikes, Sun Ringle, Flaw Brand, Profile


Years Riding: 9
Frame: Country Outlaw 20.75


Bars: Country 855


Forks: Country Dual
Stem: Profile Acoustic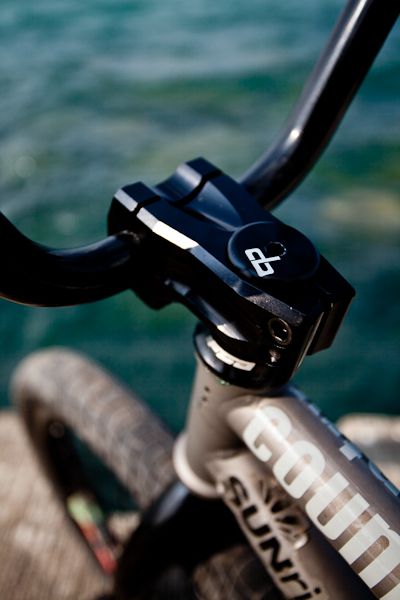 Headset: FSA
Grips: ODI Longnecks
Cranks: Profile no boss 170mm


Pedals: Odyssey PC's


Sprocket: Profile 28t splinedrive


Chain: Shadow

Seat / Post / Clamp: Shadow seat, post unknown
Front Wheel / Tire: Sun Shred hub laced to a Big Baller rim. Animal GLH tire.

Rear Wheel / Tire: Sun Shred hub LHD laced to a Big Baller rim. Animal GLH tire.

Pegs / Hub Guards: Animal lite pegs, shadow hubgaurds

Brakes: none
Mods: Cut steer tube to make it look flush.
How are things going with Country Bikes these days? It sounds like you guys have a frame coming in down the road that you have some input on?
Country is going well. We are def growing more in the states. Yeah, the frame I helped design is aimed for the US market. A lot of the frames we have now are designed for a lot of ramp riding. We are in Albe's and heading our way towards Dan's by the end of the year which is when we talked about my frame coming out.
How are things going with Profile these days? What does Matt have in the works with you?
Pretty busy. I have been going to Florida a lot this year for trips and filming. It has been awesome. We just did a Profile distribution trip with Profile and Country riders. That will be in the up coming DIG so keep an eye out for that and the edit to follow.
What's Jon Wells got in the works with you for Sun Ringle?
We have been discussing a lot about redesigning the Shred hubs. Right now the hubs are pretty basic, but still amazing. I haven't had a skip in my cassette since I have had it. So we are looking on new unique look and up to date functions.
Any other sponsor news you have been psyched on?
I've been SUPER psyched on Flawbrand. This is a clothing company out of Texas. The owner Zach Knappe is an amazing dude and we have been working together with ideas to really push this company. Since I have been a part of it we have added Jeff Wescott, Timmy Theus, and Alex Vasquez. Which we all know these dudes are amazing people and riders. All of us riders have the equal input on designing and ideas. This is what really makes us all love this company. It's like a family really pushing this company. Check them out on facebook and flawbmx.com.
It sounds like you have been traveling a bunch this summer. Where all have you had the chance to get to the past few months?
I first went to Tampa to meet Torsten the owner of Country Bikes. He flew in from Germany. After that Wescott and I took a 3 week Flawbrand trip from Chicago to San Diego which was amazing. Thanks to Zach Knappe for that. Then I flew back down to Tampa in May for a DIG / Profile distribution trip to the Keys which was an experience. I chilled back in Chicago when I got back for a few months now I'm actually out in LA for X-Games and stuff and helping Kevin Porter move to Long Beach.
Where are you off to next?
I'm driving back from LA in a few days by myself back to Chicago to meet Alex Vasquez and Wescott. We are taking a trip up to Milwaukee to do some filming for Flaw. Timmy will be with us for a couple days before he heads off to Philly.
Have you been filming for anything? When can we expect a new web edit or video part from you?
Between all this stuff I have been starting to work on another Country edit with Dave Leep. I think we are gonna be workin on this one for a min so I'll keep you posted. It's gonna be a good one with some traveling and new spots.
What else have you been up to other than riding? Working at all or anything?
I work like 1-2 days a week at a bike shop in the city but that's about it. It's called The Bike Lane. So if you
are ever in Chicago check them out. Super rad dudes. Jon, Max, and Adam are the owners. Stop in and have a beer or 2 or 3.
What's the last song you heard, movie you watched and website you visited?
The last song I heard and enjoyed was Bel Biv Devoe singing poison. sooooo good. The last movie was maybe Boondock Saints and website was Yahoo to open up this email.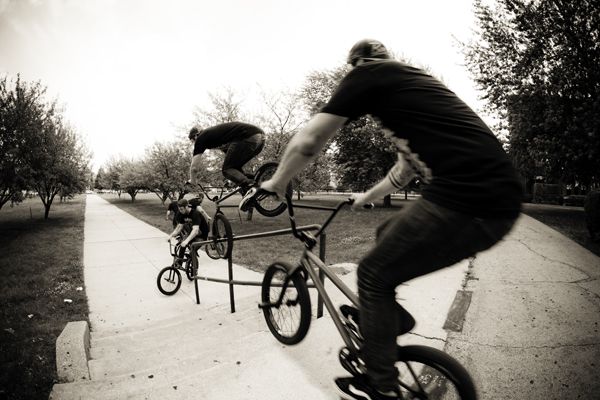 Anything else you want to say?
Just thanks to everyone that has helped me out you know who you are. All the good times and good times to come. Thanks to all my sponsors for making things happen and letting me enjoy what I love doing.