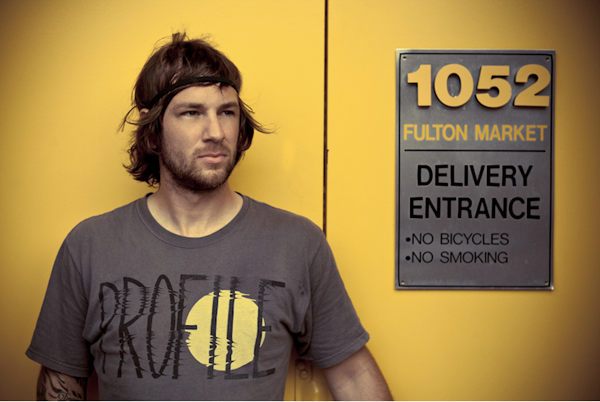 A few months back I ended up meeting Trent when I went to Chicago for the Red Bull contest… or Dew Tour. This summer was a blur. We ended up chilling quite a bit and it turns out the guys is rad as hell. I figured I'd get around to doing an interview with him eventually just because he had got picked up by Country bikes around that time. Fast forward to Interbike a few weeks back and Matt Coplon had mentioned he was working on a new edit and we decided it would be a good time to get the interview done. So check out what he has to say, some rad photos from Dave Leep, and even his DIG exclusive Country bikes edit that Dave did as well dropping with this, then leave Trent some love in the comments!
Name: Trent McDaniel

Location: Chicago, IL
Sponsors: Country Bikes, Sun Ringle, Profile, Flaw Clothing
Years riding: 12
You were added to the Country Bikes team not too long. How did that all come about since you were one of the first U.S riders added to the team?
Well last Oct I went down to Tampa with Jeff Harrington to the Skatepark of Tampa Contest. I was honored to meet Matt Coplon and some rad dudes from the Tampa area. At the time I was riding for Standard and was kinda wanting to go in a different direction. After leaving Tampa I left Standard and Matt wanted to hook it up with Country and I was all in. Being a part of a company with Coplon is an honor in itself and that made my decision.
Do you guys have any plans for trips, videos, or even some signature stuff for you?
As of right now, not really. I was supposed to go down to Tampa again this year for the SPOT contest, but some issues with a job came up. We were gonna do some filming and do an article about Country. So I'm super bummed about that. I'm currently filming an edit with Dave Leep for Country and having a lot of fun doing it. [Note: This video can be found at the bottom of the interview!]
How are things going with Profile these days? Does Matt have anything for you guys in the works?
Profile is awesome and Matt is amazing. A combination you can't top. It's like the Profile parts that I run never get old or really tear up. They are ahead of their game for sure. They have been working on the Jeff K. dusted purple campaign and thats been going over pretty solid. Psyched to see all that go down. There is always something in the works at profile. Matt is probably the busiest dude ever. He takes on so much and gets stuff done.
What was it that originally got you into BMX?
It was probably the individual effort. Pushing yourself and really making yourself a personality. It feels like riding a bike is way more personal. I played hockey all through high school and I loved it. For some reason it just doesn't compare. Just one of those experiences that you just can't explain unless you experience yourself.
From the time I've had the chance to spend with you, it seems like you really aren't hungry or anything to get sponsored. How do you think things worked out the way they did?
Haha I'm not even sure. Getting out and meeting awesome people is probably the main reason. Riding your bike because it makes you the happiest person on earth just to roll down the street listening to your cassette scream. I guess people like that attitude to represent their company.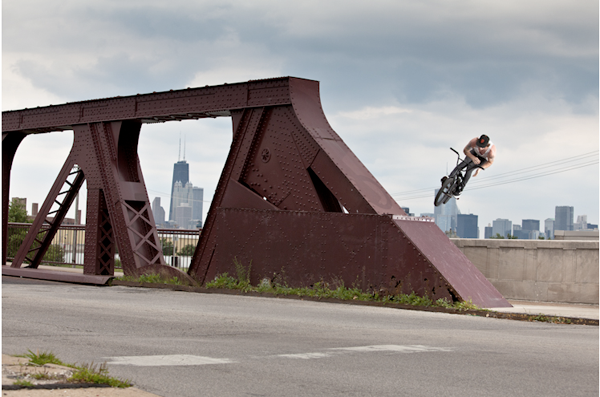 When did you make the decision to move to Chicago? What is it about Illinois that keeps you around?
Well, when I moved back from Phoenix I was motivated to live more places. I went up to help do a show for the Dew Tour and found a room to crash in for awhile in the suburbs. Met up with Jeff Harrington and worked/help build up Circus Skatepark. Then I moved to the city and just fell in love. RIding with awesome dudes and new spots. Things are always seeming to happen here and I am right in the middle of it. I really couldn't ask for more, except for the weather to stay warm. haha
What have you been real psyched on riding these days? I know the spots are endless when it comes to Chicago.
I've been real psyched on riding street. The city is so big there's places that have yet to be uncovered. Finding a new spot to ride or a spot to get a clip is an amazing feeling. Very motivating. Makes you want to find more and more. Just the idea of structures or contraptions that are not made to be ridden, you really have to get creative. Skateparks are cool when you feel lazy and just wanna roll around.
Chicago isn't short of riders to get a session in with by any means either. Who are you usually riding with these days? Any up and coming guys you think people need to keep an eye out for?
Oh ya. Ive been riding with Kevin Porter a lot. That name speaks for itself. Jeff Wescott is always coming to the city and is a treat to ride with and just to kick it with. TImmy Theus has been so fun to ride with it and just kills it. Such a chill, fun dude to just kick it with. There is so many fun dudes to ride with.
I feel like having Dave Leep and Andrew Brady around you have some real good opportunities to shoot photos and film some clips. Why isn't there more footage of you floating around? Are they slacking?
Ha you would think so. Dave has been working on a bunch of photos for me. Brady just put out a Chicago Street Mix Edit. It's really hard to make the schedules meet. Brady is going to school, Dave is working, and I am working. So when there is time we always try to meet up and make something happen. School just started like a couple months ago, so things are slowing down a little bit.
What was your primary focus for the new edit that is dropping with this interview? How long did you work with Dave on filming this one?
My focus was just trying to find some stuff I haven't hit yet and to find new stuff in the area. I ended up finding some good stuff. I haven't lived in the city that long. Like 8 months? So things are still really new for me. It was really motivating filming for it cause we were just finding new things and just busting them out. It's funny cause Dave and I keep saying that we have enough clips then I find something else and want to do something on it. So it's been in the making for a bit now just cause I keep finding things I wanna try and get new ideas.
Have you been working on any other edits or video parts?
Not yet. I've been just focusing on this Country edit because I am having a lot of fun making it and fiming it. I am gonna start working and filming for a Sun Ringle edit. Which I think Timmy Theus and I were going to make a split edit, but I'm not sure. He's been filming some stuff for Cult and was basically staying focused on that. After that I'm going to throw a little one together for Flaw Clothing. So I have some work to do haha.
Do you have any plans of heading south to beat the winter or is it Circus and 4Seasons skatepark sessions for you?
Ahh yes, the winter. Even though I love snow, I hate not being able to ride haha. As of right now, it will be both. I definitely want to try to get out a lot this winter and head south. The good thing about it being cold is that it motivates you to go other places. I'm sure there will be plenty of Circus and Season sessions, but there will definitely be some warm weather sessions as well.
And I'm sure there will be those days when I just can't take it anymore and bundle up and go ride street. Those are always fun sessions.
Do you have any big trips or places you would like to go in the next year or so?
Well, I would really like to head back down to Florida and meet up with Matt and do some Country stuff. That may be a trip I do here in the winter. Portland and the Northwest been on my mind for so long so I just may have to do that in the next year. I'd also like to head back down to Phoenix and hit up that scene. The kids down there are always shredding and down to ride no matter what is happening. I've been talking to Matt and Torsten about hitting up Germany sometime soon and check out the Country home. That is still being talked about. So cross your fingers.
I feel like you have done a fair amount of traveling in the past. Where are some of your favorite places you have had the chance to visit?
The first thing that popped into my head was Pittsburgh. The amount of street we found in that city is awesome. It's such a nice, clean city that has a lot to offer. I haven't been back there for awhile, but I would definitely want to soon enough. I'd also have to say the Phoenix area. The Chandler Bike park is so good. I would definitely not head back there in the summer, spring, or early fall. It would have to be in the dead of winter. The street spots are unreal and the vibe is so good. A place that I would like to go back to is Louisville, KY. We didn't have a lot of time there last time I went, but the street looked pretty fun. I think it's because everything looked so sketchy.
What is it that keeps you riding after all these years?
The experiences that I keep having. The people that I meet, the places I go, the new things that I continue to learn about myself. It seems never ending. Not only that, the new tricks and pushing myself to do new things never ends. Sometimes I may get in a slump and not learn anything for weeks or months and get kind of bored. Then all of the sudden I learn something new and get so excited I wanna ride 24/7. Same thing happens when I meet new people and get vibes from them. Even places that I go and things I see keep me going. It doesn't even have to be that serious, just being with friends and being on a bike makes me never want to stop.
What do you think you would be into if you never got into BMX?
Man, that's tough. If I didn't get into BMX I would be a totally different person than I am today. I wouldn't know the same people or thing a certain way about life haha. But I would probably still be in a band drumming fast and hard. That was one thing I was really passionate about. Drumming was kind of the same idea as BMX. Always pushing yourself to play faster, be more coordinated, be more creative. So ya, I would definitely be doing something along the lines of drums.
What are you usually up to when you aren't riding?
I don't do crap! Just chill haha. If I am not working or sleeping, I am looking for something to ride on. Mostly I will travel down to see my family. I'm a pretty big family guy so I enjoy spending time with them. If I am not with them, I would most likely be with the girlfriend. She's amazing. After I built up my new bike, I gave her my old one so we are usually riding together.
What do you do for work or school?
I was working at a bike shop during the summer, but they laid guys off for the slow season. I'm currently working at a dog boarding day care place. It's pretty sweet actually. Getting paid to play with dogs all day.
I know you have a few tattoo's. Do they have any meaning at all? I know that two liner one has a different meaning for everyone.
Ya everyone of my tattoos have meaning behind them. The funny thing is, is that the only one that doesn't have meaning is the 2 liner. I thought it'd be a good idea to have that to cut off my 3/4 sleeve. Since I've been broke for that past 8 years I haven't had money to finish that haha. I've only met a couple of people that have the 2 or more liner and I never did ask what it meant for them. I saw that Guettler interview about his, but I never did read it. haha. But ya, the idea to get it was definitely not to copy off anyone, but an idea to end the sleeve. That's about it.
After a quick Facebook stalk, I noticed you have a hot girlfriend. What's the key to success of picking up girls like that when you're a ratty BMX rider?
Haha ya she is a hottie. She's really awesome. That's actually a funny story about how we met. I went to a house party because Jeff Wescott, Tony Malouf, Josh Eilken, and Matt Markese were hittin hard there. Well, the house that the party was at, was actually my girlfriends bestfriends house. Well Tony was definitely wild, breaking things and bleeding all over the floor, raising his crutch to the ceiling and yelling. Being the definition of a ratty bmxer partyin. Haha it was pretty nutty. Well my girlfriend was the one cleaning things up and she was definitely getting pissed with Tony and the crew, but she still dug me. So I'm not sure, maybe they made me look good haha
Were you aware that there is a ginger version of you who Tweets? Why aren't you on your Twitter game like the other 69% of BMX who prefer to not be fully productive?
haha No I did not know that. Do we know his twitter name? I just never got into it. Kevin harassed me endlessly about getting one and I finally did. I never use it haha. It's just kinda boring. I am guilty of randomly getting on when I'm bored and reading other peoples tweets. Like Big Daddy. But ya, I just never got into like everyone else did. Just another reason for people to be on their phone 24/7. Kevin is something else though. He tweets like no ones business. It's cool though, ill make fun a little just to give him a hard time. Each is own.
What are some of the things you would like to accomplish in the next few years?
Just try and meet more people and see more places. The things that I have been doing for the past 12 years, I just want to keep doing that, but more of it! I just can't get enough of it. There's always new places to go and people that I haven't met. It's never ending so I don't know when I will be done with this addiction they call "BMX".
If you could be sponsored by any brand outside of BMX, who would you choose and why?
Hmm…That's a tough one. KP and some dudes would probably tell you 7/11 and big gulps. And I would have to agree. I love Big Gulps and random food from there. Big Gulp was actually my nick name at the bike shop I was working at over the summer. Funny story about that is that I would always go into the same 7/11 almost everyday. I ended up telling the dudes in there that the guys at the shop nick named me big gulp. They thought that was pretty funny. Well anyway, one day that I was not working that the shop, one of the dudes from 7/11 came into the shop to get some work done on his bike. Knowing that I would hook him up and help him out. Well he goes in and asked if "Big Gulp" was working. The entire shop busted out laughing. Good day.
What's the last song you heard, movie you watched, and website you visited?
Well currently I am on Pandora.com and the current song playing is Sex Packets "The Humpty Dance". As of movies, I don't watch a lot of them. If I am watching tv it's either Everybody Loves Raymond on dvd or Home Improvement on dvd. Which I have all 8 seasons of Home Improvement and have watched every episode at least 7 times. And yes, I have gone to Home Improvement quiz websites and conquered them all!
What was that one song called we heard at that Mexican restaurant? I don't remember, I just remember it being ridiculous and the girl singing was a keeper.
Man that night was real fun. Jon Wells never lets you down. I don't remember what that song was. It was something ridiculous though I do remember that. A guy on some turn tables and some chic singing right next to him for hours. Oh ya, and 5$ huge burritos!
What's one thing you don't have right now, that you want?
More time to ride my bike. That's about it. I know if I had more time to ride, film, take photos, and what not, things would get done and be sick. Its just tough working places to make ends meet and not have a lot of time to do all of the above. Just one of those things. That was probably a lame thing to want, but I don't care. haha
Do you have any shout outs or thanks?
Probably too many. My Mom and Dad for sure. They were and still are my number 1 sponsors. Helping me make things happen. All the guys I ride with on a daily basis for keeping me motivated and sharing the same love for a bike, Timmy Theus, Sam C., Brian Kachinsky, Kevin Porter, Jeff Wescott, Bobby Parker, Andrew Brady, T.J Henderson, Ian Johnston, and my girlfriend Lindsey. Kurt Hohberger at DIG for doing this interview. Dave Leep for having the patience to film with me haha. Matt Coplon at Profile Racing. Jon Wells at Sun Ringle. Torsten Pullich at Country Bikes. Zach Knappe at Flaw Bmx. The guys at Circus Skatepark. Thanks to Jeff Harrington for being a good friend and talking sense to me. "Jeff Harrington speaks the gospel!" -Bobby Parker.
Anything else you want to say?
Fall in love with your bike and it can definitely take you places. I did.
After you check out the edit below, you can check out a few more photos of Trent over on Dave Leep's site.

DIG EXCLUSIVE: TRENT MCDANIEL COUNTRY BIKES EDIT >>
Filmed and edited by Dave Leep