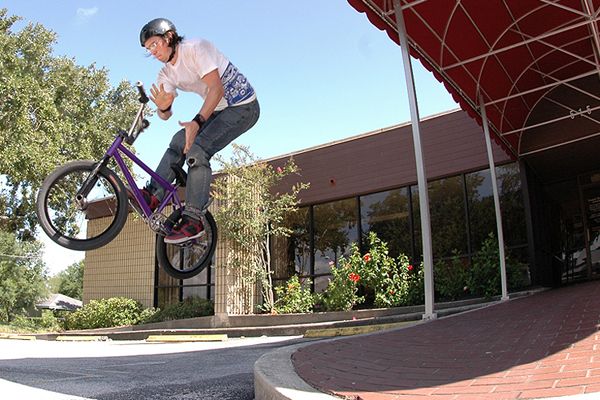 Brett's name has been popping up more and more over the years from blogging on The Come Up, to his videos that have been featured on Ride BMX, Vital BMX and ESPN. I figured it would be cool to find out a little bit more about how Brett got into the filming game, some of the projects he has going on, and where it is going for him. Take a look at what he had to say, and then check out some of his recent work…
Name: Brett Rohlfing

Location: Auburndale, Florida
Years riding: 12 including racing, 6 of freestyle only.
Years filming and editing: 5
What was it that first got you into BMX? Any early memories come to mind?
When I was 14, I was into video games and was just getting fat. My mom thought I should get out and exercise, so she got me a Royce Union BMX bike. I wasn't into it for a while, but my mom guilted me into using it some. I had a tiny homemade ramp, and I found it fun to go fast at it and jump as far as I could. My father thought he had heard of some place that people raced BMX bikes, so we got my grandmother to do an online search (we didn't have the internet then) and she found a track an hour away in St. Cloud. I tried it once and was hooked immediately. I made it to the Expert class in the 5 years I raced, but was never super into the competitive part. I just enjoyed riding the track more than anything else. I had a freestyle bike pretty early on that I rode a lot too, but in 2005 I realized to hang in the Expert class I'd have to go to the gym, do sprints, and use clip pedals. I wasn't into that. I had already been going to skateparks and riding street on my Standard STA500 I got for $50 at the time, and was having more fun with it than on the track. The same year I got in a bad crash and was out for 6 months with a back injury. Around the same time, my parents got divorced, and my mother then got breast cancer. With all that going on, it just made sense to quit the expensive, time consuming BMX racing that I wasn't even that into anymore and just do what I had more fun doing anyway; freestyle. I could do it anywhere, anytime, it was far cheaper, and people were happy to see you do well, not trying to beat you. In 2005 I sold my race bike and got a dialed PW Moto.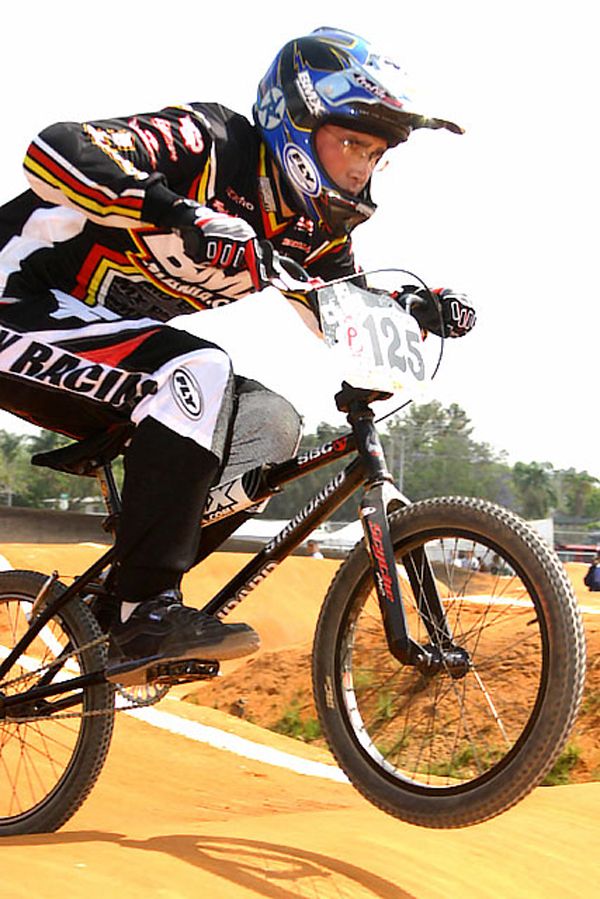 What about filming and editing? Was it something that came about because of BMX or were you into it before and brought it together?
I got into photography pretty quickly after I got into BMX racing. I did it for a while, and even shot some races for BMX Mania, which is pretty prominent racing website. When I started to shoot some freestyle photos of my friends, I began to get annoyed that some tricks were hard to represent properly in a single frame. I got a Sony TRV-900 off of Ebay, but I didn't get too into it and my friends used it more than I did. It stayed that way until I took a trip up north and stayed with Charlie Crumlish. He gave me an intensive crash course in filming. With a newfound understanding of how my camera worked, I took much more of an interest in using it and started making little edits with friends.
What kind of a setup are you working with these days? Cameras, lenses, computers/programs, lights, tripods, etc.
I'm shooting with a Panasonic HPX-170 and a Canon 7D. I have a Century Optics fisheye for the HPX (not the $2,700 extreme fisheye) and I have the kit lens and a 50mm f1.8 for the Canon. My only light is the cheapest Bescor kit at B&H and my tripod is some cheap broken thing not intended for how I use it most likely. I have a Glidecam HD4000 I scored on the cheap. I just got a 17 inch Macbook Pro, which stays tethered to a 23inch monitor when I'm home. I use Final Cut Studio for editing. I really need to beef up my light, lens and tripod collection when I have the chance.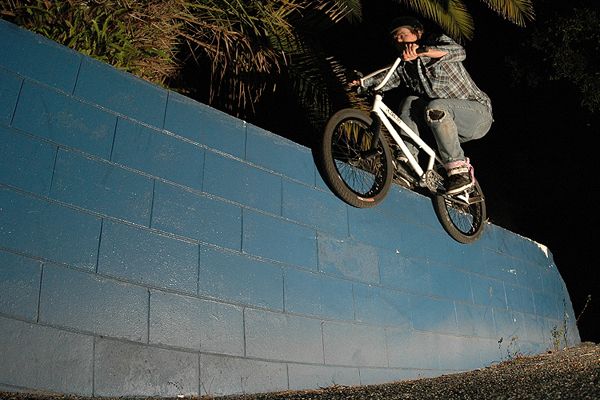 What's your dream camera setup?
Everything that Joe Simon has.
You have been blogging pretty hard for The Come Up lately. How did that all come about?
Ride BMX's site was looking to bring on some people to update their site, and I knew Fat Tony from being at some of the same contests over the years. He asked if I was interested, and I didn't see why not, so I joined. Ride was doing it on an "intern" style basis, which meant we were doing it for no financial compensation and getting free stuff here and there when Ride had some to spare. I was totally cool with that and knew that going in. Everything was cool there, but one day I got an email from Adam. He said he thought I was doing a good job at Ride, and said that he was looking for some help with his site. He offered me a position at The Come Up, and Fat Tony was super understanding. I left on good terms and I'm really happy about that.
You have been contributing all over from ESPN, Vital, RIDE BMX, etc. How did you get involved with all of those websites?
I got started contributing with Vital BMX. I was just doing random edits for fun, and I shot one video while Mike Spinner was at Vans Skatepark. He was excited about it and sent it to his Nike Team Manager, Mark Losey. Mark also happened to run Vital at that time. He emailed me and asked if it was cool if he posted it as a featured video. He also said if I had more videos, he might be into using them. When I got that offer from Ride to blog, Vital wasn't happy and told me I couldn't contribute to them and blog for Ride. I already gave Ride my word, so I went with them. Around the same time James Covington (of Mesh and Mr. Bike and Boards) told me he had spoken to Brian Tunney at ESPN and he was interested in speaking with me. I contacted him and it's turned into a great thing. Brian is one of the nicest guys I've come in contact with in BMX and makes everything really easy. Along the way Ride started doing Monday Edits, and I'm lucky that I'm able to contribute to them and work with ESPN.com as well.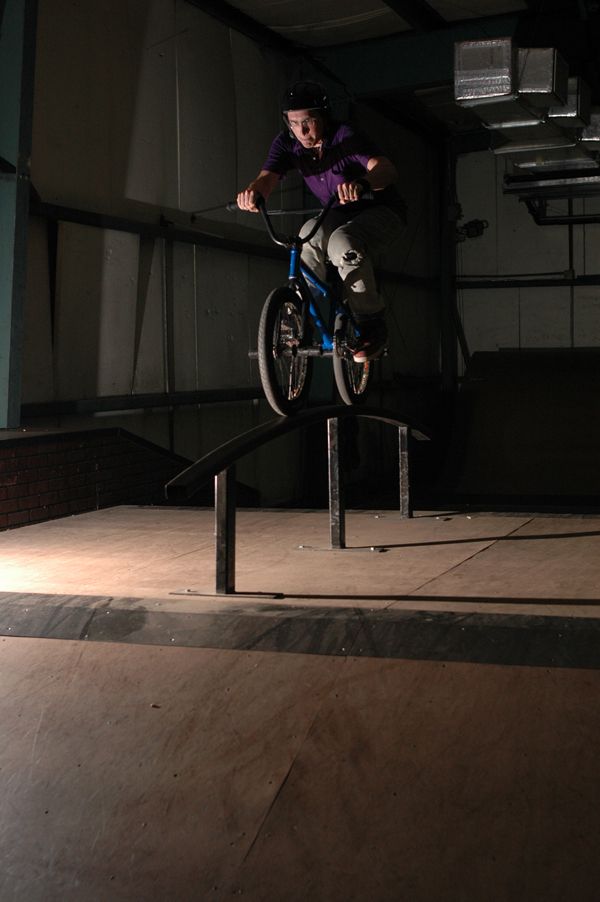 You recently got off Megatour the other day. How did Dude Bird get a spot on the trip? How did the trip go? When is the video expected to drop, and will you be dropping any scrap edits from it?
About two years ago some of the guys and I were out riding one day, and someone mentioned the new Mega Tour video. I jokingly said "Dude Bird should be on Mega Tour!" We all laughed and went on, but I started to think about it, and I figured it was worth asking. I shot Marco an email, he put us on the waiting list, and this time around it was our turn. The trip overall went well. On a personal level it was unfortunate. I came into the trip with a back injury I just couldn't shake. It greatly limited what I could do. If that wasn't enough, 30 minutes into day one I rolled my ankle pretty hard. A few days into the trip I fell on my back and could barely walk for a day, and couldn't ride for two. I'm pretty disappointed about that; rarely do I have the chance to be filmed by a professional, and I'm going to end up with maybe 5 clips, all which are just so-so. The rest of the crew more than covered for my lack of clips though. If Props gave me scraps to make an edit with I'd do it, but I don't think it works that way. I don't have a date on when it will be out "in a few months" is all we know at this time. I'm going to go ahead and say our section will have more crankflips than any team on any Megatour, ever. I think the viewers will be pretty stoked on what our crew did.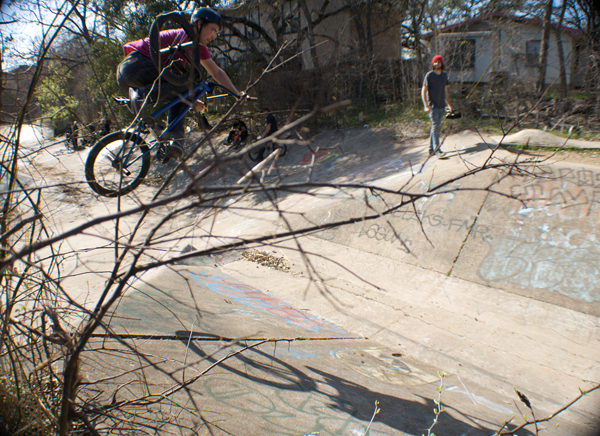 Speaking of Dude Bird. Where the hell did that come from? Is it just a video series you do? When can we expect another edit from that?
It all started when some guys from Orlando came over to ride and film in my area of Florida. It was really weird, because all day we saw a lot of dead birds on the street. Later someone was talking about the Empire DVD "Chill Bro", but called it "Chill Dude" by accident. The dead birds and the misspoken "Chill Dude" title were a constant topic of conversation throughout the day. At the end of the day it got colder, so one of the guys put on this green jacket that looked like it was from the Celtics basketball team. Someone said he looked like Larry Bird, then "Dude, Bird!" was yelled out. I think the mix of the dead birds, the misspoken Empire DVD title in addition to the Larry Bird jacket comment is why the guys latched onto it so hard and started saying they were filming "for Dude Bird" and wouldn't let it go.
At the time I thought it was just dumb and a little annoying. They kept asking me to make a Dude Bird edit, and I realized that I had a bunch of spare footage, so I figured I'd make one and shut them up. At the time, it was at the height of anonymous comments nit-picking everything on The Come Up, so I wanted to make something that went against everything serious: Bad songs, sketchy tricks, Indian givers, etc. I did just that, and surprisingly I got a huge amount of positive response. I liked the idea of making videos more fun and less serious, so I kept with it. That's really all it's been for years; Megatour the first thing other than silly edits that the "Dude Bird" name has ever been used for.
Dude Bird edits come out randomly depending on how much I'm filming for other things. I don't ever go out to film for Dude Bird, it's just whatever I come across when filming for something else that doesn't fit in the main edit. I probably am fairly close to having enough for another edit though…
Have you been working on any big projects lately? When can we expect to see a new edit from you?
No big projects. Every so often I kick around the idea of doing a DVD. It just recently got stirred up again actually… we'll see if anything comes of it this time. As for edits, I've always got a ton of edits in the works. I have a few in the can waiting in line at ESPN, and a laundry list of edits half done or more, just waiting for one or two more sessions to be complete. I have a Zack Gerber street edit almost ready, I'm always filming with Spencer Foresman for something, I've got a Ryan Flesch edit about ready to go, I hope to get back filming with Rob Nolli for another edit… and that's just a sample of what I'm working on.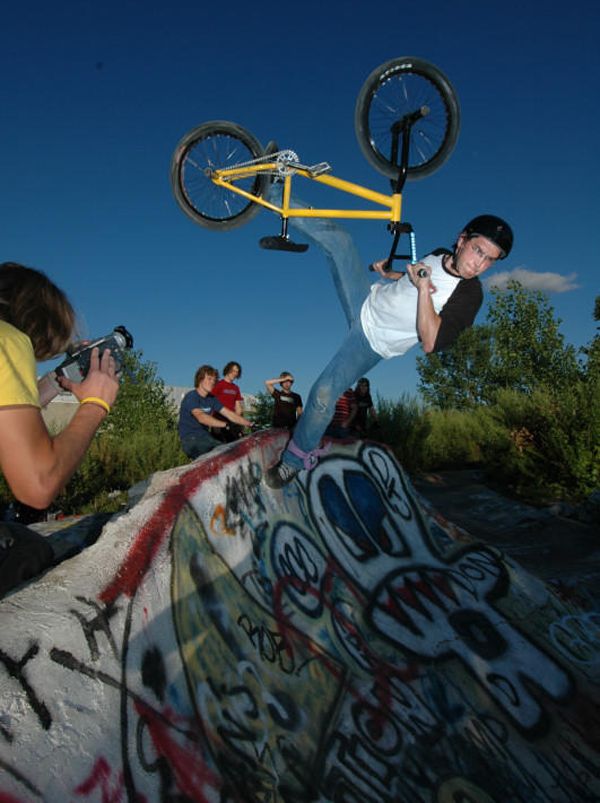 Do you film outside of BMX at all? I swear I saw you were getting into porn or something.
I do when I get the opportunity. I shot an amputee's rehabilitation process for a lawsuit, I did some work for a local sportswear company that is trying to make it big, and a few other odd jobs. Nothing consistent, unfortunately. I help shoot the Florida State BMX racing highlights DVD with Rich Montalvo, and do racing webcasts with Go211.com every so often, which isn't outside of BMX, but is outside of freestyle. I have not shot any porn, nor do I have any immediate plans to do so.
Who are you usually out filming with? Do you have a regular crew you like to get together with, or is it just whoever is around?
It's mostly who is around. I spend a good amount of time in Orlando, since my girlfriend lives there, so when I'm around I call up my friends and see if anyone has anything to shoot. I make it over to Tampa fairly often, where I'm always shooting Spencer Foresman. Spencer is a super talented kid and has a great attitude. He progresses all the time, so he's always got new moves to get recorded. I try to scoop up what I can when out of town guys come through. I enjoy showing them around, and in return I get some clips from them. It works out pretty well.
Who are some of the pros you haven't had the chance to work with but always thought it would be a good time filming with?
I haven't filmed with Charlie since he taught me to film years ago, I think it would be fun to shoot with him again. I could type a list a mile long of pros I'd like to film. I'm happy to get to work with anyone new, pro or not. If you come down to Florida, hit me up!
Let's say you get a big budget and a van, but can only bring 5 riders on a filming trip. Who do you bring, where do you go and why?
1.Rick Moliterno
2.Chad Degroot
3.Jeff Harrington
4.Adam Banton
5.Ratboy
The reasons for choosing these guys should be pretty easy to figure out for the most part. I really enjoy watching riders with unique styles, and those 5 certainly have that covered. If Ratboy isn't available (since no one seems to know where he is that I've talked to) I'd fill his spot with Tobias Wicke, Eric Holly, Catfish, Ryan Flesch, Karl Poynter, or just about anyone from my Dude Bird Megatour team. Once again, most of those choices are obvious. The Catfish option is because I don't think he gets enough credit as a rider sometimes; he's got some sweet flatland moves on the ramps, and I expect just as many on street too. Ryan Flesch is a local guy that flies under the radar but completely destroys everything.
As for location, that is even harder! There are so many classic locations like NYC, Austin or California that would be easy, but I think it would be cool to explore some new territory. Let's go to Iceland when it's warm (if it ever gets warm there)… can you cover our airfare, Kurt? I'm sure 4Down didn't find everything in the entire country in one trip.
I've got a budget so big that I can cover gas to the airport.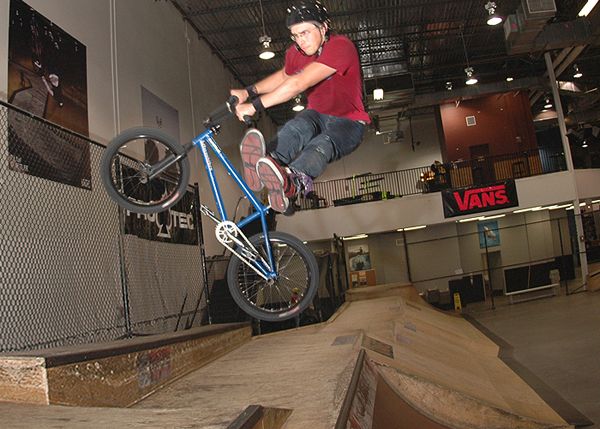 Do you have any horror stories from filming? Stolen gear or anything like that?
I almost got charged with Criminal Mischief for filming someone doing a grind. Luckily the cops must have thought it wasn't worth their time and I never got my summons in the mail. I've almost been robbed and was close to being lit on fire once, but I found a way out before it happened.
What kind of time do you put into this? I know the process is pretty time consuming from filming to editing to uploading.
It varies. I try to film as much as I can. Sometimes it's nearly every day in a week, then I'll have a week of nothing. It's a lot of calls, texts and emails trying to line stuff up when I'm not busy.
Did you go to school at all for film or was it just self taught?
I did attend one week long editing course, and I really should return for more classes. Other than that it's all been people along the way and the occasional educational podcast.
What kind of advice do you have for kids out there looking to get into filming and editing?
Do it for fun, and don't try to make a living out of it… or at least not in BMX. At this point I don't even make minimum wage off of the stuff I do in BMX. Why do I do it then, you might ask? Because I love what I do, I'm stoked on the people I work with and I enjoy the low stress lifestyle that comes with it. That said, I may look into doing wedding photography or something else on the side soon; I'm not getting any younger and I'll have to start acting like a grown up sooner or later.
Do you have a portfolio site at all? Where can people check out some of your work?
I don't, which is pretty dumb. It's mostly because I'm hyper critical of my own work and feel like I can always improve on what I've done, so I'd rather put my name on the next thing that I do better…which I then want to improve on again. It's something I'll have to just get over I suppose.
How would somebody go about getting in contact with you to get some film work done?
Facebook (Facebook.com/bluebmx) or my email BlueBMX125@aol.com would be the easiest I guess. I always enjoy working with new people, and my schedule is pretty loose right now, so lets do something!
Anything I missed you want to say?
I think you covered just about everything. I still moderate on the Bike Guide forums, for what that's worth. I'd also like to say that I do still ride, and ride frequently. So many kids see me filming and ask if I ride. The answer is yes. Zack is committed to filming an edit of me next time he is around and I'm healthy, so maybe I'll be able to prove it soon.
Thanks to my Mother first and foremost for getting me that bike and encouraging me to do what I love. I don't know where I'd be if it wasn't for her, but it probably wouldn't be good. Thanks to Jerry Landrum for giving me my first media job with his site, BMX Mania. Thanks to David Lack at the Bike Shop of Winter Haven for giving me a job way back when and still letting me raid your tools at will. Thanks to Larry Padgett, M.D., he's the best orthopedic doctor around and always fixes me up when I get hurt, and does so with a smile. He's also never told me I should quit riding, like so many other doctors have before when I come in with injuries. Thanks to Charlie Crumlish for teaching me how to work my TRV-900 and the basis of filming. Thanks to Mark Losey, Brian Tunney, Fat Tony, and Rich Montalvo for jobs past, present, and future. Thanks to Adam22 for the TCU gig. Thanks to my girlfriend for putting up with my strange schedule. Thanks to Marco for taking a chance and letting Dude Bird go on Megatour. Thanks to Jordan Pope for being my best friend for quite a few years now. Thanks to Dave Brumlow for the help he's given me. Thanks to anyone that has shown me spots, filmed with me, or just been cool to me. Thanks to Kurt for the interview!