Photos: Joey Cobbs
Over the years, I've followed Chris' work from back a few years ago when he was first doing the SJBMX website all the way up to these days where his work can be found on ESPN. In that time, his film work has improved and developed into some real good work. I figured it was time to get him some questions about himself and his film work. Let's take a look at this filmer/geologist's work…
Name: Chris McMahon

Location: San Jose, CA
Years riding: 10 years or so, regularly. I've been doing flyouts and curbs and whatnot forever, though.
Years filming and editing: 6 years.
Let's start from the beginning. What was it that first caught your attention when it came to cameras? What are some of the original things that caused you to get so psyched on it?
I didn't really have any friends that rode until I was in college, so, when I was younger, I pretty much just watched videos. S&M 4, Standard Domination, Expendable Youth, Albert Street, and Road Fools 4 were my staple videos for a long time, and definitely were what first made me interested in filming. As far as getting psyched on actually filming and editing, it was basically just that local riders were stoked on seeing local web edits – when I started filming, there weren't too many other people doing local web edits at the time, and nobody else was filming in the South Bay.
Was BMX what really helped push you into getting into the professional side of things, or was it just something you just slowly fell into?
I guess you could say that I slowly fell into it through BMX? I started shooting SJBMX web edits in the Fall of 2005, and eventually shot an edit of Joey Cobbs in 2009, which ended up as a Volume edit. Shortly after that, I shot a video of that years GFFT event at Ramp Rats, and then started shooting videos for ESPN's BMX blog soon after that.
What kind of a setup are you working with these days?
I film with a Panasonic AG-HMC40, with a knockoff of the Century Mk II fisheye. As far as I know, not too many other people in BMX are shooting with this camcorder, but I really like it – it's lightweight, and has a really comfortable handle and good balance. The only thing that I really don't like about it is that it only has a 12x zoom, as opposed to 20x on my previous camcorders.
I keep my gear in a Lowepro Flipside 300 bag. It's a smaller, lower-profile bag, which is particularly useful for events shooting, because it opens from the back; you just swing the bag around your hips, open it up, grab whatever you need, and then swing it back onto your shoulders.
For tripods, I have a Manfrotto setup (501HDV fluid head on 351MVB2 sticks with a 75mm leveling ball). Since the Manfrotto's case is the size of a golf bag and is super-unwieldy to pedal around with, I don't break it out too often. I've also got an old Velbon VG-3 that I can strap to my bag.
I'm pretty bad at skateboarding, so I film rolling shots from my bike. I've been riding with a freecoaster for a few years now, which helps cut down on background noise considerably.
Additionally, I work on a Dell laptop, and edit with Sony Vegas. I also use Cineform Neoscene to prep my footage for editing, and as a high-quality backup solution for finished edits.
If you were given a shopping spree (huge budget) at somewhere like BH Photo, what would be some of the items you would be after right away?
I'd grab a pair of HMC150s (or AC160s, if they'd already been released), with lenses (fisheye, wide-angle, and telephoto) and accessories (shotgun and wireless lapel mics, Steadicam, slider, extra SDHC/SDXC memory cards, cleaning equipment, new bag, etc.). I'm not against shooting with VDSLRs, but, being someone that shoots a lot of events, I prefer having a powered zoom and a thicker depth of field.
Your work has been popping up on all of the different sites these days, but like everyone you started out from scratch. Care to talk a little bit about your motivation to start the SJBMX website? How long have you been involved with that now?
Well, first off I have to say that my main sources of inspiration for starting SJBMX were Che Holts and Chad Smith, who ran the old SFBMX and NorCalBMX sites, and created a pair of awesome full-length videos: Vision and Disobedience. Without those guys, I probably never would have thought to start a BMX website.
That being said, I've been doing SJBMX since February of 2005. The Vans park in Milpitas had closed in November 2004, and a lot of guys stopped riding along with it, and I basically wanted to make something that held the South Bay scene together. I think that it worked pretty well, and the site's been going strong ever since, although I've been slacking as of late, mainly because I'm too busy with work, but also because there's enough other local sites around now that I feel that I don't really need to post up every little thing anymore. The new version of the site is going to be considerably different from its previous incarnations, whenever I get around to finishing it.
What are some of the websites you currently contribute to now?
I mainly contribute to ESPN, but I have a new edit of Wes Rhoe that should be going up on the Ride site soon. I've also got some other projects in the works with companies that I haven't worked with before.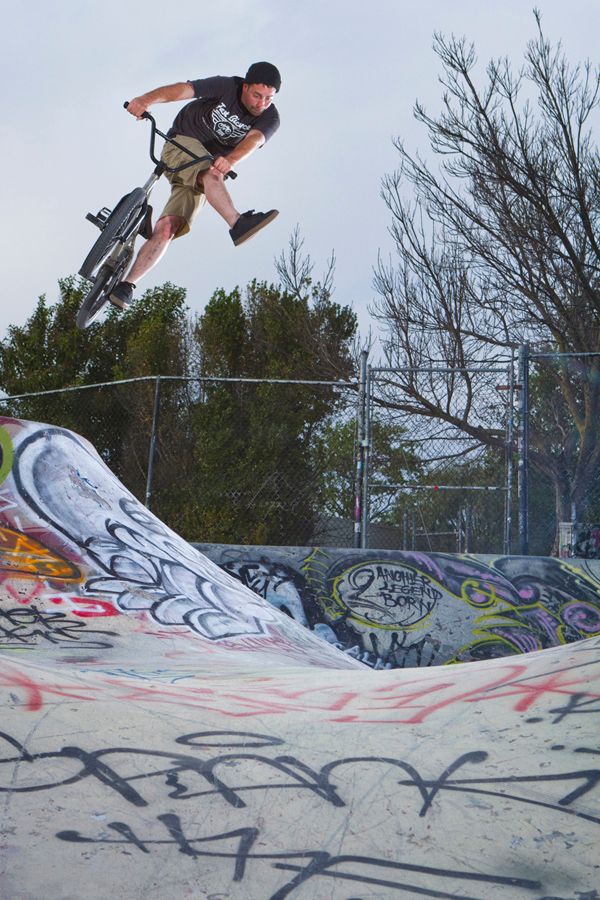 Photo: Joey Cobbs
What about some of the brands you have worked for in the past?
I filmed and/or edited for ALLI, Avant Garde International, Auviq, ESPN, FBM, Fit, FuelTV's SLAM!, Knight, Lotek, Quintin, Props, S&M, Solid, STFBMX, Stolen, VitalMTB, and Volume.
Do you ever get into things outside of BMX with filming and editing? What's the weirdest thing you have been asked to film?
I don't do too much outside of BMX, but I have shot MTB events before. The weirdest thing I've been asked to film? Aside from a couple requests to shoot porn, and another from a former coworker to make a video of a funeral, I had some bro come up to me at Warriors of Wood II, suggesting that I film a documentary – without pay – about his proposed, yet-to-be-funded, fake-snow snowboarding training center in Morgan Hill. I told him to post an ad on Craigslist.
The San Jose area has a real solid crew with all sorts of guys from young shredders all the way to the legends like Ryan Nyquist. Who are you usually filming with these days?
I actually haven't been filming much in San Jose in the past year – I've mainly been out in San Francisco and the East Bay. At the moment, though, I'm working on projects with Mike Jonas and Dylan Sparkman out in Berkeley, Greg Micklas and Robert Barrera in San Jose, and Jackson Ratima up on the Peninsula. There's also some roadtrips that I'm filming in June and July, and a whole bunch of events that I'm supposed to shoot.
Who are some of the people you have never been able to film but feel like it would be a good time?
I could rattle off a lot of names here, but El Jefe tops the list. Although I have filmed with him a couple times, I feel like I should also mention Bob Randel – I've been meaning to work on an edit of him for a while now, but just haven't had a chance to get started on anything yet.
Let's say Steve Jobs admits to being a huge BMX fan and approaches you with the opportunity to take 5 riders out on the road with a big old budget for Apple. All you have to do is pick the riders, locations, and put together a video from the trip. Who do you pick, where do you go and why?
This is guaranteed to result in some "why wouldn't you invite me?" texts, but I'd go to Marseilles, France with Jeremy Quinard, Andy Maguire, Jake Honesto, Mike Jonas, and Steven Landrum. I went out to Marseilles for a week in 2006 and stayed with Jeremy (who lives in California, but has dual-citizenship), and had a hell of a good time. I'd love to repeat that, but bring the camcorder along this time.
You obviously took an interesting style to learning the film game. You went to college for Geology, right?
I went to San Jose State University, and got a Bachelor of Science degree in Geology, and am currently looking for work as an Engineering Geologist. I spent the last two years of my time at SJSU working at San Jose City Hall as the intern to the City's Engineering Geologist, reviewing every project that went by him, from backyard retaining walls, residential additions, and swimming pools to private schools, jet-fuel pipelines, and apartment complexes, and that experience really cemented my interest in the field. I haven't found a job in the industry yet, but, hopefully I will soon.
You also work outside of the filming game, right? What kinds of jobs are you working to pay the bills?
My dad owns a food service management company, managing five college cafeterias in the Bay Area. One of our locations is currently undergoing remodeling, and I run the temporary backup facility single-handedly in the afternoons and evenings. I also help out with menu concept and design, and work as a caterer when necessary.
Do you still find a lot of time to ride, or does everyone expect you to pick up the camera the second you meet up?
I ride a few times a week at the local skateparks – since I work in the afternoons and evenings, I can usually get a good session in while the parks are empty. I've never been much of a street rider, so, if we're out riding street, I'm pretty much there to film. If we're at the park, though, I try to get a session in until somebody's figured out something that they want to shoot.
Who are some of your influences or people you really look up to in the BMX filming game?
Stew Johnson, Alex Raban, Rich Hirsch, Jackson Allen, and Brodie Gwilliam come to mind immediately.
What kind of advice do you have for people looking to get into filming and editing?
Keep it simple.
How should brands go about getting ahold of you for a project? Do you have a portfolio website at all?
To get in touch with me, send an email to chris.sjbmx@gmail.com, or look me up on Facebook. I don't have my portfolio site finished yet, but you can find me at SJBMX.com or on Vimeo in the meantime.
Is there anything I missed you would like to add?
Thanks to Cody York and Brian Tunney at ESPN, Fat Tony, Aaron Huff at Solid, Joey Cobbs, and everyone I've filmed and worked with over the years.

Go to BNQT.com for more videos.