If you have ever actually met Vince before, you would know he is a real good guy. I am sure he won't mind me telling you all that the first time I met him was in Las Vegas. We all went out partying, and I let him and a few of the Give D! guys crash in my hotel, and as we were just getting settled in he started yelling the song It's raining men! It was pretty much the funniest thing ever. However, today he just happened to have a little elbow surgery from a recent crash. He had some down time to get an interview for you guys to check out. Leave him some get well soon love in the comments!
Photos by: Jarred Souney, Kevin Conners, Spencer Mcabe, Dave Reuss, Fat Tony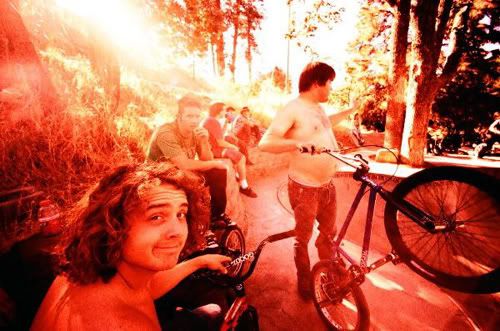 Name:
Vincent Kroff

Location:
From Portland Oregon but living in San Diego California
Sponsors:
Subrosa, Lotek, Profile, GOODS and Team Shralp
Years riding:
since the training wheels came off
What was it that first got you into BMX in the first place?
Boats and hoes… anddddd seeing the X-games on the televison!
You broke your elbow the other day. How did that happen, how long will you be out, and what's the surgery situation looking like these days?
Yep, its broke, get surgery this Thursday(jan 29th). Getting some metal shit up in there and i'll prob be out for 2 or 3 months. Oh yeah, I was riding the park in north San Diego with Kyle Hart and Hoang Tran. We were shreding all day and this was the last stop of the day. I just droped in and stared riding, you know, not really thinking about never riding there before. Second run, when to 540 this quarter in the back of the bowl, hung up front wheel. Now i got a jacked elbow.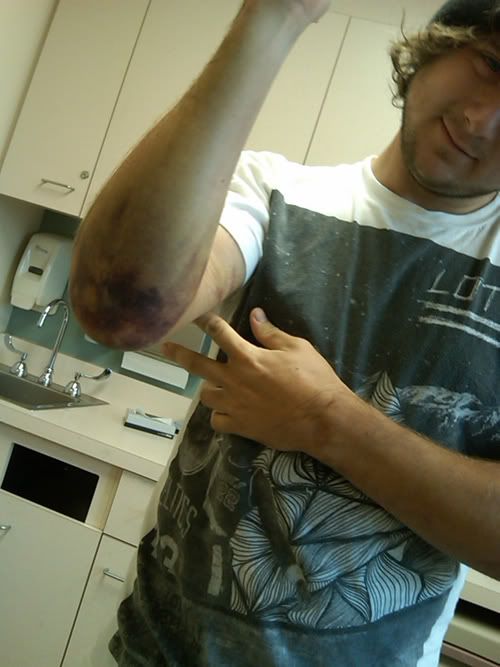 You just got bumped up to Profile flow, how's that going for you? Do you have any trips, or filming going on once you are kicking ass again?
Dude, im still kicking ass! haha.. Profile is AMAZING! Matt Copland is a super chill dude and Im stoked to be apart of it. But yeah, im always traveling, it seems like my whole life is just one big trip. But i'd like to make a trip out to FL and I think there are some Subrosa trips that are going over sea.
How about Subrosa and the rest of the sponsrs, anything awesome going on with them and you?
Subrosa is the best fucking thing EVER, there are like three companys in bmx that kick ass(Subrosa, Solid and Metal) and im stoked to be involed with the most ass kicking one! The team is amazing, they make great stuff and my Ryan Sher is my dad is you guys didnt know. Haha.
I know the Goods DVD is in the works, will you have a full part in it?
I would really like to but prob wont, i'll prob end up having a split section with someone. The video will be sick!
I've noticed you are always traveling. Where have you been the last few months? Do you have a "home" anywhere?
Im gonna go ahead and say my home is just the west coast. I love Portland but when that rain comes around I need to bail. I just end up traveling between Ptown and SD all winter. San Diego is pretty much just like Portland. Good food, good music and good people, so thats why I spend the winter months down here.
Where are some places you would really like to travel to someday?
Ive always missed out on going to Vancouver Britsh Columbia, so there, Spain, Austin Texas, New York, Florida and pretty much anywhere else that I havent been. I love new places and people. You only live once, get up off your butt and go experience something new and different.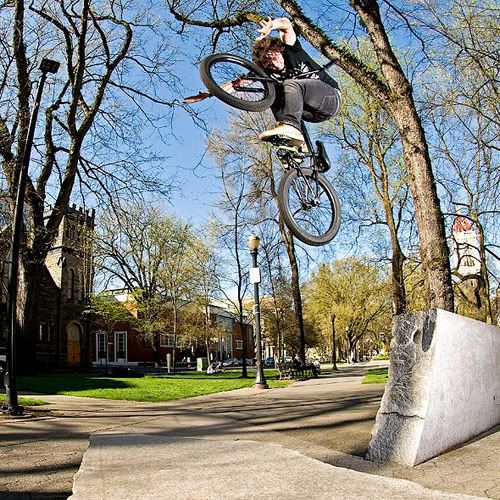 Photo: Jarred Souney
If you could go on a trip anywhere, with only 5 people. Who would you pick, where would you go, and why?
I would bring along my good friend Eddie Cleveland, Ben Kauffman(BFC), Hoang Tran, Kyle Hart and Jon Peacy. All those dudes cause they are all a great time and good ass riders, def make for a good trip. Oh and we would prob just jump in a bus and start heading somewhere, wouldnt matter where we ended up it still be amazing! Prob bring Rich Hirsch along with as well!
Where are your top 3 favorite spots you have had the chance to ride?
Chandler Skatepark in AZ, Roseburge park in OR and pretty much any ditch/hip/tranny combo.
When it comes down to it, what is the most important thing to you when it comes to BMX?
Kicking it with the homies and having a fun ass time! FUN FUN FUN, duh!
You work at Woodward in the Summer, when did you start doing that, and what's your favorite part about working there?
I started working there the summer of 07. The best part about working the is def just kicking it with rad kids and getting to shred with them and show em what BMX is all about.
I know there are some people who blame your talent on being at Woodward all the time. Do you feel like because you get to be there so much that is true? Or was it something else that got you to your ass kicking status?
I think being at Woodward all the time makes me really comfortable on my bike but i've only learned a few dif tricks with the time I've been there. I just like living that free life there and riding the concrete and the Interprise park all the time. The night sheshes at those parks pop off!
Where would you like to take BMX in the next year or two?
Just keep progressing and riding faster! haha. I'd really like to start a clothing brand but not just some lame bmx tshirt company, more fashionable clothes of all kinds with just a bmx team and artists who will all be contributors to the brand. Bmx clothing companies are such a joke its funny, the only one who actualy tries is Rich Hirsch and all you nerds out there hate, its great. hahaha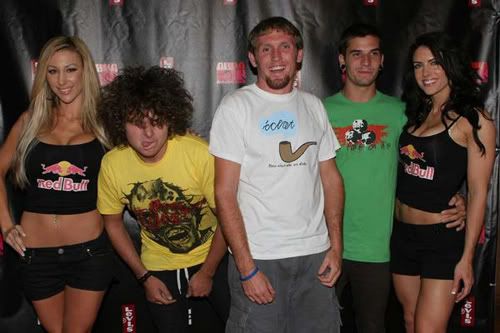 Photo: Fat Tony. Vince, me (Kurt), and Spam at Nora Cup on the Red Carpet
What is the craziest thing you have experienced because of BMX?
Just being able to travel and stay with all sorts of rad people with pretty much no money. Im a nomad if you didnt know.
If you could change anything about BMX what would you change and why?
I dont think I'd change anything, it is what it is and it can only get better from here.
What do you think you would be up to if you never got into BMX?
Prob be going to school all the time and be one of "those guys." Pretty stoked I ride bikes!
Your hair is pretty wild. I know when I asked you when you were going to shave it like Dirt Ron and Kyle you said no way. Do you have an emotional attachment to it or something?
Yeah man, I'll never shave this shit. Well I might if I was to start UFC fighting but that prob wont be for awhile. haha
What would it take to get you to shave your head?
just give me a TAPOUT shirt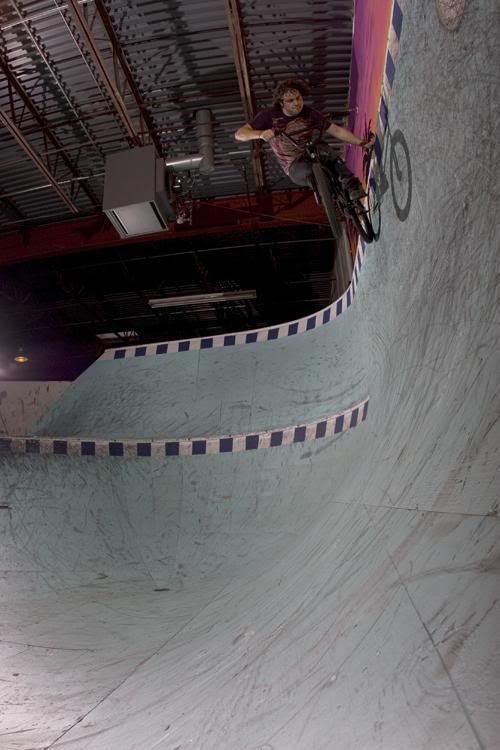 You have been to a few "gentlemens clubs" in your day. What are your top 3 that you have been to and why are they so great?
All the good strip clubs are in Portland. Anyone thats been to one in Portland knows this. Casa Diablo in Portland, they have two girl Tuesdays. These chicks get down on eachother, its rad. Union Jacks in Portland, so many babes and last would have to be the Cabaret in downtown Portland, i really dont know why its coolbut it is and we always go.
Have you ever hooked up with a stripper or hooker before?
Na. not my kind of girls
What's the coolest thing you bought recently?
I bought my girl some flowers the other day and just seeing that smile on her face was amazing, so I guess that.
What are some things that really influence your life?
people that shred and have a good time and good weather.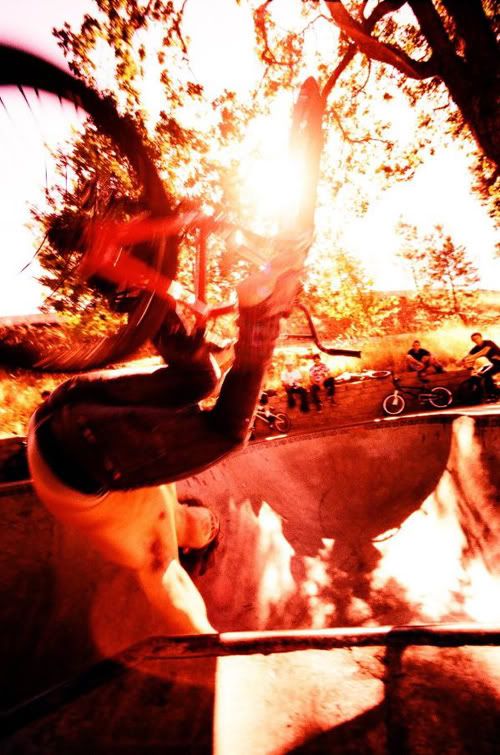 How do your parents feel about your lifestyle? With the BMX, traveling all over, and everything?
Im not really sure how they feel, I think there just kinda whatever about the whole thing, but whateves. Im having an ass kicking time and thats all I care about. BOOM!
If you had to settle down and live in one place, where would you pick and why?
I really think it would be San Diego, this place is straight paradise.
You are in the Side Kick club… What is the most text messages you have sent in a month?
Thats a good question. Too many thats for sure
What kind of music are you into? If you could see any band live right now, who would you pick?
I like anything with the good ol' guitar. Metal, Folk, classic rock pretty much anything you can think of. I def see Motle Crue before their album Too Fast for Love came out. It was back when they were just playing music, rockin and didnt give a fuck. That would HIT!!
What is the weirdest thing you have ever experienced in your life?
being born
If you could live like anyone in the world, who would you pick and why?
Vince Kroff, DUH! that dude lives it! HAHHAHA
Where do you see yourself in 5 years?
Kicking ass, running my clothing brand and still shreding!
If you could be sponsored by any non-BMX related company, who would you pick?
American Apparel
What is one thing you wish was legal to do and why?
BMX and skate anywhere and everwhere, no questions asked.
Have you ever been arrested for anything before? Any close calls?
Na man, im a good kid
If you could relive any day of your life, when would you pick and why?
Last Friday when I broke my elbow. I'd spin that 540 first run instead of second.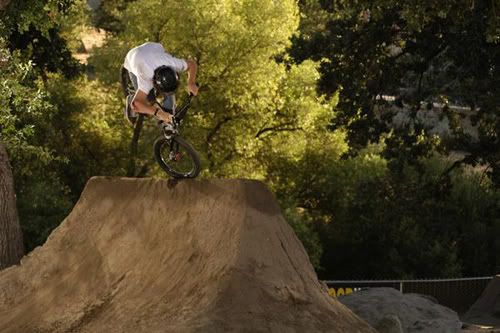 What are the things you cannot live or travel without?
My bicycle, is that even a question
If you could change anything about the world, what would you change and why?
Def all the war and violence
What is the best advice you could give somebody?
You only live once, retire when your young. Work when your old and it doesnt matter because your old and your not going to be doing anything anyways.
Do you have any shout outs or thanks?
Thanks to Ryan Sher for letting me ride for the most kick ass bike company ever, Shad Johnson at Goods, Matt Copland at Profile, Rich Hirsch and Lotek, Team Shralp/Dean Dickenson, my girlfriend Crystal for putting up with my crap and taking care of me with my broken ass elbow, Aaron Huff at Solid, Ben Kauffman, Kyle Hart, Jon Peacy, Eddie Cleveland, Hoang Tran, KC Badger, Adam Perez, Nick Kirkland and the Lord(Dave Volker not the man upstairs) haha
Anything else you want to say?
HAVE FUN!!!!
Vince How To: Handplant over a sub