Since I am waiting on what looks to be about 20 interviews to be returned… ahem… I figured it would be a good time to do my blog post of the week. Oh, by the way I am going to try and do a blog post once a week now. I figure it might just help my writing abilities, and maybe I can spark a little discussion? I don't know. This time around I figured maybe I should give a little explaination to how or why BMX union came about… I even included some old slightly embarassing pictures…
This is probably 3 or 4 years old now. Local trails that eventually died with the scene around here.
The reason for this is that I actually have been confronted twice this week about how I am doing what I am doing. One, in a positive email and a not so positive one from an anonymous kid on The Come Up Board. So, maybe I can enlighten some of you of what I am all about, or at least what I wish I was about.
If you are firmiliar with web design, HTML, or anything like that, you might be able to remember some of these names I am about to bring up. One of my very first websites was a "crew" website on Expages. It was a free site hosting site that had really easy functions on how to build up a website in a few minutes. This was probably around the time I was in 7th grade. So, I would say about 7 years ago. We're talking back in the dial-up internet connection days with AOL.
Shortly after that I was starting to teach myself HTML from Web Monkey and HTML Goodies. At that point I started experimenting with Homestead, Geocities, and Tripod. I couldn't find any of these sites which was kind of a bummer. Then again after so many years I am not surprised they deleted that stuff. After a while I got into Freewebs with a site called BMXrochester. It was a scene website I did with all the local's from Rochester, Minnesota (not New York, or Michigan).
That site was really the biggest jump with web stuff. If you look at the links and stuff, you can see this was the time when Trend which is now Empire was huge, I rode a Macneil Ruben, and Kyle Stark was doing the Twin Cities BMX site. I don't remember the exact reason I stopped using Freewebs, but I think it was a mix of a lot of shitty service, and if you notice the template on that site… They had some big outage and lost all the data of my real design that I did all by myself. I didn't have the code saved obviously, and that was it. I stopped doing web stuff for a few months and then played around with a few other services. After a while I resurected BMXrochester on a Blogger account, but this was right around the time the scene in Rochester started getting bogged down due to people leaving for college, working all the time, dirt bikes, and a bunch of other stuff.
Once the scene started dying down, I was still itching at the website stuff. I started BMXunion in September of 2007 and didn't really know exactly what I was going to do with it. To be entirely honest, I was taking a Mass Communications class in my first semester of college and my final project was on how blogging can reach people. I got Catfish to do an interview and before I knew it I was at 150 interviews (actually at this moment it is 149.. who will be the big 150? Well, whoever sends theirs back first).
That is what leads me to Adam22 and The Come Up. I am surprised he even talks to me still to be honest haha. I was constantly asking him questions about how to get a website visitors, and asking if he would post my stuff. It had to be annoying as hell. However, he went on a trip which I don't even remember what it was for but whatever. He asked if I would want to do updates on the site for him. Sure, why not? HA! I never realized exactly how many people check that site, and how quick they will catch your mistakes of spelling or anything. I guess it must have went well because Adam didn't delete my log-in after that one. I still wonder why he lets me post on there haha. Oh well, it is fun and I really appreciate the oppertunity he has given me.
BMX is really cool because EVERYONE is connected. I don't care what you say, if you need to get ahold of somebody it can be done at any time. I remember after a few months of helping out Adam and my site, I started getting a pretty dialed in e-mail contact book for people to get ahold of to get people for interviews and everything. Jump ahead to last September, Kyle Carlson and Alex from Give D are telling me I have to come to Las Vegas for Interbike. I was scared to fly, and never really traveled that far before. Somehow I convinced myself to get a plane ticket and just do it. I regret it for one reason and one reason only… Now all I want to do is travel!
It was really fun to go to Interbike and just bump into all these people who I had been doing interviews, getting in contact, and other things through email. I owe Alex from Give D, and Catfish big ups for introducing me to all the people I probably wouldn't have just because I didn't want to bother them.
Did I ever expect to be able to do any of the things I get to do today when I started? No, not at all. It is crazy to think about all the oppertunities I have been given because I was into messing around on the computer too much. I am very greatful though, BMX is the coolest thing to happen to me. To be able to be as involved with it as I am today is amazing.
I was talking to a guy who used to ride back in the day a few weeks ago. He was one of the "older guys" I watched riding when I first started. I was always amazed by the stuff he did. He had said he saw a video of me on Youtube and was shocked at how much has changed since I was the little rat at the trails following my big brother all over the place. I guess it just made me laugh to think about how much BMX really has changed.
I don't know if that could explain how my web presence came into existance, but I tried. I just hope I don't come off as a dick, or cocky bastard. I didn't mean to at all. I am just happy to be able to do whatever it is involving BMX.
This would conclude yet another rambling blog.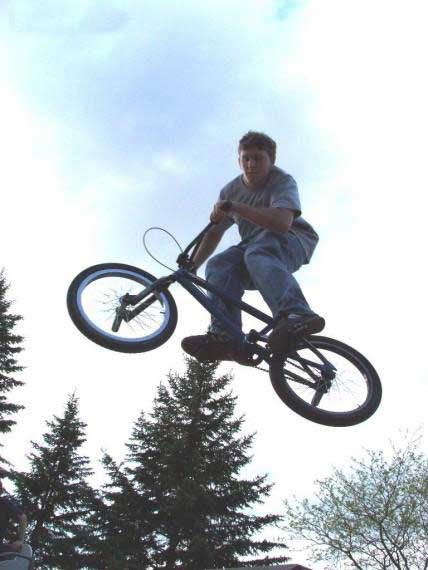 There used to be this creepy guy who came to the skatepark called "Skunkboy". He had to be about 30 and claimed to be an action sports photographer. I am pretty sure he was a pedophile now, but I thought it was cool back in the day for him to get pictures of me.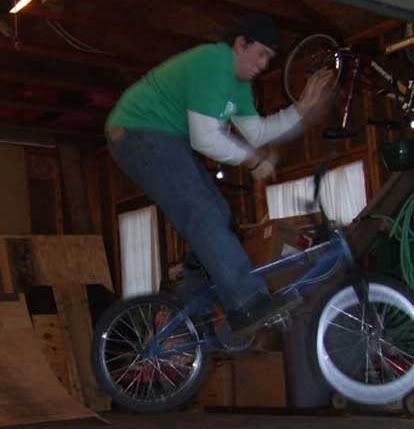 Believe it or not, I used to do hop barspins. I can't do them for the life of me anymore. I probably landed 1 handed in this.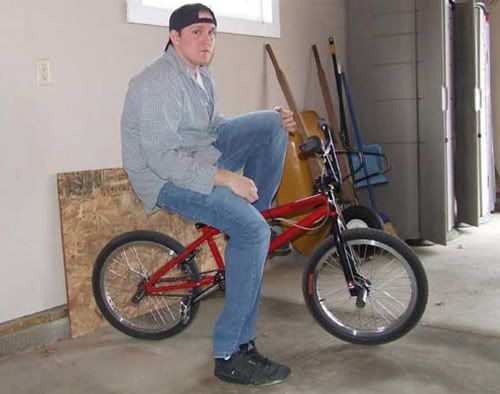 Thanks to those sponsor me websites, I some how got onto Psykopath back in the day. Once I realized I sucked at BMX, I quit the team and bought an FBM.