I could probably write a book about Wyatt. I've been waiting to do this interview for quite a while just to make sure it was deserved and not a favor. I've known Wyatt since I was in 7th grade or so. The first time he showed up at the skatepark our buddy yanked his snap on wind pants off, and it became very clear he was down with bikes ever since. I've watched Wyatt learn a lot of tricks over the years, roll through mud after falling on rails, and I've even had to bear hug him from mutilating a guy for blowing smoke in his face. Shit, I've seen him throw people in bushes just to get them to leave us alone. We have gone on plenty of trips, and is definitely my favorite person to ride with. I finally decided it was time to get him a little love, and to use a bunch of the photos I've been holding on my computer for a while. Check out what he has to say, and then let him know how you feel about his tattoo's when you are done.

All photos by Kurt Hohberger
Name:
Wyatt Allen Kreel

Current Location:
Bloomington/Minneapolis, MN
Sponsors:
None
Years riding:
8 years
What got you into riding in the first place? What's an early memory that comes to mind?
Oh wow, well I got my first BMX bike when I was 13 cause my friends that lived on my street just got one so my dad took me out and bought me a Mosh Brass Three Star. That's when I first fell in love, but we didn't go out and do tricks though for like years later. We would go to our park where park and rec would always have a big mound of dirt sittin by their shack, we would carve out lips and come like two blocks away and just blast off these piles and see how high we could go and far. I did stuff like that until I heard about 507 trails in Rochester. We would have our parents drive us into town like three times a week to ride that place. When I was a kid that place looked like heaven to us.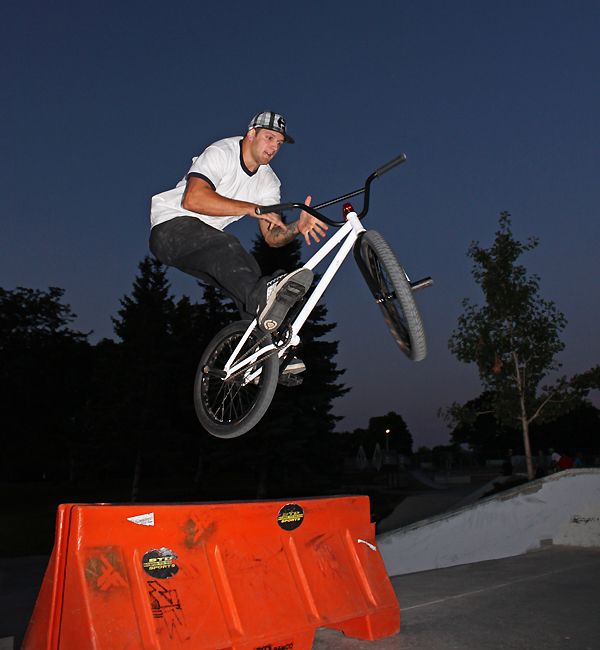 I've known you for quite some time, and have seen you progress quite a bit. Do you feel like having me there to call you out all the time has helped you progress?
Oh for sure, I seem to ride a lot harder when I'm with my friends than by my self. We are always out there pushing each other into new things. You have always helped me calm down when I get super pissed about tricks, you usually do something retarded like making me give you a high five then I laugh at it and then usually go back a land the trick cause I'm calmed down.
How do you feel about the Rochester scene as a whole?
Actually I have been thinking about that lately and Rochester has a lot to offer for street spots. Some of the guys never wanna go out and look around and travel the town but Rochester has so much to ride. I rode a couple times down town with Bink last time he was in town and he showed me some spots that I never even looked at riding before. So i think that we actually need to go out there and really look for spots.
You recently had to move up to the cities due to a bunch of different things. How are you liking it up there?
Its nice, the scene is great, so much spots to ride. The riders up here are sick, I've gottin to hang out and ride a lot with a bunch of different guys. I met Phlandus and Quinten, they live in my town so they have been showing me around. Im really close to two different 3rd Lairs so I got places to ride this winter. The job hunt isn't going as well as I want it to but I'm still looking. I need to start making that cash so I can ride a lot more, as of right now I have been just sittin in my house doin jack shit but watchin Web Vids wishing I could go out and ride but it's too cold.
I know you have been riding with Phlandus and Quinten a bunch lately. How crazy are those guys? Have they been making you do anything cool lately?
Holy shit that boy Phlandus is crazy with his street and Quinten too. I've been riding with Phlandus a bit more than Quinten cause that boy is always off doing random shit, but yea Phlandus has always got crazy ideas for spots and has been showing me a few things. I think when spring comes back I will prolly be riding a lot of street with those guys. But those guys blew me away the first time I rode with them, I've never seen guys rip street like those two before. They grew up riding street only so they have the town on lock, and I'm pretty sure it wont take me long to join them.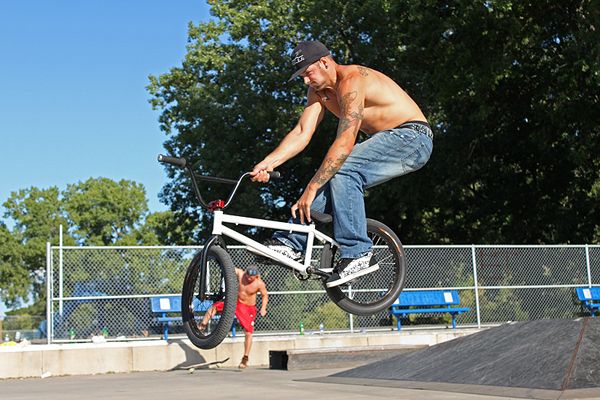 Bunny hop T-bog
It hasn't really snowed yet in Minnesota. Where have you been riding lately? What are your plans for the winter?
Let me just tell everyone that I really hate Minnesnowta with a passion. The day I have a lot of money saved up I will be moving back to Cali haha. It has been decent out weather wise so I've been riding street cause my ass is too broke to ride indoor parks. But I've been riding Minneapolis and the East side of Bloomington's street. I guess I have always been more of a park rider so riding street all the time is really new to me. But I have a lot tricks and ideas I wanna work on for street here when it gets nice out again. My aunt bought me a membership for 3rd Lair in Golden Valley for my birthday so I will be riding there a lot this winter.
You are one of those all around riders. If you have to pick which one is your favorite what would you pick? Big booters, some good street, or a real good park?
Oh WOW that's really hard. I love it all. I love the trails scene, just for the fact that you can build dirt jumps as big as you want. But since I love riding my bike with no brakes I would have to say a real good park. I love a good box jump and quarters so I can air high. Street is epic, I love riding random weird objects.
You are pretty dedicated to BMX with one of the best tattoo's in BMX. What's that all about and why did you get it? Any regrets?
No I never have any regrets for anything I do whether it was a good decision or bad one. Um yea I don't really know, I love tattoos, and art. All my tattoos are pictures I have drawn. I found this picture once in high school on the internet that was a cartoon biker, so in art class I redrew it and added a better face that looked like me, or what I looked like when I was younger. And when I was 19 I found a bunch of art work from high school and found that picture I drew and decided to bring it in to my tattoo shop and show my guy, and he was stoked on it like I was. He said he wanted to do it right then and there, so i didnt think twice I just sat down and said lets fuckin do it haha. It is deff one of my favorite tattoos, not many people have a cartoon of them tattooed on their body ha.
Who or what are some of your biggest influences when it comes to riding?
Umm, well pretty much all the younger guys now in BMX. Im stoked for all the kids that are just amazing. Makes me wish I started riding when I was way younger. One of those guys would be Garrett Reynolds. That kid just blows my mind on all the skills he has. When I was younger I always watched videos of Mike Aitken and Van Homan. Watching them ride always made me wanna go out and ride.
In your eyes, what is the craziest thing you have ever done on your bike?
Well I wouldn't consider this too crazy, but my buddies and I would drive out to construction sites and jack sheets of wood and a shit load of 2x4s and bring it all back to a buddys garage. Well this one time we decided to build a monster size kicker so it took us all day but we ended up building an eight foot tall kicker ramp. We would drive around town looking for piles of mulch to use as a foam pit, we would park cars between the jump and the mulch pile and just come haulin from like a block away and just launch off this ramp into the pile. Holy shit let me tell ya that ramp just blasted you so high in the air, we then decide to find a construction site that had a massive dirt hill to use as a landing and would set up the ramp in front of it and just jump that all day.
Where are some places you would like to go ride at some point in your life when you aren't broke?
All kinds of trips, Cali, Florida, Carolina, Europe, France, shit I could keep naming places. I loved riding in California when I was there. The cement parks they have there that are free are just insane, here in Minnesota you would have to pay like 15 bucks to ride a place like that.
Who do you think would win in a wrestling match between you and Big Daddy?
Shiiiiiiit…. I would have to go with Big Daddy, I can't wrestle for shit. I'm not that bad I can hold a dude down and throw punches but I don't know wrestling moves. Lets say Boxing, I would say me, I do good when I'm on my feet, but if I had to wrestle I suck ass at it. I wrestled in like 4th grade one time and I only won because I head butted him and it looked like a accident and the kid fell down so I jumped on him and pinned him. hahahaha
Actually, do you think you guys would be pretty good buddies? I figure you guys both got golden gym memberships by now.
hahahahah, Yea I would say we would be good friends, I haven't worked out in a while but I still love to work out.
What do you think you would be up to if you never got into bikes?
I couldn't tell ya, I have thought about that before. Probably have went to college and stayed in school for art or something. Working out a lot more. Or the worse, I could have done tons of drugs and overdosed and died about age 19, lol yea not really.
What are you usually doing when you aren't rippin?
Partys, hangin with the ladys, Boozin when I can afford it, sitting at home relaxing, drawing up some pics, and workin out. I watch a lot of web vids and creepin on your site seeing what's new with the world.
Approximately how many pounds do you bench? What's your all time max?
Well last year, when I was drinkin that protein like crazy, I maxed once at 295, and the decline bench I did 315 two times. Right now there is no way I could get that, I would have to hit it hard all winter to do that, and I just might. I pretty much figured out that I'm gonna hit the gym hard in the winter and chill in the spring and summer. I did that this summer and I was riding a lot better. BMX comes first then beefin second.
Why do you have such a hard time keeping a job? What's the worst job you ever had?
I dont really know, i just get sick of them and wanna try soming new. I have had so many jobs that I can pretty much do anything now. I have done almost every kind of construction job and hard labor jobs. I just haven't found that one job that I fully enjoy going to every day.
You are pretty into drawing and stuff. Do you feel like being slightly retarded attracts you to the pretty colors?
So pretty much the next time I see you you're gonna get an ass beating for that… No I'm not retarded, art is in my family, so I was gifted too I guess, and I enjoy doing it.
So back to tattoo's How many do you have, and which one is your favorite?
Well I'm pretty close to finishing my left sleeve, but I have about 10 or so. My favorite would have to be the cartoon of my self riding a bike.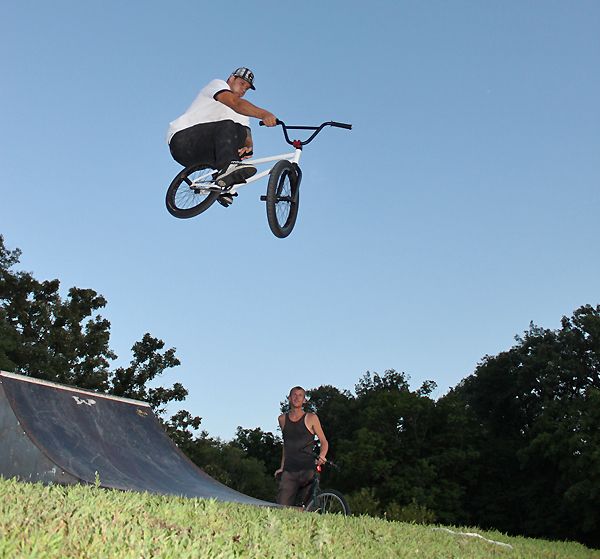 I know you aren't able to go to Iowa or Wisconsin until you get some fines paid off. What is with you and getting in trouble?
When I get all boozed up I get a little wild. But no I never used to get in trouble when I was drunk but the last two times I went to another state to party I did. The Iowa thing wasnt my fault, all these girls kept buying my drinks so I couldn't pass them up, I drank so much free shit that I blacked out and I guess some guy poked me with a pool stick so I slapped him and draged him outa the bar by his ankle and ran back in the bar and said "gotta hide cops are here." Yea not my fault I was blacked out on free booze. The Wisconsin thing was just me being to lazy to walk my drunk ass back home so I took a mountain bike out of a bike rack to ride back home, then got busted. That I will say was my fault. lol
Approximately how many people have you had to beefcake in your life? Are your fighting days behind you?
Yea I don't like to fight really any more unless I really really have to. But I use to get into fights all the time when I was younger in high school but it was never really me starting them, it was a friend callin me up to come out and help jump in or back some one up, and I was always there for my buddies so I came to every fight. lol good times tho.
What is the first song and movie to come to mind?
Any Lil Wayne song, and My Best Friends Girl, great movie, Dane Cook is the shit..
What are some of your favorite websites?
Pandora Radio, BMXUnion, Dig, Face Book, and You Tube
Approximately how many girls have you done the dirty with? Why don't you have any kids yet?
I never wanted to tell you this Kurt lol, but more than I can count on my fingers and toes, I might need to borrow some of your fingers lol. And no kids yet, cause im smart.
What's the hardest part about watching New Moon?
Probably watching that damn movie. Let me just say that that movie makes all Vampires look bad, Vampires eat their food not fall in love with them. And I had to watch the first movie with an ex girlfriend of mine, I was tricked into going to that movie, and in the movie Edward/ Homo, says that they are vegetarian Vampires, what the fuck kinda shit is that. That movie is bullshit. And I Hope that Wolf dude bites Edward/ Homo's head off.
I was just going to say not killing yourself… but okay.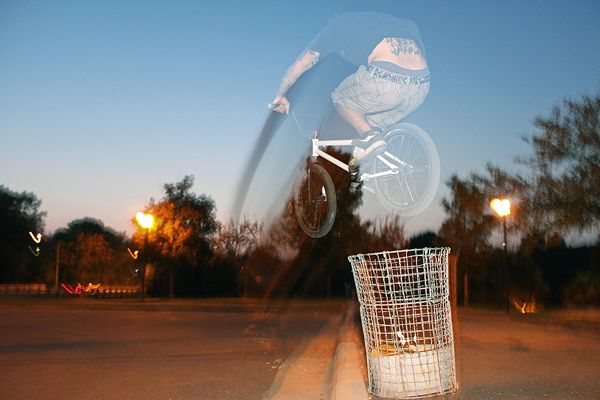 Where would you like to see yourself in a few years?
A decent job I don't mind going to everyday, making good cash and just riding my bike everyday still. A bag of tricks learned. And maybe, maybe a decent girl.
What's the first quote that comes to mind? 10 bucks says it's from Zombieland.
It's Time To Nut Up Or Shut Up.. lol um, Fuck that shnoise.
Do you have any shout outs or thanks?
Thanks to Kurt for bugging me with all these questions, and for all the things that kid has done for me and givin me. Props to that fool Kurt, and all my other fellow biker friends that have helped me out with anything and everything, they all know who they are. Shout outs to the old 507 crew for staring 507 and to the second generation crew in Rochester, we all have had epic ass times. Shout out to Team Bitty for the bittys we have wrangled up and fun times. And every one else I have missed for all the memories in the BMX world. And thanks for Phlandus and Quinten for showing me around and making me at home in the cities.
Anything else you want to say?
Peace out FOOLS, forever on two wheels…..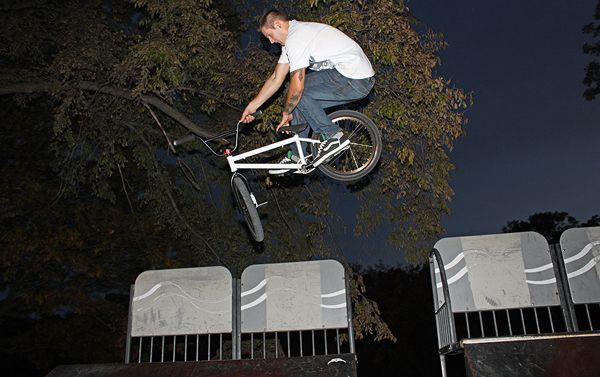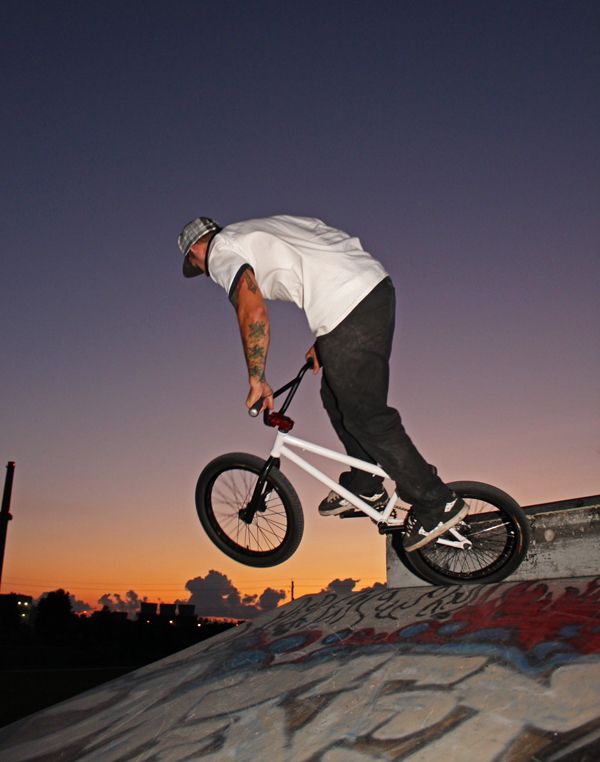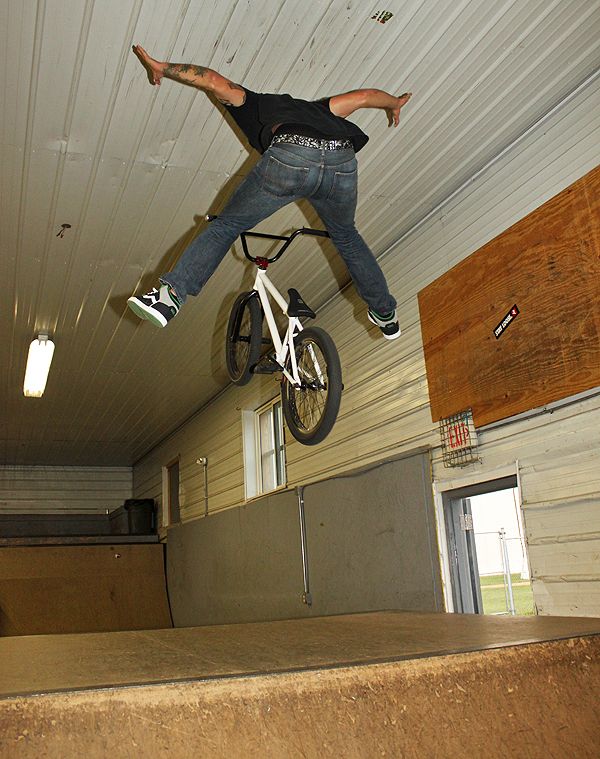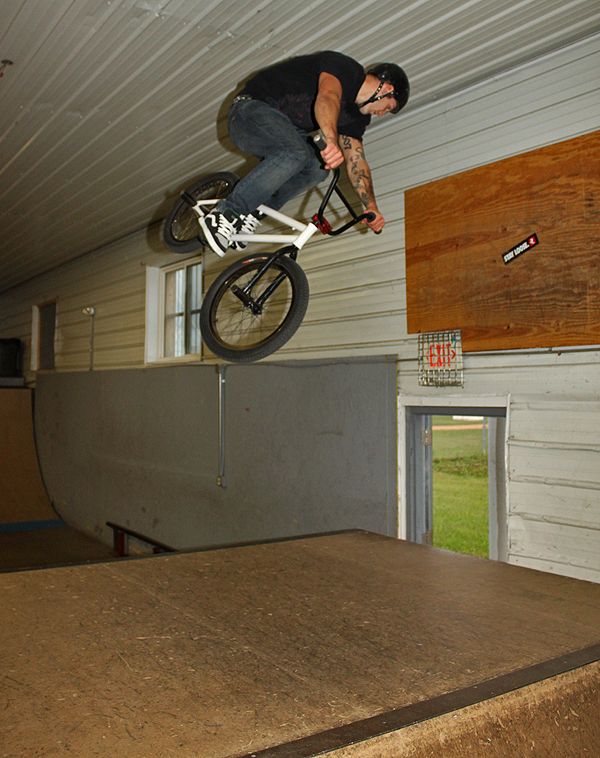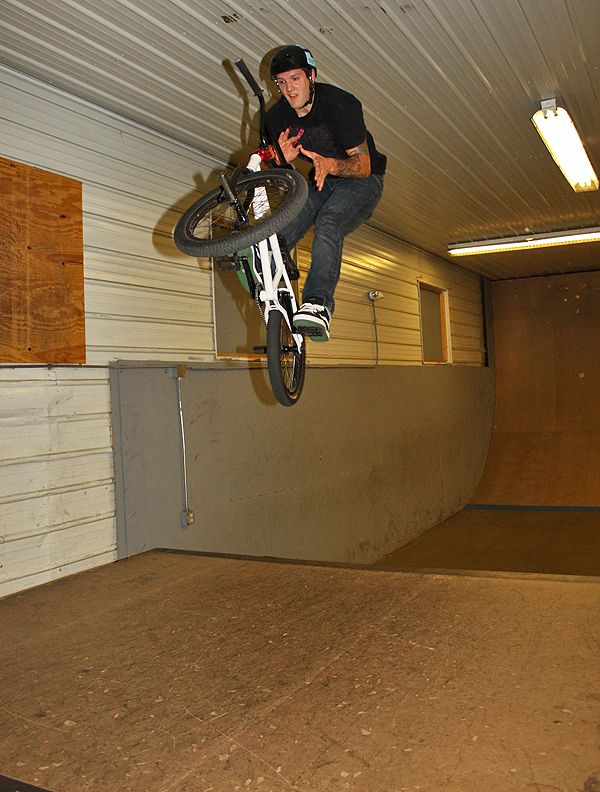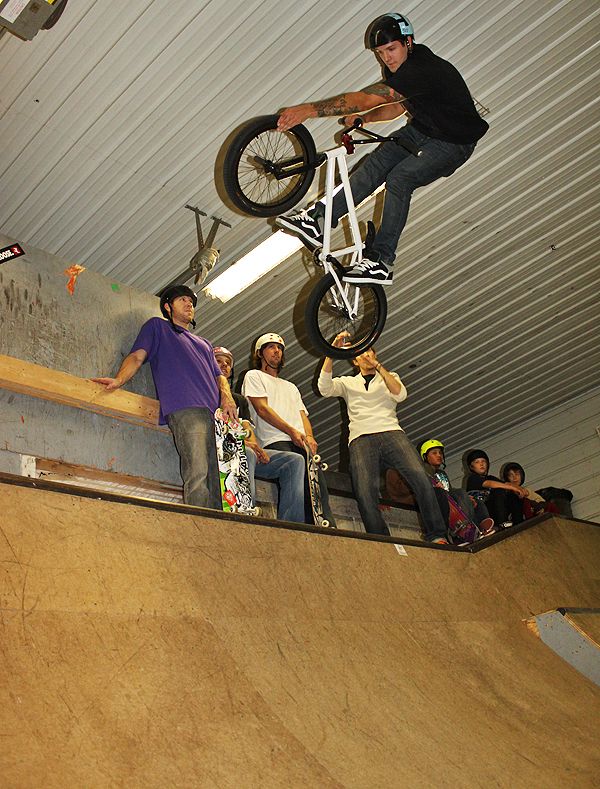 This is from 2007. It's an old edit I did. Wyatt has some clips around the 30 second mark and then the ender.
This video is another from 2006 or so. Wyatt's first big rail is towards the end.
This is a video from about 2005 I did. It's pretty crazy because of how much fun we had riding. Wyatt is the skinny guy with sideburns eating it on the rail and taking the girl out with a power slide. This was the first rail Wyatt did.