When I met Zach, it was at Baco in Wisconsin. I thought he was a little crazy at first then I saw him ride and I knew he was crazy. We got talking and he said "dont tell anyone but I am going to front flip that box"… well that box was 2 1/2 feet tall and about 6 feet long.. and of course he did it. Since then I have only had the chance to talk to him online a few times, but finally I got around to asking for an interview and here it is.
Name:
Zachary Robert Gerber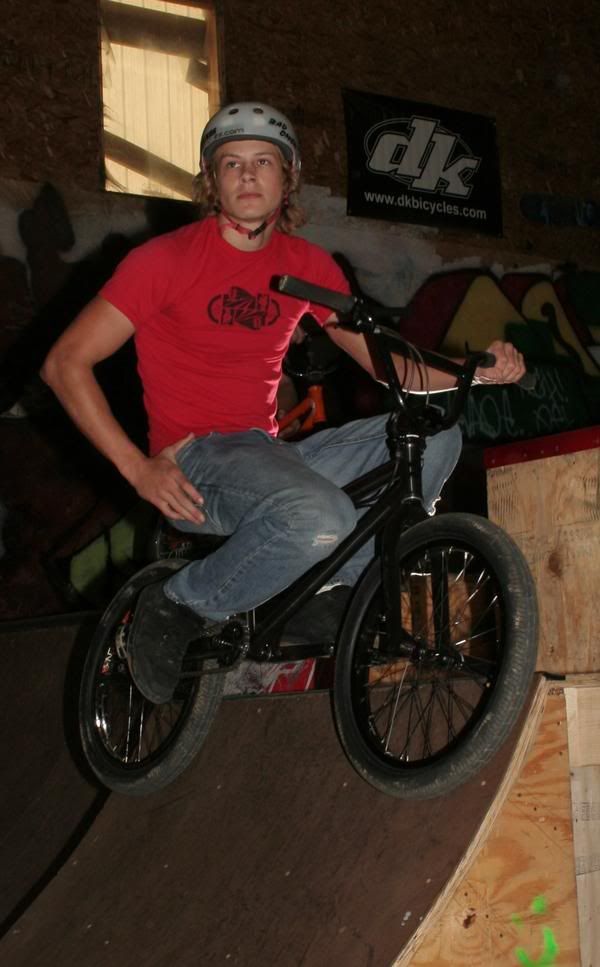 Location:
Ridgway, Pennsylvania
Sponsors:
DK Bicycles, Maxxis Tires, System Cycle Supply, Albes flow, Superhuman Inc
You're undoubtedly one of the craziest dudes I have seen ride a bike? Are you naturally talented, did your parents drop you as a child, or did you grow up near a power plant?
-My parents never really dropped me, but I did hit my head a lot when I was younger. I don't live near a power plant, but there is something in the water up here. It tends to make people act a little wild.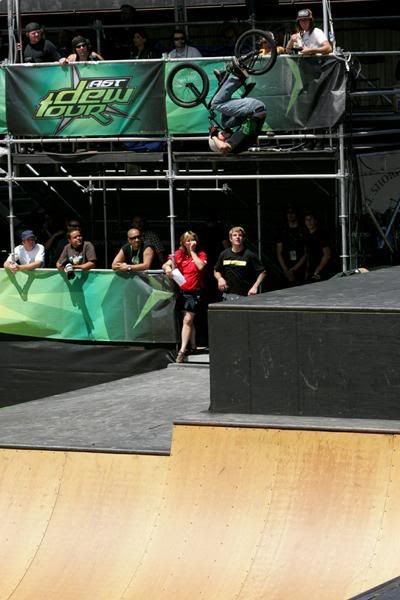 You have front flips on lock, are you going to be the 3rd person to pull that fakie frontflip?
-Not to be cocky but I've already done one, with my chain on and I run a cassette, no freecoaster. I had to pedal back and I ended up actually doing it switch footed.
You're riding for DK doing shows, now that you have been getting coverage on the dew tour do you still plan on doing the demos or will the tour take up a lot of your time?
-Man, I don't know. I love the dew tour. I love doing shows. I'll just make things work. As long as I'm inspiring kids everywhere to pick up a bike and ride. That's all I want to accomplish.
You and Catfish are pretty tight, is he like a brother to you or what?
-He's like a grandpa to me! That man has helped me out so much. I wouldn't be here if it wasn't for him. He deserves more credit than I can explain in words.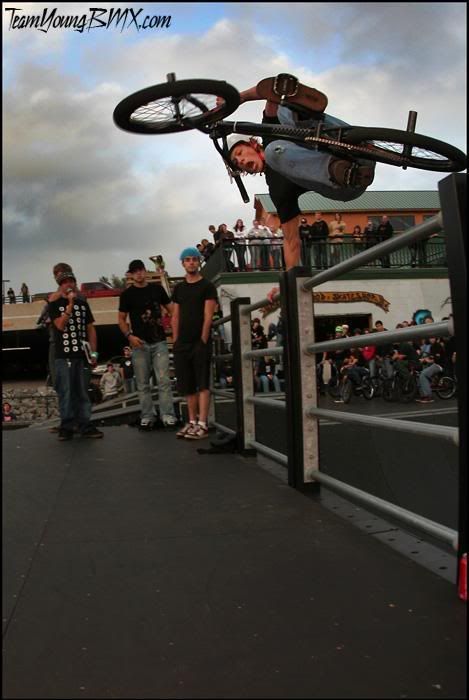 (If I remember right I told him to do this too, handplant at baco)
You seem to be super dialed and able to learn whatever you want almost instantly, how do you go about learning new stuff?
-Just riding with friends. They randomly blurt something out, and I'll likely try it. Or at least, think about it and try to find a why to make it happen. I also study gymnast moves and try to convert it over to bmx. Sounds a little weird, but gymnastic stuff is crazy. I feel that bmx is just gymnastics on a bicycle. Someday you'll be seeing flat ground flips, I guarantee it.
Some people say your riding is a mirror image of Scotty Cranmer's, what do you have to say about that?
-What can I say? Scotty is amazing. I do really love the tricks he's doing, but I love anyone who is out there progressing bmx and pushing it to its limits. I don't try to be him; we just do some of the same stuff and he's ten times better than me.
Other than Scotty, who are your biggest influences on your riding?
-Brian Kachinski, Brad Simms, DMC, Dave Mirra, Aaron Ross, Whitesnake, Craig Mast… All athletes know when you use anabolic steroids your body increases the intensity of the synthesis of nucleic acids and various enzymes, which are necessary for the cycle of a particular biochemical reaction. Anabolic steroids are often the first choice of bodybuilders and beginners. Anabolic steroids which are available on ACNM website www.alaskacenterfornaturalmedicine.com in pills or injections do not pose a risk to the liver. Secondly, steroids are often more powerful and therefore more effective. However, there are some exceptions. The choice of specific drugs depends on your goals. heck, everyone I've ever ridden with. Especially, those who still ride flat land, my friends who I ride with everyday, and those 12 year olds that do backflips.
Where are some of your favorite places you have been able to visit and ride?
-TRP is the most amazing park ever, Woodward east (of course), The Flow, and Rays MTB Park.
What is your craziest story involving being on the road?
-Too many to remember, but stories with Chris Gerber are always the most unforgettable. All I have to say is, "Where the condom at?" Chris isn't my brother, nor are we related in anyway, but I love that dude.
What are some of your goals for 2008?
-Double front… and not die or end up with stitches in my head, and ride more and learn more.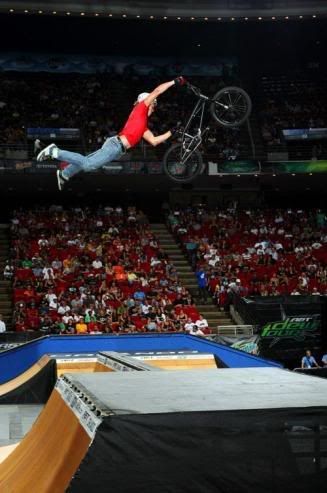 Why are you always so excited and bouncing off the walls?
-I have horrible A.D.D. Just thinking about riding gets me super stoked and happy. It makes me want to run around real fast and bite people like 28 days later.
Who is somebody you have never met that you have always wanted to? (alive or dead)
-Colin Winkleman. I really wish I could have had the honor of meeting him.
What is on your holiday wish list for this year?
-Ti for the bike and a Wii for me.
You got a pretty nice V Dub.. do you have any customizations to it?
-Nah, not yet. I'm getting there though. I'm in the process of getting a 4 inch lift in it and softer suspension. It's going to be my PA Baja car.
Outside of riding what or who impacts your life the most?
-My parents, they are so important to me. I don't know what I'd do without them. My girlfriend, she keeps me in line, but she's a bad influence, too. Video games can also make me sit in my room for days on end. Zelda… oh lord… 80's movies and cartoons also consume me.
Do you have any shout outs or thanks?
-My mom and dad, everyone at DK, Bill, Jerry, Trevor, Zack, Jackson. I mean everyone! Thank you guys so much for everything. Flip, I love you! Everybody at Maxxis tires, Trevor at Superhuman, all my friends that I know and all those to come, and Voltron!
Anything I missed you would like to add?
-Stay positive and just ride. For the love of bmx, just ride. It's doesn't matter if you can only bunny hop or you're doing 360 triple whips. You've got a bike, get on it, ride it, love it and smile.

I did a search on YouTube, came accross these videos.. this first one is crazy followed by halarious
Flairing tiny stuff

This video below is close to 2 years old!