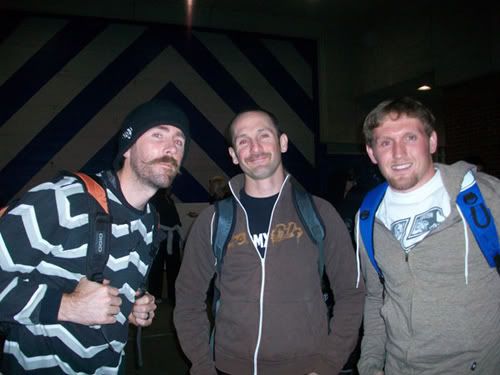 Above is Chad DeGroot, Matt Coplon, and myself. It was good catching up with these guys!
I had the chance to go to the ASA Tour stop in Minneapolis today. I snapped a few photos, and I got some video too. I haven't had the chance to get the video uploaded yet but I should have that done soon enough. I didn't shoot any photos of the riding because my camera sucks, and the riding shots were blurry from the lighting and everything. All the riding will be in the video. It's 2:30 a.m so I am sorry if any of this gets confusing. Check out the photos and some words.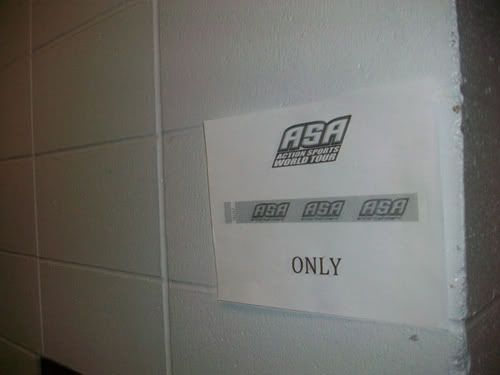 I was stoked to be able to get a media pass. It was weird having access to the behind the scenes part of the Target Center. Good experiences come from BMX.


Tom Haugen is a Minnesota native and the very first pro I met. I met him when I was about 11 or 12, so it's always fun when he comes around. Tom was riding real solid in practice until he crashed and blew off the course and hit his head real good. He ended up heading to the E.R for a scan. I hope everything is alright for him.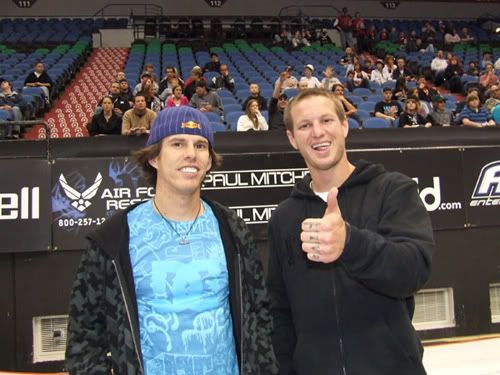 Daniel Dhers and Ryan Guettler were in town for the contest. Those two are real good dudes.

This was the first time I had the chance to meet Allan Cooke. It's always weird approaching somebody I've known of for 9 years and trying to say hey haha.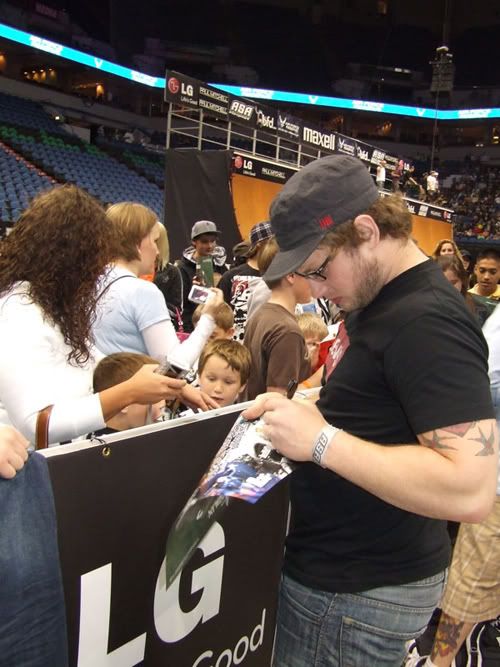 Zach Warden was also in town for the contest. He was riding real dialed but had some bad luck during his runs and got cut a little early. He was still stoked on his wood burn though.

This is the view from the top of the roll-in. It might not seem like much from this view, but it was at least 25 feet up. It was pretty intemidating for me at least. The second photo is the overview. There was two box jumps followed by an 8 or so foot quarter. It was a cool set-up. Almost trails like.

Koji Kraft was here for the contest also. He is definitely under rated in my opinion. He was throwing down some real bangers including a double backflip.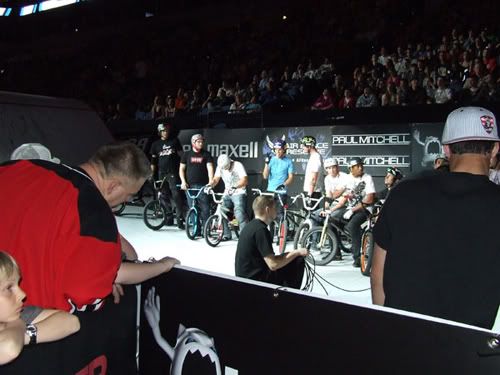 All the guys lined up before the contest. I can't remember when they said this will all air on TV. I think June?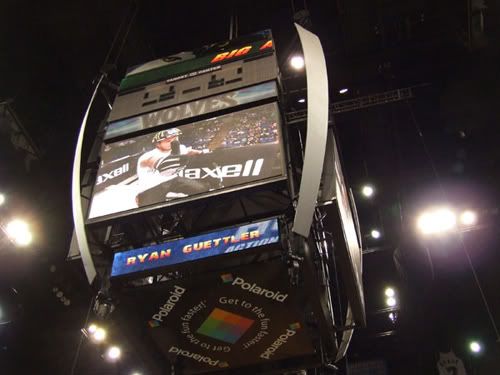 Ryan Guettler on the jumbotron! I was stoked on this photo because of the thumbs up!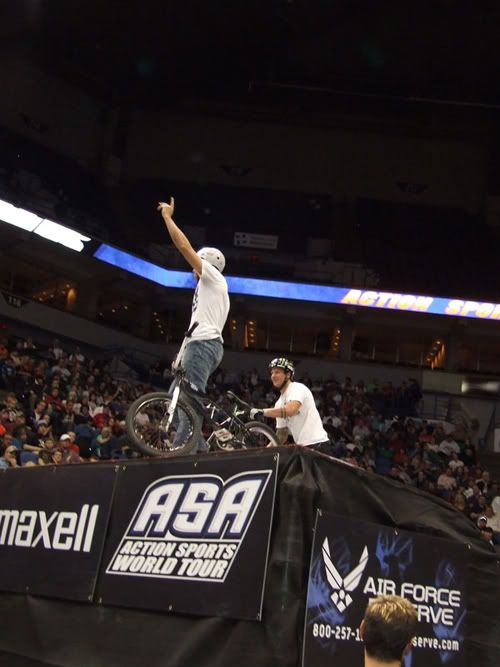 Minnesota local Dustin Griess got in on the contest last minute. The crowd went NUTS for him. It was real cool to see that and it was well deserved. Dustin had to ride against Ryan so he got out fairly early, but he was still pulling frontflips, flairs, and 360 double whips.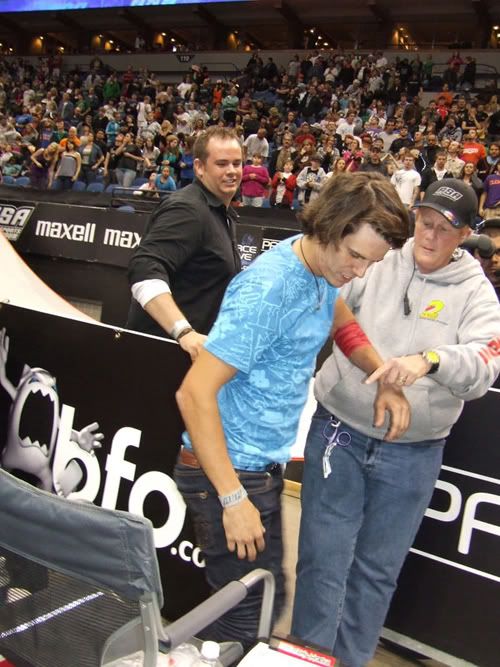 Daniel Dhers had a super bad crash on the quarter. He went to do a no foot can whip, or a superman whip (it's late and things are slipping) and the bike didn't whip. He found himself dropping 20 feet to landing belly flop ontop of his bike. It was a real gnarly crash, but luckily he just knocked the wind out of himself and got a cut on his arm. He was smiling after a bit, which I was real stoked on.

Ryan Guettler took first, TJ Ellis took second, and Rob Darden took home third. A few highlights from the finals would be Ryan's 1080, TJ's double backflip, and Rob's big lines including the turndown going from the landing to the lip. It was a real good show for the finals and a well deserved win for Ryan.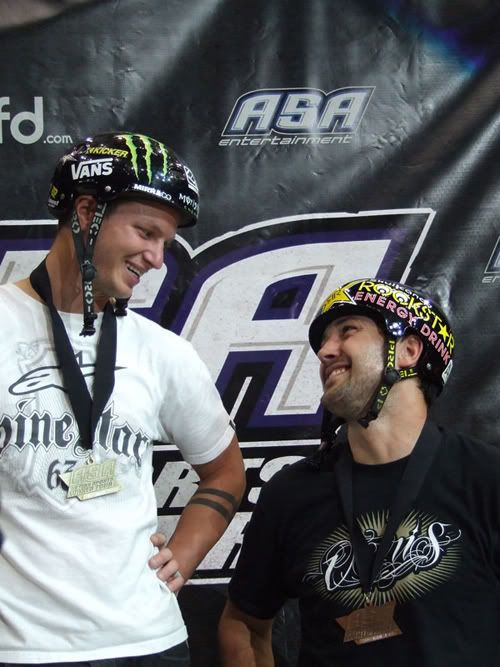 This photo is too good to not post. Ryan and Rob may or may not be stoked on this photo, but whatever it's pretty funny.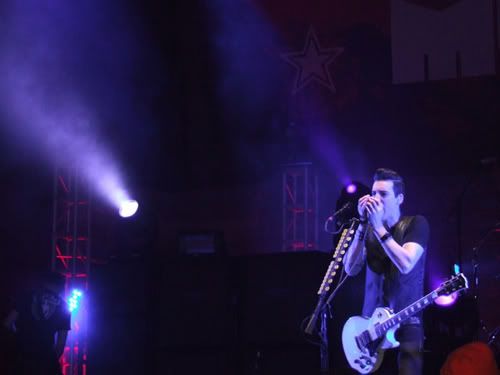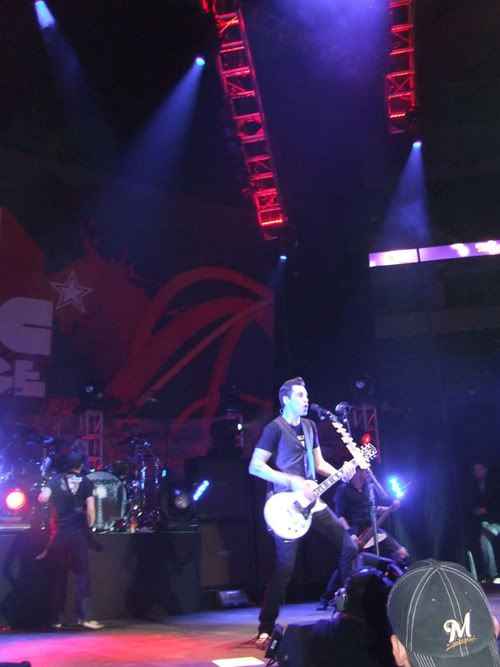 After the contest was over, Theory of a Deadman came out and played a show. I didn't even know they were playing until I heard on the radio driving up saying they were. It's good because they are playing in my city tomorrow (today I guess) and I couldn't get tickets. So, that was another perk to my day.
As I said above, I will have a video of the actual riding up here possibly tomorrow or for sure in the next few days. Check back soon!