So, Beloe has been out for a little while now, and they seem to be getting pretty popular fast. After wearing nothing but Etnies for the last 6 or 7 years I had finally tried a new brand. I was really into the things Brian Osborne was doing so I figured why not give them a shot. So I ordered up a pair of the Bauer's since they seemed to be pretty popular and looked real cool.
Now I am sure most of you reading this know about the whole thing behind Jim Bauer's shoe design.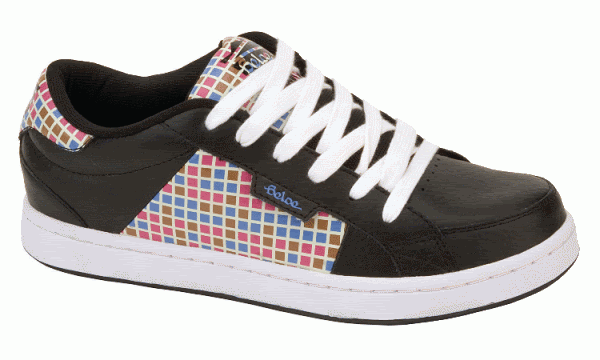 This shoe is based off the last few bikes he has along with a bunch of the colorways he has had for parts.
This started from a ledge he painted for a contest a while back. I couldn't find the photo of that ledge and him painting it so if anybody has that could you E-mail me that?

So back to the shoes, so I have had them for a few days now…
Originally I was going to get the stitches but my buddy Rob got them so… that just doesn't work out.
So alright, first real test of the shoes was work. Working retail blows, it also blows when you work for 7 hours and don't get to sit down at all. So I was standing in these brand new unbroken in shoes which I figured was going to be a disaster. However, they are actually real comfy with good arch support and a feel of a wider shoe; not super tight on the sides like a lot of shoes now days. They aren't like wide looking though so that is a perk. I really like the feel of them for sure a difference between my last few pairs of shoes for sure. The toe of the shoe is real stiff, I don't know if they are because they are new or because they were made that way for footjams and other good tricks. I just know that it is a perk for all those kids with 20 different footjam variations.
The look of the shoes as you can see are a little "different" and by different I mean the colors, pink, and baby blue are two of the colors, along with a little brown mix. I kind of had to laugh because my mom happend to be around when I opened up the box and the first thing she said was "those things look kind of gay", I know shocker. I was pretty much over the colors before I ordered them so this didn't phase me, I explained the story behind the design and then it wasn't so "gay". I actually got a lot of compliments on them the last few days now that I think of it, being that they are different and have a cool design people dig it. (esspecailly girls)
So I took them out for a spin on the bike at the skatepark. Truth of the matter is that it is awkward riding in fresh shoes that aren't broken in. My feet slipped a bit on the plastic pedals I rock and just didn't feel like I was moving comfortably in them. This is obviously the fact that they are new though. The rubber hasn't been broken in on the bottom giving it more grip and flex to comfortably stand on the pedals. This is typical among all new shoes! So I rode for a bit, did a few footjams and the toes were safe and it was solid. I really liked the feel after I got used to them a bit I can see these shoes lasting a long time too. I don't ride brakeless so I am not one to jam my foot in the tire and rip my shit up but I think they would do decent against all the street dogs out there.
Overall I personally feel they were a good investment. They look good, chicks dig them, they are really comfortable and pretty good for riding in (I am sure they will be real good after a week or so). So if my opinion at all matters to you, which it doesn't, then I would suggest these for you to try out. I don't know how many people are like me that only rock a certain brand but if you feel like mixing it up it is worth a shot to try Beloe's out.
They run around $64 dollars, along with the other shoes that are more in the $50 dollar range. I don't think that is half bad considering that most shoes cost that anyways.
You can pick some up at:
Dan's and
Albes