Alright, guys! Let's do this. Interbike 2015 is under way and we've been running around the morning taking a look at what the brands have to offer. We figured it was time for a photo dump, so let's get into it. The first booth we hit was the Sparky's Distribution booth where we had Ryan Sher give us the run through on all the new goods from Subrosa Brand! Ready? Let's do this!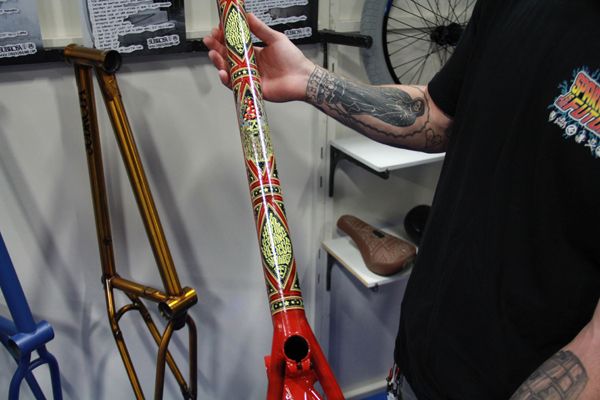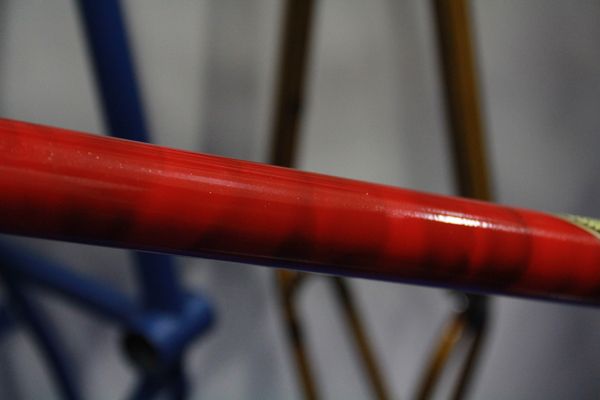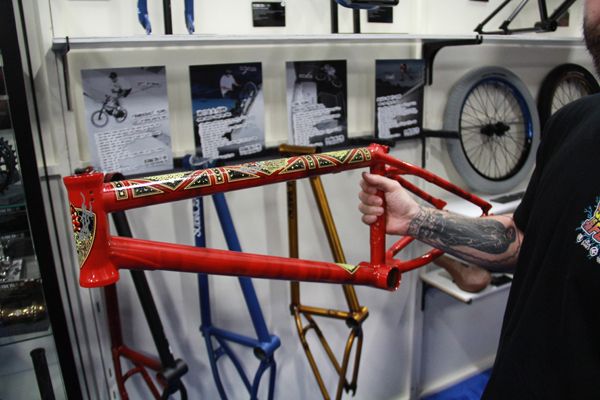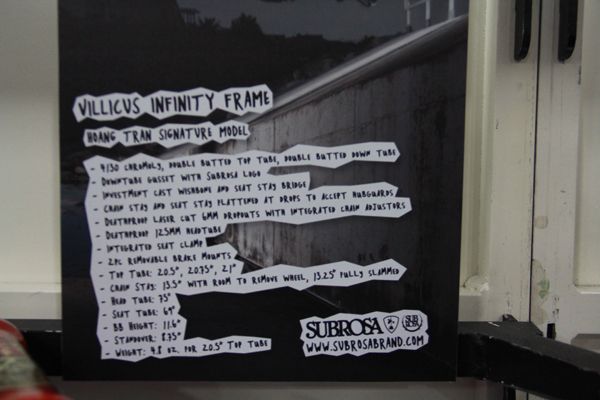 The third incarnation of Hoang Tran's signature Villicus frame, the Villicus Infinity. New colors, new graphics, updated geometry and details. This frame is looking good.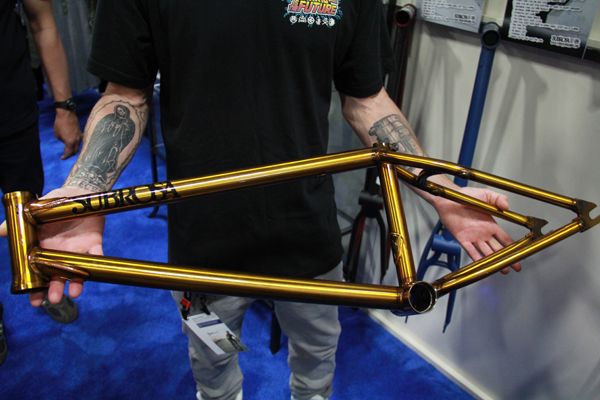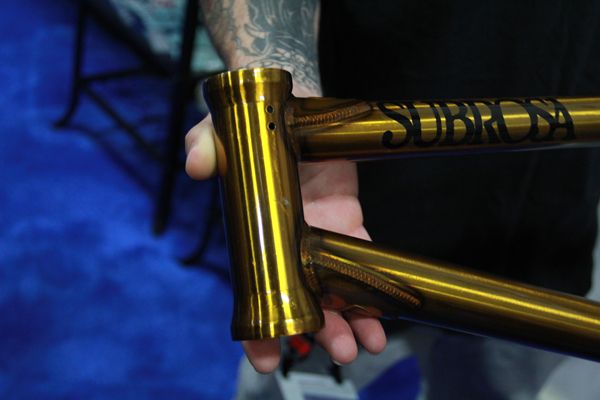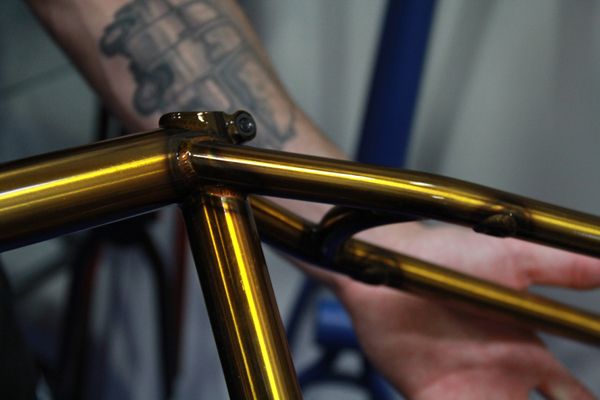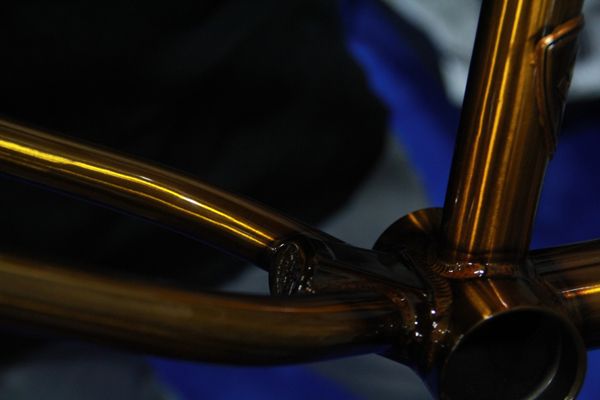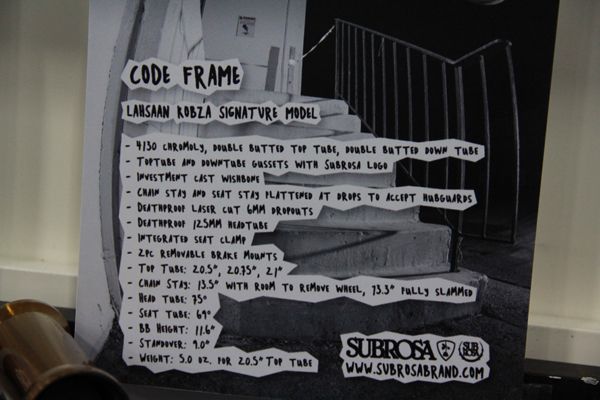 Like the rear triangle on the Noster III frame, but love the front end on the Thunderbeast frame? Well, you're not the only one. Lahsaan Kobza's signature Code frame brings those two parts together in one. I should note that those are not the final graphics on this BMX frame.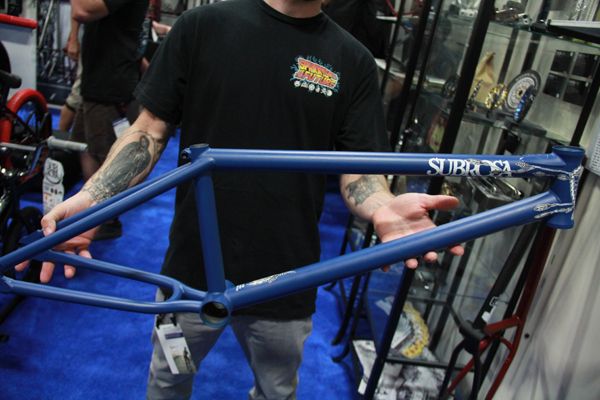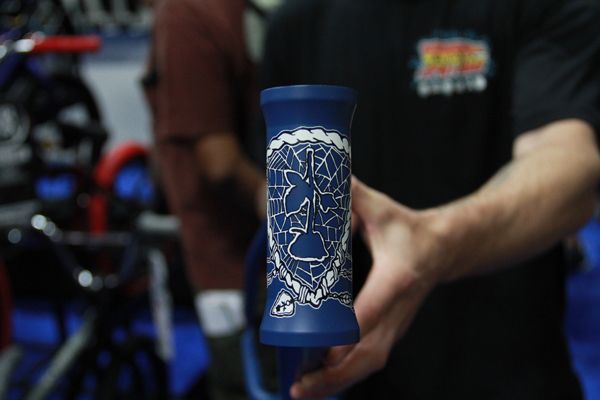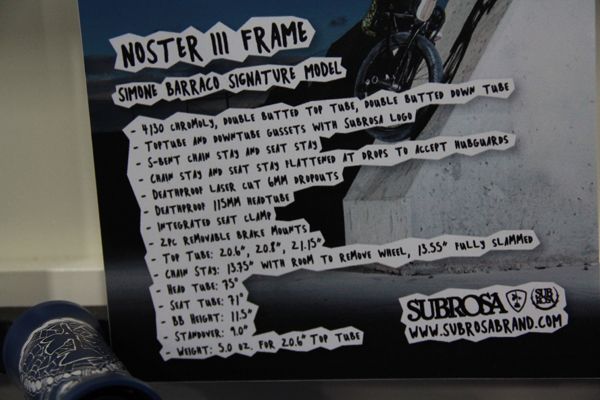 Subrosa's recent pro team addition from France, Kevin Kalkoff, will be getting his own signature colorway on Simone Barraco's signature Noster III frame. There is even a Battle fork and bars to match!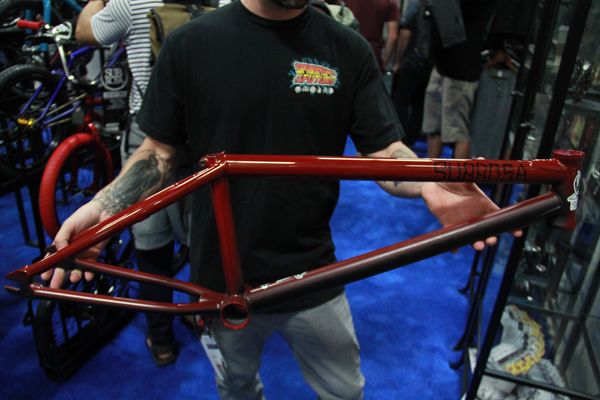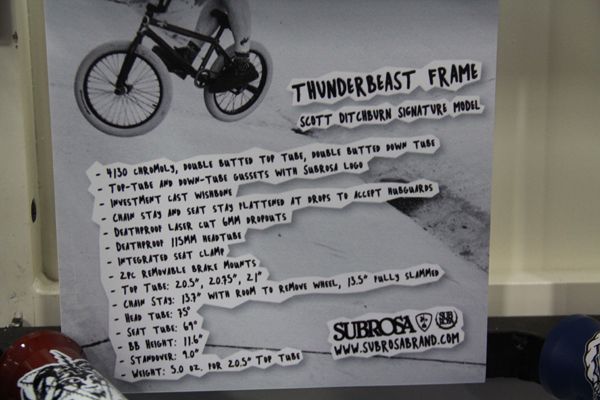 Scott Ditchburn's signature Thunderbeast frame in the new red to black fade. Want a better look? Product: Subrosa – Red To Black Fade Thunderbeast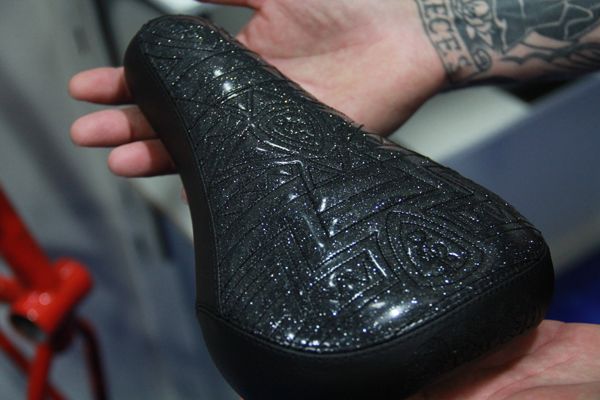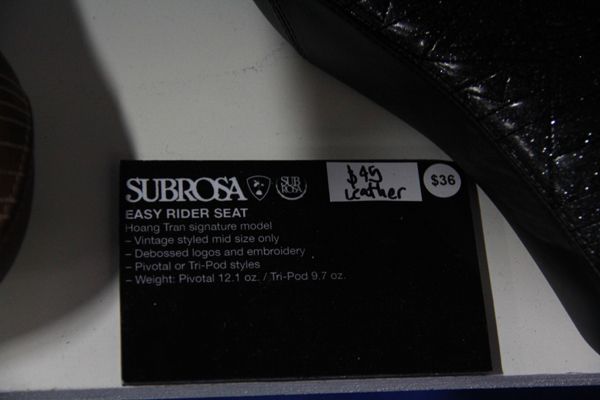 Hoang Tran's signature Easy Rider seat has two new colors. That black sparkle looks so rad. Both available in Tripod and Pivotal.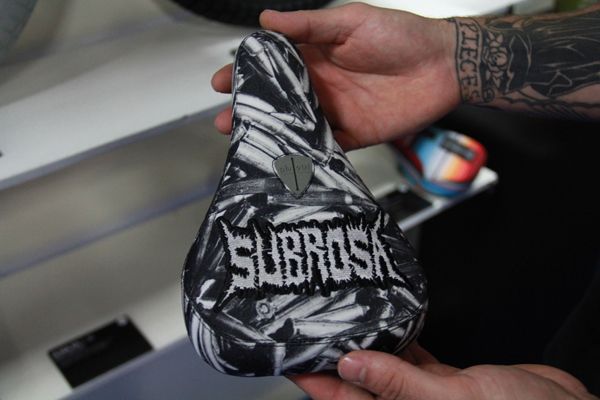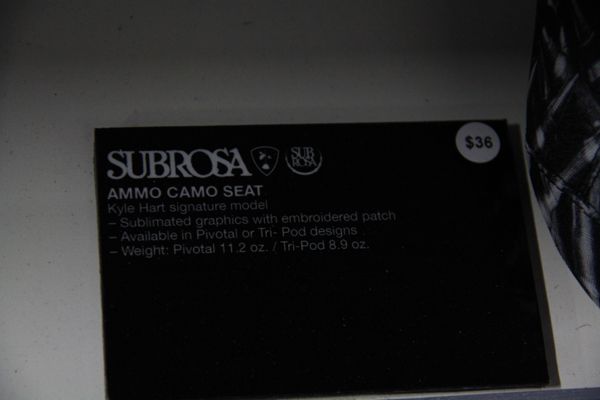 Kyle Hart signature Ammo Camo seat looking rad. Bullets galore.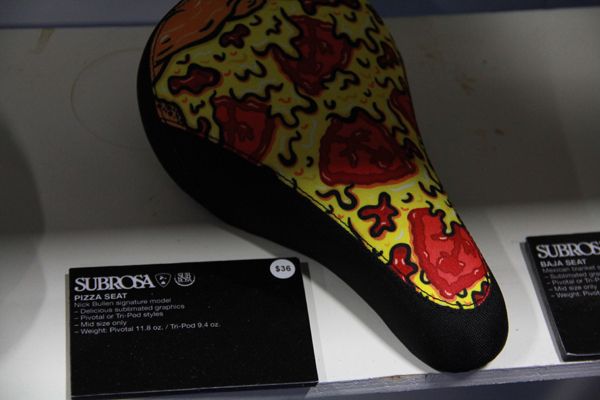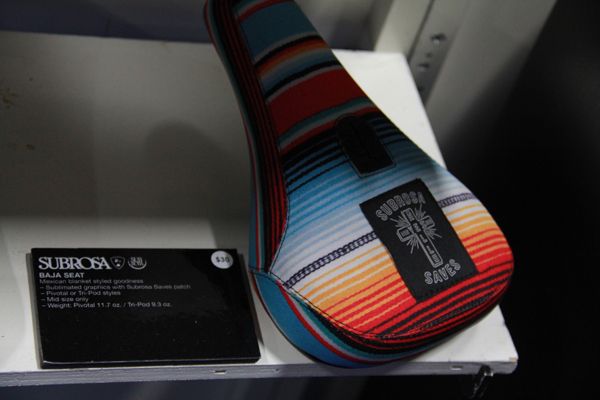 A few other seats that have been out for a minute like Nick Bullen's Pizza seat… Mmmm pizza sounds good right now!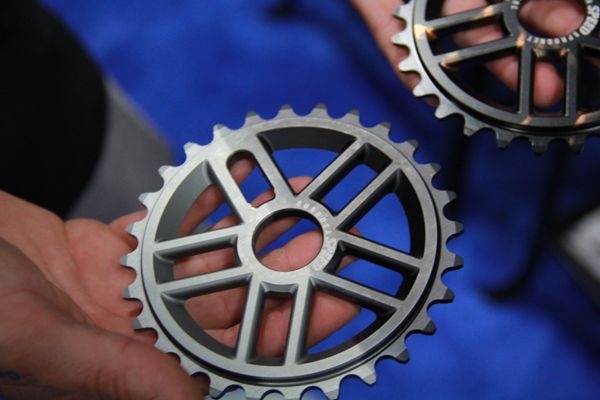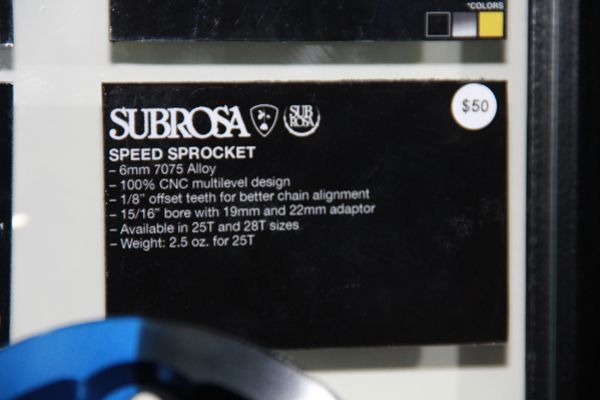 The Speed Sprocket is a new one. 6mm thick with some unique detailing to make it look rad. The back is plain to help keep costs down. Can't go wrong with that idea.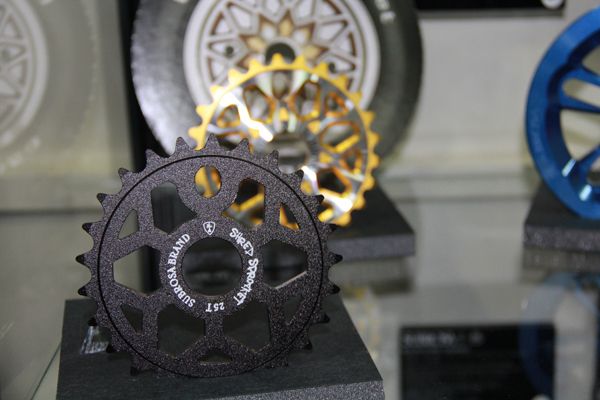 Shred and Magnum sprockets that have been out for a bit.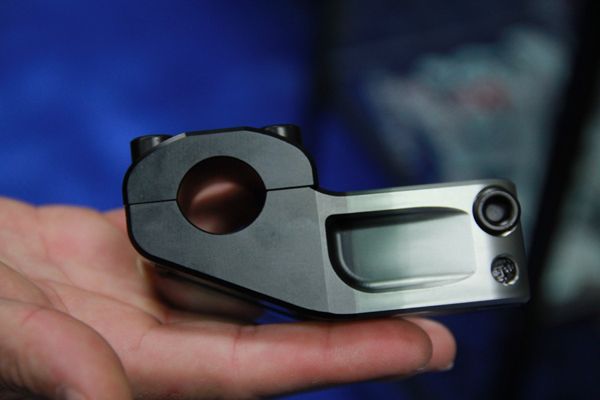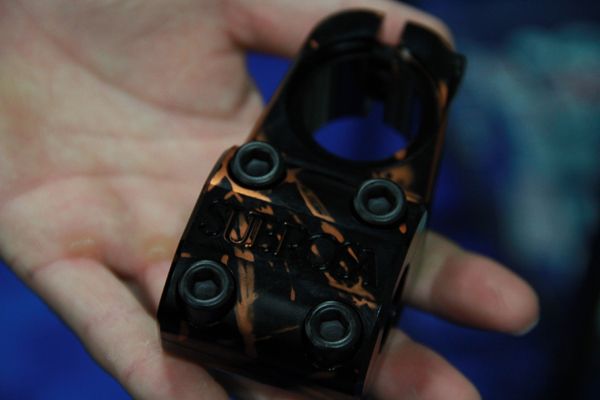 Highlife stem in new colors like the black to silver fade and the orange and black swirl (blanking on the actual color name).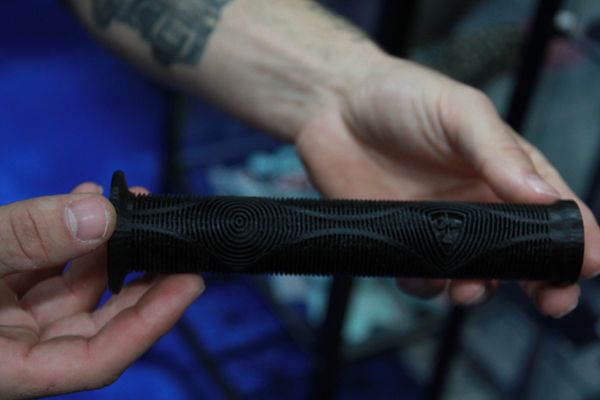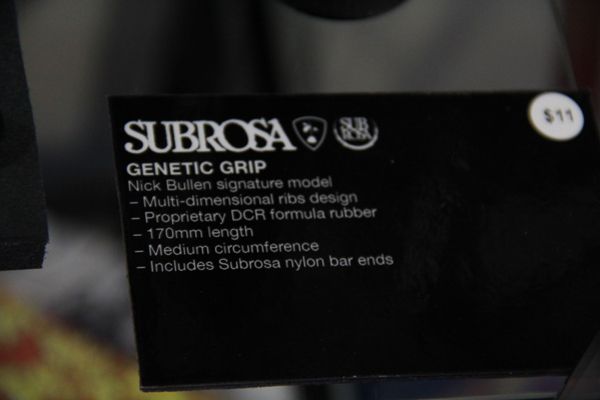 Nick Bullen signature Genetic grip that is in the works. Nick actually drew this design by hand and the guys applied it to the mold. Looks rad!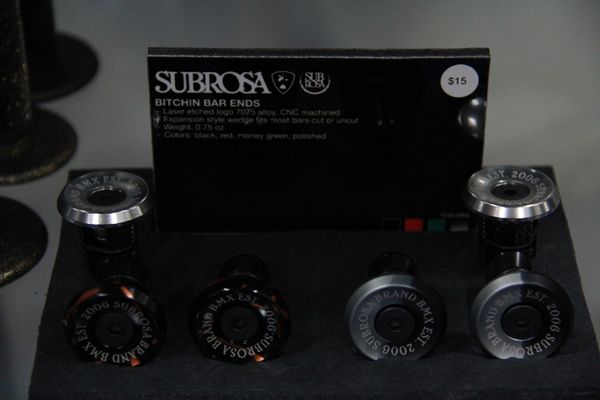 Bitchin' Bar ends in the new colors!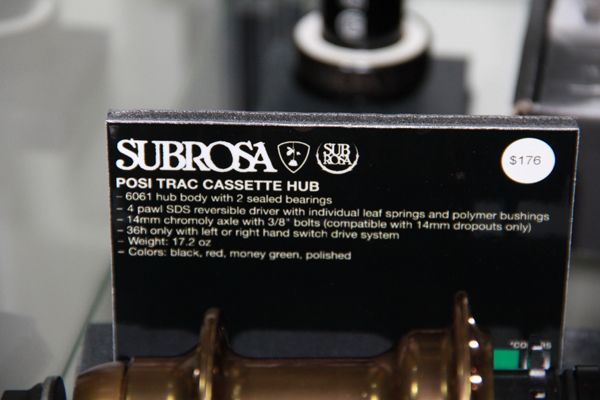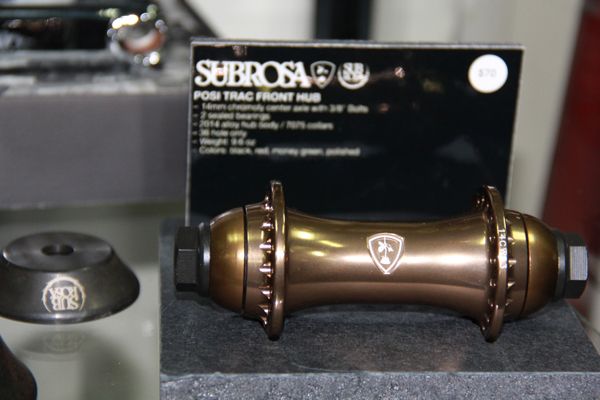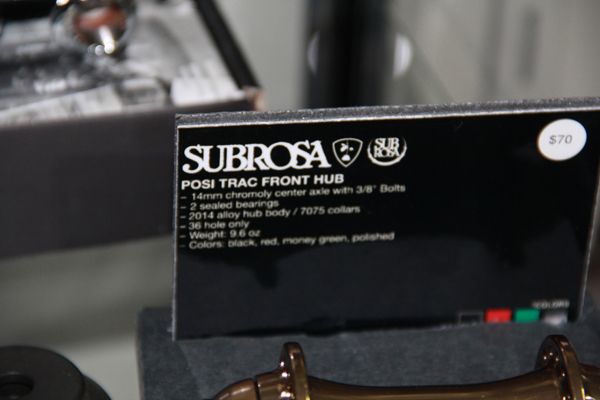 Posi Trac hubs looking all golden and stuff.
Sparkly grips for your bike!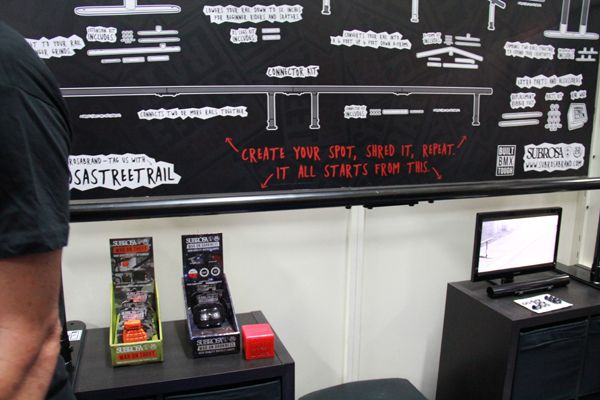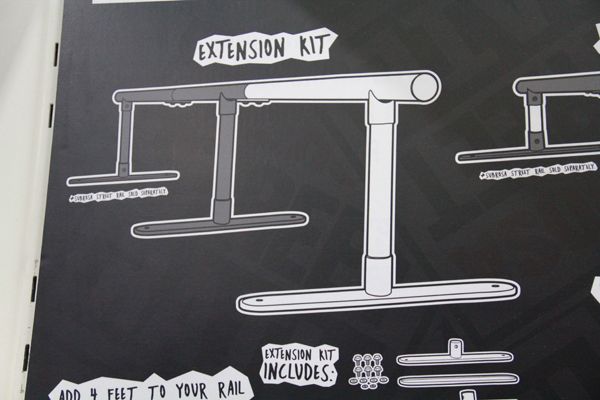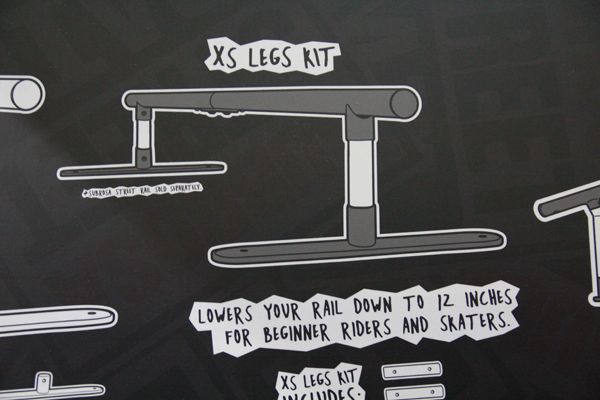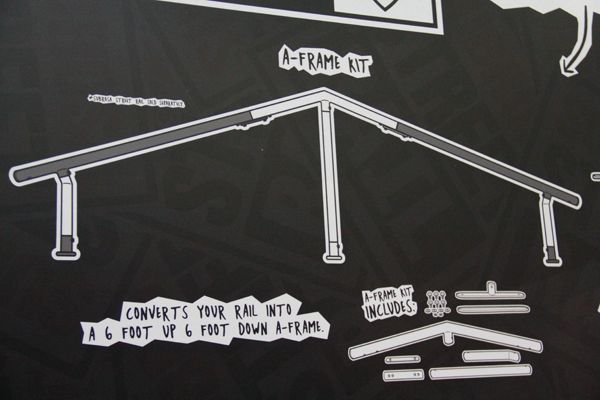 The ever popular Street Rail have a few new options coming! We've seen the extension and that's available now. But the A-Frame kit, Roller Coaster kit and XS kit that lowers the rail are all coming soon. Looks like a good time to us!
Greyve Digger tires… See what I did there?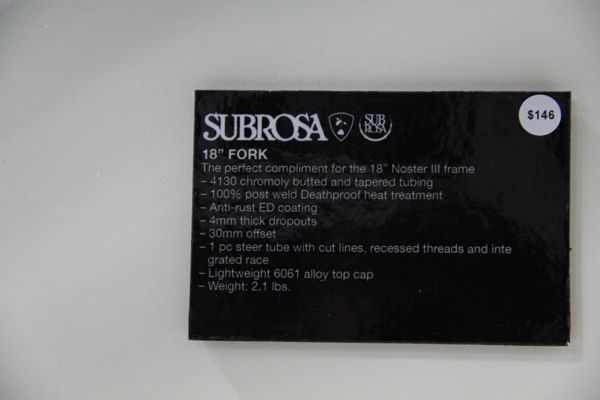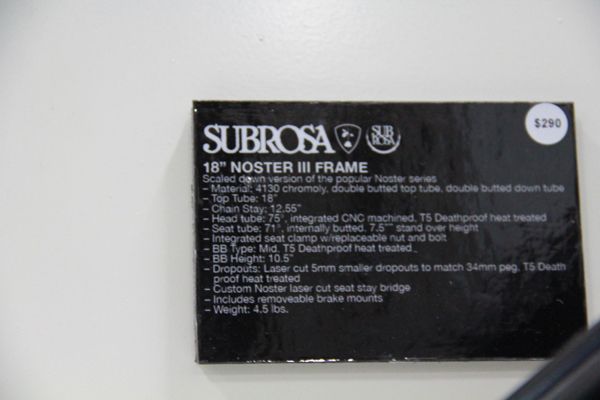 18″ Noster III frame and fork kit! Young guns should be stoked on that.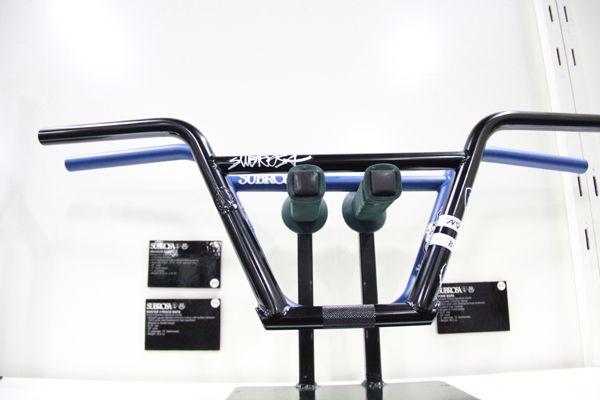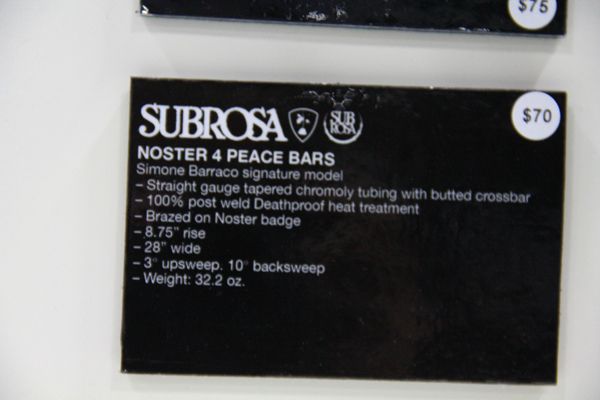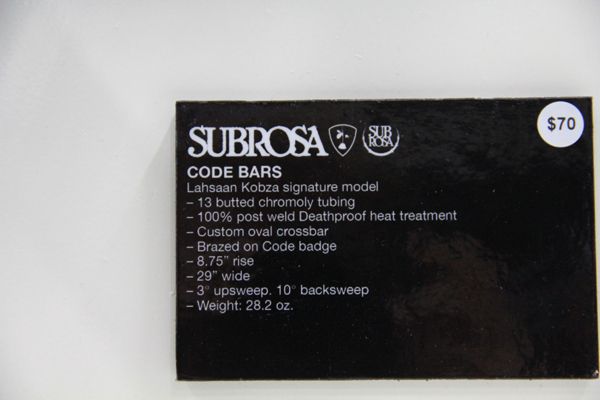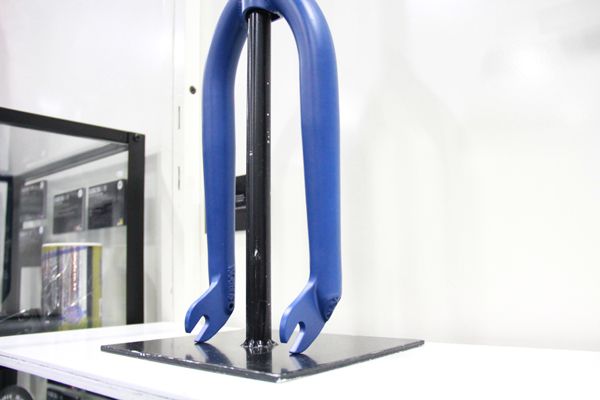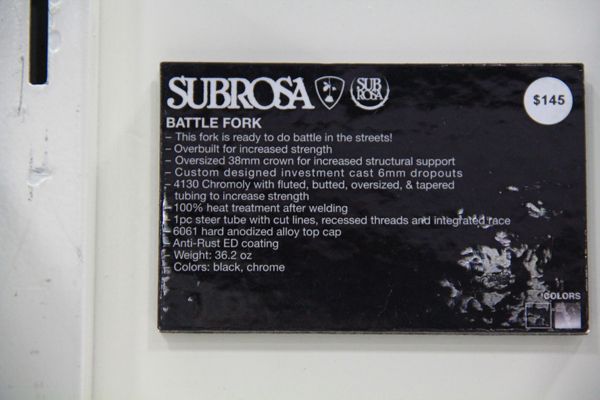 A look at Simone Barraco's For Peace bars as well as the Kevin Kalkoff bars and Battle fork to match the frame. Can't remember if the blue is on Lahsaan's Code bars, but Lahsaan has new bars coming with his frame!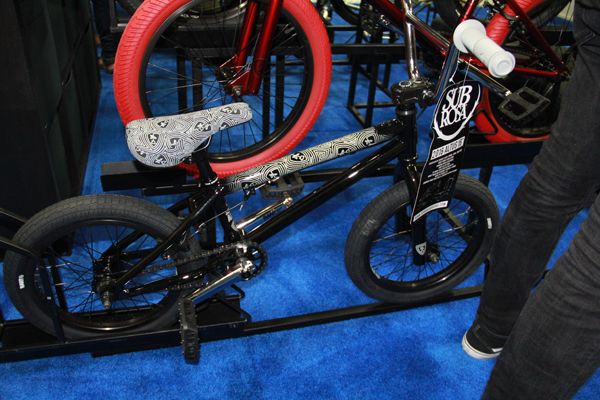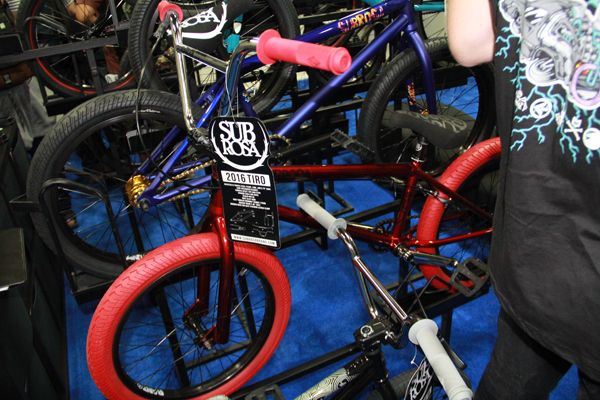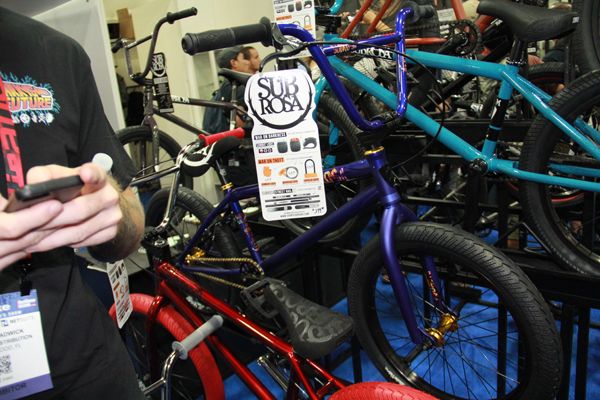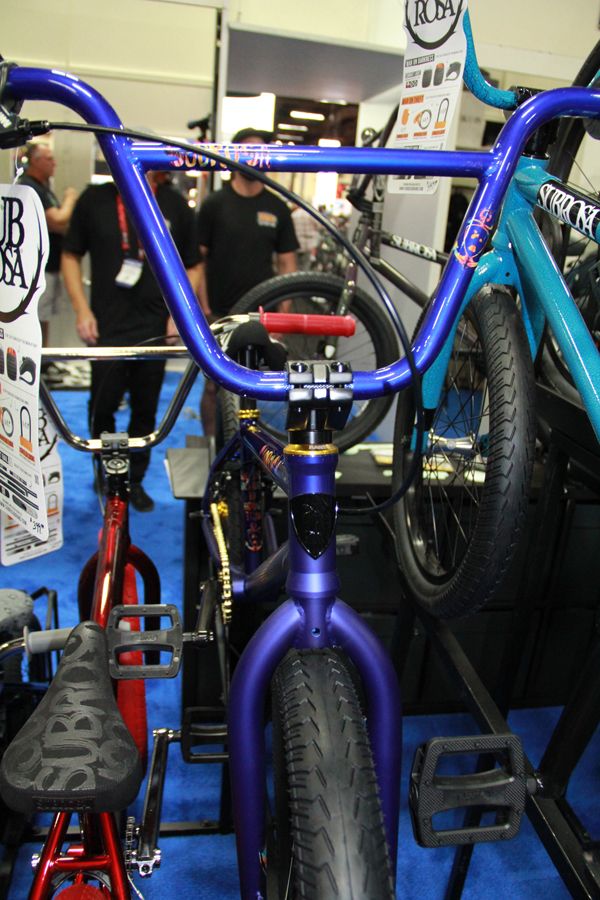 That matte to gloss fade.
The crackle paint colorway looks so wild.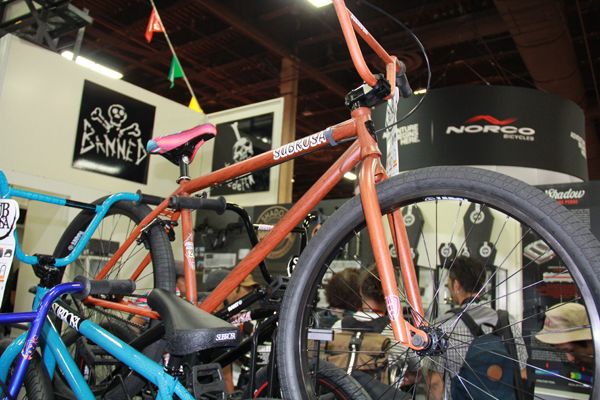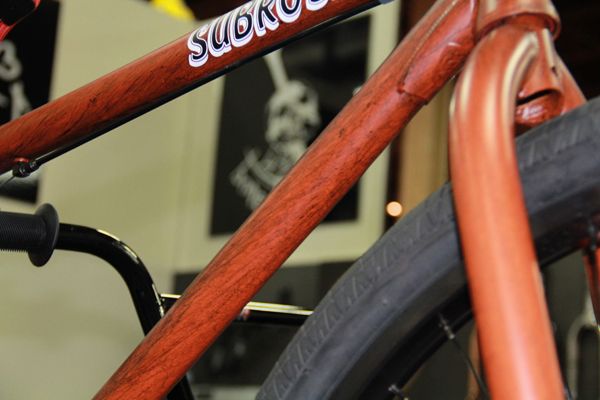 That Rat Rod rust brown color looks good.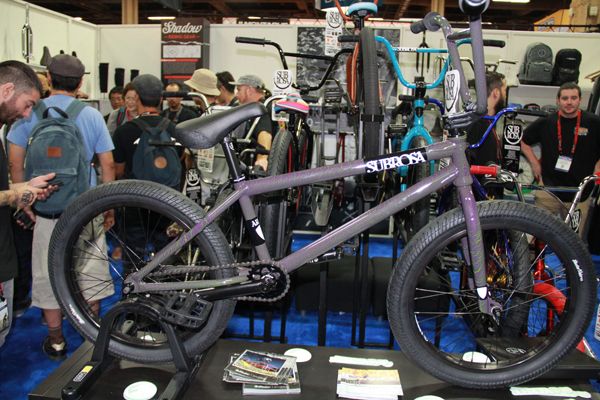 Ryan looks mega hung over but he wasn't.. He was double fisting coffee though…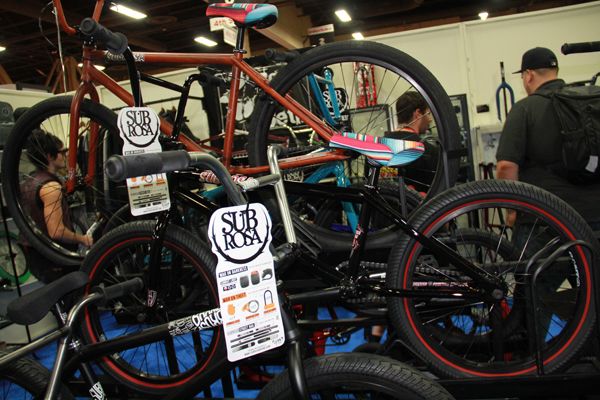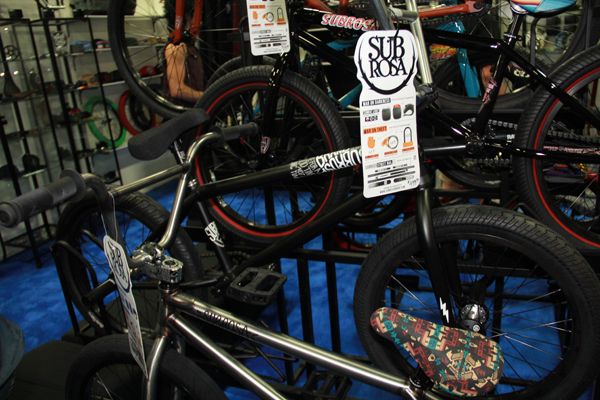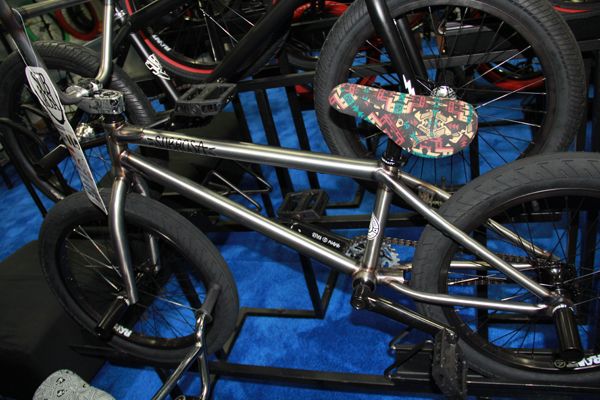 Want a better look at their 2016 complete bikes? Product: Subrosa – 2016 Complete BMX Bikes
That wraps up the Subrosa goods at Interbike 2015! Check out more from Interbike here — Interbike 2015 (Plenty more to come!)