Debts Coming is a recently released DVD by Rick Whithead that isn't your typical BMX DVD. This one is different because not only does it have riding, it has a side story to it. Not like a "this is a travels" story, it is a real deal story that involves guns, stabbing, cutting organs out of bodies and more. So this is the review. After you read this be sure to check out Innocentbystander.net. to buy it!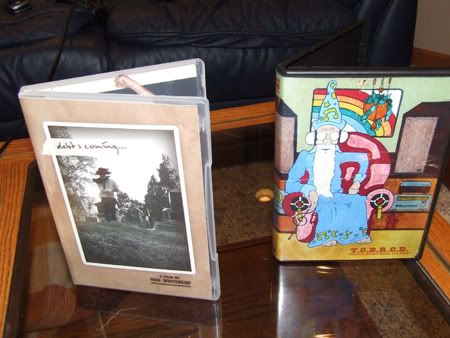 So to start off this review I guess I will start off to mention the names. Jeff Grindstaff, Andy Erickson, J.D Whitehead, Kevin Mitchell, Eddie Muscel, Brad Whildren, Jake Hunter, Kevin Douglas, Matt Moore, Pat Burke, Wasted Aaron, Rob Hangmann, Zach James, JR Henry, Mike Paton, John Greenage, Mike Morgan, Will Love, Jake Booher, Matt Goergan, Justin Oliver, Jerry Friggen Bowman, Matt Rowland. Along with like 80 other dudes who have random clips throughout the movie. I mean I even saw a Chase D clip.
The case reads this "Debts Coming stars two drunken gun slingers in a journey of jobs to stay alive" basically they get caught up in a shitty deal and have to get a liver for their "boss" that they owe. That is the plot for the side story which turns out to be pretty badass. I was really into the professional look of that part of the video. I have never actually seen a BMX video that had a side story that had nothing to do with BMX, besides it being very obvious the actors all rode bikes.
So I am trying not to "give away" too much since I caught hell for my last review.
The riding side of the video was really good. Basically I broke it down like this. 70% street, 20% story about the dudes having to get a liver, 5% park, and 2.5% trails and 2.5% pool riding. So you shouldn't get bored watching it since all the spots they ride are really good. I am super pissed the east coast has so many good spots to ride, it is pretty rediculous.
To be entirely honest I haven't really heard anything about the people in the video except for Will Love. I was really into that though I kind of feel like if I have seen stuff from a rider I know what to expect out of them. So the fresh riders was good to see and it wasn't a disappointment. Eddie Muscle is a very talented rider. He has to have the most clips in the video by far and that isn't a bad thing. He is really solid and I am going to be Youtubing his name in a bit in hopes of finding some sort of video to show you at the bottom of this.
Another guy I was really into was J.D Whitehead. I am going to assume he is related to Rick Whitehead who made the video. Basically the kid killed it and has a lot of bike control and style. I was super into the clips he had in the video.
Basically there isn't set parts to the video, it is more or less a constant mix of riders from all the trips and spots they rode. Then random spots of the story that mix between that. The riding levels are real good. Some big wall rides, some big rails, a lot of really good spots and a good vibe. The guys are all friends and a crew that large means some crazy shit happens.
Outside of the riding there is a lot of random clips of drinking, hotels getting destoryed, a chick giving head, dudes puking, cops giving them shit, random people watching them do stuff, and other noraml things you experience on a daily basis, right?
You honestly will have to check out the video to understand any of that and to know what actually happens in the video. I told you I am not giving much away!
Filming and editing is obviously going to be a seller for you dudes. Remember that the plot of the story looks just like a movie you would see in theatres. The filming of the riding isn't exactly as perfect as that but just about as good. The angles are good, their isn't horrible fisheye shots, the colors are good, the images are clean and clear, and it isn't shakey. The quality is real good and turned out as good as you would expect a Props video to be. I was a huge fan of how they mixed the riding with the story too, it kept the video real interesting.
Music is always good. I can't speak for everyone because everyone has a different taste in music. The music in the video is primarily rock. There isn't any rap or hip hop sorry guys. The music went really well with it though and I have always been a fan of the music they used. No, it isn't heavy shit you can't understand that would have sucked. I think if your into all kinds of music or rock music you will be all about it. It is those not so open minded rap, beats, guys that will be bummed. If you check the website you can head a lot of the sound track because they have it playing in the background. Check it out.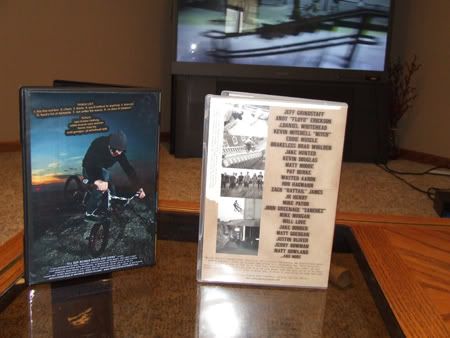 Overall the video is worth checking out. I actually advise it just because it is something different and not typical from the normal videos you see these days. If you are confused by what I am talking about with the side story check the video below and you will understand.
You can pick up the video at Innocentbystander.net. Do it!
The video also came with a bonus DVD entitled "Till out Beards Reach Our Dicks" which is a bunch of bonus clips and other video they have shot from other times. It is good and worth getting also if you pick up the DVD. Good riding, good music, good filming and editing, good vibes..
Here are some videos to check out!



Debt's coming… Trailer from IB! on Vimeo.


Eddie Muscle 2hr Vans session from IB! on Vimeo.


Andy Erickson "Debt's coming…" 2007 from IB! on Vimeo.