In this day and age of BMX it is all about how to make frames and parts lighter, stronger, and more appealing to the people buying the products. However, this rule doesn't only apply to frames and parts. It applies to tools too. I got my hands on a DK Random Wrench V2 recently and I was impressed. The original Random Wrench V1 had come out years ago. I remember my buddy David having one and I would always mess up putting the pieces back in and the cover wouldn't fit. I think it would be a good idea to add this tool to your collection and this is why…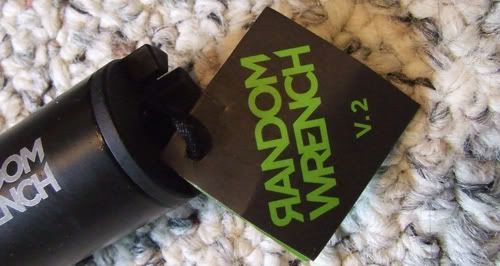 If you are a "vetern" of BMX and have been in the game for years, you obviously know every piece on your bike. At least I would hope so. You should be able to feel something wrong with your bike, and take every little piece off and know how to fix it. Maybe you are on the other side, just getting into BMX and want to learn how to avoid running to the shop everytime your bike feels off. If that is the case, then you probably have a set of tools that you use.
Before I got my hands of the Random Wrench this is what tools I carry around with me when I am out on the bike. I mean, I leave them in my car so little skateboarders at the park don't rifle through my shit to find a skate tool, since I would have that?
It is fairly simple, a ratchet with an extension, along with a few sizes of deep sockets. I carry the extra ones to help out the other guys who don't think to bring their tools. 2 sets of allen wrenches, American, Metric and another 6mm with a little leverage. 2 chain breakers, 2 because one has stripped out pin screw hole, so the pin will move around a bit sometimes. A punch, because you never know when you might need to pound something out. I don't really know why I carry that in the first place. A wrench for my pedals, and an adjustable wrench for random uses. Then my vice grips, which actually have a really good cable cutter on it too. I have another wire cutter, but I forgot to take it out after I realized the vice grip had one. Also, there is a flat head screw driver. This is just because I broke my plastic tire levers and then got folding tires so it is just to help start the tire off. These are tools I use more frequently, there are a bunch of other tools I have in the garage that we really don't need to go into.

The biggest difference I noticed from the original Random Wrench was the body of the tool was smaller, and lighter. It even removed the socket extension and put it inside as an attachment. The V.2 also has a much cleaner look to it too.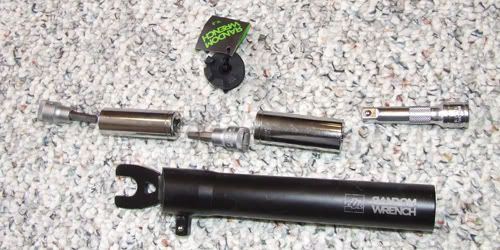 Once you unscrew the top, which actually is a spoke wrench also, all the attachments are found inside. The first would be a socket extension, 17 mm socket, 5 mm allen, 15 mm socket, and 6 mm allen. These are the more standard sizes for nuts and bolts on the bike. Then obviously the wrench on the end of the casing will fit your pedals. This is awesome because instead of a bunch of seperate tools, it is all put together into a tube and makes for a cleaner tool box, bag, or whatever you use to put your tools when they aren't in use.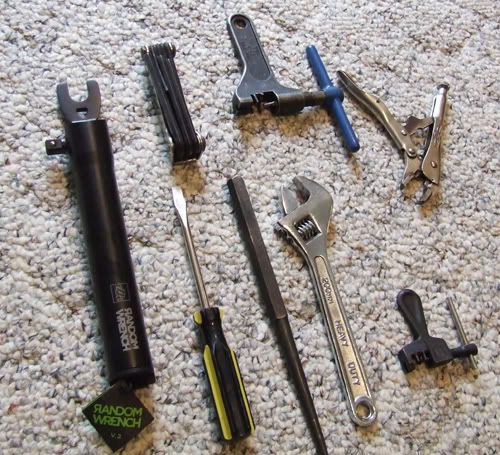 After the Random Wrench was placed into my tool bag, I obviously didn't need to carry some of those tools anymore. I removed the ratchet, sockets, and extension. I might throw the extra sizes back in just incase my friends get screwed over. The extra wire cutters got removed, along with the wrench I used for my pedals. I even took out one of the allen wrenches because I only used the two sizes that the Random Wrench came with anyways.
With every positive review there at least has to be something I wasn't a huge fan of. The thing I didn't like most is that the sockets don't have the ratchet ability so it slows things down just a bit. That was honestly about all I could think of that I didn't like..
So, to conclude this review… I would say get the DK Random Wrench V.2 if you are looking to slim down the number of tools you have to carry. I would say the same if you are looking to get your tool collection started. It is made by a BMX company specifically for your BMX bike, why wouldn't you want it? You can pick the wrench up on Albes, Empire, Staff, and Dan's for about $32.95. I am sure you could find a way to get it from your local shop too.