REVIEWED BY BRETT ROHLFING
Endsearch has been in the works for a while now but seemed to not be one of those videos to have a lot of hype around it before it's release. That is most likely a good thing, because most of the videos lately that have been highly anticipated seem to be a let down, possibly due to the over hype.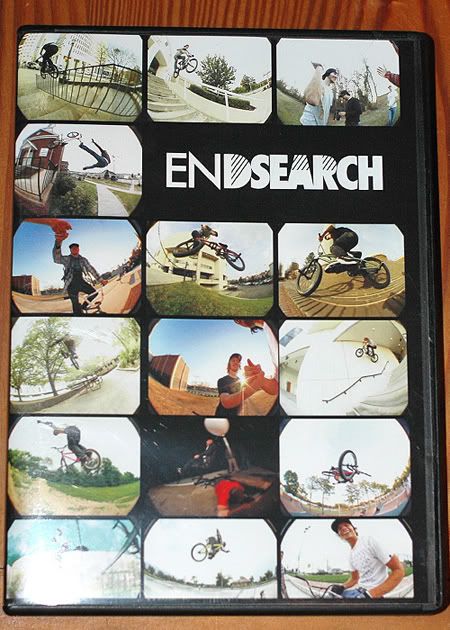 So here is my take on the best skateboard video you will ever buy from danscomp.
What? Skateboard? This was the main thing I noticed about the video, so I figured I would state it first. The video definitely had a higher budget/ crew than most bmx videos; every clip was covered from at least 2 if not 3 cameras, there was evidence of a photographer present in a lot of shots (sometimes the photographer was shown, sometime just flashes) and for night shots they had the generator powered flood lights. On top of those more skate video type traits, the main reason I called it a skateboard video was the way it was filmed and the music choices. Tony Ennis, the man behind the production and main fisheye'r from what I could tell had told people that it was his goal to make it more like a skateboard video, and he no doubt succeeded. Sometimes the fisheye work was done in a way that I found to be too systematic, like it was going to be filmed in this certain very punctuated way (which I have seen in skating a fair bit) whether it really made sense for the trick or not, but that probably won't bother many of you. The amount of slow motion used was also much more than normal, but would be normal for a skate video. The music was overall more mellow side than what I fancy for a bike video, but I have noticed that skaters tend to also sometimes pick less heavy tunes in exchange for songs that allow for more artsy edits. If you are looking for hard rap or heavy metal with your bmx, this would not be a good pick for you.
With that out of the way, into the video…
The video begins with a mix of falls, outtakes, a few tricks and a handful of graphics to introduce riders and thank sponsors. Josh Harrington opens the video with a strong performance of manly street moves. So impressive that it sets you up to not like the second section (Rob Darden) as much. Rob's part opens with a montage of cursing, falls and generally pissed off behavior. His part is far from bad, but it's nothing mind blowing, though I must give him his props on his trail riding. When I think trails I don't think Rob Darden, but maybe I should…
Will Love brings the energy back up to where Josh Harrington was thanks to the faster music of the video and mostly thanks to his riding. A ton of tricks stood out to me and the banger was something I had never seen done before.
Next comes the friends section, which has a good number of big names. But the issue I had with it was that for the riders that did sweet stuff but aren't as recognizable as Aaron Ross it is unfortunate because they did not put up any names of the riders! Here are a few of the riders I could identify that made an appearance: Quinn Semling, Biz Jordan, Kevin Kiraly, Garrett Reynolds and the aforementioned Aaron Ross. Sometimes friends sections might not be up to the level of the rest of the video but in this case it was up to par for sure. It closes with a massive whip over 2 rails from… well I have no idea, because they didn't put up any names.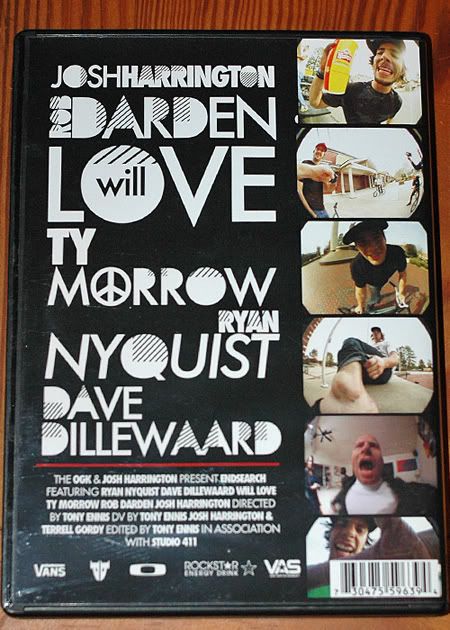 Coming back to properly credited riders we have Ty Marrow. Aside from a web vid here and there we don't see a ton from Mr. Marrow, but after seeing his section I can only hope that will change. Ty has insane pop, being able to hop 3 over a bus stop seat that has to be stem height or more. Along with that he brings a ton of barspin and spin tricks that would make Animal proud, and a few drops that would make the Metal bikes crew smile. Of all the sections, I'd probably watch his if you were wanting to get pumped to go ride.
Dave Dillewaard is one of those guys you see ride the Dew Tour stuff a lot but don't see a ton else from. Well this shows that side of Dillsy (as he is labeled in the intro) that we don't see as much. A good mix of street, park and dirt that shows he can ride it all with style.
Ryan Nyquist is the closer. The intro to his section seems to try hard to illustrate that Ryan is human and not the contest robot some think he is but showing him drunk, yelling and goofing off. After the yelling and bar humps stop the serious music begins and the barspins start. I was told Ryan did 60 barspins in his part, and while I don't doubt it, it doesn't seem to get old because of the wild places they are placed. One thing I found odd, yet appropriately skate-like was that they put in 3 clips of his brother Shea without making any note of it. Why couldn't he have been in the friends section? I was informed back when this same non-notating rider placement happened in Facad that it was a skate thing; I find it to just be a strange thing myself. Ryan's part has the most park for sure but it is entertaining to watch even if it's hard to identify with ever doing any of what he does. After the manliest double truckdriver you will ever see happens it's off to the credits for much of what the intro brought you: falls, some tricks and random silly stuff. The bonus sections are the usual. Falls, slideshow, and unused footage. Unlike some unused sections that means new clips that didn't fit in or maybe aren't quite as intense, most of this is just unused angles of trick you already saw in the main video, so it gets boring fast.
Overall it's a solid video, one which may take a time or 2 watching to really enjoy. If you like skate videos than this is perfect for you. If you want nothing but street moves than stay away. I wouldn't be surprised if a section or 2 was up for a Nora cup award come interbike time. I suggest you give it a go if you have $20 to spare.