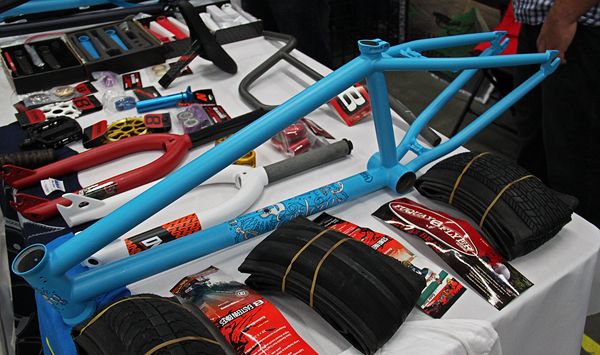 The next booth over was the Eastern booth. It's always pretty funny when those guys are around. They're always talking about their prototype plastic hubs, frames, and other nonsense that some of you would probably believe was true if I actually let them talk about it to you. It's not true, but what is true is that they had a bunch of goodies at their booth to check out. Let's take a look…

The first photo above from the intro is the new all around Vaquero frame. 74.5 degree head tube angle, 71 degree Seat tube angle, 13.75″ rear triangle (13.6″ slammed) with top tube sizes of 20.5″, 20.75″, 21″, and 21.25. The frame features extra thick, butted top and down tubes, tapered and butted seat and chain stays, 6mm thick heat-treated and machined drop outs, removable mounts, integrated seat post clamp, and more. You can take a closer look here.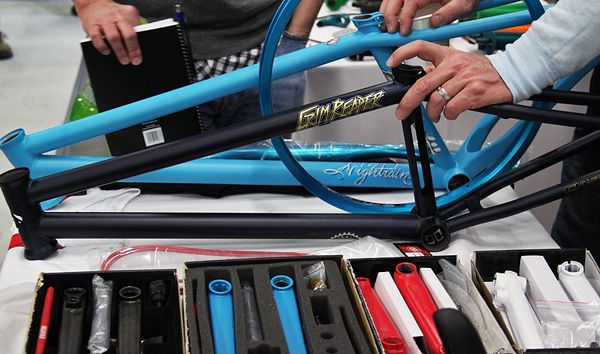 The new Grim Reaper "Eternal" edition frame is the newest version of the very popular frame. As you can see the bottom bracket, head tube and seat tube have the cut outs they have been doing for years. The new frame features the integrated seat post clamp, helix down tube, butted top tube. You can check out the rest of the specs and some more photos here. Wedding ring included.
You can also check out the new Codek frame in the Eric Holley bike check I posted up the other day.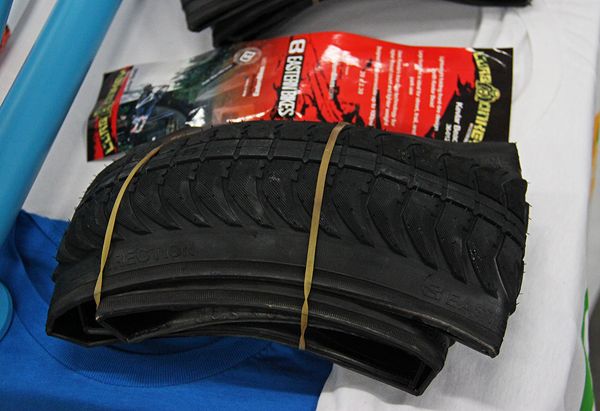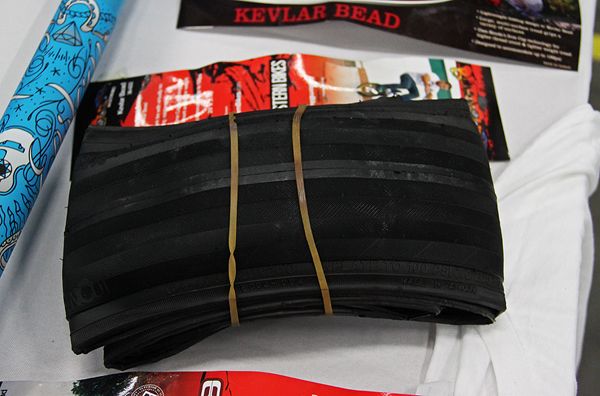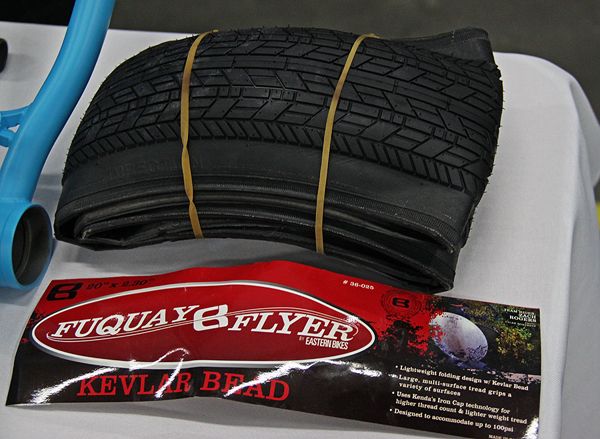 Folding versions of the Curb monkey (aggressive), Fuquay Flyer (less aggressive), and then the Burnout (smoother). These are available in wire bead, folding and a new OEM version. OEM is essentially just a term that means it's a generic version of the tire and is more affordable. $12 versus $24 for wire bead of $34 for folding. Affordable, but obviously not going to last as long for the guys harder on their tires. More aimed for the beginner guys.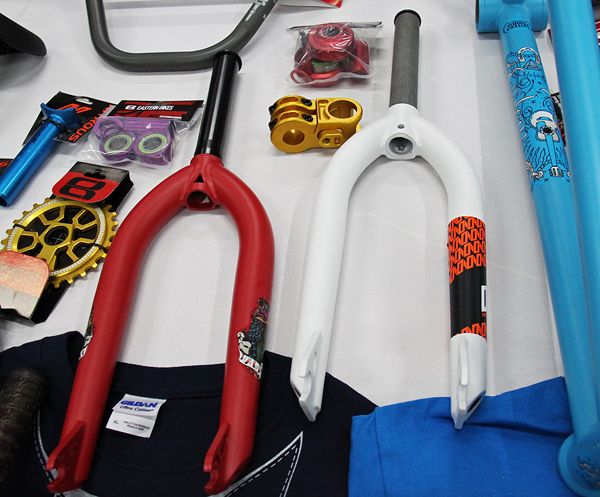 The Eastern Hawkeye fork, and the Nitrous afterburner fork. Nitrous is the affordable, entry level brand of Eastern for those of you who are wondering.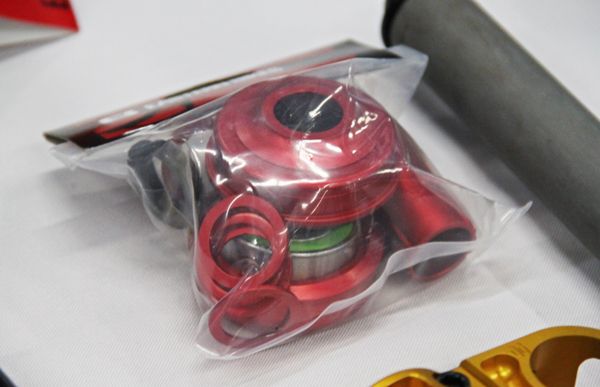 Bottom bracket kits. Comes with bearings, spacers, and bearing covers. Available in multiple colors with mid, American and euro kits available.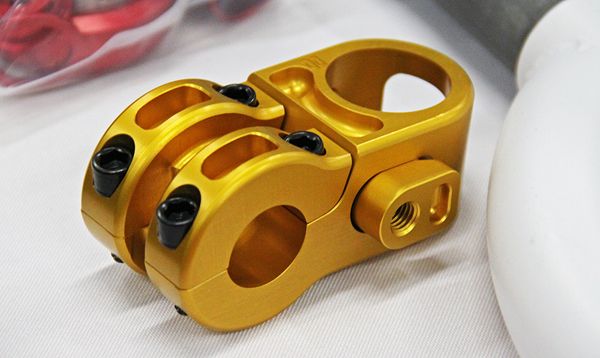 The Ringer topload stem. 7075 CNC'd aluminum, 50mm reach, and a weight of 7.40 oz. There's Matte Black, Matte Red, Matte Blue, Matte Flatinum, Matte Purple, Matte Hot Blue or Matte Gold for color options.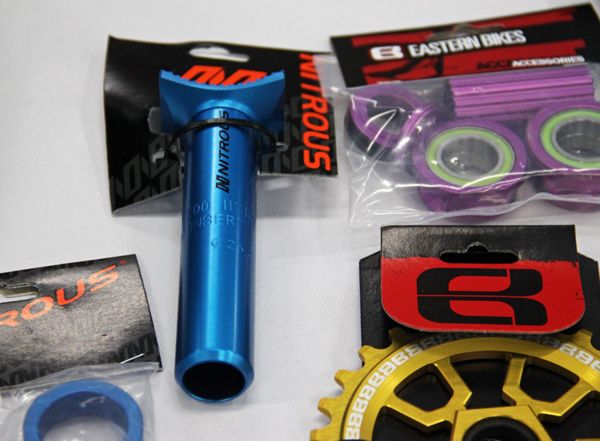 Nitrous pivotal post, and the euro bottom bracket kit.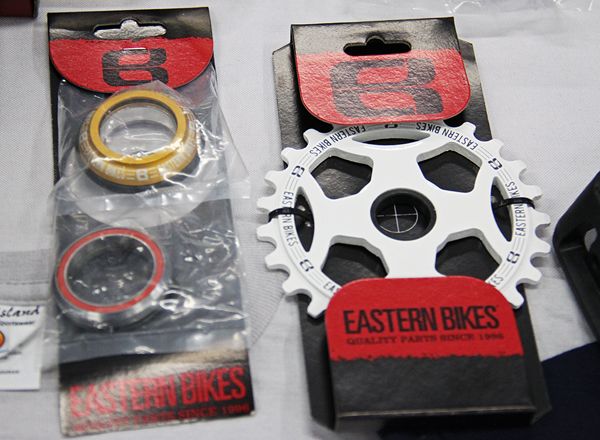 Phorcys sprocket. 6061 forged alloy, CNC machined, 2.10 oz. and available in Matte Black, Matte Red, Matte Blue, Matte White, Matte Purple, Matte Hot Blue and Matte Gold. You can also see their headsets they have available.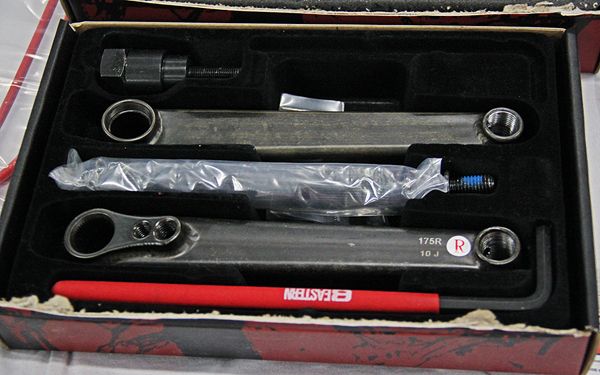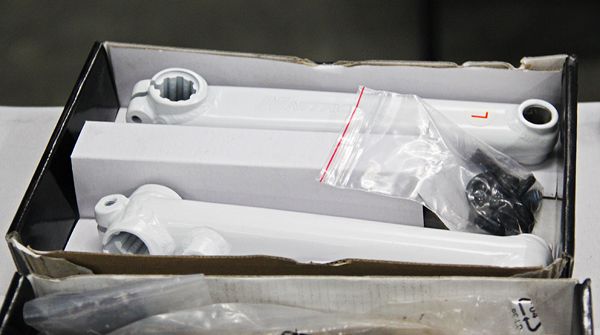 The new Tribe cranks up top. 48 spline, concaved and tapered arms for strength, post-weld heat-treating, 175mm length, right and left hand compatible, and comes with everything you need to install them including tools. 29.30 oz. and available in Black, White, Red or Grey.
Nitrous Thruster cranks. Similar to the Tribe, but more affordable. Right hand drive only, does not include bottom bracket, and a weight of 33.20 oz. Available in Black, White, Orange.
Nitros Shifter cranks. 8 spline, 19mm spindle, heat-treated, single pinch bolt design, and in budget. Weighing in at 34.50 oz. with color options of Black, White, Orange, Purple, Green, Blue and Red.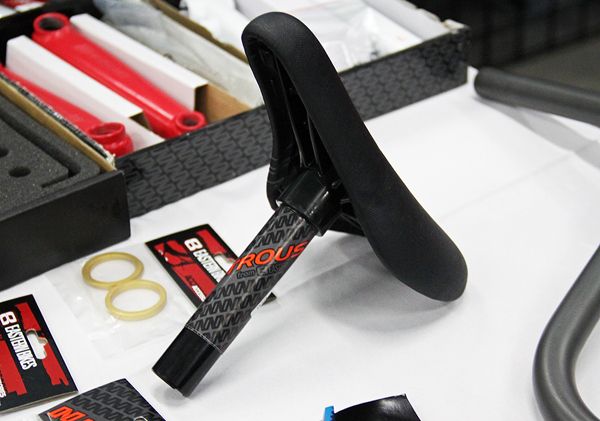 For those of you looking to eliminate bolts. You can pick up the Nitrous seat and post combo. Only 8.50 oz and black with Black, White, Purple, Blue, Gold, Hot Blue and Red accents for color choices. You can also see their gold fork spacers.
Eastern has a whole bunch of complete bikes. They had just their Trail Digger on hand. I still am amazed at the difference of completes today versus bikes when I first started riding. Kids got it good these days.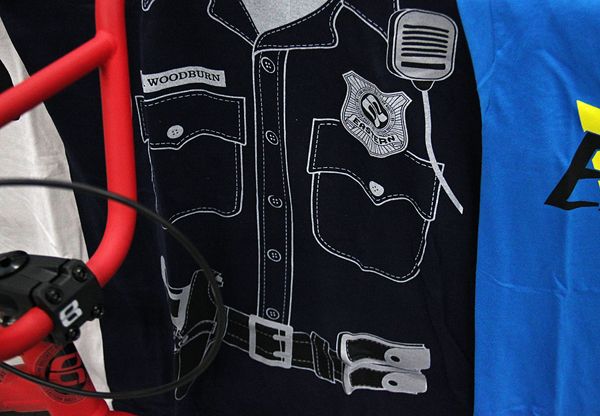 Remember when I said the Eastern guys are funny? This is just one of their new t-shirts. Impersonating a cop will either get you out of trouble, or in trouble. Either way, it's funny.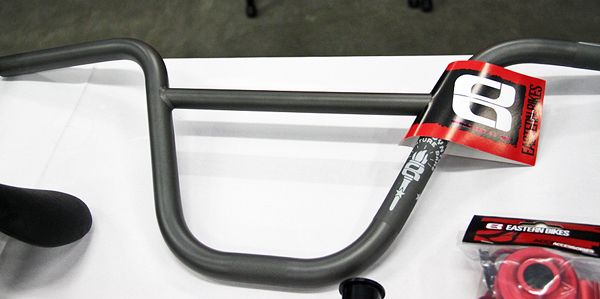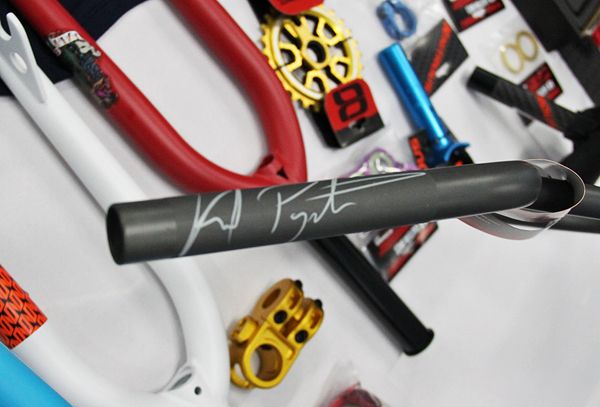 Karl Poynter's new signature bars are made from 4130 Chromoly multi-butted grip tubing with a double-butted cross bar. 8.5″ rise, 28″ wide, 12 degrees of back sweep with 3 degrees of upsweep. The bars heat-treated after being welded. Weighing in at 28.60 oz. with Matte Red, Matte Acid Wash, Matte Black, Matte Purple, or Matte Hot Blue color options. These also have a lifetime warranty. Oh, and it even comes with Karl's signature on the bars. It's just a sticker, but it takes the signature bar to a literal sense.
The sums up the Eastern booth. You can check their site to see what else they make, or hit the QBMX site to see what your shop can get on hand today.