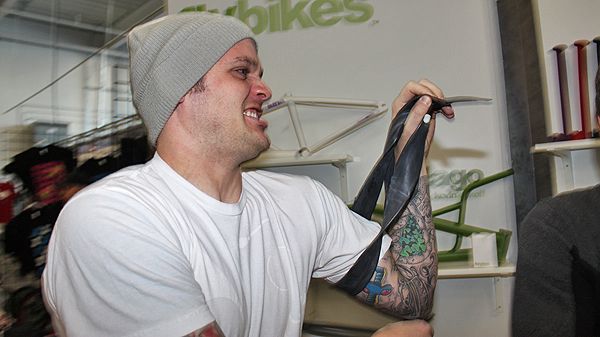 Brian Osborne taming the Cobra at last years Frostbike.
Tomorrow morning I will be making the drive up to Quality Bike Products distribution in Bloomington, Minnesota for their annual Frostbike. Frostbike is similar to Interbike, but on a much smaller scale, and only open to the brands they carry and the shops they distribute to. Each year the event has grown, and it sounds like this year will be the biggest Frostbike in its history.
I'll be making my rounds at all of the BMX booths such as Odyssey, Shadow Conspiracy, BSD, DuFFS, Profile, Eastern, Sun Ringle, Fly, Stolen and some other brands. Since it's smaller, I will be able to spend more time at each booth (unlike Interbike where it's constant go, go, go just to hit every booth in 3 days) and hopefully get some information out of everyone about what's going on since I'm sure things have changed a bit since September. I'll be dropping photos and info over the course of the next few days… so get ready!