The other day the UPS guy stopped by to drop off a few more boxes for the BV Jam that I'm putting on next weekend. After I got a few of the boxes, I said thanks and the delivery guy said "There's one more, it's bigger." To my surprise, Fly Bikes hooked the event up with one of their new Electron complete bikes that they introduced to their line up for 2012. I got a pretty good look at the bikes during Interbike but definitely not as good of a look as I wanted. Since I needed to build up the bike, I figured it would be a good opportunity to take a closer look at the bike. So let's do this!


All right, so some of you who have been checking the site for a while have heard me say this probably a thousand times. Complete bikes these days are absolutely phenomenal. When I heard Fly was going to be making complete bikes, I knew it was going to be quality because if you look at the brand as a whole, there's no reason to think they would make a knock off bike that is comparable to the other completes on the market.
Starting off, let's look at the frame. It features a 19.6″ top tube length, 12.8″ chainstay length and a 7.5″ seat tube height. The frame also has removable brake mounts, integrated gyro tabs, integrated headset, a sealed Spanish bottom bracket and a gusset at the down tube / head tube junction. The design is smaller, which is more ideal for a younger kid or somebody maybe around 5′-2″ that's older.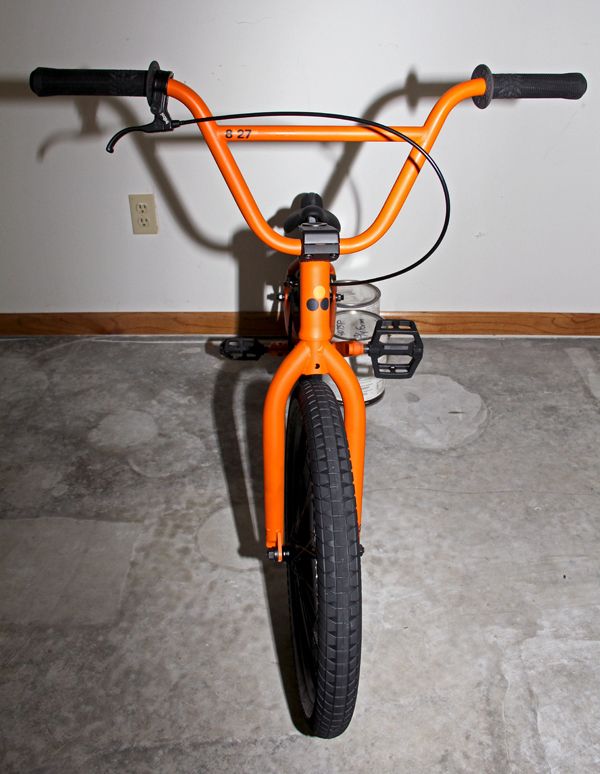 The forks feature a steeper 25mm offset which helps give the bike a more responsive feel and more balance on tricks like nose manuals. You can find that they went with bars that have a rise of 8″ and a width of 27″. They've also got a Trebol bottom load forged 6061-T6 alloy stem holding everything together up front, Fly Ruben grips and their Trebol 6061-T6 alloy.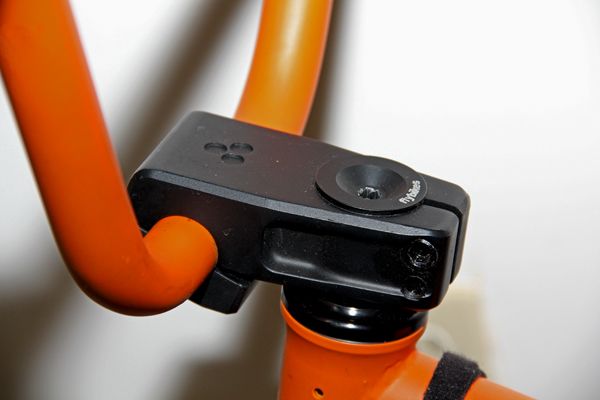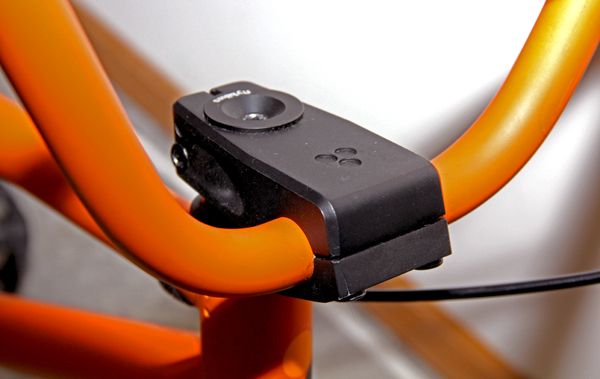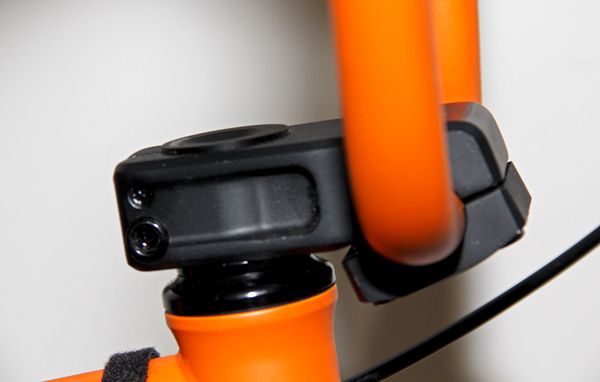 Closer look at the stem, grips and brake lever.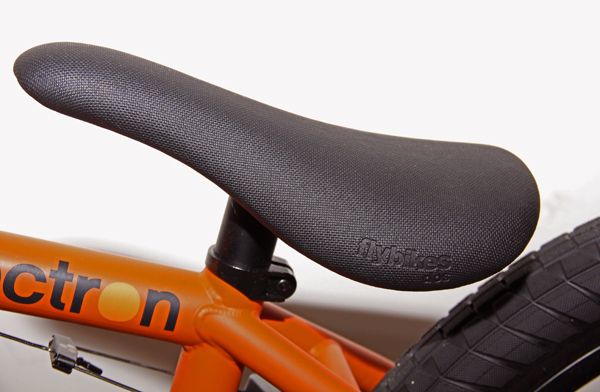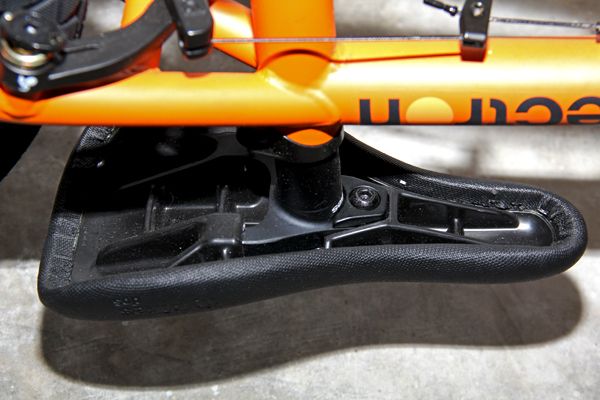 You can find their new Dos nylon seat on top of their 6061-T6 CNC machined Tripod post. Fly has always been a brand that took good parts and found ways to make them unique and better. This is definitely one design that I think did just that.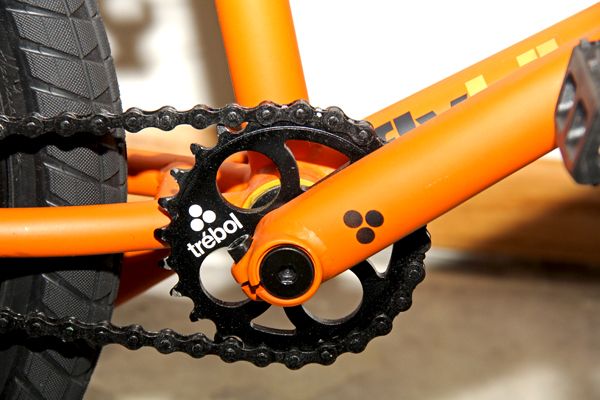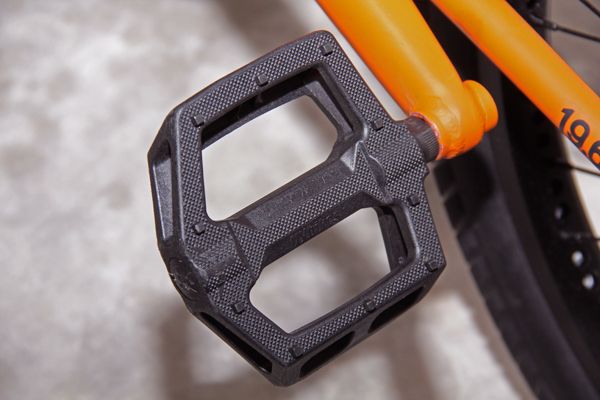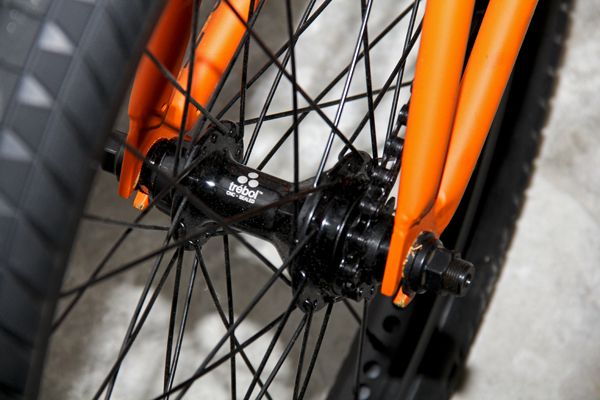 The driveline on the bike is pretty simple and straight forward. They used their 165mm Trebol 3-piece cranks, Trebol 6061-T6 alloy sprocket, Fly's Ruben graphite pedals and a KMC 410 chain. You can find the 6061-T6 CNC machined Trebol fully sealed rear hub with a 9-tooth driver and 14mm axle.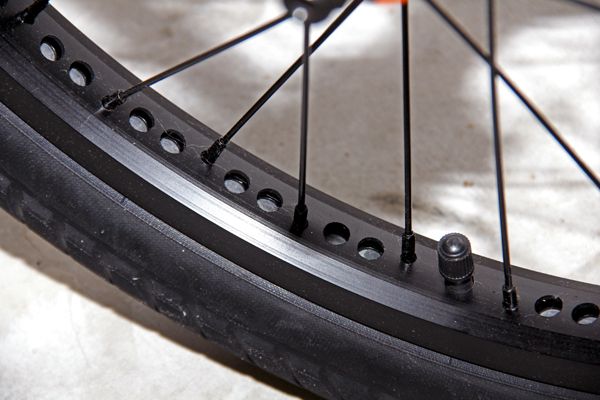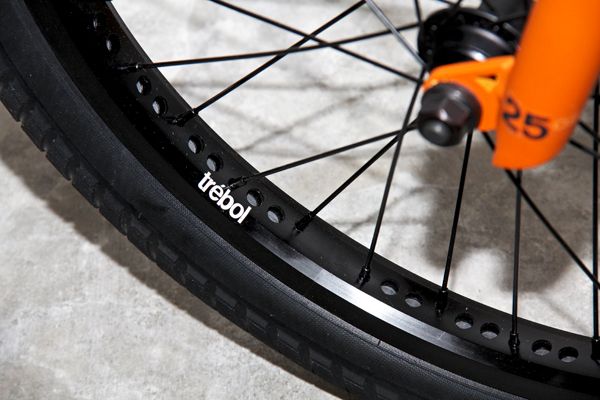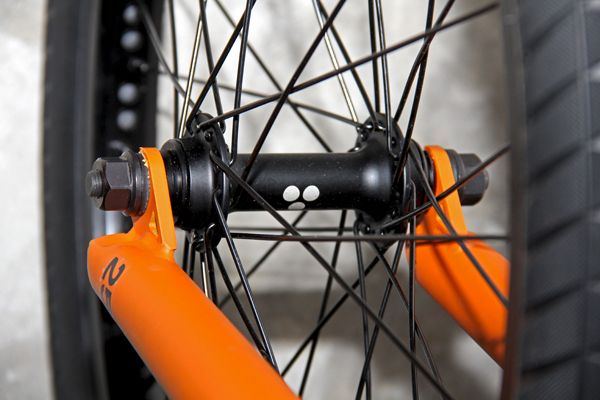 The front hub features a CNC machined shell with sealed hubs and a 10mm axle. Both hubs are laced a the 6061-T6 Trebol double wall rims with the drilled holes for extra weight savings. Both wheels spin smooth as butter and the rear driver sounds great.
Both wheels have the FLy Ruben Ramperas tires. You can find a 2.35″ up front and a 2.15″ in the rear.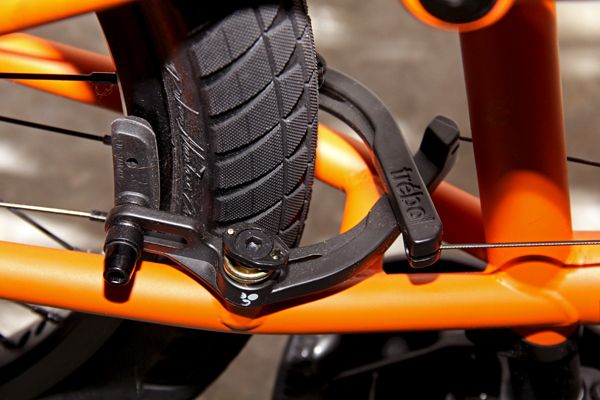 You can find the Trebol 6061-T6 alloy brakes that have the same look as their new Classico 3 brakes. I'd imagine there's just a little less machining on these ones. They've also got their new cable hanger with the three-piece design using straight cables between the hanger and the arms. This eliminates the slack for a smooth feel and better braking power.
Overall, I'm really impressed with what Fly Bikes were able to produce for their first go at complete bikes. Aesthetically the Electron has a very clean look and is pieced together with some quality products. It looks like the Electron retails online here in the U.S for about $539.95 (Albe's) which is a very fair price for the quality of the bike you are getting.
I'm really excited to be able to hook up a deserving kid with this bike next weekend as well. If you are in the area and want to get a closer look at the bike, hit the 2nd Annual BV Jam to check it out and maybe even roll away with it.