I'm not quite sure when the first time Micah and myself crossed paths. I want to say it was the Baco when we got banned from Jellystone. I didn't actually talk to him, but he was definitely there. Baco this year was the one that I got the real chance to hang out with Micah and get to know him better. I had nothing but fun when I was around him and there was no doubt in sight when the idea of an interview came to mind. Take a lesson from this guy…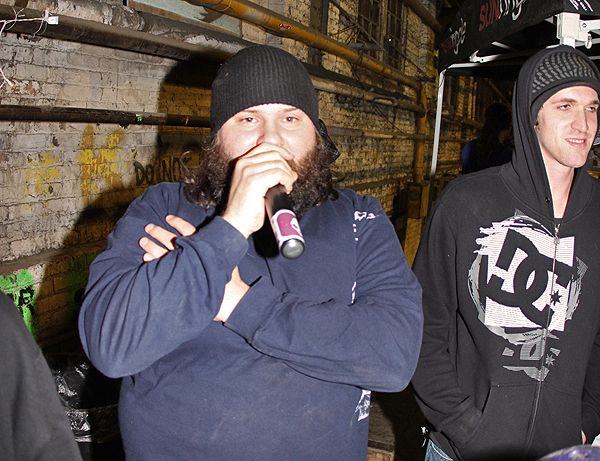 Photo: Kurt Hohberger
Name: Micah Lucas Kranz

Location: Milwaukee Wisconsin
Sponsors: When your cool to people, they are cool to you. I wouldn't call them sponsors but I get help from < Primo, Standard, Harley-Davidson, UGP, Oakley, Kink, Ride Sports, Nitro Snowboards, ,Sun Ringle', 4 Seasons skate park, Mil Rock clothing, Fuckkkk I have a lot of friends and I love them all.
Years riding BMX: 17 years of being an individual. So worth it!
Years MC'ing BMX: Around 12 years now. I've announced gymnastics meets, to synchronized swimming, to Monster trucks and everything in between.
What was it that first got you into BMX? Any early memories come to mind?
A real good combination of neighborhood kids putting bricks under pieces of wood, seeing RAD, and then I watched a BMX show that came to Torque Center bike shop. It was Skyway and GT. Volker vs. Hoffman vs. Bob Haro. It was unreal and all I wanted to do was get a bike and ride. My father was riding mountain bikes for Trek at the time so he got me one of those and I bent and broke it until he got me a BMX bike, a Haro master. I rode alone for so many years but just loved it. Plus I could give girls rides on my pegs and they liked it. I still use that one at the bars now, girls LOVE getting rides home on pegs. Can't do that with 2 pegs and no brakes. Learn kids.. learn.
I'm trying to think of the first time I heard about you and for some reason Expendable 3 comes to mind. Did you ever go back and do that rail?
That was such a fun day of shows. KP was riding with Superhero for Taste of Chicago and his fox motocross film crew came out to film him jump. The Golden Horse Rail looked awesome and Shawn Arata had done it earlier in the day. I wanted to throw bars out of it and I think that was the problem, I was just too eager to do the bars part. I have since returned and hit the rail (but not the rail I broke, which remains currently broken from my chest and head area). On that same day Koji Kraft did a double flip, in a show, on a set up that it shouldn't have been done on. The second he landed I threw microphone and ran over to him, I was so psyched for him and didn't know what to do, and out of excitement, I punched him in the head. I'm a good friend.
Over the years you have done a lot of different things with BMX from doing shows to Props. What was it that first got you into talking on a mic in front of people?
When I was a young lad there were contests at the PIT skatepark in Rockford, Il. I noticed all the really good riders were wearing baseball jerseys. I asked one of them if they were a softball team and just got laughed at. Turns out it was a bunch of guys who did shows for Eric "Buddha" Horrell who owned Superhero stunt enterprises. That same day I asked him if I could ride for the team and he said I wasn't good enough, but he noticed I talked too much because of all the questions I had asked. He brought up an announcers spot that needed filling and I was skipping high school to do shows at other high schools the next weekend. Buddha taught me the way. I loved it; to me doing shows was the top of the game and all I wanted since I saw the shows so many years before. I get the best feeling getting new kids pumped on BMX. That's what shows are about!
How did you get the name "MC Turtle Dick"?
I've got a bunch of MC names because apparently you need aliases'. Plus a lot of shit rhythms with Dick, so that's awesome. The true story was I went to visit Steve Crandall out in Bighampton for a week and he had pet turtles living in his bathtub. One day Lou Bickel called and left a voicemail that sang "getting kinda loose, Feeling pretty sick, Get me drunk and I'll suck a turtles dick." Look what I dropped…
You do a lot of demos and shows Division. What's Division all about? Who's in that crew? Do you have much planned with those guys for 2010 yet?
Division is the show team that I started once Superhero was no more. People don't even know about Superhero and what they did for the Midwest scene. I named dropped enough already but to keep it simple I couldn't just let such a good thing die, so I asked a few guys to pitch in and buy a Box Jump. From that point we've just slowly built up some good contacts and reputation from doing amazing shows. I'll go on record as saying we do the best bmx shows in the industry. Seriously it's more than just tricks, as a whole division is the best at representing bmx to new people.
What rules about Division is that it supports so many people from all over the place. It's not like we are a team of any sorts, just a bunch of guys down to have fun. The house is supported by shows and we basically travel and get to be mediocre rockstars from anywhere from 5-5000 people. Think of it as always winning the contest and getting paid at the same time.
The guys that usually travel are Rollie Flasch, Mykel Larrin, Koji Kraft, Lil Jon, Tim Knoll, Tippy, J.J. Flairty, Brian Fitch, Dom Trovato, and anyone else near Milwaukee that can 360 a box. But we always make it a point that whenever we travel and do shows to have ridaz come and session from that scene. We've had Brandon Dosch, Brian Vowell, Dave Volker and some awesome people session some shows. Again, it's like your always winning, people outside BMX really are taken back by how stylish and daring BMX is. The world is bigger than Web Edits.
Those shows have lead you to some pretty crazy situations with some well known bands and shit, right? What are some of the weird things that have come about because of Division?
Slayer bought bikes from Albes, that was pretty random. We did an insane tour with Warped tour that showed us the Claremont Lounge in Atlanta and how to ditch a quarterpipe along the road without repercussions. We tour Canada once in a while and it's a whole different game north of the boarder. Oh, and we also did a tour in Isreal where half of it got cancelled on bomb scares. Rad!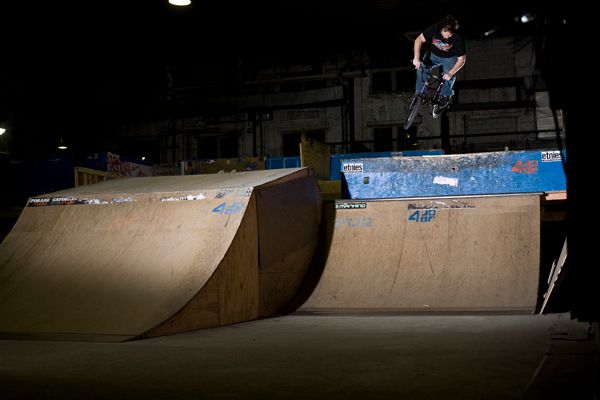 Photo: Greg Dickson
I feel like a lot of people don't think you have much for tricks, but in reality you are throwing flips and all sorts of goodness. What trick do you think surprises people the most when you do it?
I try to make it a point to flip at shows. The look on peoples faces make it all worth it. I've made mothers cry because they were sure I was about to break my neck. I'm not the most athletic looking cat in the world, but I'll throw down. Trails are my new attraction but I'm no boss or anything. Tricks are fun, but going fast is my favorite. Handrails are the most fun you can have on your bike.
What do you think has kept you into BMX after all these years? Did you ever expect the sport to turn into what it is today? Where do you want it to go?
BMX has a knack for turning out good people that do good things. I was lucky enough to not be laughed out of something that is so fickle, so niche, that it will turn on itself in a blink of an eye. I am just down for life.
You and Catfish are pretty much brothers right? How did you guys meet? Have you ever done that weird blood brothers thing?
Grandpa was introduced to me by Dave Jacobs at a show for DK in Ohio. I had been on his website since the early days of it when Kerry Sayre turned me onto it. We met, had a party, hid the bodies, and it's been blood brothers ever since.
Who are some people in BMX that you are really stoked on?
I really like riding skateparks but it's so easy to get bummed on the session with all the kids, or the weather or just whatever. But that's when the people your with can make or break your day. Lil Jon, C.W., Buddha, BV, Catfish, Spritzer, Koji, Mykel, Degroot, Midway crew. Those dudes have so much fun on their bikes that is super addictive. That's my goal everyday. To have so much fun, and be so happy that it manipulates other people's day. That they can see that laughing stuff off is way better than stressing on shit. What I'm trying to say is that a bad day on your bike is better than a mediocre day doing anything else and the good people in your life should make you a better person in any situation. I just found out that most of the people that can do this to me also ride bikes. I don't think it's a coincidence at all.
What do you think you would be doing if you never got into bikes? Do you think you would be playing for the Packers?
I am pretty confident that if I didn't ride bikes I would be playing in the NFL. I remember the exact day where I decided to ride bikes over taking sports seriously. Even though I'll never get the celebrity of football, I'm much happier in my life today. I try not to bring it up too much but I for sure got offered a few times to go to the NFL combine and even had an agent call me last year for a try out to play in Chicago. I miss it and from time to time will play for a few local teams that my friends play for. I love punching people in the mouth.
A lot of people mistaken you for Jesus. How many people told you happy birthday on Christmas?
I get told I'm Jack Black more than anyone else. No girl wants to suck Jack Black's dick, so I don't take it as a compliment. I've gotten Santa and "dude from hangover" every once in a while. People are stupid.
Speaking of that. How did you acquire such a manly beard? What kind of advice do you have for the kids out there looking to get some facial hair going?
Facial hair comes courtesy of laziness. It's not hard to grow hair, just stop grooming yourself. I see beards as showing off your peacock feathers. The bigger the beard the brighter the colors. Push with your arm…
From my understanding 2010 will be a big year for yourself and Catfish in the recording industry. Is there really a CD coming along? What can people expect out of that?
Catfish has had an album in the works now since 1944. He's really putting some effort into this one and its release is either 12-12-2012 or any December 25th that hits the calendar. I am currently trying to find all the girls that are going to be in the video as well as gathering beats for the record. Currently there is nothing recorded.
Did you go to school for hustle and flow or anything like that? How do you feel about college?
I have about 8 credits left to complete for a degree in literary criticism. College is super fun and I met some really easy girls and never plan on using my degree toward anything in my professional life. Best waste of money and time in my life, I wish I could go back for a graduate degree.
I've noticed you do quite well with the ladies. What is the key to success when tracking down a new woman to diddle?
Confidence is everything. Roll into the spot like you own it, even if you are unsure or nervous. Catfish words everything the best, but he says that no matter what girl you walk up to at the party, she's going to have a better time doing whatever she's doing with you, than with some white hat jock pretty boy. If she won't give you the time of day she can enjoy her herpies while I make her friend laugh next to her. Your gonna fall; get back up and say something witty.
You got a bunch of tattoos. Is there any stories behind them? Which one is your favorite? Are you getting more anytime soon?
My tattoo artists name is Brian Lee and for anyone in that has a clue, he has charged some ink into some pretty popular guys. We are really good friends and every time we get together it's like seeing my long lost brother. Anyway, I have an elephant with a Mike Tyson face tattoo, a Tiki man in a Larry Bird jersey holding a dream catcher, and I recently gave myself a Tic Tac Toe board on my knee, so I'm always down for a game. I'm an idiot.
How do you feel about Twitter? What can your followers expect out of you?
Twitter is super fun to have. People who are not internet dorks probably won't like it, but if you need something to brighten your day, or just want to see which porn stars are fucking, I suggest you get in it and follow a brother, I'll dial you in. @micahbmx hollar at me.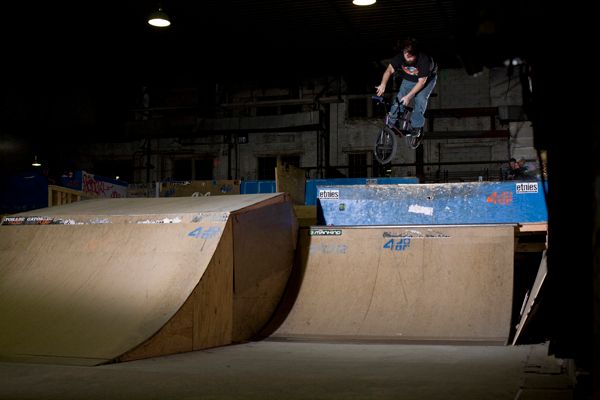 Photo: Greg Dickson
What are some other websites you are into?
I have a google reader account so I spend all of my website tracking days on that. Bmxfeed.com for the newbie's. Although I'm constantly on vintage bmx boards trying to look at new bikes and collect the ones from my past. Vintage BMX bike collecting is the mute girlfriend I've always wanted.
What kind of music should kids be listening to now days?
If I can be so blunt, David Allan Coe, Biggie, ODB, Lucero ,Lil Wayne, Mountain Goats, Black Dahlia Murder and anything that makes your hips shake.
With 2010 off and running. What are some goals and shit you would like to get done this year?
I hope to get through a ton more sets of trails and meet as many people as I can. It's not even hard to have fun because I won't allow shit not to be a good time. It's a full time job, but I enjoy it.
Who or what are your biggest influences in your life?
I kind of take influence from everything. Of course loved ones and friends are the biggest inspiration but sometimes an amazing setting or funny situation will really make me feel creative. I definitely feel like I can turn anything into something good and positive. But I talk a lot of shit too.. It's has to even out some how.
A real man drinks what beer?
PBR no questions.
What makes for a good night out in Milwaukee for you?
A good Milwaukee night could be an after hours at 4 Seasons skatepark and/or start the pre-game at my house. Then bounce between Cans and Cush and shine all the jocks in the eye with my Laser while my roomates get mad at me. Then I get to go to sleep alone and not have to worry about drama or drunk chicks. That is a PERFECT night!
What is the best advice you have for the kids out there looking to make something out of their self?
This is the best advice I could give anyone who wants to "make it" is to get really good at one trick, in my day it was barspins, these days it's tailwhips, next generation should be 360 backflips. Take that one trick your really, REALLY good at, and do it on everything. Who cares if people have seen you do it before, do it bigger, more often and on everything.
Or I suppose just go fast! How many slow ass peg grinders do you need to see before a lil Jon or Slatterly come and AA gate start into a concrete bowl or something. I love that shit and dream I was brave enough to do it!
Do you have any shout outs or thanks?
All my friends, all the good times, and anyone who has ever helped me out. I only hope I can help people out as much as some of them have helped me. Seriously BMX brings good people together. Real recognize Real. Especially big thanks to Uncle Chris, Rollie, Joel, Cookie and all the division riders who keep the company going while I'm being a social butterfly.
Anything else you want to say?
Jody Donnelly stole my money. Kennan Harkin is a joke, and Sal Mesakela has my job. That's about it.