Like most businesses, Country Bikes have had a few issues getting the ball rolling. A lot of times when something falls apart, a lot of people walk away from it. Torsten Pullich would just change things up and make it work. Now, the company is back in full effect and ready for you to check out. I shot some questions to Torsten about Country Bikes and this is what he had to say…


Country Bikes has been popping up lately and things are looking good. When did you decide to start the company, and what really motivated you to start your own brand?
Countybikes started in 2000. We produced some frames, stems and shirts… In this time there was nothing good coming out of Taiwan… all the frames I´ve seen then
were bad quality. So we decided to produce them here in Germany. BMW color, Stems made in the same factory that Mercedes uses to make their Aluminium parts etc….
We had a welder that went bankrupppped after a year or so and he stole all of our tubings to sell it to another well known welder here in Germany … we lost all of our money on this
bast… so we had to stop it. The idea was to start a distribution to get money in again to do Countrybikesbmx-parts. We started to import Profile Racing(USA) and MacNeil Bikes (CAN).
It's running pretty good so the idea of putting some back into our own parts didn't work because the orders got bigger and bigger, and sales went up. You still have to put everything
back into the distribution to be able to go with the bigger orders and sales… we finally found an investor that helped with the first start of the CB-Parts.


"The Outlaw"
Where is Country Bikes based out of? Do you have any plans of moving, expansion, or anything like that anytime soon?
Countrybikes has its Office in Munich, Germany (EU) … Right now we are selling the stuff in Europe; mainly in Germany and England…. Profile is gonna show our stuff at the Interbike and we will see if the US likes the stuff… I'm pretty sure Americans always liked stuff that was tested and not just thrown out like a lot of companies nowadays…
Who are the people behind Country, from you, product designers, graphic designers, all the way down to the guy who has to make the coffee?
Torsten Pullich ( sales, distribution ), Patrick Fuchs ( design ), Simon Stevens ( sales ), Tonya Engelbrecht ( photography ), Emanuel Sturm ( sales ).
What is a typical day like in the office?
We get in here and work our asses off to get things done. I guess like yours! It's a cool family kind of thing though… I know it sounds cheesy but it really is!
On the weekend we are mostly at contests and jams. I announce BMX, MTB, and FMX contests so that keeps me busy. Simon and Patrick are working at contest with a support Van that we sponsor.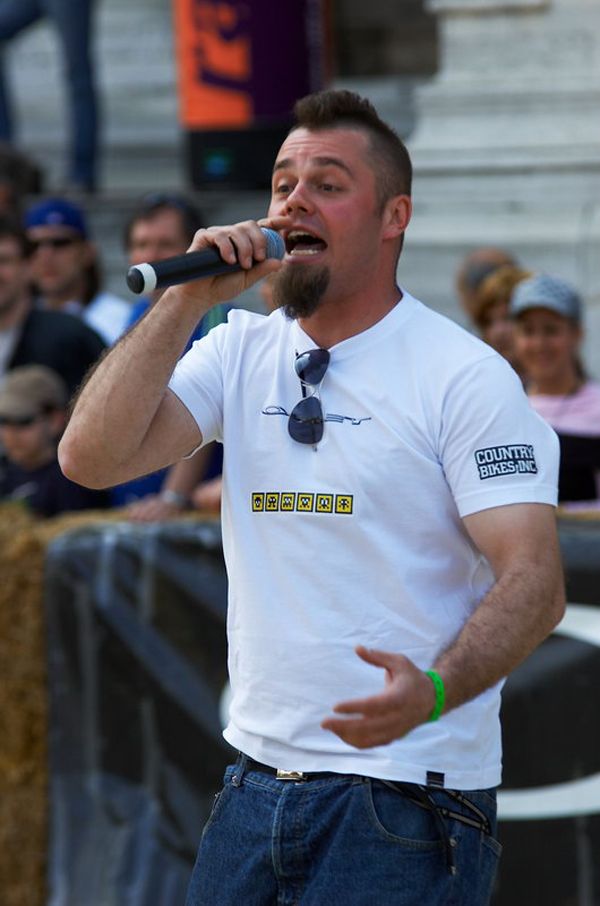 Torsten running the mic…
What are some of your goals, and plans for the future that you would like to see accomplished?
We put so much effort in those products ( time, money, thoughts ) that it would be nice that people get to know Countrybikes as a high-quality, no attitude, just ride your bike company.

"The Exitation"
What is your current line up for product? Do you have anything new in the works that you can tell us about?
Right now we do 3 different frames ( 20.75″ Outlaw, 21″ Colt NT , 21.5″ Ranger ) all extremely light but stable frames that we tested for 1 1/2 years now. Same with the "Exitation" fork that just has
a little over 800g. We also have 3 different bars ( Hendlbar – 8″, 711 – 8,15″ and the Lo-Fi – 8,35″ ) and we are working on a 1 piece Seat-Seatpost Seat that is again very light.
Sprockets are planed and we are waiting for the prototypes on those… Shirts etc.
Is LIVIT clothing a side project for Country or is that a whole separate brand as a whole? What can you tell us about that? I have seen the two names together quite a bit.
LIVÍT is its own brand that Countrybikes-Distribution sells…Its a small Company out of Germany that has a totally different way of doing things… instead of sponsoring the best of the best only they try support people that f—- LIVÍT… so they even sponsor bums and stuff! Really cool company that keeps it trashed!

"711 Bars"
Who is all on the team? Pro, Flow, Friends? What do you look for when looking for a new team rider?
Matt Coplan (USA) , Craig Stevens (UK) , Simon Stevens (GER), Simon Schober (GER), Volker and Wolfi Wildner (GER), Moritz Kauper (GER), Mark König (GER), Michael Blochberger (AUT)
Nicolas Bertier (FRA)
Sure that all of them should be able to ride.. but I think its the most importend thing that those guys are friends and cool guys that you can talk to…
Do you have any trips, filming projects, or anything like that in the works?
We wanna do a big Roadtrip in the Summer 2010 through Germany and England. Big Nightliner lots of Parks and Trails, lots of Partying, and sure film and take pictures….
What if somebody has an issue with one of your products. who should they contact to work out a warranty issue? What kind of turn around time can people expect if they send in something?
Their local bike shop they bought it from. We try to help as much as we can with problems that may occur. Luckily we haven't had many problems yet but we wanna be at the customers side all
the time. When we did our stuff back in the days we offered a life-time-warranty but that is a little of a problem for some people … I got a frame back just recently 7 years later ! Thats bullsh…

"The Skull Seat"
If somebody has a general question about Country who should they contact? How about if a shop or distributor would like to pick up Country products whom should they contact?
For England : PRE Distribution ( Profile Europe )
Mainland Europe : Countrybikesbmxcompany ( countrybikesbmx.com ) ; Distribution : CountryBikes.de
USA : Profile Racing Inc. ( Matt Coplan )