I always laugh when I think about FailureFailure as a business name. Imagine going to a bank and explaining to them that you need a loan for your business that is named Failure, with a slogan of "Success is not an option", they had to think Matt was crazy. Then again, that beard probably was all they needed to approve him to start his company. Either way, Failure has been around for a few years and I wanted to know a bit more. Check out what Matt had to say and then leave some love in the comments…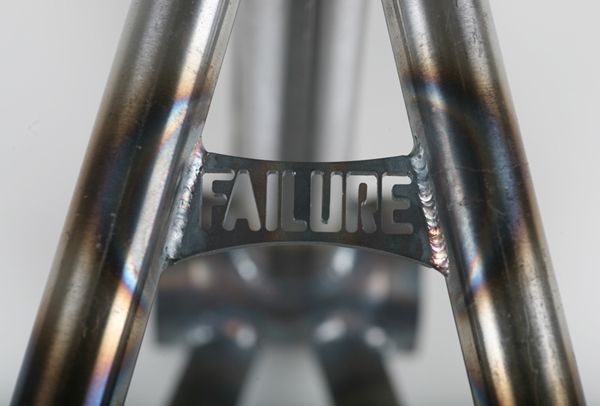 When did Failure get its start? What drove you to wanting to start a company of your own?
Beginning of 2005 is when Failure officially launched. Ive ridden BMX since I was a kid and it has been my passion in life. I had started a small clothing company called 13 Enterprises in the late 90s that I had a lot of fun with and learned some stuff. I had also been sponsored by Dirt Bros. and Snafu and had learned a lot from Vic Murphy and McGoo. Those guys are awesome dudes and have helped me out a lot as a rider and also on the business end of stuff. I live in Ohio and DK Bicycles and System Cycle Supply is less that an hours drive and I have known all the people there for years. When I really wanted to take the step of doing Failure on a legit scale, I approached System to see if they would want to distribute the brand. They did and because of that Failure really got going.
Where are you guys based out of these days? Any plans of moving anytime soon?
We are based out Ohio. I live in Cincinnati and my distributor is in Springboro, Ohio. We are not going anywhere. Aside from cold winters, I dig living in Ohio.
Who are some of the people that help you out with Failure from product designers, graphics, and what not?
The cool thing about Failure is that I have a bunch of awesome people that have helped me out throughout the years. Starting with product design, Nate Wessel and Mike Schuerman have helped me out a ton. Nate is one of my best friends and a talented dude. He had helped out designing some of our earlier frames and even helped Jeremiah Smith on dialing in the Flyin Lion frame. Mike is a long time friend and Cad designer that has been helping me work on new stuff lately. As far as graphics, I have a lot of artist friends that I call on for different projects. In the beginning Scott Papiro did a lot of the graphics for me. Now graffiti artist East Foster is my primary art guy, but I have been using various people for different things. My tattoo artist Jason Brunson, Mike Deye who does stuff in the skate Industry, Scribe, Trevor Gay, have all helped me out with art. My friend and bandmate Niall does my web stuff for me, and Cody York and Trevor Gay and Nick Beiting do some photo stuff for me.
Do you have a typical day? What are some of your responsibilities on a day to day basis when it comes to Failure?
I answer emails, Facebook, myspace all that stuff. I go to a bunch of websites to keep up on whats going on in all of BMX. Sometimes I'm busy working on new stuff with Cad guy, emailing and talking on phone with artists about upcoming designs, packaging etc., talking to the team guys making sure they have what they need. I do video editing on simple web vid stuff or commercials fairly often, dealing with International distros. There is a ton of crap and it happens at all hours of the day, on any day. It is exciting and I love most every part of it.
What are some of your goals for the company goes over time?
My goals are to grow the brand and keep coming out with new products and have fun while doing it. I love what I do, and as long as I can do what I love and take care of my family, Im happy.
Any ideal situations you would like to be in anytime soon?
I would like to win a beard contest!
I didn't get a chance to see any Failure stuff at Interbike due to you not having a booth. What do you guys have in the works for 2010 from frames all the way down to t-shirts and stickers?
We are keeping our line simple and not trying to go overboard. We have the Jeremiah Smith Flyin Lion frame and our Smart Bars and Dumb Bars and 2 new sprockets that are made in the good ole USA. We have 3 new pivotal seats coming out. We have a whole line of new Tees, hoodys and hats that we will have out. We always are changing that stuff up and are going to be doing more lifestyle stuff with Failure in 2010. Other projects in the works are a Team frame, headset, bottom bracket, stem, and new grips.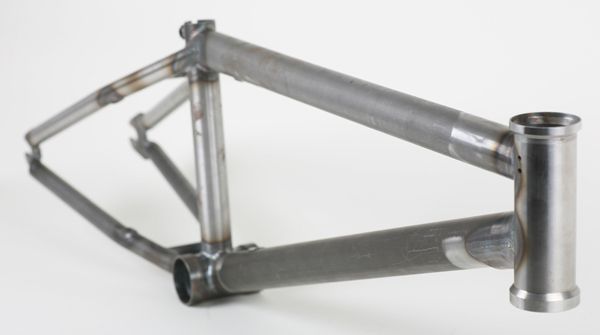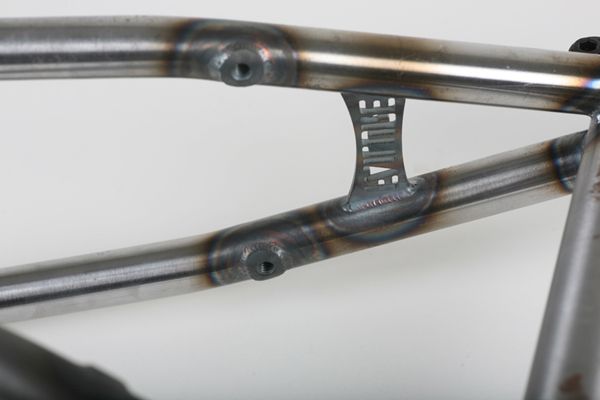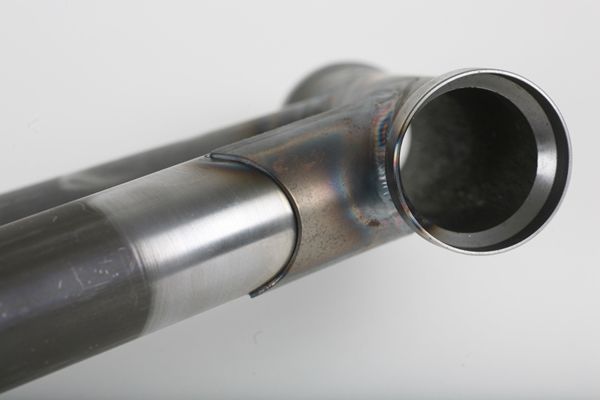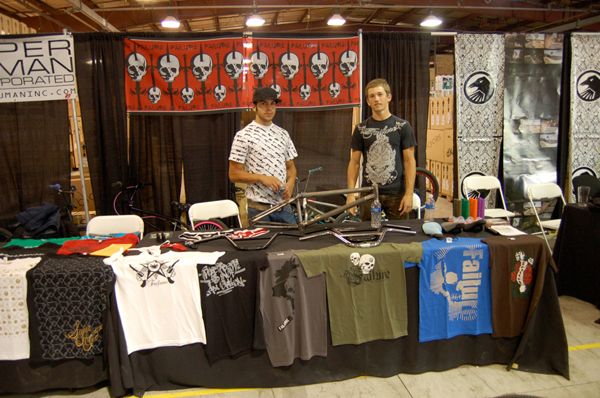 A lot of companies are getting into cruisers, fixies, road, and mountain bikes. Do you have any plans of getting into any of this?
Actually, we have beach cruiser style bikes coming out mid November, It was a project we wanted to do for awhile and I had East do the designing of the color schemes and graphics. We wanted to do a cool looking cruiser at a low MSRP and the response has been great. Im really pumped about it.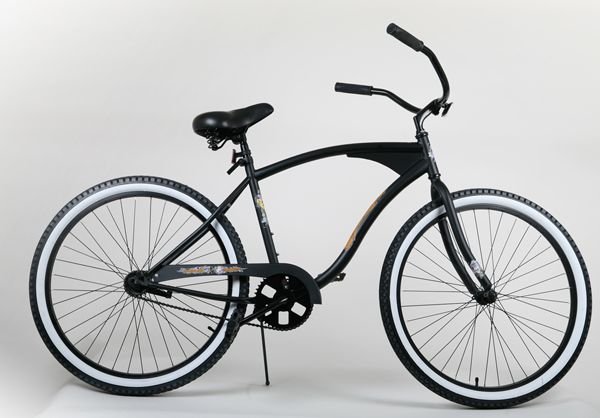 Do you have any team trips, videos, or anything along those lines planned anytime soon?
We have been releasing some web videos lately and plan on doing that in 2010. There will be some sort of team trip too in 2010. I've talked to Stu Johnson about doing a road trip video possibly and I've also been talking to Props about some stuff too like another Megatour or possible Road Fools VS deal.
Speaking of the team, who is currently on the team from pro to flow down to the guys you just hook up just because?
Pro team is Jeremiah Smith, Raul Ruiz and Chad Kagy. Flow team is Brian Hinkle, Kevin Spanier, Travis Kiesow, Joey Hill, Seth Klinger, DGAF Dan Norvell, myself and Wessel.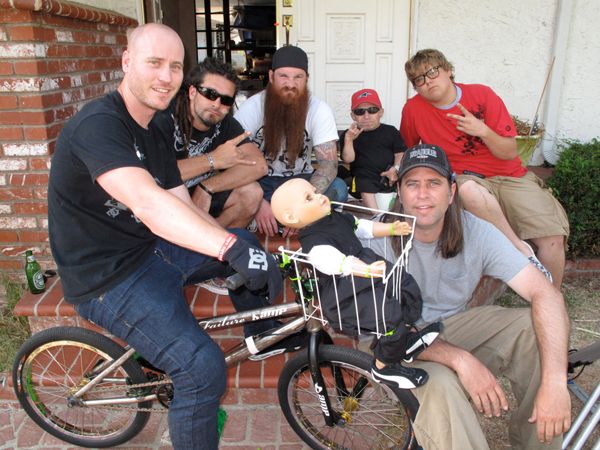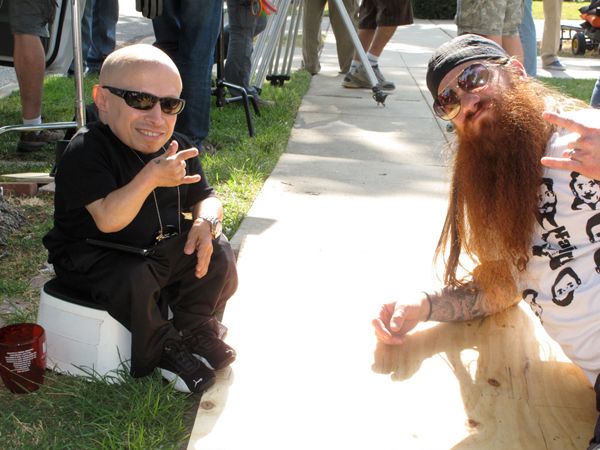 I think Mini Me rides the Failure train too…
What kind of a process do you go through when it comes to picking new people for the team?
There really has not been a process really. I mean its been pretty crazy. A couple years ago, one of my riders at the time Andy Alvarez rode for Failure and Jamie Bestwick liked his bike so much that he wanted one. So what do you do when Bestwick wants a bike, you freaking give him one. He rules! Nate Wessel basically told me he was riding for me after the Red Bull Backyard Buildoff. On the Props Megatour that we went on Chad Kagy showed interest in being on Failure. So I have been blessed by awesome dudes just being down with the brand. Other riders that are on the team like I saw a great talent and a great human being to put on the team and I hooked em up. Sometimes one of my riders will suggest someone. Chad Kagy turned me on to Seth Klinger, and my friend Cody York and Dave Jacobs told me abou Raul Ruiz.
Do you have any advice for kids looking to get sponsored?
My advise for kids wanting to get sponsored is to be proactive and try to make stuff happen. Edit a really good video with something that is going to really stand out. Dont just send a myspace message asking to get sponsored. And dont be super annoying either, that is a turn off. Remember, there are a million awesome bike riders. Half is riding, the other half is being a cool person that meshes with the team and someone that can be marketed and can create a lot of their own media.
Is it true you have to be able to grow a manly beard to be on the team?
haha, No I wish, I dont think half the guys on the team can grow anything but peach fuzz. I should start a new brand that only has bearded people on it!
What should somebody do if they have an issue with one of Failure's products? Who should the contact to get it warrantied? What kind of turn around can somebody look at? I know a day off the bike can feel like an eternity sometimes…
They can contact System Cycle Supply, and once they send it in, it should only take a day or two to get it back out if they have it in stock.
Who should somebody contact if they have a general question about Failure? What if a shop or distributor would like to carry Failure products?
General questions, just email me beard@failurebikes.com. Anyone interested in carrying Failure can contact me or System Cycle Supply.
Is there anything else you would like to say?
I just want to say thanks to the following people who have helped me with Failure in some way and have been down for the brand over the years… Mcgoo, Bill Bryant, Mike Collins, Jim Sibley, Vic Murphy, Scott Papiro, Sherry Shu, Bill Danishek, Chris Keller, Tony Barnes, and everyone at System Cycle Supply, Chris Moeller, Niall, my wife Tessa for all the years of support and good ideas, Wessel, Kagy, Dave Thies, Andy Alvarez, Jesse Whaley, Eric Marlis, Eric Babbel, Ryan Mills, Zach Warden, Chris Myers, Jon Peacy, Brad Blanchard, Gonz, Pete Augustin, Eddie Estrada, Jamie Bestwick, Brian Hinkle, Joey Hill, Kevin Spanier, Travis Kiesow, Dan Norvell, Seth Klinger, Jeremiah Smith, Raul Ruiz, all my International distributors, Danscomp, Albes, Empire, Action Village and all the other shops who have given Failure a chance, East, Scribe, Jason Brunson, Mike Deye, Trevor Gay, Nick Beiting, Cody York, Ride Mag, Vital, FatBmx, BNQT, EXPN, and anyone else that I forgot to mention. You all rule!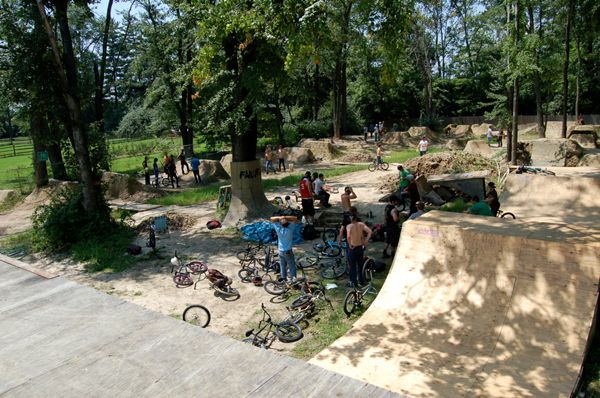 Failure Compound
FailureBikes.com <<< Check it out.
DGAF Dan & Larry Edgar Edit – More BMX Videos
Snafu/Failure Pro Kevin Spanier Frog from SNAFU BMX on Vimeo.