Odyssey is an amazing company, every aspect from the team, to the products, to the guys who are keeping things running. To be honest, I am sure a lot of you reading this look to Odyssey first for a part before checking out what else is there to offer. So with all the recent things going on with Odyssey I caught up with Jim Bauer and Nuno on what the company has planned and a whole bunch of information about the company.


Odyssey has been around for years, When did it get its start and who runs the show these days?
Odyssey started in 1985 as one of the first aftermarket parts companies for BMX. These days , Richard Tang is the owner and he runs the show, very well in my opinion too .
Who are all the people who keep things running smooth behind the scenes most people never hear about?
Some people know Chris and some don't. Chris Cotsonas is the Chief product designer here , but he also wears many more hats than that. He brought me on as Head art guy, Creative Director, TM etc etc. Ben is another designer and draftsman extraordinaire. G-Sport George is our engineer who lives in UK. Louie and Nuno run sales , while Nuno is all over the marketing front too. We all do a lot of everything.
It seems like Odyssey is the innovator when it comes to parts these days. What does the company have planned for new products this year or coming soon in the next few years?
There's always new stuff coming and existing products being updated. The Ratchet hub is getting close, you can expect some unique JC/PC pedals and some new Tanwall tires that "look" like old school skinwall sidewalls, but aren't crappy. The PC's will be out soon in all the clear colors that are reminiscent of the old iMac computers, along with the new Griswald grips.
Ultimately though, our main goal is getting those parts out to the market . Manufacturing hurdles seem to have us slowed down, but its not from lack of trying. We are just pushing to get new stuff out ASAP. Our R&D is longer than most, but it pays off in the end.
What are some of the reasons for why something, lets say like the plegs, or the new Ratchet cassette taking so long before it goes into production?
One major hurdle has been the industry wide traffic jam. I'm sure most companies in BMX , and Bicycles in general have extra long lead times these days .
The Plegs took a long time because plastics are a crazy science, and there are tons of variants that effect it. We moved from one factory to a more advanced one, and we had to make many changes mid stream, but really we wanted them to be perfect when they came out. The Ratchet hub is designed from the ground up , and being built at a place that doesn't make hubs. We mostly try to use factories that are unique to us, since other companies end up benefiting from our research and design. Many times, most of the improvements you have seen in other products on the market are our changes that were offered to everyone else by our manufacturers, after we spent our resources designing and testing ideas. The Ratchet will be the precision and innovative hub you expect from G-Sport and Odyssey.
How about soft goods, does Odyssey plan on rolling out some new tee's this year at all?
Wow, like I'm not busy enough , haha. Actually , 5 new shirts are in production as we speak. And some non-tee's too.
Odyssey's team is stacked, which I think may be an understatement. Who all is on the pro and flow teams, any big news revolving around any of those guys, and do you have any plans on adding to the team at all anytime soon?
Mike Aitken, Chase Hawk, Terry Adams, Taj Mihelich, Adam Banton, Matt Beringer, Aaron Ross, Gary Young, Chase Gouin, Jim Cielencki, Jimmy LeVan, Kurt Rasmusson, Mike Gonzalez. Mike G is probably the newest addition. He is a racer and trailrider out of PA/Vegas.
Our team is stacked, and we have no plans to add anyone else. Its really hard actually when these riders that you think are amazing, and need to have a sponsor, and would totally fit on Odyssey…and then you see our huge team. I don't want our team to feel like its too big to have our guys get the time to shine and what they deserve. I have to hold back very hard to not scoop up tons of riders. With that said, you still never know.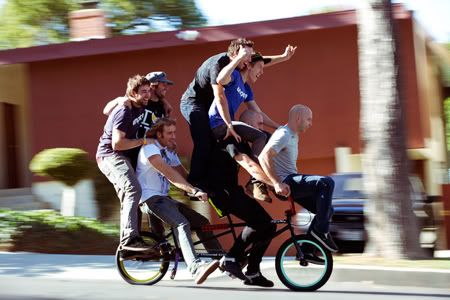 How do you guys go about sponsoring new riders, what kind of advice do you have for kids who want to be sponsored?
Get good! If you look at most of our team, they are all pretty well known dudes that just do thier thing . I think riders just need to get themselves out there and ride, have fun and the sponsorship comes by itself.
With the recent drop of Electronical which turned out amazing, what is the plans now for filming? Any new dvd ideas in the works, web videos for a while then maybe another dvd in a few years?
I 'm giving everyone a break on filming for now, but web videos are on the horizon. With that said, Electronical exceeded our expectations sales wise, so we are still a fan of that medium, and aren't ruling out another video in the distant future.
How about road trips, anything going on as a whole for the team?
Like I said about videos, a "break" for everyone. Break is in quotes because our team is never on break. This is the summer and people will be on trips, contests, and riding all over the world with their various sponsors.
What are some goals or plans for Odyssey in the next few years as a whole?
Keep on in the direction we have been on for years now. Push the design of parts to the next level and make what the riders want and need.
The Warranty department seems to be spot on, so if somebody has a warranty question who should they contact and what is the usual procedure for getting things fixed?
Usually Marco is in charge of Warranty issues. He is also who usually answers the phone if you call here. If he can't help, he asks us and we will get you sorted. An email or call to Marco is the first step. Not posting a rant online somewhere. We usually can help everyone problems with little or no hassle.
Where can people find Odyssey products?
Any good BMX shop should carry our products, or be able to get anything you want from a distro . If they don't, then they aren't a good shop.
And who should shops or distributors contact to pick up some product?
Seattle Bike Supply / QBP / J&B Importers / Blackout / Custom Cycle
California Shops can call Odyssey direct at 562 623 9995 if they like.
What do you feel separates Odyssey from all of the other companies out there?
We work on our ideas from an educated design perspective. We have trained designers , engineers and riders applying all of their know how into the parts. Some companies don't have one designer on staff, not to mention engineers. Most companies are trying to catch up and do what they see as "innovative". It's usually transparent that they are just doing what they think they should be to look "new".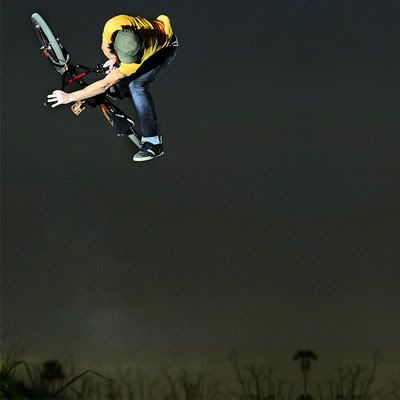 Is there anything else you can tell us about?
We have a new web guy starting soon, so get ready for that…
For more info: Odysseybmx.com and GSportBMX.com