Primo has been a company in the game for years now. There has been a lot of changes going on around the company in the last few months and I thought it would be a good time to catch up with them and see what was going on. So I asked Nate Moroshan some questions and this is what he had to say.


Primo has been in the game for years now. When did it all get its start, who were the original people who started the brand, and where are you guys based out of?
Originally Primo started out as wheelchair racing tires in the late Eighties, In 1991 Colvin Hsiao and Gene Roden turned the brand toward the Direction of making BMX racing components with the Primo V-trak tire. We are currently located in Long beach CA under the Tipplus roof.
Who are the other people involved in the company nobody ever hears about? From designers, to help around the warehouse, to the guy who gets the coffee?
Anton Petrov is behind a lot of our product design lately John Warren and Eric Stefano handle sales, Eric Cuiper handles our warranty department, Joel Gurga is our operations Manager and the guy who makes sure everything is shipped is Nacho and I get the coffee.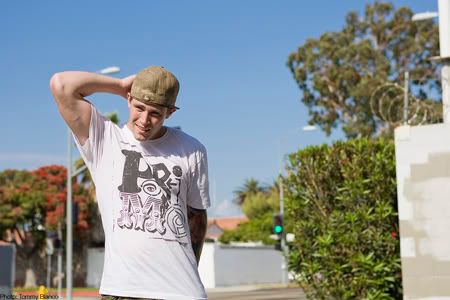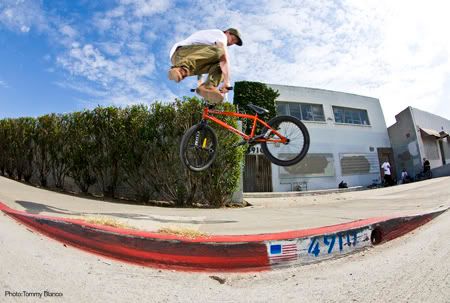 Photos: Tommy Blanco
It seems like the Primo building is pretty big, with a full sized skatepark even. Is there any plans on moving to a larger building, expanding, redesigning the ramps, anything along those lines? Also, are there any other brands under the Primo roof?
Nah no plans of ever moving the building is big enough with plenty of room to grow, I have actually been talking with Aaron Bostrom about redesigning the park so we'll see what happens. Primo is actually a Brand under the Tipplus roof along with Lotek, Fremont and Integral Tip also distributes Federal, Eastern, KGB and Colony.
There really hasn't been any huge changes to some of the products you guys have had like the powerbites changing to the hollowbites in the last few years. What do you guys have planned for new products, changes to current stuff, or discontinuation of other products? What can people expect to see product wise as time goes on that have been talked about and planned?
Well right now we are working on a lot of signature stuff, Tony Neyer will have a stem and Sprocket that he designed with our engineer Anton and a Kurtis Elwell grip. We have playing around with our Mix hub to update that a little, A drive side hub Guard should be available soon as well as a collaboration Grip between us and Lotek there are few other things but that we should see come about in the next year.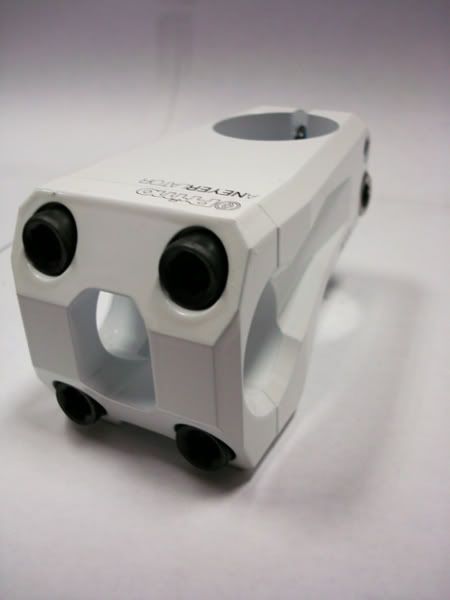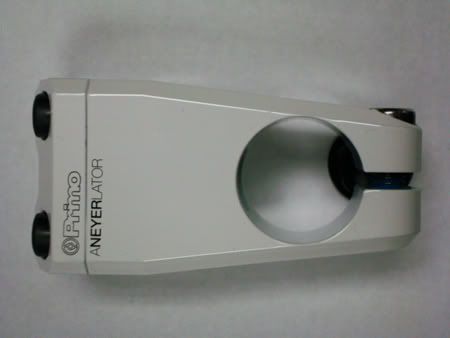 The new Tony Neyer stem
What about softgoods and other little things like stickers and stuff, is there any new designs or cool things in the works at all for that?
Yeah we actually have some new shirts in right now.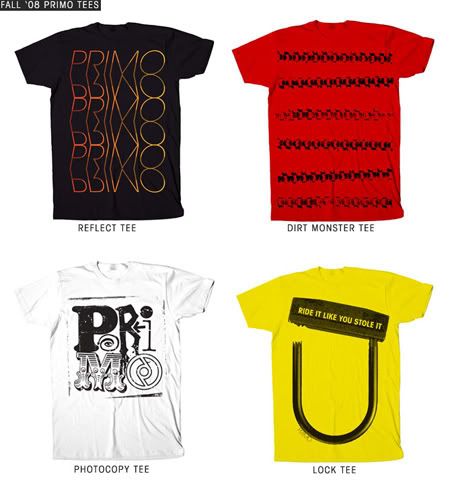 The new Primo DVD What!? is in the works right now. What can we expect from this DVD, who all has parts, where all have you guys been filming, whose in charge of the filming and editing, when will it be out, etc? Everything you got on that for us works!
Well for starts the name will most likely change and the whole team will have parts and anyone on flow who comes through with enough footage will have a part too, so far we have done two trips for the video one to AZ and one to Nor cal another one Planned in Toronto. Glenn PP Milligan is in charge of the filming and editing. Im hoping to have it released in November.
Will there still be web edits and stuff popping up from time to time?
Yeah will still have web edits popping up from time to time.
Clearly there have been a few changes in the team lately with Corey, Nathan, and Dakota taking new paths. So who is all on the Pro team now? Who is on Flow, and anybody else you guys hook up? Will there be a few new additions to fill in those spots or what is the game plan right now with the team?
The team now consist of Tony Neyer, John Heaton, Brian Foster, Josh Stricker ,Kurtis Elwell, Anthony Flores and Manual Cantero. And the Flow team is Sam Lowe, Tony Malouf and Lee Dennis. And there is a long list of riders we help out from time to time. I'm not really looking to replace the guys we lost right now the team is really good and everyone gets along well so all is good.
What do you have planned road trip wise for What!? and just other team things. Will any of the team going to be appearing at the Dew Tour, X-games, or other contests anytime soon?
Right now like I said we planning a trip to Toronto, and possibly Germany. As far as contest's I know Bf is in the super park for x games that should be pretty cool but I think everyone else is pretty much chilling on the contest scene unless its something fun like Brawlin at the Belmar or a local contest.
Being team manager you have clearly got a lot of stuff going on, how do you go about picking new guys for the team? Are you into kids sending you videos or how do you do things now days?
Picking new guys for the team is pretty hard usually it's a recommendation from someone on the team but getting a few sponsor me tapes every now and then is definitely entertaining.
What are the main goals for Primo as a company? What is the future looking like for the brand? And what can we expect as a whole in the next few years?
My main goal for the company is just to make sure it stays a reliable parts brand with a team that stands behind the product we make, the next few years hold a lot of possibilities just keep an eye open for us.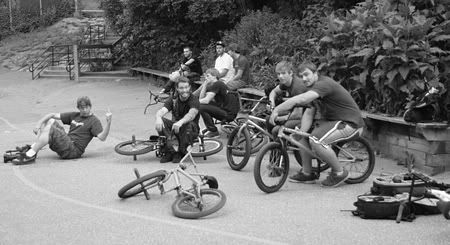 If somebody has an issue with a product and has questions about warranty or how-to's to make it work who should they contact?
They should call Eric Cuiper 1-800-821-9443 ext 153 he does all the warranty and will definitely help you out with getting what ever is broken, fixed, or replaced.
Where can people pick up Primo products? And if a shop or distributor does not carry you guys yet how can they go about getting Primo in their store or warehouse?
Anyone can get primo products at any bike shop that has an account with Tipplus or any of our Distro's world wide. For a shop who doesn't already have an account with Tip all they have to do is call and talk to a sales rep and they will be able to set them up with a dealer application and get them going.
Is there anything else you would like to say?
Just thanks to everyone who has supported Primo over the years.

Brian Fosters Primo edit from PRIMO on Vimeo.

John Heaton Primo edit from PRIMO on Vimeo.