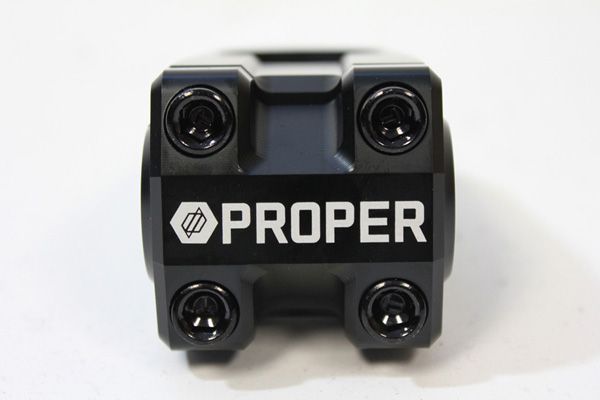 The first thing I always think of when I think about Proper is their hubs. I'm not sure why that stands out, but I just remember back in the day seeing somebody spinning their front hub and it spun for a few minutes. It was the craziest thing, and I have always held that as a indicator in the quality of products the brand has produced since their inception in 2002. Over the years Proper have grown from a small company to a worldwide brand that has continued to always focus on quality over quantity.
I was recently talking with brand manager, Jamie Cameron, and he was giving me a little insight into some of the new projects they were cooking on. While we were talking about things all I could think is that they were well overdue for an On the Horizon. I know Proper is a well known brand, but I don't think too many people really know too much beyond their products available and the team. So I tossed out the idea and we went to work.
This one is pretty special because not only do you get a real good understanding of the brand, we've also got a bunch of SNEAK PEEK shots of their new products that aren't available yet, but will be soon. So let's get into this already!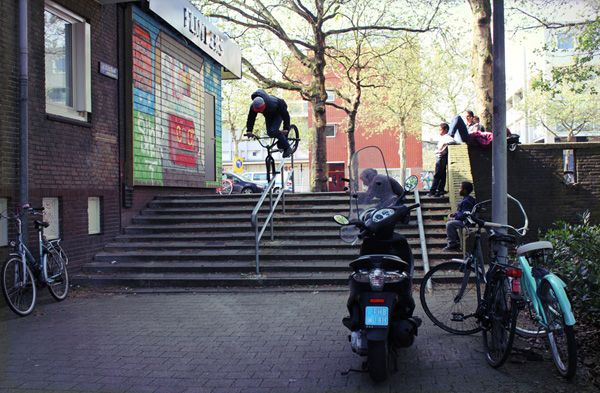 Shaun Jinks – Amsterdam
Let's start this out from the beginning. When did Proper get its start?
Proper started in 2001. Carlo (Griggs) had a head full of ideas and years of experience in what does and doesn't work. Being sponsored by Haro, GT, Skyway, 2-Hip and Wethepeople back in the day provided a ton of experience to put into the first batch of frames.
Who were the originators of the brand? Are they still running the show?
Carlo started the brand and still owns 100% of it to this day. I think there's quite a lot of "some and mirrors" in the BMX industry regarding who exactly owns what but thankfully we don't have to worry about that.
Where are you guys based out of these days? Has the location changed over the years as the brand has grown? Any plans of expanding any time soon?
We started in the back of an amusement arcade in Pagham on the South Coast of England. It was awesome in some ways (we had amazing ramps right outside) but we ran out of room eventually. We had to move to a nearby industrial unit and that's where we are right now.

Mike Miller – Kortijk, Belgium
Other than you, who are the people that keep Proper running on the day to day? Owners, product designers, graphic designers, marketing down to the guy who cleans the toilet for some free parts.
Carlo is still very much 'hands on'. Proper has become something we're all very proud of, but he still has final say over pretty much everything.
I handle most of the mundane day to day stuff; emails, social media, speaking to distros, suppliers, and media outlets.
Ben Marvin has the Solidworks skills. He also builds custom wheels, handles technical enquiries, warranty and bar-spinning duties. Steve handles dispatch and warranty when Ben's away.
The product (which is the part we're most interested in) is a collaborative effort. Having a minimum of three passionate people (not forgetting team input) involved in any one project should act as a pretty effective filter against putting out crap.
Jon Sykes handles the accounts. Then we have a team of people who work freelance; Toby Goodyear (aka Tonash) handles video duties for the most part, Chris Gordon helps us out with some design work, and Max Wood just started out helping with team and promotions.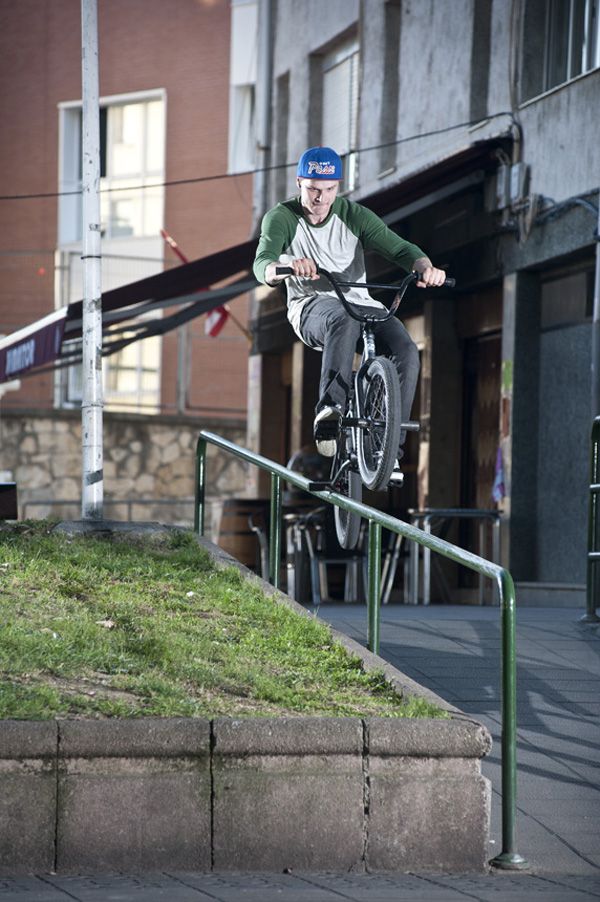 Janis Cunculis – Biblao, Spain
What is your official role with the brand? What is a "typical" day like for you; if you get one of those?
Something along the lines of Brand Manager. I've been friends with Carlo since way before Proper came about, so we've never had official roles. Proper grew organically to where we are today.
It's a bit of a cliche but I don't have a typical day. I usually start by checking emails, the internet, and social media over a cup of coffee. The rest of the day is rarely ever "typical". One day I could be shooting catalogue photos and the next on a trip somewhere obscure in Europe.
It sounds like 2013 will be a good year for you guys. What kinds of products do you have in the works that people should keep any eye out for?
We're not one of those brands that stamps our logo on a whole range of generic product and sells itself off the back of a crazy team. Some products take literally years to develop. We pioneered the use of bushings in cassette hubs and pretty much every other brand uses that same technology now. We've got ideas in development that are slowed right down because we're having to deal with patents. Obviously we're not able to get into that right now.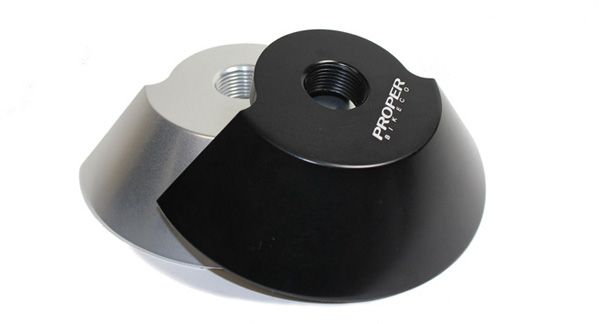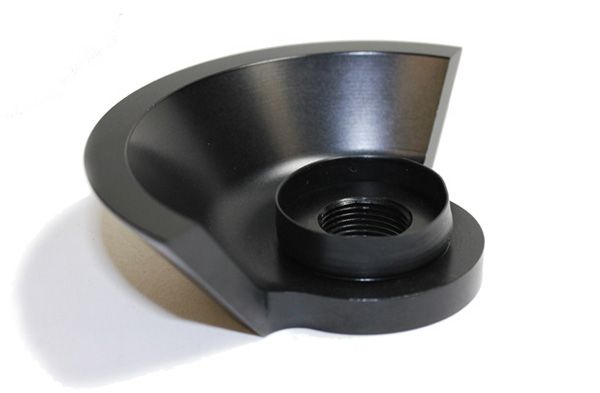 Sneak Peek: Drive Side Hub Guard
Our emphasis is on improving and refining the product we already have available, looking at how we can use new developments from other brands in the BMX industry (when we believe in them), and bringing the parts we don't already make to market (after we figure out how to improve on what's already available).
We stopped making forks for three or four years while we worked out how to build them as strong as possible. Without the restraints of time we've been able to test them properly and we're happy with the results. Those will be out in time for Christmas, alongside a drive-side hub guard, a refined version of our brake, and some new colorways.

Sneak Peek: Proper TTL fork
How about soft goods? Does Proper have anything fresh in that department?
We've got a backpack that's at sample stage right now. It's loosely based on the best BMX backpack of all time (an old Little Devil bag) but it's been updated with the stuff you need in 2013.
We also have a range of t-shirts, hoodies, and beanies but we're not going nuts with it. Most of our team already have a clothing sponsor. I totally respect what Animal have done with their soft goods line but you've got to stick with your passion, and for us that's parts.

Hell yeah! I remember having the Little Devil backpack. Rad to see this. – Kurt
The last time I had the chance to talk with you, a lot of the new products were still in prototype stages. How has testing been going? What is your favorite new product in the development stages?
We haven't had any samples that needed significant changes since the Trawlerman frame (those were mainly cosmetic), so we're on a good run.
The new cassette hub is the product we're most excited about. It's a new system. That's about all I can say for now. We only just got a working prototype but we're confident it's going to be a 'game changer'.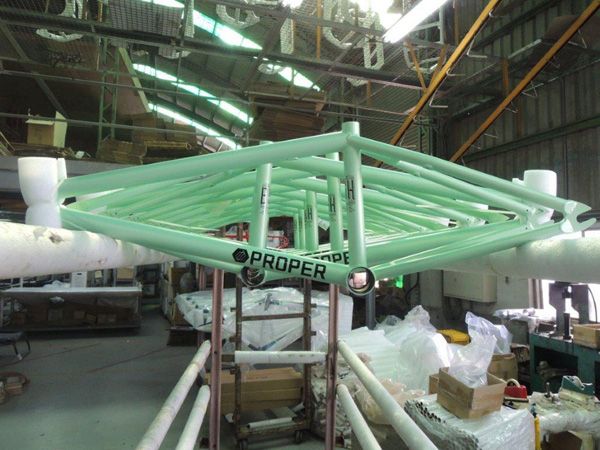 Sneak Peek: Jade Green BSH frame.
Do you have anything still under wraps that won't be dropping with the first batch of 2013 products? Any hints at what you guys have cooking up?
We have samples of a nonagon (Odyssey Thunderbolt compatible) sprocket and a couple of kevlar seats (that are compatible with Fly's Tripod system). Those are two new technologies that we see value in and will be getting behind.
We've been testing tyre and crank samples (two products we don't sell yet) for quite some time. There is still some work to do on both. You can't rush through innovations, so those might be a while before they get to market.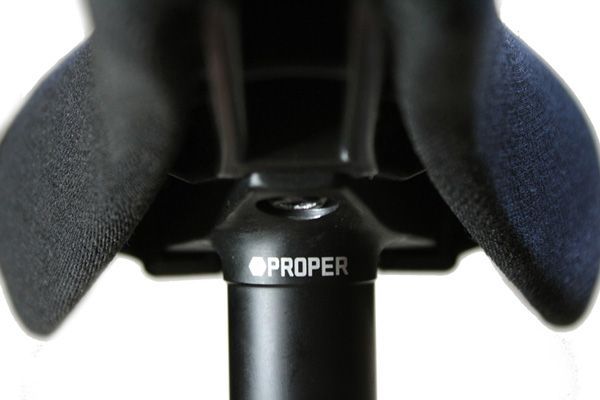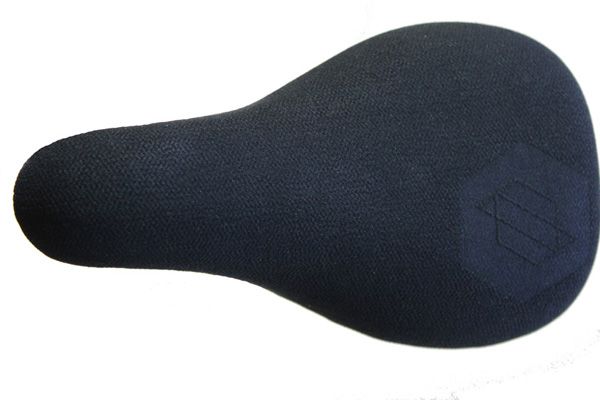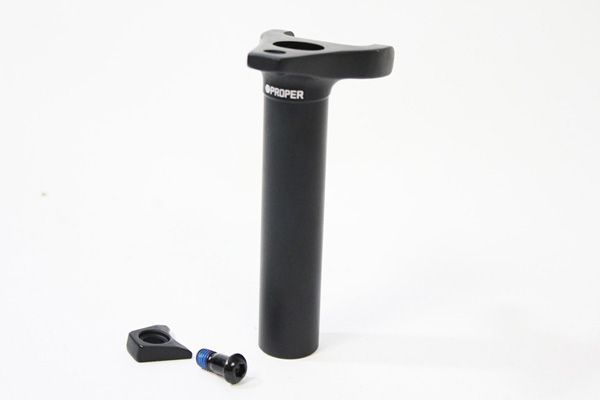 Sneak Peek: The new Proper seat with Fly's Tripod system!
When can we expect to start seeing all of the new products hitting shops and distributors?
The Tripod seats and Nonagon sprockets will be Spring 2013. Along with a couple of surprises.
It seems like a lot of brands have been adding sub-brands to their line up for aftermarket parts and accessories so they can do things like complete bikes. Do you guys have any plans of doing another brand or even expanding into complete bikes or other styles of bikes outside of BMX?
Carlo and Ben both have single-speed road bikes versions of our BSH frame with a ton of Proper parts on board but there are no plans to do a production run of those. We're a BMX brand. I'm sure we'll continue to look for opportunities within BMX because that's what we know and love. I don't see us making completes bikes any time soon. That market is flooded and we can't see anything we could do to improve on what's already available.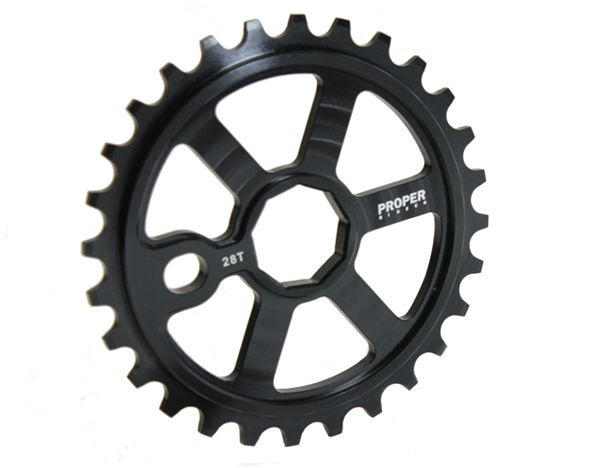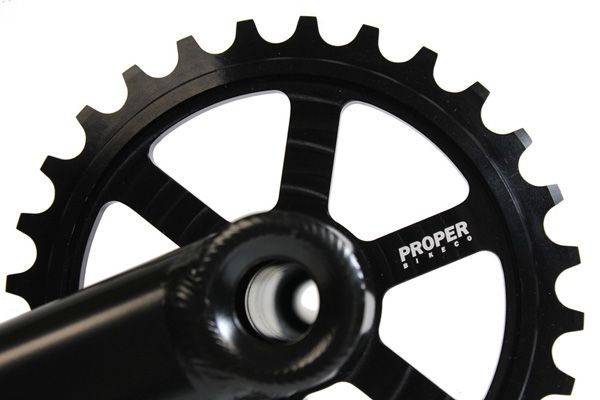 Sneak Peek: Nonagon Drive Sprocket
You guys have always had a pretty dialed line up for dudes on the team. Who's currently all on the pro, flow and hook up list these days?
We have some absolute shredders who are hooked up through distros around the world but the main guys at the moment are Mike Miller, Max Wood, Shaun Jinks, Janis Cunculis, Jamie Guile, and Sam Cunningham. That's not the entire 'pro' team but those are the lads you'll be seeing more of this year.
There's a lot of companies all fighting to have the most productive team and the wildest web edits, so we leave them to it, support the riders we like, and get on with making the product good enough (hopefully) to sell itself.
Do you guys have any plans of expanding the team in the near future? What kind of advice do you have for the people out there that want to ride for you guys?
Definitely. Sean Kelly just dropped his 'welcome to' edit and there's probably room for another lad on the 'pro' team if we find the right person.
I don't have any advice for anyone that wants to ride for us. We choose the riders, not the other way around.
We aren't the team that's all about contests. We usually just travel to cities and try to find all the cool spots to film some clips on, chill, and have a laugh.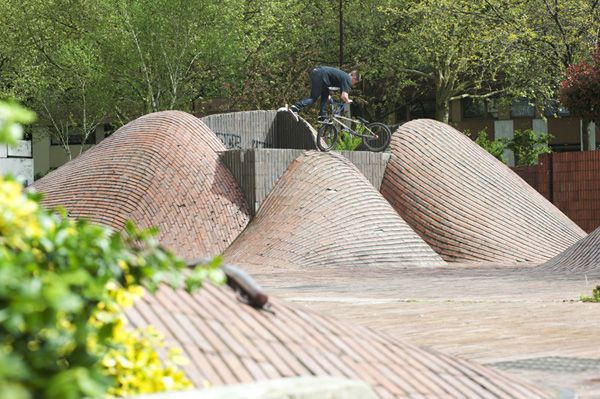 Jamie Guile – Lille, France
It seems like everyone is doing a lot of shop tours and full team trips to film for different projects. Do you guys have any trips or videos in the works that you can tell us about?
Miller, Max, and Shaun were on a shop tour in Poland a few weeks back but Shaun got injured early on, so the edit for that is fairly modest. We had another crew out in Bilbao, Spain at the same time and they came back with some banging clips. That edit should be dropping within the next week.
Miller and Janis were in France this past weekend. Max is filming today with the Crucial team. Some of the lads are headed to Scotland to ride all the amazing indoor parks there next week. There's always something happening but we probably wont have a full team trip until next year. Northern Europe is pretty much a write off. The weather sucks.
Let's say a shop or distributor would love to get some of your new product on their shelves. Who should they contact to get Proper in their stores and warehouses?
Info@Properbikeco.com
Are you guys looking for distribution in any countries in particular?
No. It would be nice to have the product available to riders in every single country but we're close to that already.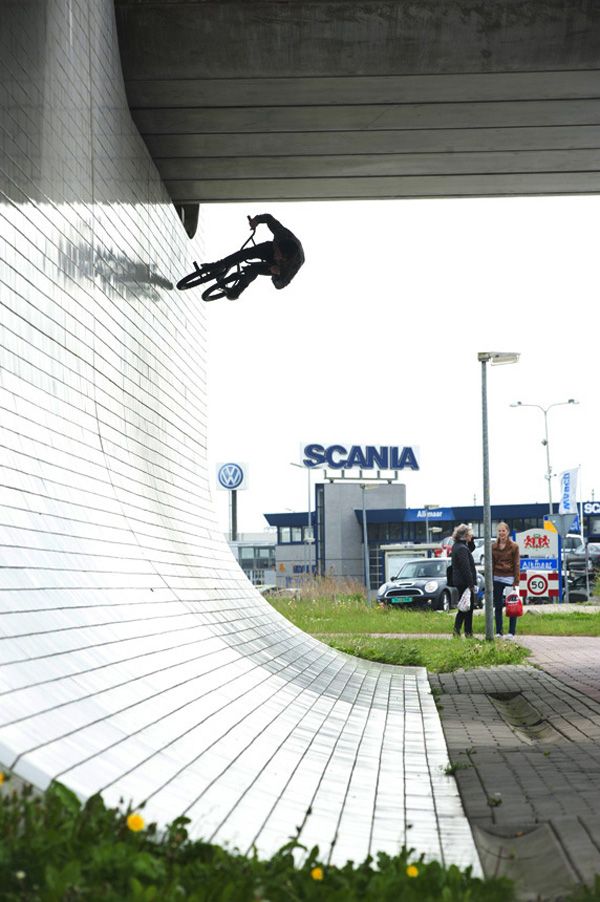 Mike Miller – Alkmaar, Holland
What kind of warranty do Proper products come with these days? Let's say somebody has a defect on a frame. Who should they contact to get things resolved? What kind of turn around time can somebody expect?
We have a one year warranty on all our frames. If the frame is defective then we'd expect that defect to become apparent way before that year is out. If you happen to find a defective frame then contact the place of purchase or the local distributor direct. In the UK that's us. We turn around warranty within 2 working days usually. We don't have every single frame in every size and colour available all the time… you'll be offered a suitable replacement (but maybe in a different color) right away. If you want to wait for an exact replacement then we're cool with that as well.
Let's say somebody has general questions about the brand or a specific question about a product. Who should they contact to get some answers?
Info@Properbikeco.com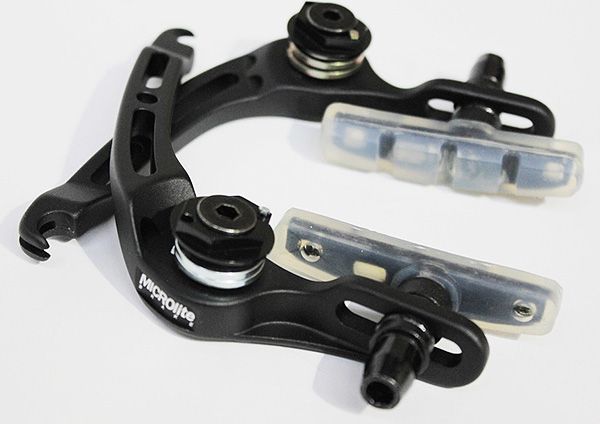 Sneak Peek: 2013 Mircrolite brakes
How can people keep up with the brand these days? Are you guys on Facebook, Twitter, Instagram and all the other social networking sites?
All three. The Facebook just recently switched to 'fan page' so go like Proper Bike Co for all the most recent updates.
Instagram and Twitter – @ProperBikeCo
Is there anything I missed you would like to say?
I think I've said most of it.
As a brand we're constantly trying to create something – we're looking for new ways to improve on the product that's available to our customers. As a team we're looking for fresh riders, virgin spots, and new cities to explore.
In my mind it's far better (but a lot harder) to create something new than to simply pin your badge on a product, a rider, or a spot that's already widely known.
To find out more about Proper Bike Co. and their products, check out ProperBikeCo.com!