When we started working on this On the Horizon piece with Sputnic it was right around the time Johnny Devlin had broke the news that he would be moving on to new projects and leaving his position as team manager. So, with that and the usual changes always going on with companies now days it was a good time to catch up with them and see what was going on. Dave Erecitano who is the sales and distribution guy took some time to answer some questions.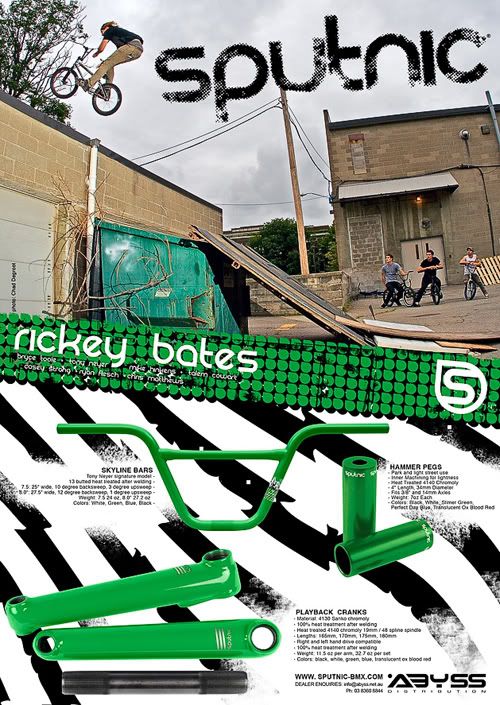 When did Sputnic originally start and where is it based out of?
Sputnic BMX has been around for about 5 years and was originally from Germany but now resides in Orlando Florida.
Who are the other people involved in Sputnic nobody ever hears about? From designers, team manager, to help around the warehouse, to the guy who gets the coffee? About how many people does the company employ?
As many of you know Sputnic BMX is a part of Sparky's Distribution, so we are really lucky to have all of this support. Sparky's has an amazing crew of people that help in product development, web design, graphics, from packing orders to collecting the money and paying bills. Big shout out to Ronnie, Greg, Rachel, Mike, Ashley, Mark, Eddie, Chip, Evan, Byron, Mr B, Arnaud and all that have helped us along the way!
The product line for Sputnic has been looking real good lately, what are some of the top selling products and what are the plans for the rest of 08′-09′ for new products?
Thanks for the kind words. Everything has been doing great! The new Skyline and Vow frames have been really well received. And the Sputnic Playback cranks and Rewind hubs have been killing it too. We have a bunch of new products coming out for early Summer so we'll keep you posted about those on our site.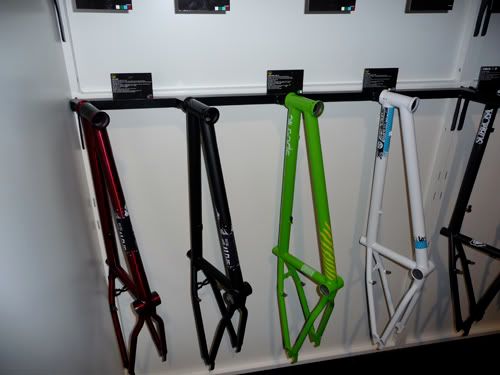 Is there any new softgoods in the works at all?
For sure, Sputnic is releasing a bunch of new soft goods that will be hitting the streets and store shelves in Spring 2009 .
What is the current team looking like from pro to flow, and is there any plans for some new additions or people leaving?
Well, as many have heard Johnny Devlin is stepping down as TM to pursue a life of helping others. We are super stoked for Johnny and as far as we are concerned he will always be on Sputnic. So that is the big news of who is leaving Sputnic, but as for who the Sputnic crew is, these guys are super down and are truly a part of the Sputnic BMX family : Tony Neyer, Bryce Toole, Rickey Bates, Mike Hinkens, Talem Cowart, Casey Strong and Ryan Flesch.
We also have some international flow riders like James "Bruza" Ivett in the UK and Australian rider Chris "Flagz" Mathews. You will see more of these dudes and the rest of the team on the website for sure.
Is there any road trips or videos in the works from full length to web videos anytime soon?
We just dropped a web edit of Rickey Bates and Johnny Devlin which is posted up on our site now. Casey Strong is filming with Grant C. as we speak to drop another web edit in the coming weeks. Everybody in the crew is in the mist of knocking an edit out, so look for more in the coming months. In 2009 we plan on doing a lot of road trips but those details are still in the works. Check out our website for more information as things happen.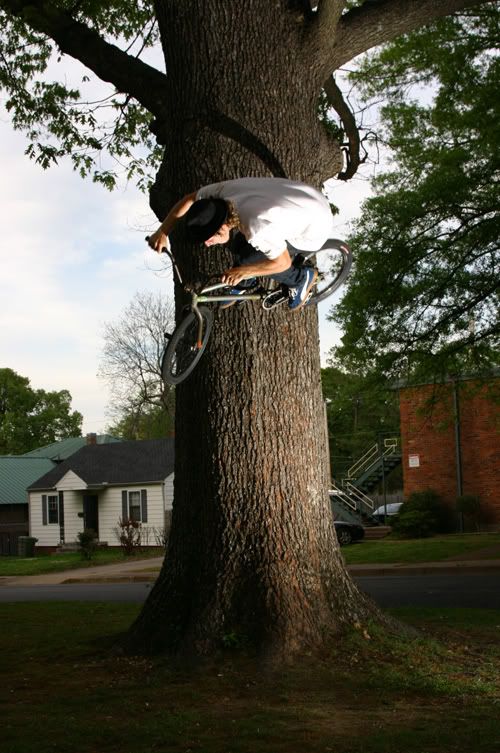 Do you guys have any contests or deals going on at all through the Sputnic website or events that will be attended?
We will be at the Baco Jam and will be set up under the Sparkys Distribution tent. Come on by and hang out!
How do you go about finding new riders for the team? Do you do much with sponsor me videos or is it more word of mouth now days?
Mostly the team picks the riders, as they are the ones out there in the streets. We are not opposed to riders sending in videos, but we are really down for the organic process of picking riders.
So lets say a kid cracked his frame, what is the warranty department looking like, and who should they contact to possibly get it fixed?
We fully stand behind our products. If any riders have an issue they can go to www.sputnic-bmx.com and click on the button for warranty info. It will then take you to an area that you can easily fill in all your information and attach photos of the issue. Once this is submitted we will contact you back within one working day.
What if people have general questions or want to see if Sputnic can sponsor their event. Who should they contact?
All inquires would go to info@Sputnic-bmx.com and their questions will be replied to promptly.
What are the current goals for Sputnic and where does the company see itself in 5 years?
Just livin' the dream and making parts for BMX that we can be proud of. Whatever else happens is just icing on the cake of life!
Where can people pick up Sputnic product, and who should shops and distributors contact to get Sputnic in their shops and warehouses?
Retail shops can contact Sparkys Distribution (407-599-7255 ext 102 ) or www.sparkysdistribution.com and riders looking to purchase products can contact their local bmx shop or mail-order stores like Dan's Comp, OBMX and Staff Bmx.
Is there anything else you would like to say?
Thanks again to you for looking out for us, and thanks to the team and all the riders that believe in us with their support of our products!
Check out more videos on Sputnic's video page.