Clearly one website that you should be aware of is DefGrip. Why? Because it is one of the top BMX websites with some very creative people behind it. To be entirely honest it was one of the few big influences that got me into doing this site. I caught up with the big dog Harrison Boyce to see what the story is behind the site, whose involved, and what is to come from them. Enjoy.


For the kids who aren't really familiar with Defgrip, What is it all about and when did it get its start?
The first post was on July 5, 2005 at 11:42pm. It's pretty crazy that I know that… Actually the first version of the site was just done using blogger and is still up. If you want to check it out, you can see it here – www.defgrip.blogspot.com
On average about how many visitors a day/month does the site get?
We get quite a few hits, but one thing that is interesting is to see how much the traffic spikes when we post BMX videos. We try to have a nice variety of content on the site, but if we only posted BMX stuff, our traffic would be quite a bit more.
Who are the original people who started the site and who are the current contributors and just people associated with the site?
The original crew was me, Rich Hirsch, and Andrew McMullen. A few months after the site was launched, Ardelean hacked into the blog somehow and started posting (for real! http://defgrip.blogspot.com/2005/10/intrusion.html) and then a few days later I asked Nuno to join the crew. We didn't add a contributor for a while after that, but the next dude was James Fairbank, who started blogging in November 07. Next was Josh Clancy who came on board in August 07 and the most recent contributor to join is Chad Shack who has been blogging since March 08.
What kind of content can people come and find there? It isn't all about BMX all the time right?
We really try to mix up the content, but it's mainly just an extension of our personalities. We are all BMXers that are into BMX as well as a wide range of stuff. Aside from BMX you can usually find content about photography, graphic design, architecture, art, music, movies, technology, and just youth culture in general. We are trying to give BMX a look into the outside world as well as showcasing BMX as best as possible.
Who are the people in charge of the coding and design of the website and what kind of work goes into that typically?
I'm in charge of most of the design and all of the coding. Nuno and Chad put together some smaller features, but I do everything else. The main blog was built using WordPress and I've been super happy with that blog platform, but the rest of the site is hand coded and has to be manually updated. I really enjoy doing all the design and site work, but I feel our content suffers because it's more of a lengthy process. For example, I have two Autophotos, some photogalleries and a few interviews sitting in my inbox waiting to go up on the site, but since I've been super busy, I've been unable to work on them.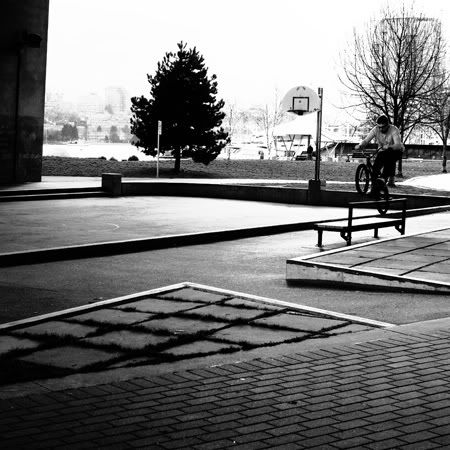 Photo Credit: David Lang
Did any of you go to school at all for web design or anything along those lines or was it something more or less self taught?
I have a degree in graphic design and many people don't know it, but Nuno has one as well. All the other guys are self taught.
What are some of the tools you guys use for updating such as computers, photo and video cameras, editing software, and everything to keep the site updated and fresh?
We are all on Macs… Off the top of my head Nuno's got a MacBook, Andrew's on a new iMac and a PowerBook, Ardelean is on a old 12" PowerBook, Rich is on a iMac but he changes computers so much that he could be on a PC for all I know… Haha! Josh Clancy's on a G5 and a MacBook Pro, Chad's got a G5 and a MacBook Pro, James… Actually, I'm not sure what James is on… I have a black MacBook and a G5. The blog is built with WordPress and the whole Adobe suit is heavily used as well as Apple Final Cut and After Effects. For cameras, there's a wide range, but Nuno rocks a Lomo, a Minolta XG-9, and a Panasonic DMC-LX2K. I use a Canon 1D Mark II, a Leica D-Lux 3, and a Canon Canonet as well as a Panasonic DVX 100b for video. Chad uses a Panasonic HVX200. And Andrew has a Sony VX2100, a Nikon SLR digital and film setup and a Mamiya RZ67.
It would seem like the site is more of something you guys don't look to make money off of it but just to showcase what your all into?
Yeah, exactly. We all have jobs and this is just something we do for fun. We do have some amazing advertisers who help us out quite a bit and it's really rad to have such great companies supporting us!
The people involved in it are all people of the industry, from TM's, photographers, videographers, designers, riders, and owners, do you feel like having all these people who are involved with the industry makes the site more successful and unique?
The fact that all the people involved are part of the industry has been great for the site. It definitely helped kick start the thing and we were getting way more hits from the start that I could have ever expected. And I think that was a direct relationship with who was behind the site. Not too many people knew who I was at the time, so having Ardelean and Rich involved definitely validated what we were doing. It's also been a benefit because it shows that people who live and breath BMX every day are into some rad stuff and that there is more to life than what's inside the typical BMX bubble. We are definitely all consumed with BMX, but almost equally, we are consumed with other things, like design, art, music, etc.
What kinds of problems could you typically run into when running a website that has a lot of traffic?
Over the past few years, it's been surprisingly smooth as far as traffic goes. We did have the big domain fiasco that most everyone knows about, but once that got sorted things have been good. We have the site hosted with Mediatemple and they have been great. We've posted a decent amount of videos and have been fine, but we did run into a bandwidth problem a few months back when the Ian Schwartz and Garrett Reynolds were posted, we went over and the site was shut down… The only reason the site went down was because I had no idea what was going on. I was in Mexico with no internet!
What kind of advice do you have for people who are looking to start up a website?
My advise would be to find a need in the internet world and fill it… There are soooo many websites, but there are still a lot of ideas out there that haven't been used. Also, a lot of people have this idea that it's super easy to run a site. Take Adam from The Come Up. He's received a lot of criticism because people say all he does is post other peoples content… There is a few things that they don't realize… He created the site to post other peoples content. He's not trying to claim it's his, he's just a filter for all the crap out there… And it takes a lot of work to keep up a site… I've seen a lot of people that have a great idea for a blog, they get a few posts going and then never follow through. To have a successful site you not only need to create new content constantly, you need to get your name out there, spread the word, and market like crazy. That can be as simple as posting comments on other peoples site, to making stickers and shirts… You also need to be ready to take the crap and shit talking. No matter how positive your content is, the shit talkers will be there.
How can people get involved with writing, photography, videos, and things that typically get showcased on Defgrip? Is it something you guys typically do or are you into letting outsiders in?
Yeah, we are always open to working with new people. Everyone that is now part of the site, we've got to know just by emails or comments. With Nuno, he just hit me up to tell me about a new album, we started emailing back and fourth and it went from there. We always take submissions for photos/autophotos and the same goes for regular content. If we are psyched on it, we'll post it!
Is there any big projects like videos, trips, or anything along those lines in the works at all for the Defgrip site/crew?
We are always working on new projects and we are going to try to get more videos going. I definitely feel that video is the future and we have a lot of great video projects we want to work on.
Is there any plans to re-design the site anytime soon or are you pretty well set for right now and how it all looks?
I've been working on a facelift for a bit, but I haven't got too far with it… It's definitely on my list, but it's not at the top right now. I'm also going to work on some updates as far as the functionality goes… Like I said before it takes so long to get all of the features posted, so I want to build more of that stuff into WordPress and make it much easier and more efficient to update.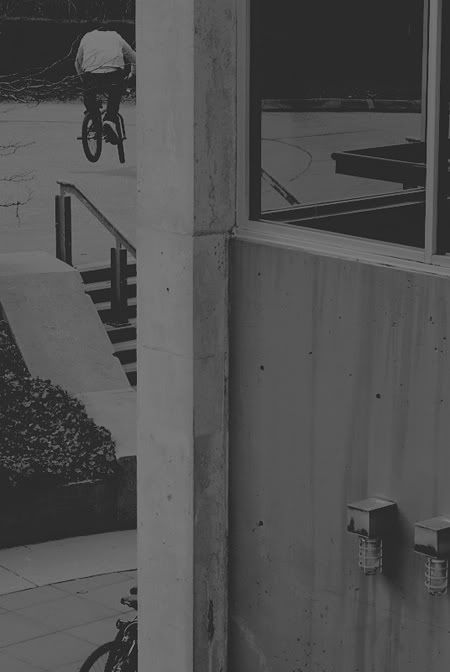 Photo Credit: David Lang
There are some Defgrip shirts that are available, do you guys have any plans for new designs or other Defgrip products anytime?
Yeah, we are going to get some new shirts going soon. It's pretty hard to run a clothing program at such a small scale. The amount of money and time I put into the first few batches of shirts just wasn't paying off, but I really enjoy doing it and as long as things go as planned we'll be doing clothing from here on out.
What else could you tell us about the site or the people involved that maybe nobody really knows about?
All the guys that help out with the site are amazing. Nuno, Ardelean, Chad, Rich, Andrew, James, and Josh… If it wasn't for them, Defgrip wouldn't be what it is today. Also, all the viewers. If it wasn't for them I don't think the site would still be around. It always gets me so pumped up when we spend a bunch of time to create some new content and the hits go up like crazy. It really lets us know that people care about what we are doing and we really appreciate every single person that checks the site.
Anything else you would like to say?
Thanks to everyone who's contributed, everyone who's checked the site and especially Nuno, Chad, Rich, Andrew, James, and Josh. A huge thanks goes to my fiancé Michaela for letting me spend countless hours on the computer when I should of spent them with her. And a big shout out to anyone in BMX that's doing dope stuff!
Remember to go check out Defgrip.net> right now!