When Osiris brought back their BMX program I took some notice of their shoes for the first time in a while. I guess I've always felt like if a company didn't have a BMX team, I couldn't see myself riding their product. Kyle Carlson, the Team Manager for Osiris now, had asked if I was into any of their Spring 2009 line. After trying out mid-tops for the first time on my last pair of shoes, I figured I'd give theirs (Chino Mids) a shot. When they showed up I was stoked to see an extra pair of their Diablo's in the box also. So, here is what I thought! First, a look at the shoes in this video I pulled together…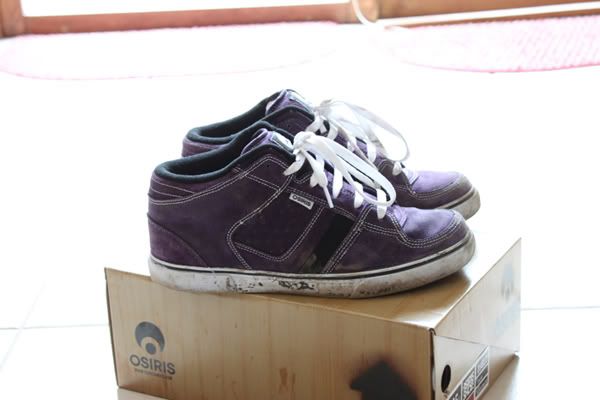 I'll start out with the Chino Mids. There were a few things I really liked, and a few things I wasn't a fan of with the shoes. First off I'll say these shoes look very similar to the older Lotek Night Wolfs. That isn't a bad or good thing really. I just noticed my buddies shoe looked pretty similar to these shoes. I think he said he was thinking about trying these out since his were wore out and didn't think they made the ones he had the same anymore.
I guess I fell for the trap of the mid-tops since I like a little more padding around my ankles when I am riding now days. The shoe itself was snuf and comfy. They were grippy right off the bat and really didn't take much to wear in either. They were a little less stiff than I prefer, but still not bad enough to really bother me too much. I noticed when I landed a little harder I could feel the outline of my pedal. I'm not really a big fan of that feeling, but I guess dropping a little harder it can be expect.
I'm not a big fan of the color purple, and believe it or not I almost questioned if my shirt went well with the shoes when I first got them… then I remembered I was going to the skatepark. (Who am I going to impress there? The 15 year old ramp tramps who are probably chaining cigarettes?) I'm sure there are dudes out there looking for a little color in their step so that might just be your thing. If I could do it over I'd probably get the black ones, but once again its personal preference on that one. I should also mention I noticed the color fading a fair amount in places where it must have rubbed a bit. It's a suede material so that also can be expected due to wear and tear.
Another plus was when I wore them to the trails, they got a little muddy. The dirt came off pretty easily with a few slaps to the ground. I know pretty much any shoe will have that happen, but I think the pattern works a little better for this situation.
If you are a rider looking for a mid-top with a vulcanized sole, that has a pretty grippy sole pattern, you would be into these possibly. If any of that doesn't sound appealing to you, then maybe these aren't for you. Duh? They retail right about $71 and you can get them in most stores that Osiris deals to.. which is all the mail orders, Zumiez, Pac-Sun, and stores like that.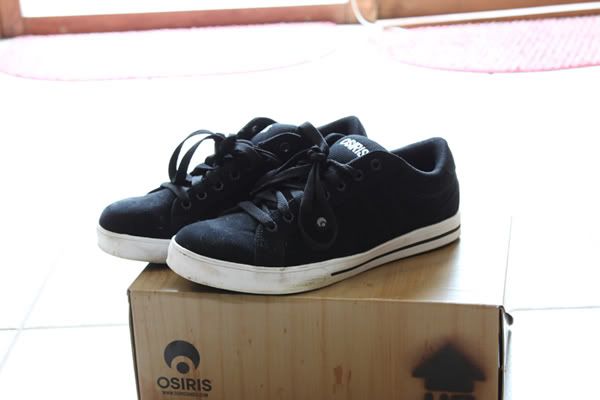 My surprise in the box were the Diablo shoe. I'll put it out there… I didn't put very much riding time into these. I guess I just liked the look of them and figured they were good shoes for parties, and just chillin' out. They are actually classified as a "Lifestyle" shoe on the Osiris site too, so I guess that makes sense? These shoes were a little loose on me around the ankles and were definitely better for just wearing over riding in. They had a clean look that weren't too over the top with all the stitching. I didn't really notice any of that annoying break in pain besides the material kind of felt like it rubbed a little bit against my socks. I suppose if I really tightened them down that would have fixed that issue also. If you are looking to ride in them, they seemed to have a bit thinner of a sole than the Chino's and were low's. They don't have much for ankle protection, but I know quite a few people like riding in shoes like that.
I guess if I were going to recommend these, I'd be recommending them because I liked them for shoes that are my non-riding shoes. The ones that don't stink because you aren't riding in them all day. They were comfortable to walk in, and looked good. And yes, they went well with my shirt choice haha.
You can pick these up in the same places as above but they retail for about $63.