When you think about it, there isn't really much that you could do to a chain that hasn't already been done. The concept is straight forward, you take links and piece them together. They are used in bikes, machines, jewelry and so many more random things. Then came along hollow pins, and cut outs in the side plates, followed by the half link. What else could there be? Well, the KMC "Knight" chain is the next innovation in BMX chains… Curious?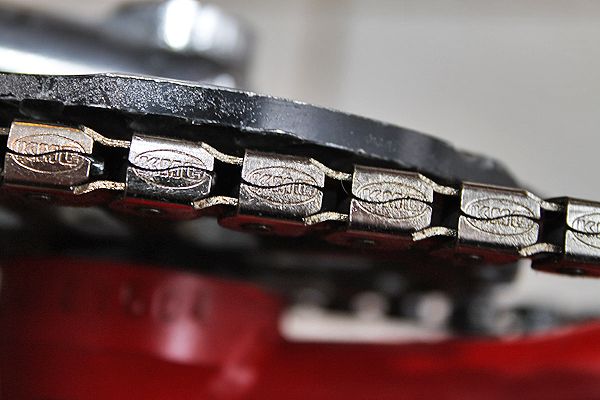 If you are a Twitter follower, you may have seen some sneak peak photos of this chain a few weeks ago. I think there was a website with some photos of a prototype. Catfish had the DK version on his bike in a video as well.
Basically, I was very intrigued by this new concept and I wanted to know a little more. Some how I convinced the fine people over at KMC to let me try out the new Knight chain. My instruction? Break it.
Well, that's easy enough. If you know me, I blow through chains like they are made out of paper bags. Not really that much, I'd hate my life if that was the case… but I've definitely broke plenty of links in my day.
So lets take a closer look at the chain itself. It's a half link chain, alright nothing new there. It has got hollow pins, alright that's a perk but still not new. It has 3 sides to it… Wait, what? Yeah, it has a top "plate" to help with the strength of the chain and make it a little more sustainable to damage.
The top plate isn't exactly a full piece, it's still 2 separate side plates. Just think of it as a "lip" to the side plates that come up together to add a little more beef where a lot of BMX chains take abuse. How many times have you found yourself grinding and then dropping right onto your sprocket and chain? Yeah, it's kind of for that.
If you notice in the pictures, I have the Odyssey MDS sprocket which has a guard. I was going to pull out an old sprocket that didn't have a guard, but I noticed when I put the chain on that it still reached over the top enough that if I made a few direct impacts it would take a bit of the blow. I opted to be lazy and keep the MDS on.
On the first install of the chain I ran into a bit of an issue. The pin wouldn't line up with the other plate and being me, I figured "Hey, I'll just crank it in there and it will slip into place…" … wrong. I ended up bending the outside plate where the pin will sit, leaving it loose. Did I notice this? Nope… I hopped on my bike and started cranking like a champ… SNAP!
"This is a good start…"
After a quick inspection I realized that one was all on me. No chain should ever be expected to survive long after being warped from a bad install. So that's not on the chain, that's on me.
I got the chain put back together and the session continued. I went without incident for the rest of the day.
For the next few weeks of riding it, the chain held up as expected. I deliberately found things that I could bash the chain on just to see what would happen. I've got people that can vouch for that one. It held up. My sprocket had a few more gash's in it too if that helps explain it.
Generally chains will start to stretch and wear after a bit, and that's normal. The chain stretched a bit, but that's nothing a quick loosen of the nuts and a tug on the wheel can't fix.
It has been smooth sailing since then. So the install failure, and chain stretch were my two real issues with it. Which the first could be avoided by the tip I'm going to drop a little bit further down, and the small stretch is unavoidable with any chain.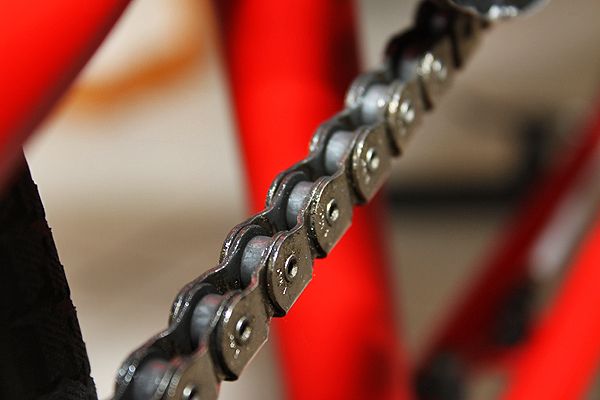 My complaint? Well, that's easy. I know there was a reason they had to make the side plates and top two separate pieces. The reason I don't really know. Because of these two separate pieces I noticed upon instal that one plate would slip under the other and that causes the hole for the pin not to line up… which leads to the plate warping and not seeding the pin tight. So, if there was a way to get the top plate to be one solid piece, that would fix that one.
The weight of the chain might be a little bit heavier due to the extra metal… but really? Aren't we over the weight weenie era of BMX?
However, that problem is easily fixed. After toying around a bit, I figured I'd just push a small flat head screw driver in there under the plates and it kept the plates from getting under each other. That made the hole line up with the pin just fine, and "voilà"! (Sorry for the mis-spelling… Apparently people get caught up on the small things in life.) A little thinking outside the box can make the problems in life easier. Sure, that means not only do you need a chain breaker, but you need a flat head when you are doing a chain install or repair if you aren't a god at putting chains together.
I also used a regular park tools chain breaker and the Shadow Conspiracy chain breaker just to see if it made a difference. Both work, so it's not going to be an issue if you have one or the other.
So what do I say? I think the concept is good, and think it is weird that nobody has done this prior to now. Is it for everyone? If you run a half link chain, tend to land or slide on your sprocket and chain fairly often… then yeah. I'd say go for it.
I'm not the most picky person when it comes to chains because I know there will be a day when I will hate the chain because I snapped it while hauling ass at something hard. The added beef does give me a little more confidence in it though.
I'm not quite sure what the chain will retail for, or when it will actually be available. This chain is a prototype, but I do know that is must be close to being released since they had me wait to do anything like this until they were ready. So if you are in the market for a new chain this might be something worth waiting a little bit for.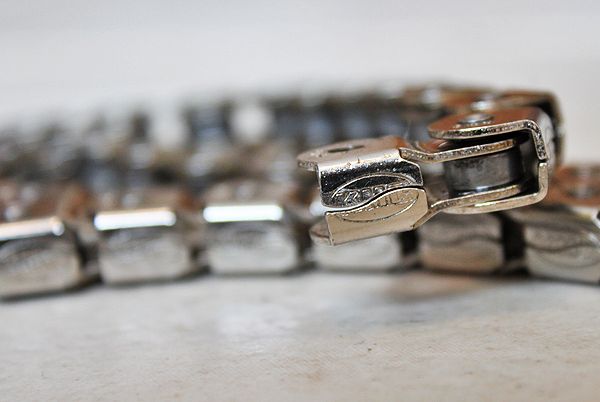 It has already been awarded the German iF award for engineering. So that's pretty cool to get BMX a little love from respected outside sources as well. This very well might be the future of BMX chains too…
For more about KMC head on over to KMCChain.com.
So that's what I thought… What do you think?