I remember a few months back when I first saw the trailer for These Days. It was one of those trailers when it got done I wanted it. With that being said the video is out now and I wasn't disappointed. This film by Stewart Munro is worth your time to check out for these reasons…

To start off the riders involved in this video are all very talented and kill it. Names like Corey Bohan, Kevin Kiraly, Kym Grosser, Mike Dies, and Justin Burns who all have full parts. Then a whole bunch of clips in the friends and bonus section from names like Ryan Biz Jordan, Dave Dillewaard, Colin Mackay, Mike Aitken, and a bunch of other guys who kill it on a BMX. That is a real good mix right off the bat.
The riding was awesome, I was totally surprised by Mike Dies and Justin Burns, who I had never heard of until this video came along. I think Stewart said Justin is only 16 and I honestly believe if the kid keeps up what he is doing he could make something out of riding. Obviously Kym Grosser had some really good riding too. I became a bigger fan of him after finally seeing the clip of him doing the nothing down the stairs which I think ended up being a cover photo for a magazine didn't it? Kevin Kiraly is a dialed rider brakes or no brakes, which he apparently took them off halfway through filming this.
Maybe I am blind or something but Corey Bohan's part really caught me off guard. He had a whole lot of street riding in it. The reason I feel like I am blind is because I honestly feel like I have seen little to no street out of him before this? It doesn't matter he can ride whatever is put infront of him obviously.
This video has something for everyone, okay maybe not flatland or racing but come on. There was a lot of clips from some amazing street spots, to amazing cement parks and a few from The Unit. There was a fair amount dirt clips from Lonny Paxton's trails, and this other spot I wasn't firmiliar with. It looked really good though. So, that is why I would say it has something for everyone.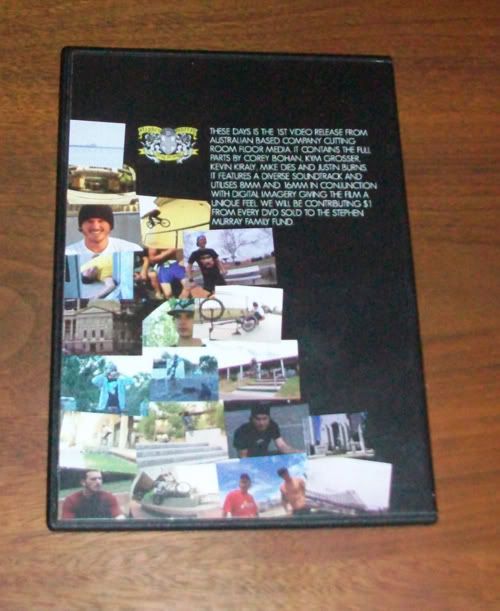 I first heard of Stewart Munro from some of his edits that were featured on Vital BMX so I figured I had a good idea of what to expect filming and editing wise. I was caught off guard by a large amount of 8mm and 16mm filming used. It gave it a really different feel since it seems like everyone and their mother is going HD these days. The whole video isn't filmed in this format so don't freak out if you aren't into that style. The editing was good. I am a pretty big fan of the basics that don't involve a ton of over editing. I just think that looks clean, which is what this video is. The titles and names were good, nothing over the top. The clips flowed, and each part moved to the next well without making you question if a part was over or a new part started.
The music was good, a little rap, a lot more chill music. I wasn't really firmiliar with most of the songs in These Days which is always nice since I am into hearing new stuff that isn't already in the web videos kids are making everyday.
Overall if my opinion matters at all to you… Which damnit it should. No I am just kidding but seriously I think this video turned out really good and is worth checking out. It is even for a good cause. $1 of every DVD purchased will go to the Stephen Murray Family Fund. So you get a good video and you can help out somebody in need.
As of right now (October 2008) the video is just getting out to the distributors, so it isn't at any of the mail orders yet. Expect it to be up on them soon though so keep checking. I will try and remember to update this with links to where you can buy it when they get it. It will be worth it! If not for a good video, do it for Stephen.
EDIT: Dan's Comp now has the DVD!
If your a shop employee/owner and have access to distributors. You can order some copies from Tip Plus in the United States, and if you are in Australia or New Zealand you can pick it up from Triple Six.