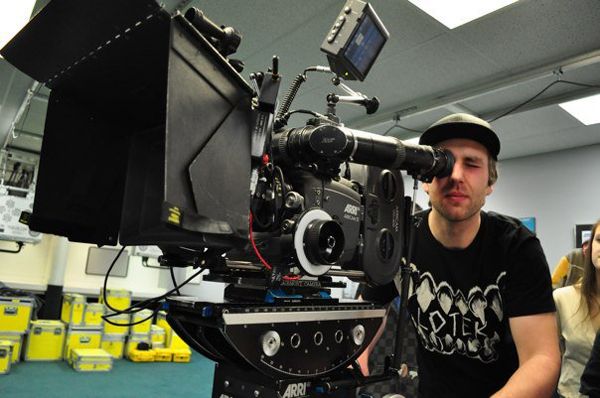 John Thompson's name has been popping up a lot the last few years with his involvement with the Blazeguard crew and as The Set's filmer. Recently, John left The Set after a short stay with the brand and started focusing fully on the Blazeguard video again. I've been a big fan of his work so it was natural that I shot him a few questions about his career path, why he left The Set, and what to expect from the Blazeguard video. So, let's take a look at what John has to say, a few screen grabs from the video in the works and some of his recent work!
Name: John Thompson

Location: Vancouver BC, but I'm currently chillin in New Zealand.
Years riding: 13
Years filming and editing: 5
What was it that first got you into BMX? Any early memories come to mind?
I was really into skating when I was younger and a buddy lent me the Zoo York mixtape video which had a Robbie Morales section in it. There was just a few clips of him riding trails an doing a manny line but I was instantly so stoked on BMX. A few days later, I went out an spent all my money on a bike and got the Schwinn vid. For the first few years I'd just ride around by myself all day then come home an watch Miron an Osato's sections over and over again, haha.
What about filming and editing? Was it something that came about because of BMX or were you into it before and brought it together?
I'd say BMX brought it about more than anything. I first got into it when my mate Dave was living down the road and neither of us were working. We would just ride the skatepark all day, then chill out with the bong and watch BMX vids all night. We'd always sit there talking about makin our own videos and eventually I ended up buying a camera off eBay and it just kind of went from there.
What kind of a setup are you working with these days? Cameras, lenses, computers/programs, lights, tripods, etc.
I've been traveling for the past 5 months so I'm currently running a super simple setup; an HVX 200a, Century .55x fisheye, Glidecam pro 4000 and a Manfrotto 501/190xb tripod. I also use a Seinheiser G2 wireless mic setup for interviews as well as skatepark and trails riding. I edit with Adobe Premiere CS4 on a Macbook Pro and back up all my raw video files onto 2 portable hard drives just to be safe. Other than that the rest of my camera bag is just filled with dirty clothes until I get back to Vancouver.
What's your dream camera setup?
ARRICAM Lite 35mm with an unlimited supply of Kodak Vision 3 film, free processing and 4k digital transfers? haha. If I had to shoot digital, I'd definitely go with an Elixa…so much dynamic range to work with. Don't even get me started on lenses, lighting, dollies, jib arms and other toys…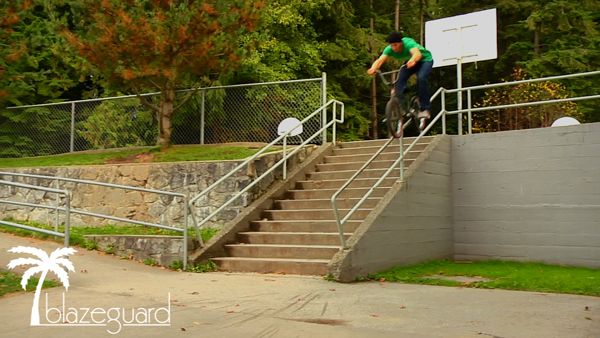 Jordan Hango Hop over to Ice. Screen grab from the Blazeguard video in the works.
You have been putting a ton of time into edits for The Set recently, but it sounds like you have been changing your direction up a bit. Care to share why you have decided to leave doing work for The Set?
I had been doing some edits here and there for The Set for awhile and a few months back was offered a full time job doing all their web edits as well as producing the companies first dvd, which I took. I quit my job and left all my shit in Vancouver to come to Australia to live and work and walked off the airplane to a 20% pay cut and things just kind of went downhill from there. I was pretty much expected to do the equivalent of 5-7 days of work a week, using all my own equipment, while getting paid per month what a 7-11 clerk makes in a week. On top of that, the owner of The Set, Marc Urlich, who also owns Strictly Bmx, doesn't ride, never has and doesn't really care about much in BMX except the money it can make him and the places it might take him. It also really didn't help that none of the sample products held up, some of which were literally dangerous to ride, but everything still went into production anyways because of the hunger to make some money. There are so many companies in BMX that do it right and The Set wasn't one of them which left me pretty unmotivated to put in work to help grow the company so we parted ways and I couldn't be happier.
How is the Blazeguard video coming along? When will that be out? Can you give us some details about who's in the video and what to expect?
The vids definitely starting to come together now and will be dropping sometime this fall. So far Kym Grosser and Jordan Hango are sitting on full sections and Jason Teet, Travis Sexsmith, Zac Miner, George and Louis Bolter, Jono Hopping, Jaden Leeming, Mick Bayzand all have a few clips each but are still going hard to get more stuff done. From the sounds of things a lot of the boys back in Vancouver are real keen to get some filming done when I get home so I'm sure that list will just keep growing as time goes on as well. As far as what to expect I'd say just a sweet time in front of the TV watching dudes kill it on a bike. You'll be getting the yet to be named full length Blazeguard video as well as all the web vids we've put out along the way as bonus. I think people should know too that if we end up making any money off of dvd sales it'll be split up evenly between myself and the riders who put in lots of work so by picking up a copy your putting money straight into their pockets as well as funding future Blazeguard video projects. After seeing so many guys in BMX lay it on the line for next to nothing, I'd love nothing more than to hook them up and be able to put some money in their hands.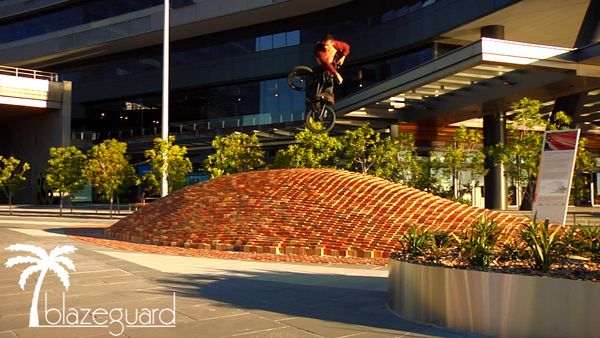 Kym Grosser Turndown – Screengrab from the Blazeguard video in the works.
Speaking of Blazeguard, it seems like a lot of people think you own that. Care to clear up any misconceptions on what Blazeguard is and who is involved with that?
Haha yeah, it's kinda funny how some people seem to think its some sorta entity or something I own. Blazeguard was originally just a joke between all the bros that kind of turned into our mutual BMX "company" or something that was all about riding, blazing and chillin' hard. Since I was into filming I ended up doing a couple little Blazeguard edits and kinda took on the video side of it I guess, though some of the other bros have put out some sweet Blazeguard edits of their own along the way as well. Blazeguard isn't something thats owned by any one person, it belongs to everyone that's a part of it.
Have you been working on any other big projects lately? When can we expect to see a new edit from you?
As far as BMX goes, our dvd is the only major project I'm currently working on. Theres aways a few web teasers and scrap edits on the go as well.
Who are you usually out filming with? Do you have a regular crew you like to get together with, or is it just whoever is around?
It usually just depends on where I am and who's keen to get some stuff done. I've always just filmed with my mates because their riding is what gets me stoked and inspires me to do what I do.
I know you split your time between Canada and Australia. Do you have a preference or are you on that pro "never ending summer" thing Bohan, Guettler and Dillewaard are on?
This year was actually the first time I'd spent any real time in Oz but it was definitely chill as. I'm pretty sure Vancouver will always be home though, rain aside it's pretty much the ultimate place to live.
Who are some of the pros you haven't had the chance to work with but always thought it would be a good time filming with?
Probably more so than anyone I'd have to say Liam Fahy-Hampton, Sam Lowe, Dave Osato and Paul Buchanaan. They're all just rad dudes that I've lived or worked with over the past couple of years that I never got a real chance to get out filming with.
Let's say you get a big budget and a van, but can only bring 5 riders on a filming trip. Who do you bring, where do you go and why?
My first choice would be all the guys that have put in tons of work in front of my camera over the past few years; Jason Teet, Jordan Hango, Kym Grosser, Mick Bayzand and Travis Sexsmith. To be able to hook those guys up with an opportunity like that would be amazing. I'd probably choose somewhere like Hawaii or New Zealand…laid back places with amazing scenery, nice beaches and sweet riding.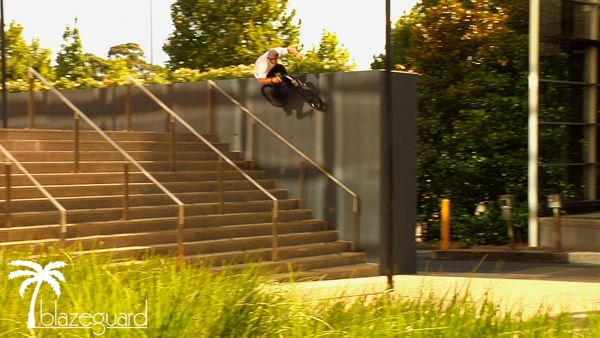 Zac Miner – Wall ride – Screengrab from the Blazeguard video in the works.
Do you have any horror stories from filming? Stolen gear or anything like that?
Actually, just the other day I was filming a gap to ice with Kym when security rolled in and somehow in the confusion of packing up and getting out of there my tripod fell over and sent my camera lense first into the ground. It looked like it was game over as the camera was dead but miraculously a few hours later it sprung back to life. Maybe it was a sign we had to get shit done? haha
What kind of time do you put into this? I know the process is pretty time consuming from filming to editing to uploading.
It depends on the exact project but generally with the Blazeguard stuff I tend to put in a lot of work. When your friends are laying it on the line and putting in work on the riding side of things taking the time to try and make their stuff look good is the least I can do.
Did you go to school at all for film or was it just self taught?
It was self taught for the first few years but as I got more into it I ended up going to school for cinematography for a year to learn about shooting film and visual language.
What kind of advice do you have for kids out there looking to get into filming and editing?
Just get a camera and shoot as much as you can! Take some time and put thought into each shot and keep in mind that all a camera is doing is recording light. As you get more into it, start trying to disable all your automatic settings and learn to setup your shots manually so you have complete control over your image.
Do you have a portfolio site at all? Where can people check out some of your work?
Nah, just my vimeo account for now (http://vimeo.com/user320877). A lot of my work to date will be also be available to check out on the DVD as bonus.
How would somebody go about getting in contact with you to get some film work done?
Just shoot me an email at Hblocjt@hotmail.com or find me on Facebook, I'm always open to new projects and opportunies.
Anything I missed you want to say?
Just a huge thanks to everyone thats ever helped me out or hooked me up along the way. Kym Grosser, Mick Bayzand, Liam Fahy Hampton and Zac Miner for all the hookups down in Oz. The Wazman, George and Louis Bolter for everything in NZ, all the bro's back in Van, and most of all to everyone that I've ever filmed with along the way. Cheers.