With so many independent videos either out or coming out soon (futu, it do, banned 3, Fresh fish and more) it's easy for them to get lost in the shuffle since they don't have much of an advertising budget. I hadn't seen much press on Brian Histand's "Yo Guy" dvd so I decided to get a copy and give it a look.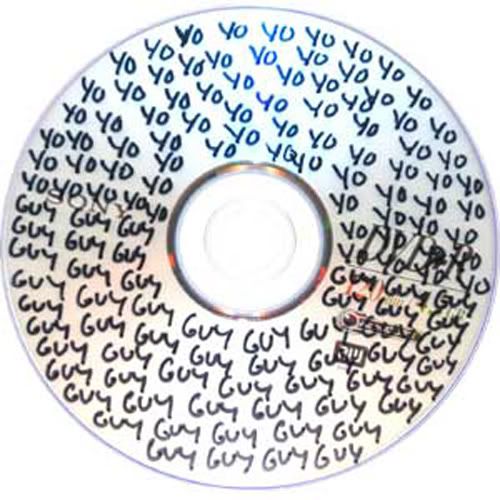 The DVD art has to be tedious to make, it's all handwritten with about 75 "yo"'s on the top half and 75-100 "guy"s on the bottom half of the DVD. That same raw approach to the art is echoed through the entire making of the DVD. From the rough around the edges Menu to the use of tiny (1 chip?) handy cams there is no mistaking that this is a local scene video made with heart and not a large budget.

The Intro is a mix of falls and some solid tricks, pretty much your average.
Dan Bob kicks the video off with a montage of quite painful looking crashes. After he gets those out of the way everything is smooth and Dan brings barspins and nose manuals out all over. It ends with a rail that shouldn't be possible, but you'll have to see what makes it so for yourself.
A guy known only as E-Wip follows, and his similarity to Chase Dehart is apparent from the start, but as the part progresses it starts to display that he is not just some Dehart clone. He does pedal/crank arm stuff and some drops that set him apart from Chase and has really clean looking barspins. What was odd to me was his banger, which did not seem as good as a lot of his other clips… maybe I'm missing something.
The friends section, referred to as "guys" section in this had a good variety of styles and terrains. The only big name to appear is J.J Palmere, the rest are local shedders.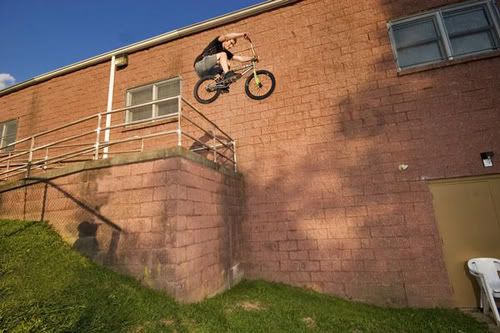 Having seen Brian's web videos I already was looking forward to seeing both his part and Dave Krone's. Sadly Dave seems to have hurt his knee while filming so his part is short. At least the clips he logged before the accident were solid. I wish they had used a more upbeat song but I guess the somewhat somber sound of the song was to portray the sadness of getting cut short with such a painful injury.
Brian Histand follows his pal and it does not disappoint! This part is by far the best yet. He has such a good mix of tricks, from tech jibs to drops and even some Jim C. type unusual moves. It's very refreshing and I wouldn't be surprised if a company approached him for a flow deal after seeing this. How he holds on to his banger I have no idea.
I was sure that was the ender of the video, but not quite. Tim Coyne is actually the man that brings up the caboose with a fury of freecoaster feats. Many freecoaster riders are criticized for not putting their hub to proper use or for riding "too slow". Tim is guilty of neither, keeping the speed up and going backwards frequently. I got the feeling that he was really going for it to put down a solid part. He has a few moments were you think he's about to eat it, but every time he pulls it and rolls away fine.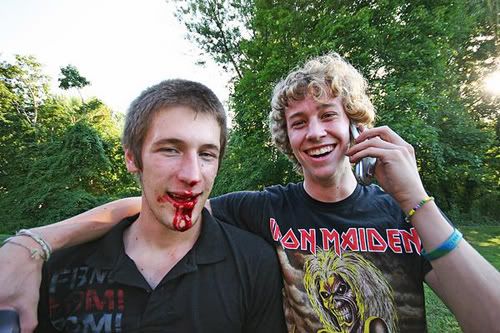 The Credits are split into two songs, the first is the usual mix of outtakes and randomness, the 2nd song is leftover riding more than anything else.
Yo Guy also has some bonus features, split parts of leftover footage or second angles and a video showing the aftermath of the bloody menu screen photo. The music selection is all older tunes, mostly from the 80's I believe.
As I mentioned at the start this is not a professional production. Many of the rolling shots were very shaky and when the sun hit the lens straight on you could see an unforgivable layer of grime coating it. There also seems to be a strange menu glitch: There is a choice to watch the whole video or watch chapters just like any other dvd, but if you select the full video choice you can't skip through chapters; you must fast forward it like an old tape. If things like this bother you then watch out. If you just want to see a fun crew throw then go to Empirebmx.com or myspace.com/yoguy666 and get a copy!