Name:
Todd Johnson, iTod, Tbag. asshole. I'll answer to any of them.
Location:
Minneapolis, Minnesota. is my home at heart but now I live by the Mall of America in Bloomington Minnesota.
You work at Quality what do you do there?
this could be a long asnwer so I'll keep it short.
My title is Category sales Manager for BMX and BMX customer service. I work with shops that show an interest in selling more BMX products. I travel to their stores and work things out to make BMX look good and make kids want to buy BMX. I also take care of technical questions both for our customers and internally from other CS agents. My job is not limited to a certain brand. I work with shops to sell all of our brands, it's up to the shop to stock what they want so I am there to assist in that process. I also do things like handle warranties, update shops on new products or instock products. Promotional duties as well. if a shop is sponsoring or throwing a contest I will gather up prizes for them and send them out.

Photo: Ben Austin
What's it like being in charge of a lot of BMX stuff?
I am not really in charge of anything, other than making sure BMX is being represented well in the shops I work closely with. and that is easy because most of the shops I work one on one with are rider owned or BMX specific shops. I do have input on the brands we carry and the colors or the actual product range from a certain company but the final decision to carry a product goes to Tim Gallant. he is the BMX product manager and BMX coordinator for QBP. we all work together to come up with a good mix of product and we work hard making sure our brands fit together well. the last thing we want is to piss off one or more of our brands by bringing in someone that doesn't compliment the others. it's a fine line to walk but it makes the job fun.
Any new brands coming to Quality you can tell us about?
this year we picked up a few different brands.
Volume and demolition
DUFFS
and a new shoe company that was started by Brian Osborne called Beloe Footwear (pronounced Below). the styles are cool and the team is pretty good so far. Nathan Williams, Jim Ceilencki, Jim bauer just to name a few.
we are also bringing in a new line of complete bikes and frame from a company that is yet to be named. I know it's like dangling the carrot in front of the donkey and not giving it to him, but we aren't ready to announce who that company is yet. It'll be a good move though.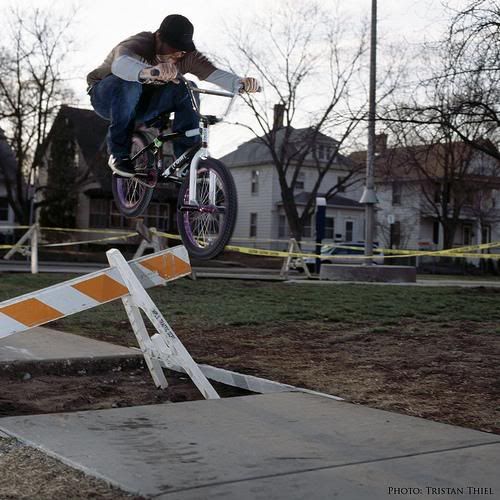 Photo: Tristan Thiel
How long have you been riding?
I have been riding a bike of some kind since I was 5 years old, I skateboarded for ten years when I was in my teens. started riding a BMX bike again seriously since I was 21. I am 32 years old now… you do the math.
What kind of stuff do you typically ride?
I'll ride anything that doesn't get me dirty. I don't like getting dirty. mostly street now-a-days since it's free and creative. skateparks in the winter or traveling to ride street. Skate parks are fun but that part of my riding has been neglected. I like a good minispine with sub boxes or bowl corners. the old Chenga bowl was so Fun. I miss that bowl. I don't like big ramps. call me a pussy or what ever but little ramps like 5 feet tall are fun to me.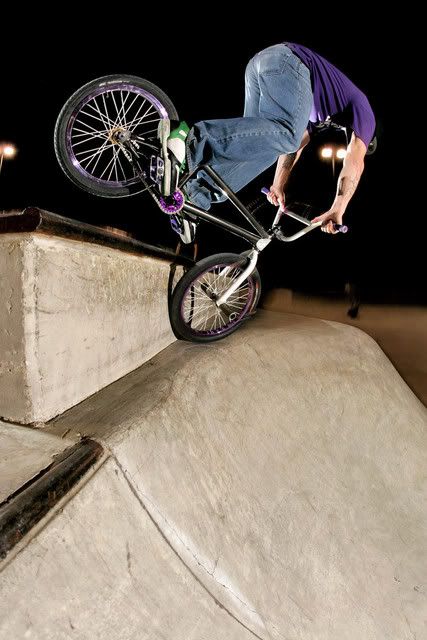 What are some of your favorite tricks to do?
Anything backwards. 180's, backwards manuals. I like smith grinds. I just recently started getting into sliding rails and 360 hops…
I'll never do a tailwhip or a back flip. I like to bunny hop over really tall things as well. to me that is the ultimate cool feeling. bunnyhopping over or onto something taller than your bike. I am not that great of a rider or anything like that so I like to keep my riding fun and simple.
What are some of the stuff you do outside of work and riding bike?
I have a family. A brady bunch of sorts. I have two kids of my own Nathan who is 10 likes to skateboard and ride his bike with me. Mya who is 9 likes to create anything, drawing, clay sculptures, painting, beadwork, jewelry all that. very creative that one.
I have a girlfriend Jill that has a daughter Zosia (zo-sha) that is 3. So when I am not working or riding I am a regular family guy. outside of all that when I get some free time I like to paint, draw, ride my fixed gear to the bar. hang out with good friends. I am a busy guy so family takes the front seat to any of that…
What are you of your more memorable things revolving around riding?
there is a lot.
Meeting Jay Miron for the first time. actually having him call me out of the blue to set up a meeting since he was going to be in Minneapolis.
helping set up the metro jam in 03 and getting to ride the set up during pro practice.
Going on the road trip with all those cool riders last January..
riding the T-1 ramp with Joe Rich, actually not riding but watching Joe ride that ramp.. ha ha
the first time I did a handrail. they were bugging me for the longest time and finally I did one and they're actually nothing really. more of a mind fuck.
riding the Unit and Mirra's place a couple of years ago. it's all surreal.
Any big trips planned for 08?
maybe… we'll see. I like to keep it on the DL until it drops.. just kidding. We plan on going on Mega tour next spring. I am not sure who I am bringing along for that one but it will be the same core dudes from QBP with an addition since one of the guys left QBP to go to school and a couple guys from our vendors teams.
This coming summer I plan on going to Europe. Not work related, just me my bike and a back pack full of cigarettes. I hear the cigs are shit over there. just kidding. No real plans but Amsterdam and Germany are in the agenda. I am using this trip as a sort of self discovery trip since I will be alone and in a foreign land where Americans aren't liked too well. maybe me being an actual Native American might make them less abrasive towards me. who knows…
What do you plan on doing over the winter since, unless global warming is coming on fast, there should be snow?
Travel….. I am getting away from the snow more this year. Florida, Texas, California, and Arizona are on my trips wish list. when I am home I will be the all American dad you know. we also have a messenger race on super bowl weekend that I ride in every year last year it was -18 degrees outside with out the windchill and we still went for it. fun stuff but damn cold thank god for the liquor.
Any new stuff your working on (video parts/tricks/ anything really with riding)?
not too much. supposed to be filming for a friends video but our schedules haven't meshed well. as far as tricks go? always working on something but it's all personal I have nothing to prove to anyone. the main thing I am always working on though is my health. I want to keep riding for as long as I can not only that I want to live a long fat free life. I was a fat ass back in the day. made riding harder. now I am down about 40lbs since 2005 and my riding is better and I can ride for longer. so weird how much a little weight loss can affect your ability to handle a bike.
Quality did a bmx road trip this past year, do they plan on doing it again or was it a one time deal?
we'll go on more. the funny thing about that is we got all that coverage. both the video and the magazine and the cost for everyone involved was very little. That is good when you are working with major companies that watch their bottom line and their spending like a hawk. since it was so inexpensive to do for the lot. more companies are psyched on it and want to go on the next one. QBP was happy with the outcome and the cost of it so they are more than willing to send us out on another one. I guess there is nothing really funny about that answer… ha ha
Online sex of a girl will help you to have fun online, you can chat with beauties without any restrictions and embody any of your wildest sexual fantasy. In sex chat with girls, there is a selection system based on predetermined criteria, such as big breasts, hairy pussies, slim, black, lesbian, redheads, blondes and much more. CamSoda is the most advanced cam social network on the internet. Show all models from Sex chat Camsoda! We bring together the hottest girls, the most advance technology and do it all for FREE!
What are some of the songs/artists your into right now?
my music taste is all over the board. It all depends on my mood. I can't nail down a certain artist, song, or genre for that matter so I'll do the first 10 random on my iPod.
1. Bad dreams interlude – Lyrics born
2. Sofaking – Danger Doom
3.all the same to me- Lucero
4. Touch and Go – the cars.
5. a boy's best friend – The White stripes.
6. Kiss – Prince. (hey I'm from minnesota)
7.untitled track by Buck 65 from the vertex album.
8. Jailhouse- sublime.
9.Winning style – propellerheads
10. Shovel- Aesop Rock.
Favorite video/video part?
I watch a lot of web videos. but for hard copies… left/ right, roadfools 8, the shook series, can I eat, no where fast, and the wethepeople video from a few years ago for me that video was groundbreaking visually.
parts? Ian Schwarts/chad shack in the system vid. Dan/Joe Cox in any web video part. any part from any animal video, Jonah Lidberg in that one ride video where he filmed himself so good I love that dude. no homo.
Any shout outs?
man, there are a lot of people I can thank. Mike, Leigh, and Jon at eastern for helping me out with bike parts… Thomas at KHE for custom making a geisha hub for me in purple so my bike can match. Jill and my/our kids for supporting me and my riding/ working/ traveling, and scabby shins. Ralph at animal for good deals and for standing his ground, I respect that. Nuno/Jim at odyssey, Nuno was the first industry dude to give me a part for my bike. it was awesome. Jim at sunday. Brian at Beloe footwear, Ron at shadow/sparky's, Crandall for being awesome. stew for putting up with our disarray during the trip. Both Dave's at greasy comb. Tom at Empire for being a down ass dude. Chad at Mesh for opening my eyes to what a store should look like. Harrison at defgrip, Kerry at rise above, Chris at Blackout, John at Lastcall, Matt at Profile, everyone at Tenpack in Vancouver. Bill Dies from Ride BMX for keeping me drunk every year at the NORA cup, all the bike companies I have had contact with in the past I thank you for the job you are doing and the dedication you have to our sport and lifestyle. All my local friends and riders. Jonah Lidberg, Eric Holley, Nick Anderson, Ben Austin for making my riding look good on film. Tony Mortenson, Phalndus A for the greenery hook up from time to time, All the guys at Surly bikes. If I wasn't in BMX I would be in Surly. They're a cool bunch of fellas. There are so many I know that I'm forgetting some… anyone who has given me a bike part, pair of shoes, t-shirt, a couch to sleep on, or a hit off their blunt I thank you.
Last words?
Keep BMX fun for yourself! It's not a contest all the time.
Some may notice I shout out a lot of industry dudes, some of which are our direct competitors. To me I look at BMX as one big organic mass that everyone involved has a critical part in. I am not about disliking someone because they work for so and so, or for this company, or this distributor.. Yeah business is business but no one company, distributor, or bike shop can rule it all. It takes all of us doing what we do to the best of our ability to make BMX successful. however without the competition there is nothing to strive for. Besides, outside of work, I would and sometimes do hang out with the guys we are competing against. We all do the same thing, Ride a little kids bike, Just have fun with it.
(I think this is Todd, I youtubed his name)
Video Credit: BJ from Underline