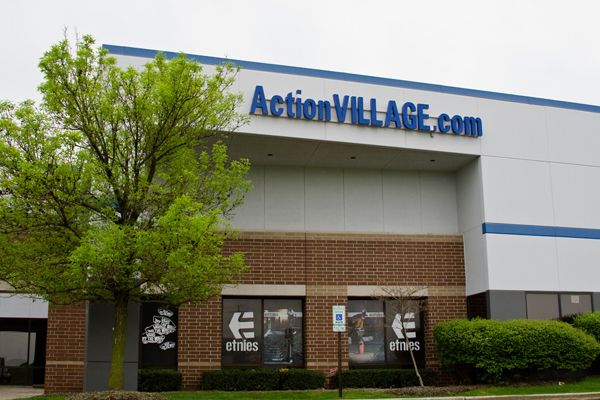 When ActionVillage.com announced they were going to be carrying BMX, to be entirely honest, I was a little bummed. I figured it was just a big mail order out to make a few extra bucks off us. After a bit of time, I started realizing they weren't just there to make a buck, but because they are actually into BMX. I had the chance to meet Jason Start in Chicago at the Dew Tour, and then again at Interbike this year. I was finally feeling their vibe, and I figured maybe if I could get some questions to them it will make a little more sense as to what they are all about to you, also. That and with a team like Kachinsky, Jeff K, Doyle, and Eilken you can't really go wrong, right? Check it out and then leave your thoughts in the comments!

Action Village is fairly new to the BMX side of things. When did ActionVillage open its e-doors for business? Is it still under the same owners, and everything?
Action Village opened in 1998. Bob Schubert started the business as Paintballgear.com, and it quickly became the #1 mail-order/internet business in Paintball. Prior to starting Action Village, Bob was the General Manager of PMI (now Kee Action Sports), and my boss for several years. Bob was one of the pioneers of internet sporting goods sales. Back in 1997/1998 not too many mail-order houses sold via the internet, but AVI was founded as a web retailer. The web has been the primary retail channel of AVI since day 1. Rick Harold joined AVI (also from PMI) in an ownership position a couple of years in. I jumped through a few crazy gigs in the Paintball and Bike industry, but I've been working with Bob and Rick off and on since 1992. We're actually all originally from Oregon.
Where are you guys based out of? Has the location changed at all over the years?
AVI is located in Wood Dale, IL (Chicago burbs) just on the west side of O'Hare. Originally AVI was in Elk Grove Village, but moved about 8 years ago a couple miles down the road to a bigger, better location.
Are you guys web based only, or do you have a retail store? Do you have any plans of ever expanding and adding retail stores?
We do have a retail store at our location and handle traditional mail-order phone sales. It's a bit of a luxury for our local customers to draw off such an extensive warehouse. Customers can come in to our showroom, select the product they want off of our website using one of the multiple showroom terminals, and our warehouse staff will pull their order for immediate showroom will call.
We never say never, and we have explored opening other retail locations (even in high-end malls). But, the odds are pretty low. It would sort of have to be a perfect deal. Our customers are used to being able to draw off of a live inventory with over 30,000 items. How does one build a new retail store front (that is not common-wall with their warehouse or distribution facility) that can deliver the same level of selection and service? Many very successful internet/mail-order retailers have run their business into the ground opening multiple locations.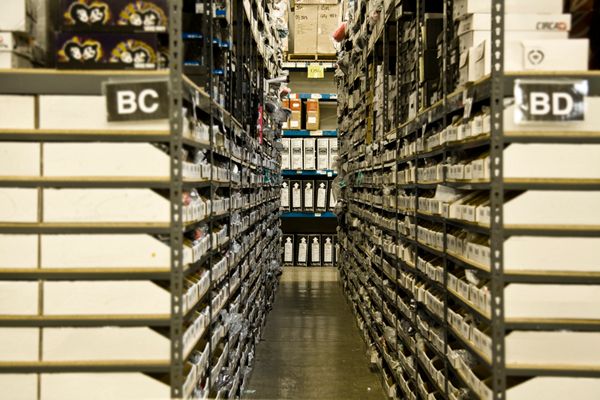 How many people are behind the scenes keeping things running smooth? What are some of the key people involved in it from you, all the way through to the guy who refills your stapler?
We have around 30 people on staff year around. We pull in extra part-time staff for the holiday shopping season. Rick Harold, is the everyday Big Cheese. Bob E and Dave A run our Customer Service department. Mike M runs our warehouse and Ops. Ryan W runs our Data/Merchandising department. Tom and Eric are our professional finger painters. Jordan and Vince are mechanics……You get the idea – lots and lots of veteran action sports and punk rock nerds keep us going. We are fairly unique in that we run a live inventory on our site – meaning, if the site says we have 2 Fit Tech 2.5's left available, that's an accurate number – so, you know what is available to ship immediately. You have to have a solid crew to pull this off, because if you're not running a tight ship and your inventory gets out of whack it's gonna be Monkey Football all day long – customers are gonna get pissed. So, I think our crew is great.
What's a typical day like for you? Do you have a fairly regular day to day or does it change everyday?
There is no such thing as a typical day – that's for sure. Every day is different. I could be at Interbike for a week and then be helping with warehouse bikes the next Monday. One thing that is cool that we do here is that we believe in a communal warehouse staffing system. Nobody here avoids pulling or packing orders, which is pretty cool. Your order may have pulled by the owner, packed by the art director, and shipped by the asst whse mgr. We think this makes us a much better team & it helps insure that orders absolutely get shipped same day which is huge. But, more than that – nobody is above packing a box or taking out the trash at AVI.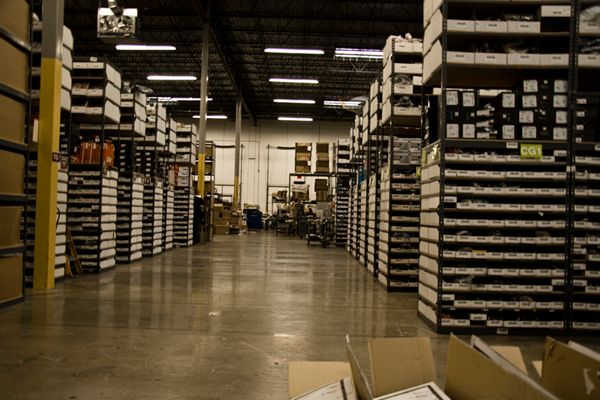 It seems like Action Village has been making some big moves lately with the team and just general presence in BMX. What are some of the goals of the company, and where do you see things going in the near future?
Well the expansion of the team is thanks in large part to Brian Kachinsky. In the past, with Paintball and Skate, we've signed teams or athletes to marketing/merchandising agreements. From there we've launched an assortment of unique products using their names, images, etc. and they've received a percentage of the sales. That was successful for us (and the athletes as well), put when we launched our BMX division we wanted market it in a more aggressive and direct manner. Beyond that, when we met Brian – who lives about 10 miles from us – we just knew he was somebody AVI wanted to work with. Our positive experience with Brian motivated us to take the AVI BMX Team to the next level.
We just want to be the absolute best retailer that we can be. When we entered the BMX market, we did it with a 7 year business plan. We are fully committed to the BMX market – we don't believe in the "dip your toe in" test market approach to sport like BMX – you have to jump in with both feet.
What BMX brands does ActionVillage carry? Do you guys have any plans on expanding further from that?
We concentrate on core BMX brands – so, we have LOTS of brands available – sort of a crazy list to type out. Sure, we'll bring more. If we believe that the brand is a core freestyle brand, we'll likely bring them aboard. As I stated above, we're (at our essence) an internet retailer, so we believe in giving our customers in any category the maximum section that we can in practical terms – it's important to do that to be a resource to the customer base.
Like I mentioned above, you guys have been expanding your team lately. Who are all the people on the team? Do you have any plans to add any more riders anytime soon? How do you go about picking riders for the team?
Brian Kachinsky, Chris Doyle, Gary Young, Jeff Klugiewicz and Josh Eilken. Brian and I are working on how we'll run the flow side of the team – we'll finish that this winter. Here is what we wanted out of our team guys: active, good to kids at the park, unique style. Basically I wanted a team that actually felt like a real team – guys whose personalities and riding styles meshed together. I like how teams like Kink or Etnies are composed – they riders make sense riding in the same van. I wanted guys that if they shot a video together there wouldn't be that one dude where people would be like "whats that dude doing riding with those guys – he doesn't fit." But, most importantly, I really just wanted good guys that people really would love to ride with. No jag-offs allowed.
Do you guys have any team trips, DVD's, or anything along those lines planned?
Yeah, we're working on a couple of events for next year. The thing I love about the guys on the AVI team is that they're all so active – they're going to serve me up with stuff on their own which is super cool. I told every guy that we wanted them on the AVI team for what they already do as pro BMX'ers, not what I'd like them do. That makes it pretty easy on me.

I'd imagine you guys catch a little bit of shit with carrying skateboarding, paintball, snowboarding, and everything. Is there anything you could say to maybe get them to chill out and understand where you guys are coming from?
Yeah, we do take a bit. Honestly, I think it's absolutely fair for the BMX industry and its consumers to make sure that we aren't full of shit. We don't apologize for our other successful product divisions. If we were selling Barbie Dolls next to Verde's then I think consumer should trash us. Our business is built to be a action sports retailer, and to do the best damn job we can servicing that demographic. The fact is, there is substantial crossover between all of our categories. A BMX'er may despise skaters, but does he snowboard? Has he played Paintball? Does he wear the same Vans that many skaters do? Does he wear Matix jeans? So, I think AVI shouldn't be judged based upon the compatible categories we carry. How we should be judged by BMX consumers is by how we service customers in BMX. Are we a retailer that adds to BMX as opposed to just trying to leached some free orders out of kids because a few vendors were willing set you up? I think we've demonstrated through our actions (inventory assortment, team, advertising) that Action Village is fully committed for the long haul.
Let's say there is somebody out there who has a new upcoming brand. Who should they contact to see if you guys will carry them?
We fired that guy. Oh, ok – it's me. (Jason Start)
Somebody orders a product from you, and there is something wrong with it. What is the process and estimated turn around time for lets say, sending the wrong size frame or something?
Our return process is pretty no hassle. In a case where we f'd up or there was a defect out of the box – we take stuff back for full credit. I think we're pretty easy to deal with on this kind of stuff.
Do you guys have any job openings? Is there any BMX specific jobs people can do at Action Village?
Sometimes. Especially part time around the holidays & we'll always accept an application – there is a link on our site for that. Some of our absolute best employees here started as part timers while still in high school. It's a cool place to work.
Did I miss anything that you would like to add?
I'd just like to say thanks to the BMX industry for embracing our business model & more importantly our customers for their business.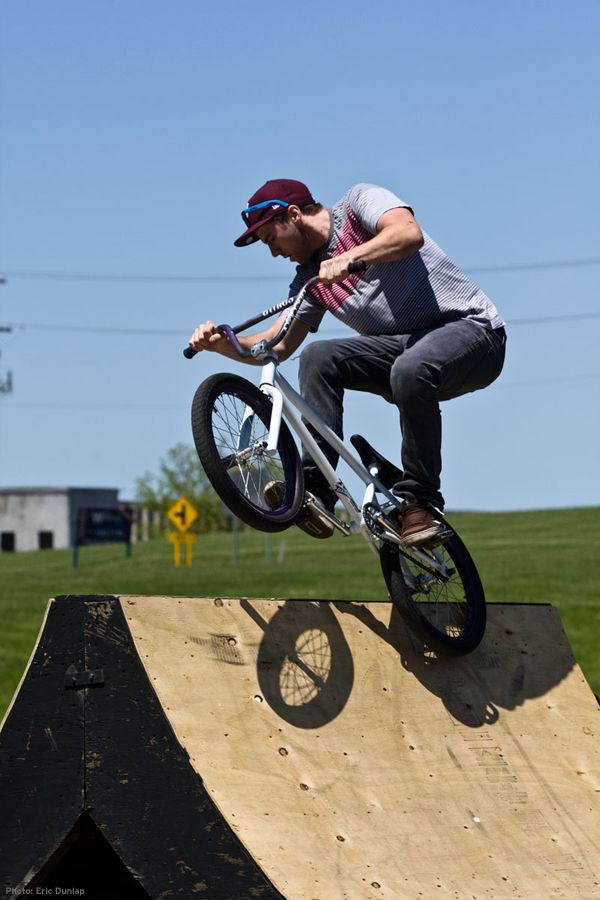 Jeff K during a demo at Action Village this past summer…
Check out Action Village and see what they have to offer…