Profile is a brand that if you ride BMX and haven't heard of you should probably just quit. They make some amazing cranks, hubs, and other parts. The history of profile goes back a long ways and after all these years they are a brand you can depend on. I caught up with Matt Coplon and asked him a whole bunch of questions. I hope you like it, leave some comments if you want.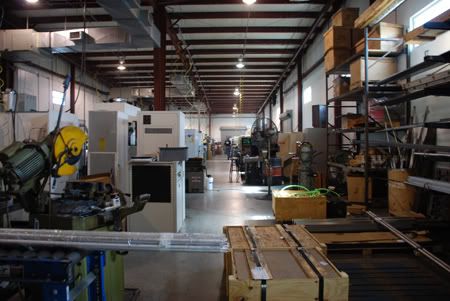 All photos by Grant Carter

Profile has a long history in BMX. Who was/is the original owner? When did the company start and who runs the show these days?
Jim Alley is the founder. He started the company in New Jersey in 1968 making race car parts (hence the trademarked name…everyone always asks why we don't take the "Racing" out of our name because we make freestyle parts. Well, we're legally bound to that name.) Jim is still in the office everyday, he actually works six days a week; he's the only person here on Saturdays.
He's the overseer of everything that goes on in the shop.
Madera is a group effort started in 2006 by Profile Racing. Its focus is to produce more streamlined parts (more simply made) here in the shop so that we can offer a less expensive (MSRP wise) alternative to Profile. Madera's goal is to offer an American made product close to the same price of something made in Taiwan.
Profile has always been american made with a lifetime warranty to back it, why is this the most important thing to you guys, wouldn't you make more money if it was made in another country?
Jim started the company so he could have control over most, if not all, aspects of manufacturing. Yes, it would be cheaper to do things overseas but there are a ton more advantages doing things in-house. Some examples are:
1.As soon as product is finished it can be shipped out the door.
2.Product can be more immediately tested.
3.Prototyped product can be modified a dozen times (if needed) in one day through the machines.
4.Much less lag time on getting brand new product on the market.
Besides our prices being a little higher because of production costs, warranty on cranks and limited warranty on hubs is built into the cost.
How many people does Profile employ, and who are the people behind the scenes nobody ever hears about at profile, from designers, to machine operators, to the dude that gets your coffee?
There are 16 of us here at the shop at all times.
Jim and his wife run the overall show, call the ultimate shots, and pay the bills.
Corey Alley (Jim and Nancy's son) is the designer.
Six full time machinists.
One overall promotions guy.
One web designer.
One warranty guy.
And then Grant, Tracy, and myself handle sales.
Besides that, I handle the freestyle teams for both Profile and Madera.
Just a random thought after thinking about being a coffee slave, do you guys offer any internships? If yes, how would somebody go about getting involved in that? How about full time/part time jobs there?
Sorry, we no longer offer Internships (we had some bad experiences). However, getting hired is just timing. If someone leaves, we'll need to fill that spot. I'll keep everyone posted.
I would imagine your cranks and hubs won't be changing too much anytime soon. What does Profile have planned for the future with their products? Any new things you guys will be releasing soon, colorway's, pros getting signature parts, or changes to current products already available?
We always have so much new stuff in the works that is hard to keep up, seriously. Two weeks in to having something finished it becomes old to us. Unfortunately, it's still new for three months afterwards and sometimes gets forgotten about in the mix.
Mulville is getting a signature stem and seat.
Degroot is getting more signature seats and his shirt was just released.
New platform pedals will be available in three months.
Two new component colors will be released before September.
By Interbike in September, we should have about 10 new products, some of them being hush-hush for now.
What is the soft goods and other small things you guys produce looking like these days? Is there going to be anything new or in the works?
We've left the soft goods up to the team almost exclusively at this point. Currently, Mulville, Saavedra, McDermott, and Phil Aller have designs available. Degroot just did his "Burt Reynolds" shirt which came out a couple weeks ago. Now, Ludwick, McDermott and Hinkens are working on new Madera designs and Mulville is working on yet another wild Profile idea.
For the most part, our designs more recently have little continuity but neither do our riders. Each one has a different personality, so each will produce a completely different design. It keeps things fresh.
Since you are the team manager for profile, who is all on the pro team and flow team these days? Is the race team going to grow with the olympics coming up? And will there be any changes or additions being made to the team you can tell us about?
As far as the US team goes, nothing is changing anytime soon. We have our seven Pros: Mulville, Degroot, Klugiewicz, Cardona, Alavarado, Saavedra, and Keenan. And our newest flow additions have been Greg Smee (Mulville's addition), Jared Eberwein (Saavedra's addition), and Chris Gille (Alvarado's addition). There's always room for a flow addition or two a year, but I'm leaving that up to our Pro team to decide.
We have been adding flow riders Internationally through our Distributors:
Profile Europe: Levi Rogers and James Harrison.
Sunex (France): Ben Gea and Thomas Calcagno.
Elite (Australia): Liam Fahy-Hampton and Mick Bayzand.
Country Bikes (Germany): Hasn't really changed as our team in Germany has been tight for years!
Brazil: Leandro Moriera (Conall Keenan addition)
As far as the race team goes, there is no huge change in the near future. As far as the Olympics go, we flow Jill Kitner and Mike Daye hubs so they'll be shredding on those in China, and hopefully not becoming human rights victims while over there.
How do you go about picking new guys for the team? Do you ever go by "sponsor videos" or is that more of a thing of the past?
It's funny you ask because at the onset of the youtube revolution, we are constantly flooded by sponsorship videos. I do check them out and respond to the sender, but our sponsorship program has turned into 75% personality and 25% riding. There are so many amazing kids out there now that personality has become the main issue for promotions. Firstly, getting to know the rider is the most important thing…At this point, I leave new additions up to the team itself. We're all friends (the team and I), we're all on the same page as far as who we like to ride with/who we like to see ride/who we like to hang out with. I trust their judgment. So when someone is up for consideration, we chat about it, get into conversation with the rider, and feel them out for a bit. Then we decide yes or no. This process always seems to work best.
Who is your favorite person on the team?
They're all my friends, all awesome dudes so there's no favorite. However, it's a toss up between Mulville and Degroot as to who is the funniest. Both of those guys could make you laugh for days.
What is a typical day like for you as TM?
Drive to work which takes an hour and a ton of gas.
Flick off the dude in the hummer pulling his boat to the bay.
Drink a ton of coffee.
Arrive at 7:30am and check emails until 10am. Work on orders (which involves building cranks and hubs), take sales calls, handle team stuff, order shirts, handle shipping to the anodizer, take stock, and work with our web designer and print advert designer on ad layouts among a ton of other small tasks.
Clock out at 4pm, take the toll road home to avoid road rage, drink a Steaz, and then go ride street or the Skatepark of Tampa for three hours.
Repeat.
Will there ever be another Profile DVD anytime soon? Or is it just going to be the web videos you guys have been producing for a while?
We're trying to continue doing one web edit a month for both Profile and Madera.
As far as an actual video, it has been talked about. Most likely that will happen with Madera first. I'll keep you posted.
How are you guys looking on the road trip side of things? Is there anything planned at all you can tell us about?
We always have roadtrips planned; they're one of our most important parts of promotions and the best way to spread the word of both companies. We're actually traveling so much up until this November that I had to take the semester off from school.
July 2nd, Madera is taking off to Milwaukee for a week.
August 13th, Profile is heading up to New England for a trails roadtrip.
Sept. 6th, My band, Light Yourself on Fire is touring for two weeks. I'm sure we'll do some promotional things with that trip.
And at the end of October, me, Mulville, and McDermott will be heading to Interbike in Vegas.
And sometime in November, we're doing another Profile trip from Riverside, Ca. to Arizona.
So a kid snaps his crank or blows up a hub, who does he contact to see if his part is under warranty? and what is the typical procedure to go about getting it replaced?
As far as warranty goes, it's always good to call us first to go over the protocol.
For cranks, as long as you are the original owner and you have the receipt or warranty card, you're entitled to a warranty against bending or breaking of both the arms and the spindle.
For hubs, there is a crash replacement warranty available where you can send in your hub to get it rebuilt at a very low cost.
Our entire product line is covered under a manufacturer's warranty. So, basically, if you get something that is defective, we'll handle it.
What are the current goals and plans Profile has in the coming years?
We'll have a bunch of brand new stuff for both Profile and Madera on display at Interbike…Until then, we're designing that stuff and getting prototypes shot out of the bowels of our machines.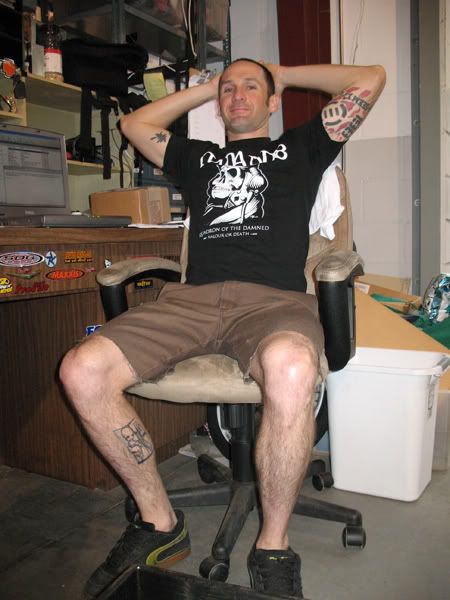 Other than that, our goal is to have fun, party, ride bikes and hopefully discover Ponce De Leon's fountain of youth so we can stay young in order to keep up.
Where can people pick up Profile goods, and who should a shop or distributor contact to get Profile in their shop or warehouse?
Our Main Distributors in the US are Quality Bike Products, KHS, Tip Plus, and Custom Cycle Supply.
Because our product line is so extensive, some odds and ends you cannot get through our distributors so you'd have to get your shop to contact us direct.
As far as Madera goes, shops can only get it direct from us.
How does somebody go about contacting Profile about product complications, sponsorship questions, just to chat it up?
The General number here at the shop is 727-391-7370. Be careful dialing those digits, one wrong move could send you in touch with a shady massage parlor.
However, emails are easiest and the best:
For Freestyle sponsorship: matt@profileracing.com
For Warranty: Shane@profileracing.com
For Race: Grant@profileracing.com
Anything else you would like to say?
If you're ever in Tampa, contact me to ride some street and park. We always welcome out of towners and would love to show you around.
If you see me around, don't hesitate to say hello and shoot the shit.
If you haven't tried Ethiopian food, make it happen. I'm addicted.
If you ever have any questions regarding Profile, don't hesitate to contact me.
Thanks for the interview Kurt!