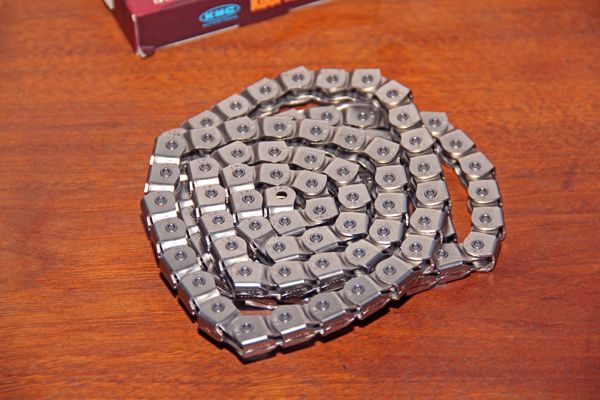 Some of you who have been checking out the site for a while now might recall the review I did on KMC's prototype "Kool Knight" chain around a year or so ago. At the time, the idea was still new (before DK announced their version) and they were just in the testing phase of things. They asked if I wanted to give one a go and give them feedback on it. After the review was done and I felt I had done sufficient "testing", KMC had asked for me to send it back to them so they could conduct stress testing and such.
Fast forward to earlier last week and I get an email from KMC asking if I would be interested in getting a final version of the chain that's finally in production and should be available soon. Then the other day I had a box from them show up and I thought it felt a little heavy. That's because they sent through a few extras for me to GIVE AWAY to you guys.
So, here's how we are going to run this contest. You have TWO chances to enter. One – write in the comments "I want that chain!" with your name and actual email address so I can contact you if you win. Two – Head over to The Union's FACEBOOK and "Like" us. Then comment "I want that chain!" on the photo of the chain that will be on the wall. It's as easy as that. I'll pick three winners on MONDAY, OCTOBER 10th. So please, check your email and Facebook messages that day.
Check out a little more information on the chain along with a few photos and a video after the jump…
[Read more…]