This review has a slightly embarrassing story behind it. That story will be told shortly after this intro. But yeah, the point of this! A few weeks ago I had a box sitting on my porch from DuFFS courtesy of Brian Osborne. I definitely won them off a bet, but figured I might as well do a little review of them while I'm at it. So this is what I thought of the DuFFS Sherman's and Forge's (Jimmy LeVan Signature Model)…

Alright, lets rewind this story back to last September in Las Vegas. Myself, Brian Osborne, Jim C, some of the Sunday team, Francis Delepena and somebody else I'm blanking on right now are having dinner at this crazy bar/restaurant thing. I'm not name dropping, I'm just trying to put a picture in your head (and give you somebody to refer to this about if you don't believe it for some reason). We're all having a good time keeping to ourselves and checking out the girls that are dancing on the stage thing (not strippers) and waitresses when we see this lady who doesn't quite fit in with the girls dancing crawling up on stage.
I know there is a photo of her floating around on somebody's iPhone, but try and imagine Jimmy LeVan with his bleach white hair, fatter and with boobs in a shkirt.
This is where it gets messy. Somebody gets the idea that we need a picture with this lady. For some dumb reason I voted myself to do it and I popped up out of my chair, grabbed Aaron's iPhone and approached the lady. "Hey, I can't believe how much you look like my aunt! Can I get a picture with you?" The lady is all about it and probably would have given anyone in the room head if they had asked for it due to her state. Snap, and boom… I walk back to the table and that's that. Brian then makes it interesting by saying that he will give anyone at the table a years supply of shoes if they go on the stage and dance with this lady.
Alright, I'm a sucker for free stuff. I thought about it for a little bit and had to psyche myself up a bit. There was some alcohol involved as well. It's on… I get up on the stage thing with this lady and proceed to do my dance… the "Bump, Bump, Bump" which consists of me just backing my ass up into anything that gets in my way. In this case, it was Jimmy LeVan's female stunt double for a minute or two. It was awkward and a low point in my career of dancing with women.
That was probably a huge mistake because by the time that ended this lady comes up to the table about 4 times trying to get any of us to come dance with her again… I'm pretty sure she was just trying to get into Alex Magallan's pants, but who am I to assume anything. Eventually she wanders off and eventually starts sucking face with some random old guy at the bar who later had the facial expression of huge regrets. Either way, it was a disaster and pretty funny. If you can imagine that you might laugh a little.
I'm 500 words in to this review and haven't even talked about the shoes… Well, I guess I have since this is why I have these shoes. I think? The shoes!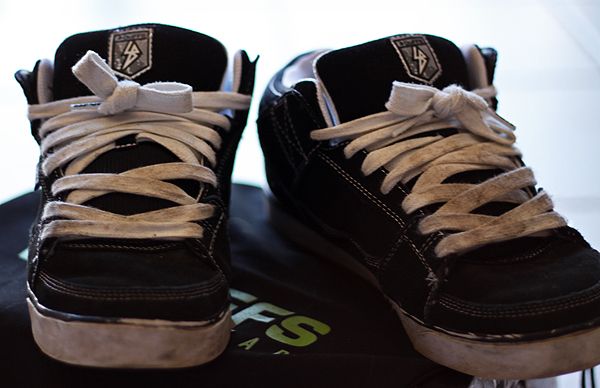 I'll start off by talking about the Sherman's. They are the shoes I wore most all around, and rode the most in as well. The weird thing is that this is a skaters signature shoe. I don't think I've actually wore a skateboarders signature shoe in close to 4 or 5 years. I guess I've always been supportive of riding BMX specific shoes. Either way I'll let it slide since they were super comfortable and had plenty of padding. The outside of the shoe itself is made of a suede leather. The inside is a full length compression moulded EVA • Arch supports • DuFFS Heel Safe GelTM insert (from the DuFFS site) which basically just means that it has arch supports and a gel heal insert to absorb impacts a little better. The soles are a vulcanized cup style that are super grippy. When I say super grippy, I mean when I combined them with my JC/PC pedals they were hard to make adjustments to my foot position on the pedal. It was like I was clipped in or something… Weird.
Overall, the shoe took its abuse as you can see from the photos and video. They had chunks taken out on the bottom and edges of the sole, scuffs, and even a little bit the rubber detaching from the side. I think that detaching piece was just because I've been walking around in snow all winter and kicking the salt/ice shit off my car. The glue won't hold up to that forever.
I don't think I really could find a complaint about the shoe. The sole was thick enough that I didn't feel any pain from impacts and the pedals, they held up to a footjam marathon, and even were pretty decent on walking on the Minnesota ice. I was really impressed with the padding on the sides and didn't have any ankle pain from whacking the cranks.
You can pick these up for $64.99 on Dan's Comp. The shoes also come with a couple stickers and a shoe bag for those sneaker heads.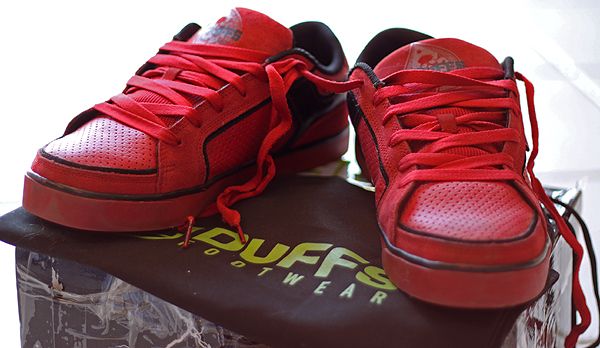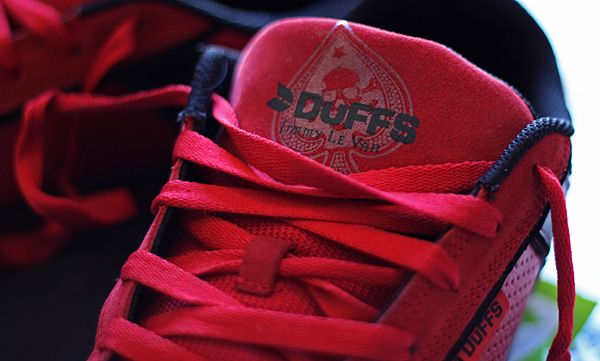 Perhaps you have heard of the The Forge, or Jimmy LeVan's Signature shoe. These are the other pair of shoes I have been rocking lately. These shoes were different in the instance that they were red. I'm more of a black shoe kind of person I guess. The red stands out really well. I pretty much just wore these when I rode, except for the few times I wore them when I went out to the bar and stuff.
I like the shoe for chilling or just hanging out mostly though. I found that riding in them were a little painful because they are a low shoe and I constantly hit my ankle on my cranks. I like that padding on the ankles.
The grip of the shoe is exactly the same as the Sherman and grippy as hell. There was no problem in that department at all. I was also real into the spade logo that went with it which is the Metal Bikes logo. That's bonus points.
The Forge is a suede shoe with distressed leather and was designed by Jimmy himself. I figure these shoes are pretty indestructible though since Jimmy literally died a few times and came back to life in the process of making this shoe. That has got to say something, right?
The inside is a compression moulded EVA with arch supports and Bone Saver Technology (DuFFS site) which is the same as the Shermans and made for comfort and the gel insert to absorb the impacts.
The Forge also has the same Vulcanized cupped sole as the Sherman as well. Real grippy, and thick enough to not have the ability to feel the exact contour of your pedal like some of those super slim soles.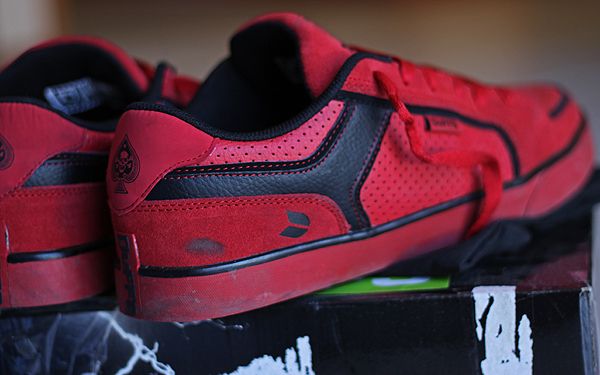 Overall, I'd say that these shoes would be awesome in the black with zebra print. The red seemed a little too flashy for my style (then again they are making bright green ones for this years model?) but I'm sure there are people out there who really like that color.
The only complaint I had was the crank arm bite I got on my ankles due to it being a low style shoe. Otherwise the shoe held up great to anything I came across the last few weeks whether it was riding, sliding around on ice, or kicking it on the dance floor with some cougars.
These are available for $64.99 on Dan's Comp. The shoes also come with a couple stickers and a shoe bag for those sneaker heads.
So if you are looking for some new shoes, maybe these are something you would want to slip over your feet. DuFFS is a brand that has been involved with BMX for a long time. I was playing Mat Hoffman 2 on PS2 the other day and saw the DuFFS banner on the first level that I had forgot about. That's quite a few years. Plus, if you don't like them, Brian Osborne will probably kick my ass. So really, for the sake of me you should give DuFFS a serious look next time you are looking to upgrade to some fresh kicks.