When I randomly came accross Dylan's video on Vital I knew I wanted to know what this kid was all about, So I shot him an interview and here's what he had to say.
Name:
Dylan Stark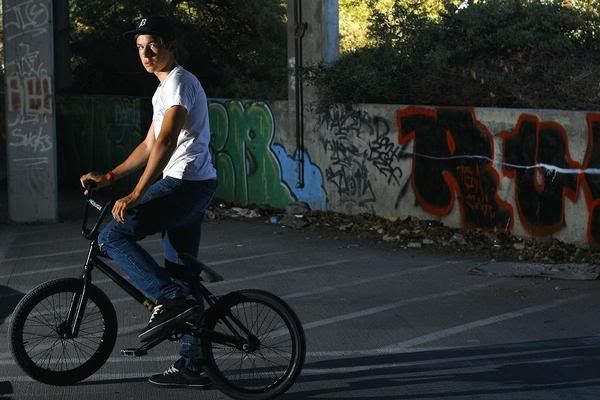 Location:
Lake Forest, Cali
Sponsors:
Epicbmx.com
How many years have you been riding?
3 ish. I used to race Mountain bikes and somehow ended up riding 20″s
How in the hell do you air so high, especially over that spine?!
Pedal really really fast. Hope I don't land flat.

Your what, 15-16? So your in school I would imagine, is that a priority or does riding come before school and stuff?
I really don't like school. I was doing independent studies (home school) for a while but everyone said to at least try school so I did. It's not fun and I'm failing everything.
Do you drive yet or what's your main way of getting around to ride and stuff?
I have a VW GTI turbo. But don't get my licence for a couple more weeks. I usually get rides with friends or pedal places.
What is your favorite trick to do?
The safe ones. Probably moto whips or 360 nose dives
What is your least favorite, or a trick that you cannot do for the life of you?
Barspins. I always jam my fingers.
It would appear you ride brakeless, do you ever get scared going so fast and high?
I actually get more scared with brakes. I tend to do more big tricks that get me hurt. I like going fast and boosting is really fun.
Who are some of the guys you ride with, do you think they influence your riding at all?
I ride with my friends from school or locals from the skatepark. They don't really push me I just do what is fun and feels good.
Who are some of the pros you look up to?
Morgan Wade, Mike Clark, Jamie Bestwick, Dennis Enarson
Where do you usually ride?
Etnies Skatepark. The most crowded place ever. I don't really get a chance to ride much other than etnies. I ride about 2 times or 3 times a week.
Do you ride contests? Do you have any plans of entering any for '08?
I ride contest that are close. It would be nice to travel around.
What are some things you would like to do this year, or in the next few years you haven't had a chance to do yet?
I want to go to the East coast and ride over there and go up North and ride NW trails.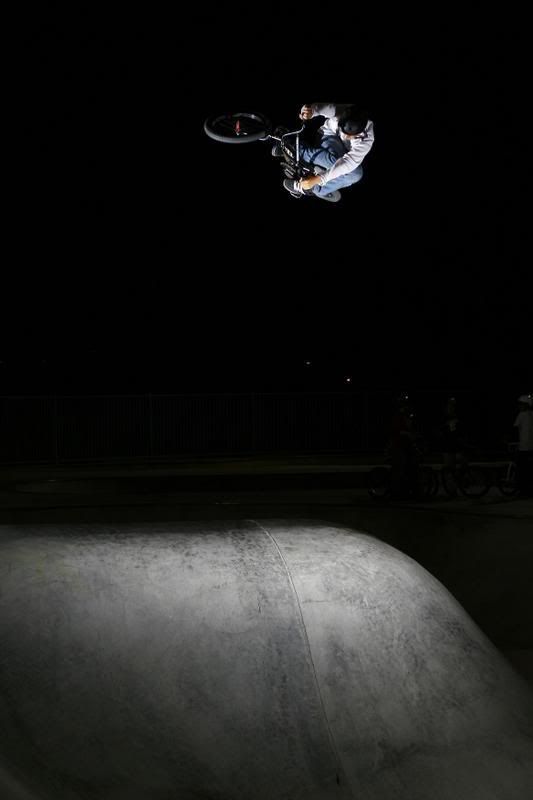 You had a part in a video, what's that video all about and isn't it on vimeo to see?
Its just a bunch of my friends and we made a video. It was going to be a DVD but alot of computer problems later and it ended up on Vimeo.
Outside of riding what kinds of things are you into?
Cars, Snowboarding, Bodyboarding, Just chillin
What kind of music do you listen to?
Mostly Rap and Reggae. I have some other random stuff too.
Favorite movies?
Probably SuperBad. Really funny.
If you won the lottery, (which I think you can't even legally do) what would you do with the money?
Buy a lot of redbull.
If you could go on a road trip anywhere, where would you go and who would you bring?
I would go to Europe and probably my friends that I hang out with a lot.
What are some companies you really support?
I have alot of oddyssey stuff and Fit. Good parts.
What are some of your favorite websites?
Myspace.com I'm on it way to much
If you could only ride one thing (ramp,street spot,etc.) for a day, what would it be and why?
Trails. I love flowing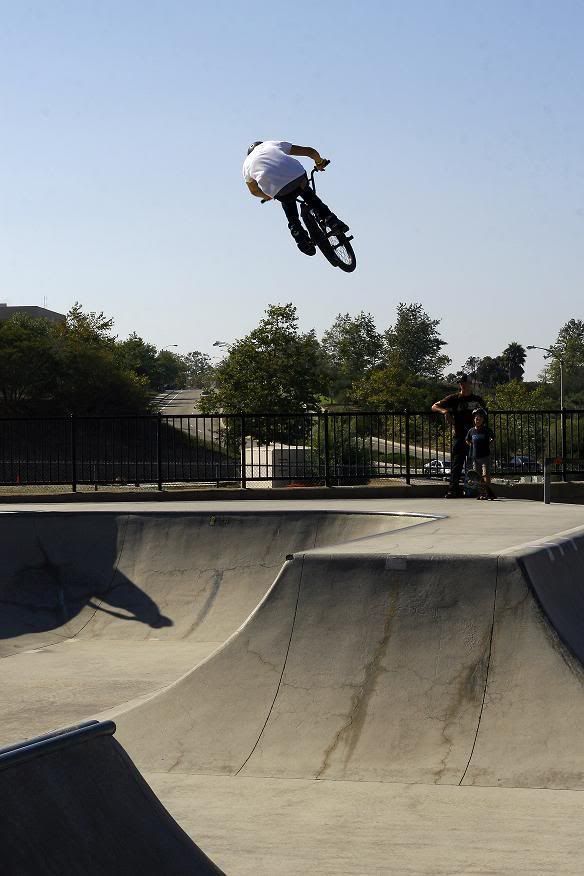 How do you feel about all the trends in BMX, do you follow them or do you just do your own thing?
I used to be in that "Light Bike" trend. But I could care less about the trends. I just ride what I got and how I like.
If you were to go pro before you graduated from high school, would you try and finish or would you pull a Harry Main?
Get out of school. Probably home school or something. Haha
If you could spend the day with anybody, alive or dead, who would it be, what would you do, and why?
The owner of Redbull. Try to convince him to give me free Redbulls. That would save me a lot of money.
BMX is…
For Tuff Guys!
Do you think anything should be changed in BMX, if so, what and why?
The Shit talking. Everyone is just trying to have fun.
Do you have any shout outs or thanks?
Epic Bmx for always hooking it up. Dillon for always driving me places and taking pictures. Nick for riding with me all the time. Bmxunion.com for doing an interview of me. Thanks
Anything I forgot you would like to add?
I think you got it all.
This is the video that is number 2 on VitalBMX's most popular videos.. kid rips!

This would be the DVD he has the part in that his friends put together, good riding!

The Only Bmx Video from Dylan S on Vimeo.